I realize that most of our readers haven't actually lived in a psych hospital for several months at a time — on more than one occasion. So here's a story for you about what it's really like when you actually live there long enough to start to feel like it's home. 
Every time that I have been confined in a psych hospital, I have collected as many trophies as possible. If this means that I collect the art that other psych patients are doing, that's what it means. Some of this work is absolute genius, and I have an entire wall decorated with it.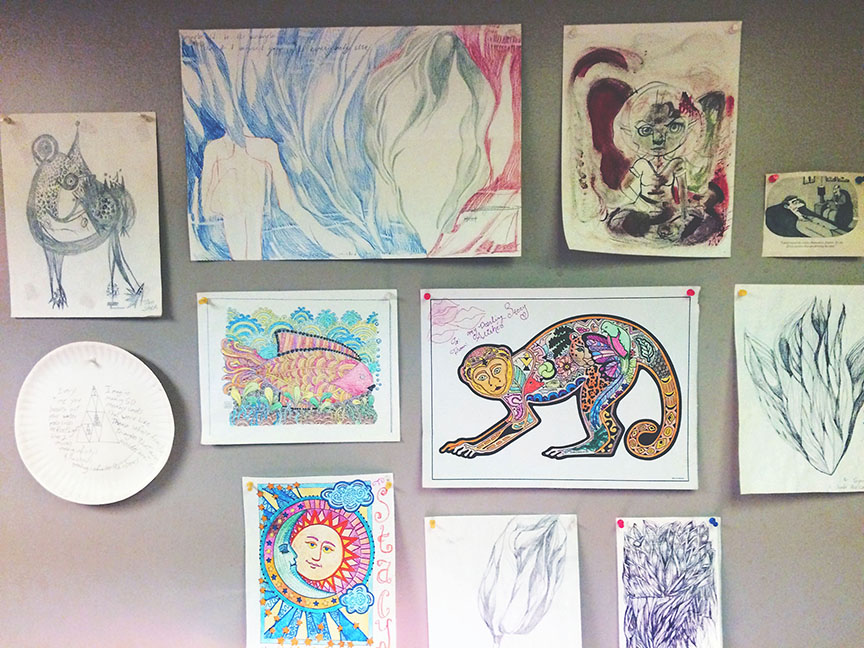 Sometimes I go out of my way to steal the silverware, or the sheets, or the blankets from the beds, or even the signs off the fucking walls. Believe me, there's nothing like having a sign off the wall of a psych ward on the wall of your apartment. It's better than stealing a street sign.
I have even sat down and written descriptions and done drawings of every single thing in New Hampshire Hospital. Describing how the railing in the bathroom has a piece of sheet metal welded onto it so that you can't actually get a grip on it, which is important if they come in and try to extract you in the usual football team sized groups that they use, or how there are no chairs in the bedrooms and no doors on the closets, because those could also be used as shields or as weapons. As I have told a hundred people in psych hospitals: nothing is here by mistake. They have had hundreds of years to figure this out, and there is basically nothing you can do to change how it works. That's the reality of a psych ward.
However, as I said, I like to collect trophies. For instance, the first time I was confined against my will, there were all the blankets you could want — soft and kind of fuzzy and made out of this really wonderful, soft cotton. There were also bedcovers, which are heavier and dense and not so warm, but they're meant to trap the heat that your blankets are holding in. The second time I was held in New Hampshire Hospital, a couple years later, most of the blankets were gone. The cold, dense bedcovers were still there, but the blankets were scarce. It took me a while to get two of them for my bed. Obviously, either patients or staff were walking out with them when they left. Last time I was there, I made sure I took one too. And I can tell you, since I sleep with it on my bed every night, that it is soft and warm and comfy. I love it.
I also have a complete collection of New Hampshire Hospital bed linen, including a couple of pillow covers with the words "New Hampshire Hospital" printed on them in very fancy type. When I took them, I imagined myself getting my bed ready for someone and putting those on the pillows. What kind of conversation would that start?
But it's the really forbidden stuff that attracts me.
The last time I was confined, I ripped a sign off the wall of a bathroom that said, "This Is Not An Exit." This might seem meaningless, but in the room where I was then sleeping, there were obvious signs that someone, or multiple someones, had tried to kick their way out of the place into the bathroom next door. There were large plates of sheet wood screwed to the walls to cover where they had kicked their way through. So what I did was steal the sign that said "This Is Not An Exit" and fix it to the wall above the holes that someone had kicked through it. This was a trophy that I was unfortunately unable to take home, because they came in all of a sudden and moved what room I was in. This is another aspect of psych ward life: you are moved around constantly, seemingly with no purpose, maybe because you got too chummy with your roommate, or maybe because someone even more psychotic than you just came in and they want to move them into the room you're in, where they can then drive their roommate even crazier than you already were.
For a while I tried to get the sign for the "Seclusion Room" off the wall, but they seem to have learned that they need to use a more powerful glue. I would pry at it and pry at it, but I couldn't get it off the wall. Imagine having the sign for the Seclusion Room on the door to your bedroom.
So this is psych ward humor. I realize that very few people have this sort of presence of mind when in a psych ward, but there are a few of us who do have it. This is what real life is like in a psych hospital, in all of its finer and more glorious details.
Here's a story about the last time I was in a psych hospital. Contrary to what people might tell you about crazy people being more violent or less violent than other people, when some people are seriously psychotic they are, in fact, quite violent; and this is not because there are more of them who are violent, but because the violent ones tend to end up in a psych ward. If you're crazy and violent, it's not because you're crazy. It's because you're a violent asshole anyway, regardless of any mental issues involved. In fact, on my last psych admission of two months, I was assaulted four times, and always by someone much, much bigger than I was.
There was this one guy who kept throwing packets of ketchup at me, which is supposedly some sort of gang sign for saying that I'm going to kill you (the ketchup is supposed to be blood). There was another guy who was a professional fighter who at one point didn't like what I was talking about and who shoved me into a corner of the dayroom, while the staff watched and did nothing. There was the guy who obviously had some sort of weird developmental problem who liked to brag that he was allowed to smoke (obviously, he wasn't) and who came at me simply because I was walking down his hallway. After he grabbed me by the shirt and starting beating me on the head, I threw my glasses across the hallway so they wouldn't get broken, because if there's one thing it's virtually impossible to get in a psych ward, it's a new set of glasses; or, as a close second, dental care. It took about a dozen people and a cop who tasered him twice to get the guy to stop fighting and to be shackled and taken away.
Then there was another guy who was threatening me all the time. He was bigger than me, and far more muscular, and he kept trying to come at me every day, making threats. He wouldn't leave me alone. Finally, as he came at me early one morning, I decided to retaliate and teach him a lesson, and I kick-boxed him in the stomach. This finally got a reaction from the staff. Normally they ignore all the threats that people make toward one each other. But when you actually attack someone, they do finally pay attention. So they put me in the Seclusion Room. And you know what I did? I stole the fucking Seclusion Room blanket itself, which is the ultimate trophy of them all.
In an isolation room, there are usually only two things, both of them considered harmless: a mattress made of plastic and foam to lie down on, and an extremely heavy blanket — not a real blanket, just sort of a super-heavy, super-strong piece of cloth that is built to be so heavy that you can't tear it apart. It doesn't even keep you warm, really, because it is so heavy that it takes an hour for your body heat to warm it up. It is much heavier than a piece of canvas, and it doesn't hold much heat, and you can't destroy it because it is designed to be indestructible by any violent asshole who is put in that room. And so what I did, after they shot me in the ass with a needle and then I woke up again, was to ask the nurse (God bless her heart!) if I could take the blanket out of the isolation room to my own room (and I always get a room by myself, because I'm so much older than most people and need my privacy and I'm so obviously schizophrenic that it's best to put me by myself), and she actually said yes! I told her I wanted it as a cover for my bed, and she actually bought it. It was better than talking a traffic cop out of a ticket.
This, my friends, was the ultimate score. I put that thing in my bag when I left (I always make sure I have a huge bag when I leave so I can take all the stuff that I've collected!) and I now have, in my home, the huge, heavy fucking blanket that they keep in a seclusion room. It is my ultimate trophy. No one else that I know has ever gotten one — or even dared to make the attempt.
And on the day before I left I even told the coolest mental health worker in the place what I was doing, and she grinned and laughed and walked away. No problems there!
Fuck yeah! Thank you, New Hampshire Hospital!
***
Mad in America hosts blogs by a diverse group of writers. These posts are designed to serve as a public forum for a discussion—broadly speaking—of psychiatry and its treatments. The opinions expressed are the writers' own.
***
Mad in America has made some changes to the commenting process. You no longer need to login or create an account on our site to comment. The only information needed is your name, email and comment text. Comments made with an account prior to this change will remain visible on the site.