In a study published this month in the Journal of the American Academy of Child & Adolescent Psychiatry, researchers explored the long-term effects of four treatment conditions over time for children who met the diagnostic criteria for social, generalized, and separation anxiety disorder. Their findings indicate that, despite promising immediate posttreatment effects, participant outcomes got worse each year across all treatment conditions. Less than half of study participants met criteria for stable remission over the next five years posttreatment, and less than a quarter were "consistently 'anxiety free' (absence of all anxiety disorders) over the course of the follow-up." In essence, despite exposure to high-quality, evidence-based interventions, the vast majority of participants experienced significant anxiety in the years that followed treatment.
The study authors, Dr. Golda Ginsburg of the University of Connecticut School of Medicine and a team of researchers representing seven other research institutions, present this data as an extension of the Child/Adolescent Anxiety Multimodal Extended Long-term Study (CAMELS), which compared differences between the effects of 12-week courses of CBT, medication, a combination of both, and a placebo condition directly following treatment. The current study assessed rates of stable anxiety remission and predictors of anxiety remission over a five-year period following the completion of one of the treatments mentioned above.
"Data examining the long-term outcomes of treated youth can provide important information about downstream anxiety disability and estimates and expectations for prognosis to families," the authors write. "These data can also inform possible preventive efforts."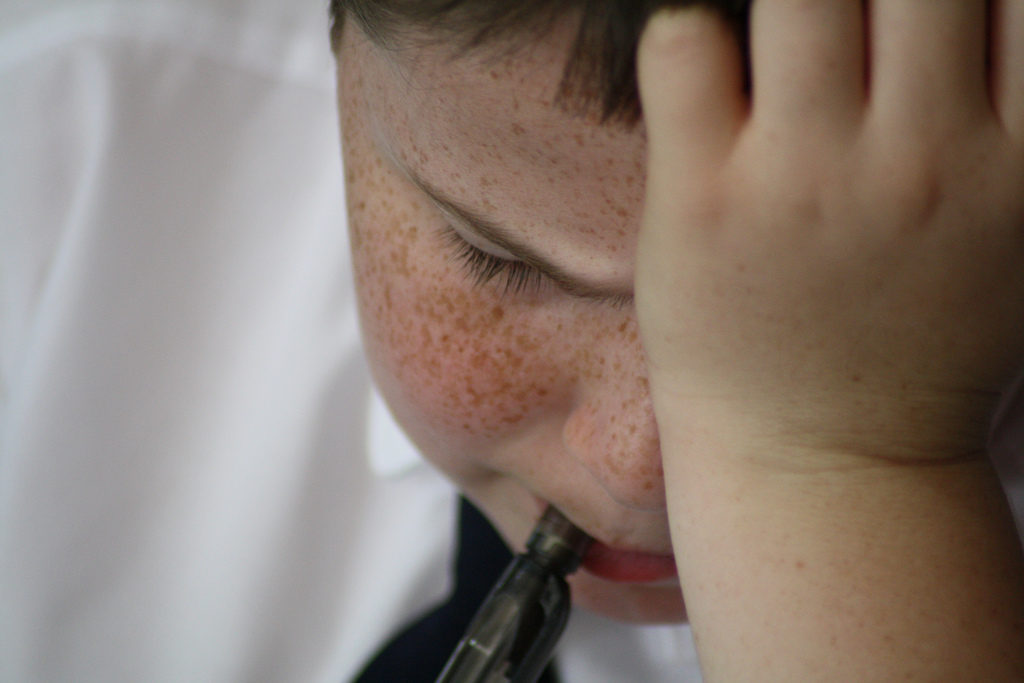 Anxiety during childhood is increasingly prevalent. Some studies have indicated CBT and medication have had the sustained, long-term effect of reducing anxiety. However, such studies have primarily explored impacts at only one point in time in the years following treatment, instead of exploring effects at multiple time points.
Increased adverse childhood experiences (ACEs), increased academic expectations imposed, Common Core curriculum initiatives, and the general emphasis in schools on teaching to promote test success are some of the environmental features that breed stress among student-aged children. CBT and pharmacological interventions are widely considered the best available treatment options for clinically significant anxiety in childhood.
There have been recent efforts in schools throughout the United States to implement multitiered systems of support (MTSS) with an emphasis on schoolwide supports to reduce academic and social stress and anxiety among students, but these efforts are in need of attention and further development. Outside of drastic shifts in the family, school, and community environments, CBT, medication, or some combination of the two, are often implemented to reduce anxiety. In crisis situations, and in cases in which resources are limited, treatment may occur for only a short period, though it is hoped that children with reduced anxiety directly following treatment will continue to experience reduced anxiety in the years that follow.
Ginsburg and team's work represents a particularly valuable contribution to child anxiety treatment research due to its experimental nature and large sample size (N = 319). Prior to analysis, they hypothesized that 60% of those exposed to some form of treatment would remain in stable remission and that those who'd responded favorably to treatment immediately following the intervention would demonstrate sustained results, regardless of their treatment condition. Participants' levels of anxiety were assessed on an annual basis for a lengthy diagnostic evaluation and a set of self- and parent-report questionnaires.
Ultimately, descriptive and regression analyses indicated that those who responded initially to treatment had slightly better long-term outcomes than those who hadn't, but improvements were modest. Younger participants were also more likely to benefit from improved outcomes and remission status as well. Differences in outcomes related to age may have been attributable to the length and severity of the experienced anxiety, and parental involvement in treatment. Notably, youths with higher overall functioning at the onset of treatment, those with parents who'd indicated stronger family bonds, and participants who experienced fewer negative life experiences between treatment and the annual follow-up checks demonstrated a superior response to treatment.
"There may be long-term benefits from early effective treatment with sertraline, cognitive-behavioral therapy, and/or their combination, for anxiety," the researchers write. "However, for the majority of pediatric patients, anxiety disorders are chronic, and additional treatment and relapse prevention approaches appear warranted."
The authors suggest that extended treatment and attention paid to relapse prevention could potentially improve outcomes for children exposed to acute treatment for anxiety, but that further research is needed to explore long-term effects of various approaches to therapy over time. Improved supports to children within families, schools, and broader communities to reduce stress could serve to minimize the occurrence and implications of anxiety in childhood.
****
Ginsburg, G. S., Becker-Haimes, E. M., Keeton, C., Kendall, P. C., Iyengar, S., Sakolsky, D., . . . Piacentini, J. (2018). Results From the Child/Adolescent Anxiety Multimodal Extended Long-Term Study
(CAMELS): Primary Anxiety Outcomes. Journal of the American Academy of Child & Adolescent Psychiatry, 57(7), 471-480. doi:10.1016/j.jaac.2018.03.017 (Link)