A new study, published in the International Journal of Mental Health and Addiction, stresses the importance of embedding resiliency training into school-integrated programs to prevent mental health issues in adolescents. It is estimated that roughly half of all adults diagnosed with psychiatric disorders begin experiencing symptoms before the age of 14. In response, researchers are calling for school-based programs that increase protective factors in adolescence and serve as a preventative intervention.
"Mental health problems impact on an adolescent's potential to live a fulfilling and productive life and lead to challenges such as stigma, isolation, and discrimination. To address this need, in recent years, there has been growing interest in broad-based school-integrated health promotion interventions that seek to build resilience and augment protective factors in adolescents," the researchers, led by Supakyada Sapthiang at the University of Essex, write.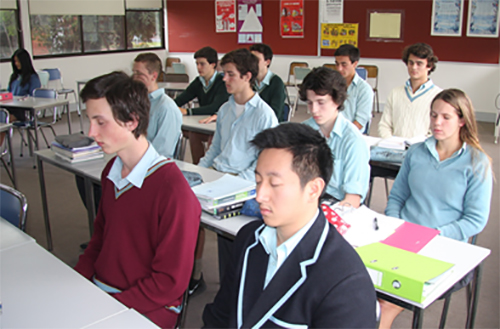 Adolescence represents a vulnerable period of development, and it is estimated 10-20% of adolescents worldwide (aged 10-18) experience symptoms of mental distress that could be diagnosed as a mental disorder in a given year.  However, experts cautioned against taking a purely medical approach to this issue by screening for mental disorders in school or turning to medication as a first-line intervention medicalizing adolescence (see here and here). As an alternative, researchers are calling for school-based programs to instill protective factors into general education settings.
"Key determinants of mental illness in adolescents include (but are not limited to) low socioeconomic status, social isolation, exposure to violence and lack of peer or family support. However, the impact of such determinants can be mitigated by protective factors such as family and community cohesion, pro-social behavior and social connectedness, support from schools and mental health services (including social services), and the community's engagement with local and national health promotion schemes," Sapthiang and colleagues write.
In their article, Sapthiang and colleagues investigate the utility of a school-level Mindfulness-Based Intervention (MBI). MBIs are 'on par' with psychopharmaceutical interventions but originate from a 'true understanding' approach that avoids medicalizing normal reactions, thoughts, and behaviors. These interventions identify the systems and environments people find themselves in as the location of pathology and seek to change it.
"Support for the implementation of broad-based resilience-building approaches in adolescents derives from psychological models such as problem behavior theory and ontological addiction theory," explain the researchers. "These models assert that a given problematic behavior or mental illness symptom is invariably an indicator of a more systemic maladaptive belief or unmet psychosocial need, which can manifest across multiple risk-taking behaviors or psychopathologies."
However, several barriers exist for broad-based school-integrated mindfulness programs. Sapthiang and colleagues emphasize paying attention to intervention design, delivery, and evaluation. The authors recommend using age-appropriate metaphors to explain novel concepts, creating spaces in school appropriate for MBIs, and ensuring course leaders are adequately trained in the practice.
"It appears that a key mechanism of action of mindfulness is to create 'mental breathing space' such that adolescents can not only start to observe their thoughts and feelings but can also learn to remain 'unattached' to them by relating to them as 'passing phenomena," they write. "In turn, this greater awareness and perceptual distance from thoughts, feelings, and sensory processes foster a greater capacity to regulate emotions during the developmentally demanding period of adolescence."
More research is needed to implement such interventions in school settings. As more is learned about the most effective ways of integrating these tools into schools, researchers are continuing to forward the idea of treating mental health preventatively rather than reactively.
"In line with the prevention paradox principle, there is a growing interest in broad-based school-integrated health promotion interventions that seek to target a range of resiliency and protective factors in adolescents. Mindfulness reflects one such resilience-building approach that has been shown to be efficacious in adolescent research studies for cultivating a range of psychological adjustment and coping strategies, as well as directly treating adolescent psychopathology."
****
Sapthiang, S., Van Gordon, W., & Shonin, E. (2019). Mindfulness in schools: a health promotion approach to improving adolescent mental health. International Journal of Mental Health and Addiction, 17(1), 112-119. (Link)