When I was training to be a child psychiatrist in the mid-1990s, childhood depression was considered to be rare, related to adversity, and generally unresponsive to pharmaceutical treatment. Since then much has changed in a very short period of time. Even day-to-day language seems colonized by medical terminology with youngsters describing their feelings using clinical ("I feel depressed") as opposed to more ordinary language ("I feel unhappy/sad/miserable"). Like medicalized childhood behavioural problems, medicalizing mood creates great commercial opportunities. From books to therapies there is no shortage of products that can be sold to the concerned parent or stressed teenager. Just as promoting the idea that behaviours that stress parents out can be solved by the simple act of taking a pill, the pharmaceutical industry understood the potential money to be made by promoting the concept of depression as something that affects kids in the same way as adults and that can be solved with a pill. Just as our ideas about what is expected in kids' behaviours and how to interpret perceived problems is changed by labelling them with a 'diagnosis', so our ideas about and perception of suffering and resilience can be affected by such medicalizing of mood; potentially alienating the young of today from the possible learning and insight that can come out of experiences of mental distress and adversity, at the same time as distancing us from seeing the social and political sources of suffering.
McDonaldisation of growing up
I often wonder about how our understanding of children, childhood, child development, family life, and education have changed as we have succumbed to the 'McDonaldised' notion that the challenges and uncertainties connected with growing up can be placed into neat categories of things 'wrong' with individual children, which can then be fixed with simple, one-size-fits-all interventions.
Children are ultimately dependent on adults to make most decisions on their behalf. But, it seems to me, we have professionalized the process of growing up to such a degree that many parents and other adults in caring positions (such as teachers) are afraid of actively intervening to guide children in their care. They fear that they may do or say the wrong thing, given how pervasive the discourse of the fragility and vulnerability of children is. They may feel they need an 'expert' to best understand what the right thing to do is. Others feel judged and embarrassed by their children's behaviour, as parents (particularly mothers) are often blamed for poor parenting, but rarely praised for good parenting. Others have been forced to work long hours leaving little time to be with their family, and often with little support as a result of diminishing local community and extended family connections.
It is hard to be a 'normal' parent these days. If you are judged as too close to your children you are 'enmeshed', too distant you are too 'cold' and don't know how to 'love' your children in the right way. Of course abuse and harm does happen, whether deliberate or accidental, but being a parent has become an anxiety provoking experience these days with much confusion and often little emotional and practical support, particularly for mothers who continue to carry the majority of the burden for bringing kids up. There is much money to be made from this anxiety and the inevitable desire parents have to make things 'better' for their kids, and soothe the anxieties they feel.
Children, meanwhile, are measured, tested, ranked, and commented on in schools, sports, appearance, social media, and so on, such that they, from a young age, learn that they get value from what they do, rather than for just being. Like living in an ongoing X-factor contest, they may feel scrutinised for how they 'perform' as individuals, more than how they contribute to the common good and being part of the family and community around them. They may have full timetables and then plenty of distractions such as TV, smart phones, junk food, and an array of colourful toys. It is also hard to be a 'normal' kid these days. If you are judged too lively you are 'hyperactive', too quiet you may be 'depressed', a bit shy, you may be autistic. Of course kids do suffer abuse and trauma and communicate this through their behaviour, but, in many Western societies, to be a kid these days is to be closely monitored and scrutinised for your level of performance. When things are judged 'not right' by someone, you can then become exposed to a variety of assessments and procedures to determine what's wrong, broken and 'dysfunctional' in you. There is much money to be made from identifying your 'dysfunction' and the marketing promise that this will lead to something (a label, a treatment) that will make things 'better'.
Childhood depression is one of these successful modern 'brands' that helped monetise and arguably entrench states of alienation from self and others that arise out of both the reframing of the 'ordinary' struggles and sufferings that accompany growing up, and the increased gap and tension that arises in a culture that fears 'ordinary' intervening in children's lives (lest it upset their autonomy) and so professionalizes this. It takes its place next to the two other successful categories of ADHD and Autism as brands with great commercial success.
The birth of scientism in childhood depression
The growth of the popularity of the concept of childhood depression, evolving from a rare to a common 'diagnosis' that is similar to adult depression and amenable to individualized pharmaceutical and psychological treatments, started to happen in the early 1990s and accelerated rapidly over the next decade. A shift in theory and consequently practice took place as influential academics began claiming in books and articles that childhood depression was more common than previously thought (quoting figures such as 8-20% of children and adolescents), resembled adult depression, and was amenable to treatment with antidepressants. Popular books claiming this started to appear in the 1990s, before any studies that showed benefit of 'antidepressants' in the under-18s were published. Thus prescriptions of drugs marketed as 'antidepressants' began to be made to youth, under the assumption that adolescents experience this disease called 'depression' in a similar way to adults and respond to the same treatments.
The widespread use in Western societies of drugs marketed as 'antidepressants' had begun to unfold in the late 1980s, particularly after the release of the first SSRI — Prozac — in 1987. Putting aside the poor evidential support for drugs classed as 'antidepressant' in general, use in young people had no evidential basis prior to its adoption as a prescription for young people in the 1990s. Previously it had been accepted that children and young people do not respond to the older generation 'antidepressants' (such as the Tricyclics) and so this class of drug was simply never used for that (previously) rare diagnosis of childhood depression.
In the late 1990s and early 2000s the first studies, mainly pharmaceutical industry sponsored, of antidepressants in under-18s were published. They appeared to support the new practice of using SSRIs for this age group, concluding that these drugs were safe and effective in this age group.
A classic example of how results were 'spun' to hide the real findings that these studies were uncovering was the study of the SSRI paroxetine (often referred to as Study 329) that was funded by SmithKline Beecham (SKB; subsequently GlaxoSmithKline, GSK) and published in 2001. The original study concluded that "Paroxetine is generally well tolerated and effective for major depression in adolescents." In a unique subsequent re-analysis of this trial (unique because it is so rare to be able to get hold of original trial data held by drug companies), this new study using the data from the original Study 329 found that paroxetine in fact showed no efficacy for major depression in adolescents (when compared with placebo), and there was an increase in harms — the opposite of what the original Study 329 trial had reported.
This new false claim from the emerging literature then set the pattern of increasing rates of prescribing of antidepressants to under-18s that has largely continued to this day, with one important exception in these trends. In 2002 in the UK, the BBC aired a prime time documentary programme (known as 'Panorama') about the SSRI antidepressant 'Seroxat', examining the false marketing, addictive potential and the evidence suggesting that it caused increased suicidality particularly in young people. After the programme aired, the BBC received thousands of calls from viewers reporting similar reactions to that described in the programme (of agitation, aggression, and suicidal thoughts). The ensuing media coverage forced the UK Committee on Safety in Medicine (CSM) to investigate these alleged dangers. In December 2003 the UK CSM issued new guidance to UK doctors stating that SSRI antidepressants (bar one, fluoxetine) should not be prescribed to the under-18 age group, as available evidence suggested they are not effective and run the risk of serious side effects such as increased suicidality. Several reviews around that time found disturbing shortcomings in the methods and reporting of trials of these newer antidepressants in young people, and concluded that drug company supported investigators had hidden unfavourable data and exaggerated the benefits of these antidepressants and had hidden or minimised adverse effects, particularly the increased risk of suicidality.
Following the publication of the CSM guidance in the UK there was an initial impact on rates of prescribing of 'antidepressants' to young people, which at the time was estimated to be prescribed to about 50,000 youngsters in the UK. For a couple of years there was a dramatic decrease in the prescribing of these SSRIs to under-18s, apart from fluoxetine, the only SSRI not to be clearly contra-indicated, whose rate of prescribing remained stable. However, by 2006 in the UK, prescribing rates to under-18s for all SSRI antidepressants, except paroxetine, started recovering and have continued to gradually increase again.
In the US there was a rapid acceleration of SSRI prescriptions to under-18s from the late 1980s to 2004. Following the events in the UK that culminated in government supported advice to stop prescribing SSRIs to young people and the publications of several reviews showing a lack of efficacy and increased likelihood of experiencing adverse events such as suicidality on these medications, many other countries found themselves pushed into re-examining their practices and guidelines.
In the US warnings about safety of SSRIs in under-18s came in October 2004 when the US Food and Drug Administration (FDA) issued what is known as a 'black box warning' for all SSRI antidepressants prescribed to those under the age of 18 (a 'black box warning' denotes a 'box' or border around the text that appears on the package insert and signifies that medical studies indicate that the drug carries a significant risk of serious or even life-threatening adverse effects). The FDA carried out its own study of 23 trials from 9 drug companies and found an average risk of suicidality of 4% in SSRI treated under-18s, which was twice the 2% risk found in the placebo group. Unlike in the UK, studies evaluating the impact of FDA warnings on prescribing rates in the US found differences between forecasted and actual rates following the black box advisory, but what these investigations didn't find was a significant decrease in prescription rates after the black box advisory, but rather a reduction or levelling off of the rate of prescription growth in the years immediately after the warning, with rates of prescribing increasing again after 2008.
Despite the evidence showing potential harms outweighing potential benefits in under-18s, which has not been contradicted since but rather further supported in subsequent studies, the brief period of decline or levelling off of SSRI prescriptions to the young did not persist. In fact antidepressant use in children and adolescents increased substantially between 2005 and 2012 in any Western country studied. Recent UK data has confirmed that antidepressant prescribing to young people has continued to increase in the last three years including to children 12 or younger and including the whole range of SSRI drugs.
Scientism fights back
So the story so far is that childhood depression was, until three or so decades ago, considered a rare condition likely to be related to environmental stressors and not amenable to treatment with pharmacology. Over the course of the nineties, and before evidence about the safety and efficacy was available, the newer SSRI 'antidepressants' began to be used, alongside a new narrative that childhood depression was common, a precursor to adult depression, hugely under-diagnosed, and that early intervention with pharmaceutical treatment was often necessary, effective and safe. Now that there was a potential for great wealth to be generated by opening up new markets for 'antidepressants', pharmaceutical companies began publishing studies purporting to show that the medications they made were safe and effective in this age group. The BBC Panorama documentary in 2002, UK CSM guidelines in 2003, and US FDA black box warning in 2004 all threatened to fatally dent the profiteering that could be made through marketing these drugs to minors. And for a short time they did. But scientismistic help was on the way.
Scientism 1: SSRIs work when combined with psychotherapy
One year after the CSM guidelines were made public, the Treatment of Adolescent Depression Study (TADS) was published (2004). I remember listening to the lunch time news on my car radio, following the publication of this study, as I drove between clinical commitments. I heard an 'expert' saying that after the guidelines the previous year telling us to be cautious about prescribing these antidepressants to young people, this groundbreaking study had shown that the best outcomes come from combining an antidepressant with psychotherapy and this is what we should now offer depressed young people. So the first rehabilitative measure came from this study which concluded, "The combination of fluoxetine with Cognitive Behavioural Therapy (CBT) offered the most favourable trade-off between benefit and risk for adolescents with major depressive disorder." The authors further conclude that despite calls to restrict access to antidepressant medications, medical management of major depressive disorder in young people with fluoxetine should be made widely available, not discouraged. Indeed it is this study that has been particularly influential in maintaining the idea that fluoxetine is the one SSRI that has been found to be 'effective'.
TADS was a large multi-centre Randomised Control Trail that randomised the adolescent participants diagnosed with 'Major Depressive Disorder' to four treatment arms: 1. SSRI antidepressant (fluoxetine) only, 2. Placebo only, 3. CBT only, 4. fluoxetine plus CBT. The first and most obvious problem comes from the study methodology. Comparing results across all four groups is misleading as some patients knew they were having an active treatment and others didn't. Essentially TADS is really two separate randomised studies: a double blind comparison of fluoxetine (109 subjects) with placebo (112) — as these subjects did not know whether or not they were getting the active treatment — and an un-blinded comparison between CBT alone (111) and fluoxetine plus CBT (107), as these subjects knew they were receiving one active treatment in the CBT alone group and two active treatments in the CBT plus fluoxetine group. This latter group therefore received more face to face contact and knew (as did their doctors) that they were not receiving placebo. The reason the authors gave for not including a placebo plus CBT group is that they used a placebo group to get a 'baseline' to compare the other treatment groups against. This is not convincing. Most likely the authors knew that having 'more' treatment in a treatment study is likely to enhance any placebo effects and therefore skew findings towards more positive outcomes for the group having two active treatments, known to the participants.
Not mentioned in the abstract is that TADS found no statistical advantage of fluoxetine over placebo on the primary end point, the Children's Depression Rating Scale. This and the small or absent advantage of fluoxetine on other end points suggests that the only legitimate conclusion that can be made from this study, as far as efficacy of fluoxetine in childhood depression is concerned, is that it is no more effective than placebo.
So much for antidepressant efficacy in TADS. What about adverse events? Well significantly more psychiatric adverse events occurred in the fluoxetine group than the placebo group. Despite small numbers and the exclusion of known suicidal behaviour, TADS still found a trend to more suicidal behaviour in those taking fluoxetine (15 v 9, taking fluoxetine v not taking fluoxetine), which is consistent with other trials of SSRIs. So as with other more objective analysis of SSRIs effects in childhood depression (such as the re-analysis of Study 329 discussed above), the relevant data from TADS shows fluoxetine to be as effective as placebo but produces more adverse events including a greater tendency to suicidal behaviours.
I'm sure readers won't be surprised to hear that although TADS was funded by the US National Institute of Mental Health, many of the authors disclosed ties to the pharmaceutical industry, including Professor Graham Emslie, who had extensive ties to the pharmaceutical industry and was lead investigator in the first two studies for fluoxetine in childhood depression.
Scientism 2: The black box warning has led to increased suicide rates in young people
In 2007, another highly publicised paper was published. The authors examined U.S. and Dutch data on prescription rates for SSRIs up to 2005 in children and adolescents, and suicide rates for children and adolescents (through to 2004 in the United States and through to 2005 in the Netherlands); in order to determine whether there was an association between antidepressant prescription rates and suicide rates during the periods preceding and immediately following the 2004 FDA black box warnings. As reported in mainstream news media, the authors concluded that SSRI prescriptions for youths had decreased in both the United States and the Netherlands after the FDA warnings were issued and that subsequently youth suicide rates increased. They concluded that because of the FDA black box warning, a decrease in prescribing of SSRI antidepressants to the young had happened and this had likely caused an increase in suicide rates due to larger numbers of youth not being effectively treated.
This article is a quite straightforward attempt at deception. It beggars belief that it got through the peer review process and was published, with its message that the warning has led to more suicides in young people, in a leading psychiatric journal (American Journal of Psychiatry). The most glaring deceit is in the presentation of data shown on the graphs depicting prescribing and suicide rates respectively. In fact if you look at the graphs carefully you will see that in the year in which suicide rates rose, there was no significant drop in SSRI prescribing. Their graphs for US prescribing rates show no significant decrease in antidepressant prescribing for 2004, but a 17% increase in suicides amongst the young that year (compared to 2003). The graphs show the alleged decrease in prescribing took place in 2005 (not 2004). The argument that there were decreasing rates of antidepressant prescription following the FDA warnings are based on the 2005 prescription levels (compared with 2003); however, figures for 2005 suicides were not available at the time the paper was written and therefore do not appear. This means the paper's main conclusion is based on using the decrease in 2005 prescribing rates and linking this to the increased suicide rate found in 2004. In fact when suicide figures were available, they showed a decrease in the suicide rate in 2005 (compared to 2004) and suicide rates hit an all-time low for the US in 2007, a point in time that clearly follows the alleged decrease in prescribing (however, as I argue below this does not imply any causation, simply that the association they tried to claim in their paper does not stand up to proper scrutiny).
The graphs on the Netherlands are mixed, show no recognisable pattern, and are based on very small numbers. For example, 2002 shows a 25% increase in suicides compared with 2001, yet it was also the year with their highest rates of prescribing of antidepressants for children and adolescents. At least for the Netherlands data the authors do compare the correct year of prescribing rate with numbers of suicide, but it seems an arbitrary conclusion to just pick out the decrease in prescribing rates (between 2003 and 2005) and a smaller increase in suicide rates (than for example in 2002) in 2004 and 2005 compared to 2003. This article prompted a complaint by psychiatrists from the Netherlands about the misrepresentation of the Dutch data. The use of Dutch data also raises questions as to why, out of all the other countries they could have had access to prescribing and suicide rate data, they chose the Netherlands. Presumably, they needed to search for a country where they could try and extract data that somehow matched their narrative.
Predictably, when you look at the conflicts of interest statement, several of the authors, including the lead author, disclose conflicts of interest related to financial ties with the pharmaceutical industry.
Scientism 3: If we stop prescribing antidepressants youth are more likely to self-harm
In 2014 a paper in the British Medical Journal claimed that there were significant increases in self harm through drug poisonings (overdoses) in adolescents in the years following the FDA black box warning and concluded that safety warnings about antidepressants and widespread media coverage led to decreased antidepressant use resulting in increases in suicide attempts (self-harm) among young people. This paper was accompanied by an editorial, which, using this study, argued that this was an example of how warnings about adverse effects of medicines can lead to under-treatment and consequently even worse adverse effects. A full 10 years after the black box warning, these arguments were still being put forward in major medical journals and garnering significant press attention.
The study design was described by the authors as 'quasi-experimental', examining trends in rates of antidepressant dispensing, psychotropic drug poisonings, and completed suicides.
The methodology is so bizarre that I have found myself re-reading this paper several times in disbelief. The authors are attempting to show that overdosing with psychotropic drugs is increasing because doctors are prescribing less psychotropic drugs. They use 'psychotropic drug poisoning' as their proxy measure for "suicidal behaviour" (which is the term that appears in the title). This is the relevant methodology statement:
"While encounters for suicide attempts can be identified in administrative databases using external cause of injury codes (E-codes), they are known to be incompletely captured in commercial plan databases. Our preliminary analysis found that E-code completeness varied across study sites, treatment settings, and years. Therefore, instead of deliberate self harm E-codes, we used poisoning by psychotropic agents (international classification of diseases, ninth revision, clinical modification (ICD-9) code 969)"
These are the drugs that are coded under ICD9-969, Poisoning by psychotropic agents: antidepressants, phenothiazine-based tranquilizers, butyrophenone-based tranquilizers, other antipsychotics, neuroleptics and major tranquilizers, benzodiazepine-based tranquilizers, other tranquilizers, psychodysleptics (hallucinogens), psychostimulants, unspecified psychotropic agent.
So realistically out of that list the only two that are relevant, in that appreciable numbers of adolescents may be prescribed them, are antidepressants and psychostimulants. Psychostimulants ought to be controlled for as they can cause suicidal impulses too and so if poisoning by psychostimulants is to be used in this context we need to see figures for psychostimulant prescriptions. Furthermore, psychostimulants are not a recognised treatment for depression and therefore psychostimulant overdoses could not be used as a proxy for untreated depression. This leaves antidepressants; so essentially this study is arguing that a consequence of warnings about prescribing antidepressants to adolescents is that fewer adolescents are being treated with antidepressants, which is therefore leading to more adolescents taking an overdose with antidepressants. What sort of voodoo science is this, I ask?
Leaving aside the obvious scientific mistake of assuming correlation equates with causation (i.e. the mistake of thinking that because reduced prescribing is associated with increased overdoses that one causes the other), this study is also another example of straightforward deception.
Below are the graphs for adolescents associated with the claim (reproduced from here):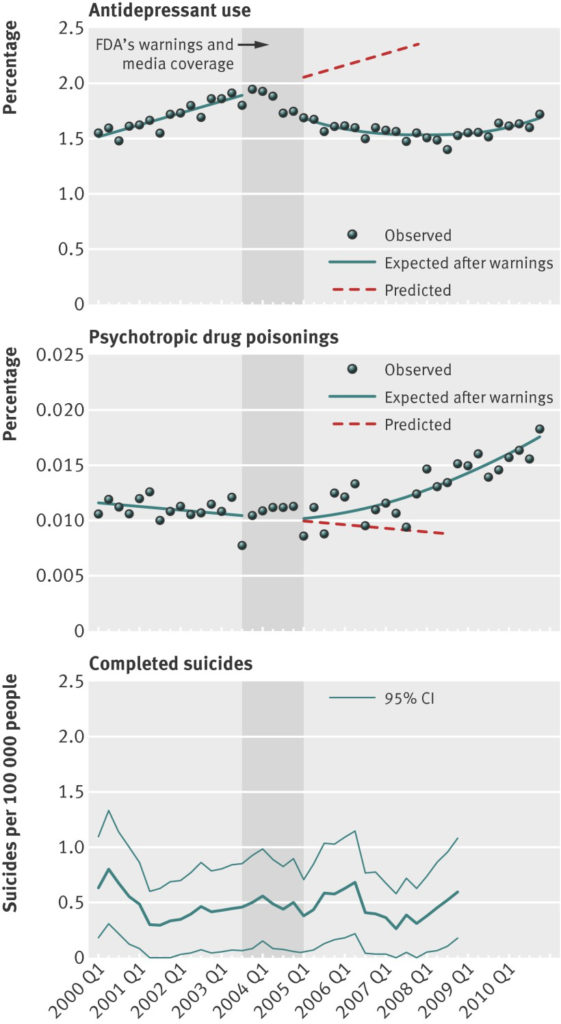 Look in particular at the lines of best fit the authors have chosen for the second graph (rates of psychotropic poisonings). Look again. What do you think of their line of best fit? Are they drawn to fit their hypothesis or the data? Their line of best fit starts to increase after 2005, however, looking at their scatter diagram this does not fit with the data they present. In their diagram, rates of self-poisoning continue to vary by site around a mean that largely stays static until 2007, after which rates start to noticeably increase from 2008 onwards, when coincidently, according to their first graph, rates of antidepressant prescribing also start increasing again, but of course this association (increasing rates of antidepressant prescribing at the same time as psychotropic poisonings increasing) should not be read as causative. Looking at the third graph you can see that rates of adolescent suicide vary around a mean between 2001 and 2007 (when they hit an all-time low) and also start rising in 2008.
A more obvious association that may have some causal connection is that the rates of self-poisoning in adolescents, that actually start increasing significantly after 2008, are at a time when the financial crash happens and families and the society around them come under greater stress. But heaven forbid we take a context-rich view that perhaps depression and self-harm might be a reflection of real life events and their consequences. So another unchallenged assumption behind this and the other scientism articles I've discussed (that are maybe better thought of simply as 'junk pseudo-science') is that what is called 'depression' and the related self-harm is a medical disease that afflicts the inner spaces of an individual, who is thus 'broken' and 'dysfunctional' (for example, due to a chemical imbalance), and by not 'treating' these broken individuals with pharmaceuticals we let them become more ill.
Resist the psychiatrization of growing up
This is the kind of irrational delusion we have created through the belief that we have diagnoses in psychiatry that have explanatory capabilities. I believe the spread of this type of psychiatrization and McDonaldisation of the pain and struggles involved in growing up and the insecurities created by neo-liberal marketization has caused considerably more harm to young people than good. I believe the science is on my side in this conclusion. As I have shown above, there is plenty of junk pseudo-science scientism propping up the other side of the argument.
***
Mad in America hosts blogs by a diverse group of writers. These posts are designed to serve as a public forum for a discussion—broadly speaking—of psychiatry and its treatments. The opinions expressed are the writers' own.
***
Mad in America has made some changes to the commenting process. You no longer need to login or create an account on our site to comment. The only information needed is your name, email and comment text. Comments made with an account prior to this change will remain visible on the site.