"If harm happens, and no one's there to say sorry, did it truly wound?"
The Power of Love vs. The Love of Power
'Love Means Never Having to Say You're Sorry.' It's a catchphrase first popularized by Erich Segal's novel Love Story back in the 1970s. And it's wrong. Completely, totally wrong. It is almost as far from an act of love as one can get to refuse accountability; to not have enough respect for someone else to muster acknowledgement for your own missteps or how you've contributed to someone else's pain. That doesn't mean it is not incredibly human to struggle and sometimes fall way short, but that doesn't make it an act of love all the same.
It is, however, power. Indeed, never having to say you're sorry probably means one of two things:
You have a ton of power over someone(s) else: You've got nothing to lose, because they don't have enough power or credibility to take away anything that you value. Especially if you stick to the system's version of the golden rule: Deny, deny, deny.
Someone(s) else has a ton of power over you: They've decided you are — for some reason — incapable of being responsible for your own words or actions. Whatever you did that might lead to an ask for apology in most situations isn't actually seen as your fault. Or, perhaps more accurately, it's still seen as your 'fault,' but nonetheless on them to just control you a little better.
There's also some fear in there somewhere: Namely, fear of loss of power. What underlies that is probably several other fears… fear of being blamed; fear of being alone; fear of not being important or needed anymore.
The Systemic Sidestep
But, this never saying sorry isn't just a practice that is internally driven. It's systemic, too, and often heavily influenced by capitalism and other oppressive forces. As cogs in various systems, we are taught that saying sorry increases our ever-feared liability, that it puts our ability to earn our livelihoods at risk. That it potentially invalidates our educational systems, too. And we are taught all sorts of contortion-level strategies to evade actually saying those words, while still trying to trick people into thinking they've been said.
"I am sorry if that hurt your feelings." (Did you catch that sneaky if? I just slid that in there to let you know that I've ignored every time you've definitively told me that your feelings are hurt, or at least, I'm preserving a bit of room for doubt. It gives me space to breathe.)
"I am sorry that you feel that way." (Hey, I'm not saying that I'm sorry about anything I actually did. Just sorry that you feel a certain way about it. I mean, that still makes it kind of your fault, right?)
"I am sorry, but I think you might be overreacting." (You can pretty much just ignore the 'I am sorry' part here. I may have said it out loud, but it's more like the silent 'K' at the start of the figurative 'knife' with which I'm about to jab you. It's really just there as a lead-in to my letting you know this is still somehow about your own personal failing.)
"I am sorry, I was just trying to help." (I mean, you can't hold me responsible for good intentions, can you? That'd just be mean, and you don't want to be mean… do you?)
"I regret that we didn't take time to pause and talk it through beforehand." (What I'm really trying to say here is that, while I feel okay about where we landed, I wish we'd put on a better show of going through a process to get there.)
"I know that we could have done better." (To be clear, I am not saying what we did was bad. But, we can always do better!)
"We will consider doing things differently in the future." (We'll surely consider your recommendations for five hot seconds at the very next opportunity and right before we basically do the same damn thing we did last time.)
On occasion (though a significantly rarer breed when it comes to people in positions of power), there's also the over-apologizer.
"I am so sorry. I am so terrible! I really suck." (My goal here is to make you feel so uncomfortable for naming a problem that you are compelled to shift all your energy into making me feel better. And, if I do it just right, I may score the added bonus of you avoiding trying to hold me accountable for anything ever again! Maybe I can muster a few tears… Just give me a second! P.S. I don't actually think I did anything wrong!)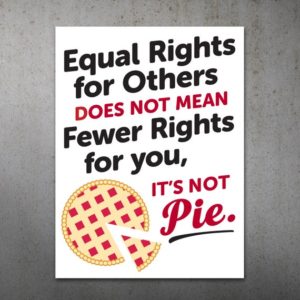 Most of the time, these sidesteppers fool no one. When these pseudo-apologies do work, the effect is usually only temporary, as the realization of the illusion of sorry-not-sorry sets in. Perhaps what's strangest about the whole thing is that it's so unnecessary. So counterproductive. This conceptualization of power as a thing one either owns or gives up is almost childlike in how it's been concretized. As one of my favorite social media memes says, "Equal rights (or power, as is the case here) for others does not mean fewer rights (or less power) for you. It's not pie."
A Trivial Example of Sorry-Not-Sorry
A trivial example of how wedded people in power can get to the sorry-not-sorry approach follows here:
In the last two years, I have seen a lot of movies. A lot. I even went and saw 'Cats' expressly to revel in its badness. (Well, okay, and because I wanted to see the dancing-cockroaches-with-human-faces scene in all its Kafkaesque glory.) But about six months ago, my favorite theater decided to "renovate." Unfortunately, "renovate" translated roughly to reduce food options, increase wait times, hire more employees trained in the art of the blank stare, and, oh yes, add a bar (because prioritizing the addition of alcohol in an environment where silence is key makes perfect sense).
Being who I am, I complained to every employee with whom I intersected, especially as the problems accumulated. And, in doing so, I noticed an unsurprising trend. The higher up in the cinema's hierarchy someone sat, the more likely they were to pretend nothing was actually wrong. Entry-level managers would nod knowingly, state their agreement outright, or give me insider information about how the renovations had left them with too few grills for hot food. On the other hand, the senior manager on site denied every complaint, or offered some excuse. The end result? I got more upset.
At some point I said to him, "Hey, you know, all your other managers with whom I've spoken have actually acknowledged the problem. I hear that you may not be able to fix the problem, but please stop telling me it doesn't exist." He made eye contact with me, wearing a bit of a defeated expression (or maybe I just wanted him to look defeated), and said, "Look, things aren't going to change. This was decided at the corporate level. We're doing the best we can with it. I'm sorry."
And then he began shrieking like the Wicked Witch of the West and shriveled away until nothing but a small puddle and his plastic manager's badge was left on the ground. Or… he was just fine, and I actually felt heard, calmed down, and moved on with life. At least until I got an e-mail from his boss in which she wrote:
"I am sorry if members of our management team have given you the impression that [our theater] has made a mistake with our remodel … The team will be looking forward with a positive attitude and helping find ways to improve guest service within our current concept."
And around we go. Not only did she not offer any real "sorry" herself, but she tried to take back everyone else's "sorry," too. Nice. And that brings me to the not so trivial examples.
THE NOT-SO-TRIVIAL EXAMPLES OF 'SORRY-NOT-SORRY'
This 'don't have to say you're sorry' trend if you hold power is everywhere, but there are few places where its more prevalent than when 'less power' means 'psychiactrically diagnosed.' For the last few years, my colleague Sean Donovan and I have been engaged in making a film with the working title "Three Rooms" through the Western Massachusetts Recovery Learning Community or 'RLC.' (Other of our co-workers are also in the film, including Caroline Mazel-Carlton and Cindy Marty Hadge, along with a host of others from Massachusetts and Connecticut.) It is a "video bridge" concept originally inspired by 'Unexpected,' a Canadian piece about young mothers living without homes and the healthcare professionals who deliver their babies. The basic idea is that groups of people who intersect with one another in a particular way and who hold very different levels of power are filmed separately. During those sessions, they talk about their own experiences, and their perceptions of members of the other group(s). Clips of their video are then shown to the other group(s), and reactions and responses are captured on film, as well. Another example of this style of filmmaking is 'Why we Drop Out' by Ali Pinschmidt, with the groups being made up of former students, teachers, and school administrators.
In 'Three Rooms,' the groups are as follows:
People who've been hospitalized and/or lived in group homes (by force or choice or — most often — a mix of both);
People working in provider systems (in direct support and/or leadership roles); and
Senior administrators and funders (State Department of Mental Health Area and Medical Directors, hospital CEOs, an administrator from the Substance Abuse and Mental Health Services Administration)
Unlike the other 'video bridge' films noted, we organized the process so there would be multiple (at least three) video bridge rounds with each group. Frankly, it has been a logistical nightmare to make, and as a largely unfunded project, it's also been challenging to finish. However, some really interesting themes have emerged. I'm going to leave most of the 'Three Rooms' talk for another time, but I bring it up at all because the "sorry" issue showed up in the very first round. It went something like this:
Group 1: They never say they're sorry for how they've hurt us.
Group 2: They're right, and now we want to say we're sorry.
Group 3: What the hell does group 2 think they're doing saying "sorry"?!
Indeed, the most fascinating thing of all was that no one really cared what Group 1 said or did. They didn't seem to balk at the mention of reparations as raised by cast member Dorothy Dundas in the clip above (which, in theory, should be the scarier of the two asks in her conversation with fellow cast member, Corrine 'Mitzy Sky' Taylor). But those with the most power sure were put off by that middle group… You know, the ones who don't hold the most power, but are apparently charged with the responsibility of acting as the face of it nonetheless?
But, again, what was Group 3 so afraid of? Was it just too uncomfortable to sit with the idea that they'd been in the lead of a service that had caused harm to those they saw themselves as charged with helping? Honestly, part of the hope of the project was to illuminate the fact that no one — not even those in Group 3 — were actually in full control, but that goal seemed further out of reach than we thought. And, most of the people in Group 1 (with an exception or two) weren't even people who'd been in the facilities run or overseen by people in Group 3, anyway. So, it couldn't be as simple as pure liability concerns. Was this a savior complex issue? Had they simply spent so much time convincing themselves that their job was to "put on a good face" and do their right best to save the poor sick people? Was the cognitive dissonance just too great? Perhaps, not completely dissimilarly from a "trauma response" (though also not quite the same), they felt their personal construct of the world was under attack and a version of "fight or flight" kicked in. (In fact, one member of Group 3 had to be talked out of walking out midway through the first round, and two of them dropped out before the second meeting.)
When Sorry And Suicide Prevention Intersect (or don't, as the case may be)
Unfortunately, this 'never say you're sorry' trend isn't just a problem of casual conversation or accusations thrown in the heat of the moment. It's at least as present during formal complaint processes as any other time. For example, in the Spring of 2019, I filed a formal complaint through my work with the Western Mass RLC against a chapter of our state's Suicide Prevention Coalition. Now, this is the same coalition where we got the inspiration for the Alternatives to Suicide approach over a decade ago, and where we developed our initial and still-valued relationship with Tapestry Health — a harm reduction-oriented public health organization that would soon thereafter become the first funder of our Alternatives to Suicide groups.
Although there were always differing perspectives on the committee, there were also plenty of good people, and we'd navigated any disagreements relatively well over the years. Until there was a change in leadership, and a provider took over who at least showed all the signs and symptoms of one who is suffering from "Clinician Sensitivity Disorder" (CSF).* I forget where I first saw mention of something along the lines of CSF, so I'm unclear who to credit, but I'm certainly not its originator.
Although not to be compared, it is reminiscent of 'white fragility.' In other words, with pretty much every type of systemic oppression, there is a common component that leads those in the power-up position to commonly feel threatened and respond reactively when anyone raises issues that suggest that those in power may have hurt them, or tries to talk about privilege and power pretty much at all. This is where the "not all (white people/men/straight people/providers/insert pretty much any other group of people seen as holding power and privilege)" phenomenon was born, because when generalizations are made about those in power it's received as an attack, but when generalizations (aka stereotypes) are made about all people in a marginalized group… well, that's just how it works.
Now, under this new leadership, the coalition with whom we'd once worked well refused repeated requests to afford membership to a minimum of two people who could speak openly from the perspective of having been suicidal or made suicide attempts. (Note: Up to this point and for nearly a decade prior, we'd been able to send two and sometimes even three people to participate without issue.) That was, they refused unless one of them agreed to essentially be the silent-support-peer (as in not allowed to speak at all) of the other "out" person… kind of akin to an emotional support animal accommodation. Members of the committee also refused to wrap their heads around the idea that promising that there were other people on the committee who secretly had also struggled in the past was not sufficient to avoid tokenization, silencing, or being outnumbered by those who at least outwardly only identified as coming from primarily the perspective of having formal credentials and/or a professional provider role.
At one point, the committee did spend time talking about allotting stipends for more people who'd experienced suicidal thoughts to be able to attend (particularly those without jobs to support them to be present), but followed that up by inviting a police officer instead. The police officer arrived in full uniform — including a firearm — and when my co-worker pointed out how the uniformed officer's presence (especially with gun) could feel frightening to people who'd, say, been forced into hospital by police in the past, he was silenced. Specifically, he wasn't denying the relevance of inviting a police officer (suicide rates are indeed high among their community, too), but was citing the disconnect between an expressed want to invite more people with firsthand experience of wanting to die versus the prioritization of inviting someone who holds a role and created a visual that might serve to keep them further away. (The police officer was the only one who apologized.)
Perhaps most amusingly, after several such points of tension, this same co-worker attempted to communicate his level of frustration and hopelessness about the coalition by somewhat facetiously (but also somewhat not) stating that taking part in the meetings was increasing his desire to die. And that Suicide Coalition… Well, they couldn't handle it. That's right, folks. My co-worker — a person who has himself struggled with suicidal thoughts for many years and lost people he's known and loved to suicide, too — was unable to talk openly about suicide to the Suicide Prevention Coalition because it "triggered" them too much. (And therein lies a major root problem with the Suicide Prevention industry all around — this "let's talk about suicide without actually talking about suicide 'cause we're too fragile for that" way of being — but that's a story for another time.)
The committee also justified spending well over their self-proclaimed limit (that had been used to deny us adequate compensation for the trainings we were committed to offer ourselves) to bring an individual (with whom the leadership happened to be co-authoring a book) across the country to do a "mental illness" comedy routine. Further, while the comedy routine shtick did make space for a panel of people speaking from their own experience with suicidal thoughts, some of them were quite explicitly instructed to self-censor and not say anything negative about the system when discussing their own experience. Meanwhile, minutes of multiple coalition meetings (when there were minutes produced at all) inappropriately included pejorative statements only ever about the people on the committee who had psychiatric diagnoses, while non-diagnosed members were allowed to behave in an array of problematic ways including making transphobic remarks without consequence or notation. And this is just scratching the surface of what was contained in the detailed complaint (with exhibits) that was submitted.
Not surprisingly, the complaint was not decided in our favor, and when we appealed this was the response we got back:
The Executive Committee has fully reviewed both your complaint (including the email you sent following our findings that you requested be included as part of the complaint) and the findings of the subcommittee in response to your complaint. We have discussed the matter thoroughly as a committee, addressing each allegation and the corresponding findings and unanimously voted to uphold those findings.
As I stated in my previous email, this is the last appeal process, and the decision of the Executive Committee is final. We have spent a considerable amount of time investigating and thoroughly considering the allegations from your complaint and we are confident in upholding the findings that came from that investigation. 
Now, this complaint — from start to finish — took about six months to process. During that time, e-mails were inappropriately shared with the primary subject of the complaint without warning, and we were given no clear information about the process or timelines. We filed the appeal to the original decision on August 9, and were told on August 27 that they were "unable to give [us] an exact timeline, as September is World Suicide Prevention Month and [their Executive Committee] members are quite over-scheduled at that time." No outside arbiters were offered or available.
Most importantly, no apology was ever given. No one said "I'm sorry." It seemed completely unfathomable to them that they might say something like, "Even though we are unable to formally substantiate these claims, we're really sorry that you were written about in the minutes of a meeting. That shouldn't have happened." Or… something. Instead, communication was kept to a minimum, phone calls were refused, and e-mails received were cold and matter-of-fact. How strange that people purportedly so invested in "helping" professions would respond with withdrawal and denial when people are saying they were hurt. How odd that people dedicating their time to "suicide prevention" would be so ignorant as to how power plays in their own gatherings, when they must be at least somewhat aware of the impact of loss of control and power on suicide rates overall.
Sorry-Not-Sorry Cuts Deep
And, let's be clear. The impact of this severe 'sorry' drought runs deep, and far beyond mere annoyance and inconvenience. When one refuses to accept accountability, it can have several dire consequences that include (but certainly aren't limited to):
Making someone feel (often more) invisible
Replicating past traumas suggesting wrongdoing was somehow the fault of the person who got hurt ("You made me do it," "You confused me," or "You know you wanted it" are all fairly common phrases that people who've experienced childhood sexual abuse have heard.)
Denying someone's reality and experiences (including those whose psychiatric diagnoses also render them "untrustworthy" and "lacking credibility" in the eyes of the world)
So, in summary, we're talking about a system where people are constantly getting stuck and dying early; where a huge percentage of individuals have experienced trauma that has played at least some role in their emotional distress; and where feelings of invisibility, loss of control, and powerlessness are known to significantly increase rates of suicide and foster dependence and hopelessness. As a strategy to combat some pieces of that (or at least not make it worse), we're suggesting something that is totally free, not time intensive, and requires little to no physical effort. And yet, it still seems to be too much.
I wish I could say that there was a clear path forward here, but I don't know what that is. The absence of 'sorry' is epidemic. The fear that drives it is so detrimental that it deserves a diagnosis and subsequent 'treatment' all its own. And as luck would have it, I'm prepared to provide a diagnosis: Formido Apologia Disorder* (FAD for short). It translates quite literally to 'fear of apology' disorder. (To be clear, it's disorder and not disease because — just like pretty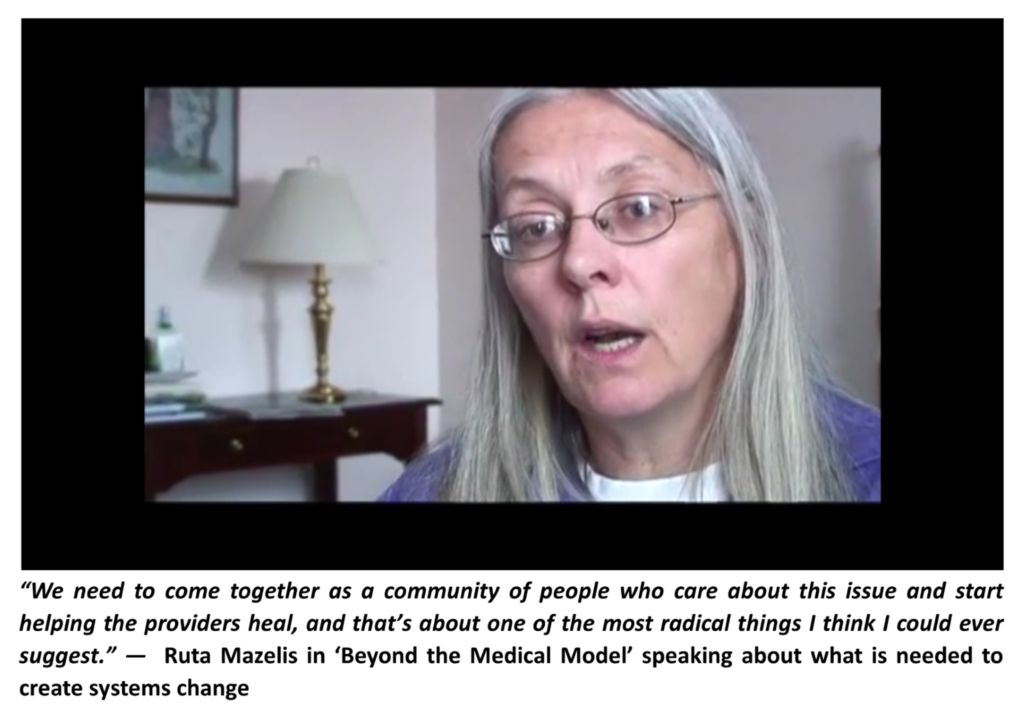 much every other diagnosis in the Diagnostic and Statistical Manual — it's not actually been proven to be a thing caused by a lesion or other tangible disease process of the brain.) The recommended treatment? Just. Say. You. Are. Sorry. Consider it exposure therapy. I mean, it's supposedly "evidenced based practice," and that's all the rage these days, right?
The Promise of a Sorry Tomorrow
I wonder how this system would be changed if, tomorrow, every provider (past and present) woke up and made it their mission to find someone who's been through their services in one way or another, and told them they were genuinely sorry for something specific that had happened during that time. One 2017 article, "The Power of an Apology," states, "Saying 'sorry' denotes that you have chosen your relationship over your ego." What is needed to make it possible for more people to do that?
Hell, what if every provider said sorry for not saying sorry? What if organizations like the National Alliance for Mental Illness (NAMI), instead of business as usual, ran an initiative to get providers to simply say they were sorry, and grieve the harms they'd caused? (Hey, NAMI, I promise to not write another NAMI article for all of 2020 — not even about that creepy Santa video — if you'll just put your heart into that!)
I wonder what a "say you're sorry" campaign might actually accomplish, and what opportunities it might open up. But, I'm not holding my breath.
Sorry.
* I speak to two diagnoses in this article: CSD and FAD. Please note that I do so in jest. While the diagnoses represent very real phenomena, I do not wish to perpetuate diagnosing people's real and human feelings beyond a momentary poke at humor… No, not even when those real and human feelings lead them to do problematic things.
***
Mad in America hosts blogs by a diverse group of writers. These posts are designed to serve as a public forum for a discussion—broadly speaking—of psychiatry and its treatments. The opinions expressed are the writers' own.
***
Mad in America has made some changes to the commenting process. You no longer need to login or create an account on our site to comment. The only information needed is your name, email and comment text. Comments made with an account prior to this change will remain visible on the site.