Mass shootings have a profound societal impact despite accounting for only a small proportion of total murders. These events are repeatedly tied to "serious mental illnesses" in major news media and government officials' speeches. Research, however, suggests that the link between mental illness and gun violence is largely a myth. Now, a new study from prominent psychiatric researchers at Columbia University confirms that a small minority of violent events and shootings can be connected to "mental illness" and that policies targeting legal issues, substance use, and difficult life events would be more effective for prevention.
The research was led by psychologist Gary Brucato and former American Psychiatric Association President Paul Appelbaum. A review of database information on 1,315 mass murders over the last century compared lifetime psychotic symptoms with the use of firearms, legal histories, drug and alcohol use, and non-psychotic psychiatric and neurological symptoms. The research suggests that prevention policies targeting all indicators except lifetime psychotic symptoms will yield a more substantial impact than those policies that target serious mental illness only.
"These results suggest that policies aimed at preventing mass shootings by focusing on serious mental illness, characterized by psychotic symptoms, may have limited impact," they conclude. "Policies such as those targeting firearm access, recreational drug use and alcohol misuse, legal history, and non-psychotic psychopathology might yield more substantial results."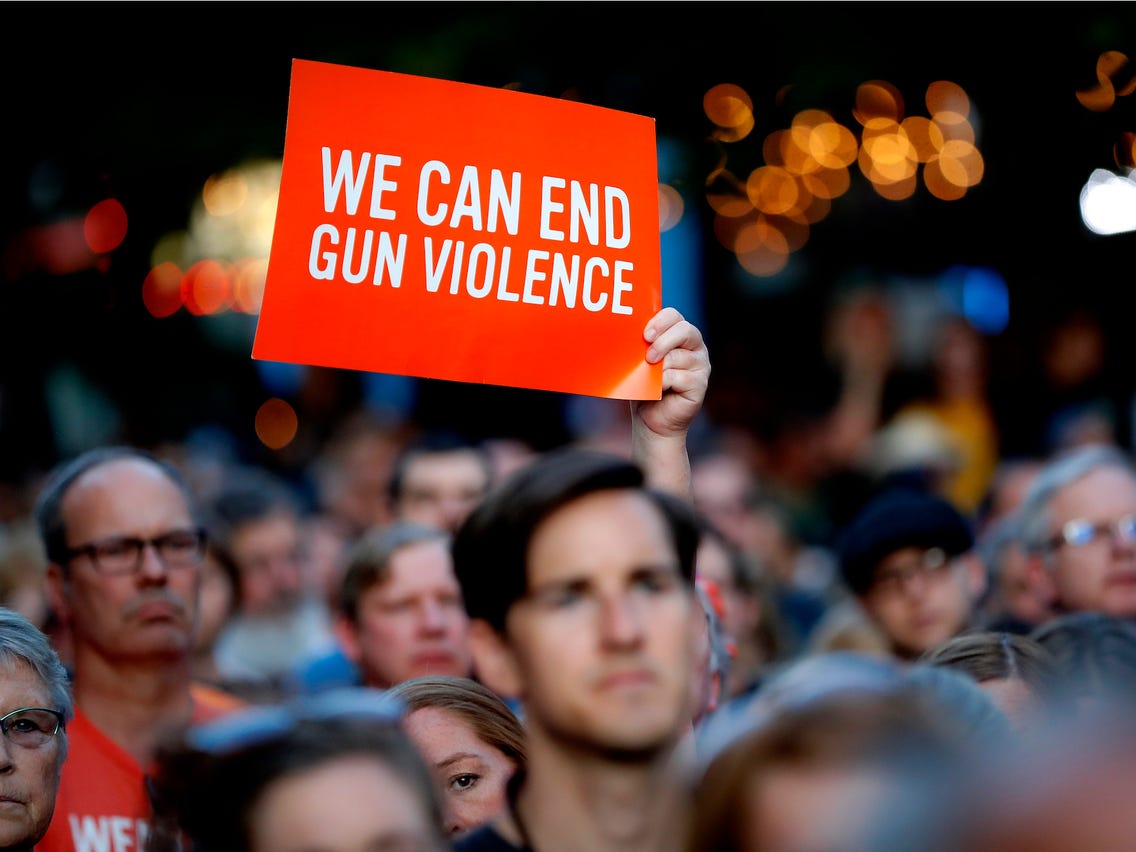 Former President Donald Trump declared in 2019 that people diagnosed with such mental illnesses should face involuntary confinement as a means to prevent mass shootings. Commentators have long suggested that blaming mental illness conveniently circumvents discussion of the role of racially motivated hatred, terrorism, and gun violence (for example, in the 2015 Charleston church massacre).
In 2019, the American Psychological Association echoed this sentiment, issuing a statement that blaming mass shootings on mental illness is "unfounded and stigmatizing." Indeed, widely cited research has found that only 4% of all violent behavior toward others can be attributed to 'serious mental illness.'
Psychiatrists at Columbia University and New York State Psychiatric Institute examined global personal-cause mass murders, scrutinizing historical information regarding the perpetrator, use of firearms, demographics, legal history, drug use and alcohol misuse, and history of symptoms of psychiatric and neurological illness.
Inferential statistics were run on the most comprehensive, global large data set, including less-studied mass murderers – those carried out through means other than firearms – among 1,315 total mass murders occurring between 1900 and 2019. 65% of these involved firearms.
The study was unable to statistically compare U.S. instances to other countries because of the latter's low prevalence of mass shootings. Of U.S.-based mass shooters, those with symptoms of psychiatric and neurological illness more frequently used semi- or fully-automatic firearms. U.S.-based shooters as a whole were more likely to have "legal histories, use recreational drugs or misuse alcohol, or have histories of non-psychotic psychiatric or neurological symptoms."
Against the false association between severe mental illness and mass shootings, they write:
"…it appears to play a significant role in only a small fraction of cases, with the correlation depending on whether the definition conservatively involves only severe mental illness, such as that characterized by psychotic symptoms, or more widely encompasses psychopathologies such as non-psychotic mood and anxiety disturbances, personality disorders, substance and alcohol use disorders, and maladaptive reactions to adverse life events. Persons with mental illness, moreover, are far more likely to be victims of violence than to perpetrate it."
Mass murderers using firearms were significantly less likely to have a lifetime history of psychotic symptoms than mass murder perpetrated through other methods: 18% of mass murderers who did not use firearms had a history of psychotic symptoms, compared to 8% of mass shooters. They note that individuals with psychotic symptoms may be less likely to acquire, or to be able to acquire, firearms.
These results are consistent with other reported rates of mental illness among mass murders when the definition is limited to severe disturbances, like psychotic symptoms.
The relationship between psychiatric symptoms and mass murder may be less associated with psychotic symptoms than with subacute, more common psychopathology, such as depressive symptoms, personality-based symptoms, drug or alcohol use, and reactions to adverse life events.
This wider definition includes people who may harbor serious anger and resentment about feelings of social rejection and exclusion. The misunderstanding may well be the cause of the belief in the association between severe mental illness and mass shootings that gives rise to undue stigma.
They identify numerous important limitations that exist in this type of work. The first of which is the validity of psychiatric symptoms gleaned in media and justice system records. Additionally, they write:
"Cases identified in our sources may have been more likely to involve psychiatric symptoms, given their news value, or may have involved other unusual elements associated with psychosis, potentially leading to an overestimate of the association with psychotic symptoms."
Moreover, the study did not consider socio-cultural determinants and broad-scale shifts across the time period within which records were analyzed (e.g., changes in the prevalence of psychiatric symptoms and media attention they are given, changes in firearm availability), though these do play significant roles in understanding prevalence.
These findings have important implications for understanding the drivers of mass shootings. This, in turn, may enable policies to be shaped to better prevent them in the future, without needlessly stigmatizing people who have symptoms associated with 'severe mental illness.'
****
Brucato G et al. (2021). Psychotic symptoms in mass shootings v. mass murders not involving firearms: findings from the Columbia mass murder database. Psychological Medicine 1–9. https://doi.org/10.1017/S0033291721000076 (Link)