In a new study, kids who received an ADHD diagnosis were compared with kids who had the same symptoms but who did not receive a diagnosis. Those who received a diagnosis had worse outcomes on five quality-of-life (QOL) measures and were more likely to engage in self-harm.
The researchers write, "These findings suggest that childhood ADHD diagnosis may not result in any improvements in quality of life measures in adolescents and may negatively impact some outcomes, such as the risk of self-harm."
The study was led by Luise Kazda at the University of Sydney, Australia, and published in JAMA Network Open.
"Our study expands the current knowledge that children with ADHD often experience reduced QOL by showing that at least some of this is associated with the diagnosis itself," the researchers write.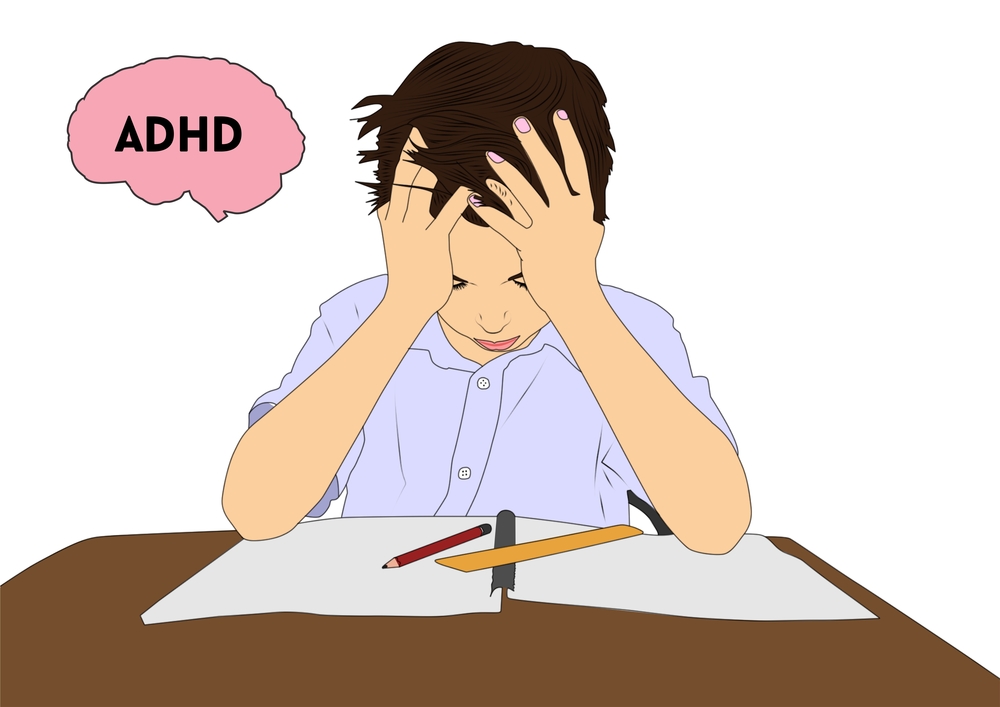 The data came from the Longitudinal Study of Australian Children, which surveys a representative sample of the Australian population. None of the participants had an ADHD diagnosis at the beginning of the study. The study began when the kids were 6 or 7 years old, and the final data points came when they were 14 or 15.
At the endpoint, 393 adolescents had an ADHD diagnosis (72.2% male). They were matched on age, sex, and ADHD symptoms with 393 adolescents who did not receive an ADHD diagnosis.
Both groups scored about the same on almost all the measures of QOL, health, and happiness used by the researchers. But there were a few notable differences:
Those who received the diagnosis scored worse on feeling that they belonged at school and could succeed academically, having a sense of self-efficacy, and demonstrating negative social behaviors. Most concerningly, they had higher levels of self-harm.
In fact, kids who received the diagnosis of ADHD were 2.53 times more likely to harm themselves than kids who had the same level of ADHD symptoms but did not receive the diagnosis.
The researchers note that their study was observational, so causality could not be determined. However, they accounted for the level of ADHD symptoms—so they confirmed that the reduced quality of life and increased self-harm of those diagnosed are not due to the "underlying disorder," as proponents of the ADHD diagnosis have often argued.
In conclusion, the researchers write:
"Unfortunately, our results indicate no beneficial associations of an ADHD diagnosis with adolescents' QOL, which is highly concerning. It implies that the harms associated with an ADHD label (such as stigma, prejudice, deflection from other problems, or the perceived inability to change) may not be offset by benefits associated with the diagnosis or treatment. This is problematic, as it indicates that youths may be harmed by the diagnosis and that interventions to support them are not achieving the desired effect."
Proponents of ADHD diagnosis and treatment argue that untreated ADHD negatively impacts kids' lives. They suggest that treating ADHD symptoms can improve kids' lives. However, previous research has not found such an effect. Instead, research has found that:
Researchers have also consistently found that the youngest children in a classroom are far more likely to be diagnosed with ADHD and prescribed stimulant drugs, indicating that it is relative age—the relative immaturity of a 5-year-old compared to the 6-year-old right beside him—that accounts for many supposed "ADHD symptoms."
The most well-regarded and highly cited study of childhood ADHD, the NIMH's MTA study, found that, by the six-to-eight-year follow-up, those who received medication did no better than those who did not. Moreover, none of the treatments had been successful by that follow-up: the children who received treatment still scored worse than the normative comparison group on 91% of the measures they tested.
And in 2016, Keith Conners, who conducted the first tests of methylphenidate (Ritalin) and after whom the most-used ADHD rating scale is named, called our current use of the ADHD diagnosis "an epidemic of tragic proportions."
****
Kazda, L., McGeechan, K., Bell, K., Thomas, R., & Barratt, A. (2022). Association of attention-deficit/hyperactivity disorder diagnosis with adolescent quality of life. JAMA Netw Open, 5(10), e2236364. doi:10.1001/jamanetworkopen.2022.36364 (Link)