For over thirty years now I have been a journalist, traveler, and writer. I have written over a hundred books, most of them self-help books about reprogramming the subconscious mind, a healthy lifestyle, travel adventure books, cookbooks, and courses in foreign languages based on the instinctive method I invented when I was 18 and was struggling with learning English. That was my biggest bestseller, which sold over a million copies in Poland. I have always tried to speak the truth, and sometimes there is a lot of pushback against that. People don't always like to hear the truth when it challenges them or contradicts their assumptions and biases. But I have always considered it my duty as a journalist to say it anyway.
I'm used to extreme reactions to my work. One of my recent bestsellers was about my struggles as a lonely teenager and how I healed myself by changing the way I think about myself and my life. For many years I fought with addictions. I had anorexia and bulimia, drank too much, smoked, suffered from depression. I tried to kill myself at 16. I was raped at 25. I felt I was the loneliest person in the world. But I kept remembering one thing. When I was 16—a lonely outsider rejected by everyone—I vowed one day I would find a way to be happy. It just seemed to make no sense to live as an unhappy human being. It took many years, but I finally found my happiness. I cured myself of addictions, I changed the way I think, and I adopted a healthy lifestyle. I felt that other people should know this is possible—to change your life, to become healthy and happy, no matter what happened to you in the past.
It surprised me when that book was publicly ridiculed and attacked by the press, by doctors, and by others. It seems that the very idea that you can change the way you think and behave, improve your life, and become healthy and happy, was quite offensive! Still, that message must have resonated with plenty of people, since the book was a bestseller. (All that extra publicity might have helped too!)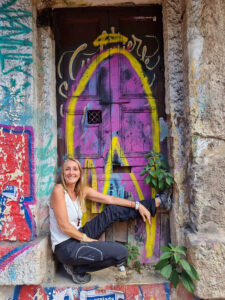 But nothing prepared me for the reaction to my latest video. Now I'm under attack, with threats of violence flung at me alongside threats of lawsuits. And all because I shared the large body of peer-reviewed research that contradicts the mainstream assumptions of psychiatry.
The question is this: What is the purpose of being a journalist in Poland today? Is it to regurgitate talking points? Is it to reinforce mainstream assumptions, even when they are not supported by the evidence? Is it to support the powerful at all costs, and never question their words? Or do we have a duty to seek out the truth—as presented in the peer-reviewed scientific literature—and present it to the people?
The Serotonin Theory Falls
A few years ago, I became interested in science. I wanted to understand how the brain works. I started reading and studying on my own. I never graduated from any university, but I love learning, studying, searching for more information. I am fluent in English so I could read the latest books and research articles before they reached Poland. In some ways, Polish psychiatry is very slow to recognize the discoveries that are coming out of America and Western Europe.
Last year the article "The Serotonin Theory of Depression: A Systematic Umbrella Review of the Evidence," by Joanna Moncrieff and her colleagues, was published in the peer-reviewed journal Molecular Psychiatry. The researchers found that, after reviewing all the studies on the topic, there was no evidence for a serotonin imbalance in depression. In interviews, the researchers eviscerated the notion that antidepressants balance or correct brain chemistry. Instead, they said, the drugs perturb normal brain functioning, which may sometimes have a helpful effect (such as by blunting emotions).
In the US and the UK, this finding was presented by the media as something that shattered the very basis of the psychopharmacological model. The chemical imbalance myth had been debunked over and over in previous articles, too, so this was—in a sense—the final nail in the coffin of the serotonin theory.
Of course, psychiatry's defenders rushed out in the US and the UK too. Some wrote that no one ever believed the serotonin hypothesis, comparing it to the medieval concept of the four humors. Others wrote that the serotonin hypothesis could still be true, despite these decades of consistent negative findings. The commonality was a defense of antidepressants: pundits opined that the drugs were still effective, even if no one knows how or why they work.
Nonetheless, in the US and UK, there is a substantial body of research showing that while antidepressants may be statistically better than placebo in some studies (especially industry-funded, older, biased studies), this difference is tiny and likely not clinically relevant.
This was presented in Poland in quite a different way. A journalist from a popular news website asked the Polish Psychiatric Association for comment and this is what they said: "It would be difficult to assume that researchers on several continents gave their patients drugs for so many indications and did not realize until now that they were giving a placebo."
The Polish Psychiatric Association in its official statement said that the new research focuses on explaining the mechanisms of action of antidepressants: "This does not mean that antidepressants do not work, as millions of people around the world experience every day. It means that they work in more complex mechanisms, which we have already partially learned and are still learning."
The Reaction to My Video
I spent months listening to all the lectures on the subject I could find on YouTube. I devoured videos from Joanna Moncrieff, Robert Whitaker, Bertram Karon, David Healy, Peter Breggin, and others, reading books and scientific articles, and I realized that nobody talks about it in Poland. So I decided to write a book about it and make a video. I am halfway through writing the book, and on Monday night I published the video called "The Latest Research on Depression."
As I said, I'm used to getting criticized for telling the truth. But nothing could have prepared me for the vehement attacks that followed my video. It made me the No. 1 public enemy in Poland. Everybody attacked me. Fellow journalists, doctors, and the general public. I felt lynched. I was afraid to go outside in fear I would be beaten. People publicly wished me death and blamed me for possible deaths of people who might stop their medication. They called me all kinds of names: stupid, old, and ugly being the mildest, all the way to messages like You moron, you are a mental bottom! Use the clothespins for hanging laundry. Put them on the back of your head to draw wrinkles, because you look terrible … Get cancer! Get lost, you nit!
My video was carefully crafted and documented. It was all based on scientific articles which were quoted on the screen as I talked and the full list of the articles was put in the description below the video. In the beginning I said that I am not a doctor or a scientist, but as a journalist with fluent English I have access to the latest research and I would like to present some facts so that you can decide for yourselves what you want to do with these facts. In the video I said that the antidepressants may be very useful in the short-term; at the end of the video I showed a still saying IMPORTANT. Abrupt discontinuation of antidepressants is dangerous and can be detrimental to your health. If you are taking medications, follow your doctor's instructions and, if necessary, work with your doctor to gradually stop taking them.
And then at the very end: This video is not a medical recommendation. The information contained in the video is educational in nature and is not intended to replace individual medical advice provided by a doctor.
The day after the video was published, a psychiatrist and president of the Polish Medical Media Association organized a fundraiser to sue me for publicly publishing "untrue information that poses a threat to the health and life of hundreds of thousands of people suffering from depression."
This is what was posted with the fundraiser:
I'm a doctor, psychiatrist, CEO, and I'm honestly sick of celebrities talking about health. Especially about mental health. On January 16, 2023, on the YT channel, Ms. Beata P., a journalist fluent in English, published a video in which she gives false information that poses a threat to the health and life of hundreds of thousands of people suffering from depression. I've had enough. I need your help to raise funds and show all her possible successors that this type of content is over. It is time to start punishing.
Here's link to the post: https://www.instagram.com/ptmediow_medycznych/
Link to the fundraiser: https://zrzutka.pl/v7ppj5
Within a day or so she collected over 30,000 zł needed to proceed to court (roughly 5,500 pounds) with comments like: "Thank you for promoting science and fighting falsehood in public space."
I felt threatened. All alone, attacked by everyone, including journalists, doctors, scientists, and the general public all writing about me with headlines like: "Beata Pawlikowska Babbles about Depression. Enough Is Enough. Internet Users Are Preparing a Lawsuit."
I decided to take down the video from my social media and published an apology:
If I had known that my video would cause such a violent reaction, I would never have published it. I'm sorry I did. I thought that information about new scientific research might be interesting or helpful. I understand that many people do not want me to talk about this. I respect this. I'm not going to take up this topic any more. I apologize to those who felt offended.
That didn't help much. The lawsuit is still moving forward: "All we want to do is get this lady banned from talking about mental health," said the psychiatrist/fundraiser in one of the interviews.
I didn't know what to do. Nobody in the public space offered any support, nobody said I had the right to speak the truth and quote veritable scientific research.
I am being publicly humiliated, insulted, and called offensive names. For days, not a single journalist, not a single scientist, not a single lawyer, NOBODY had spoken for me.
I was afraid to go out into the street in fear I might be attacked. I hadn't slept in days and spent the days covered with sweat. But I won't give up!
I have written to all major newspapers and weeklies in Poland, describing my video, including the link to the video and all scientific papers, and asking a few simple questions, such as:
I would like to know, as a journalist in Poland:
Do I have the right to publish a journalistic investigation video with the latest scientific research on depression (or other diseases)?
Do I have the right to publicly quote the American psychiatrist Dr. Bertram Karon, who wrote that 'The worst thing you can do is tell someone that they have a genetic, incurable disease caused by a malfunctioning brain. It takes away hope, and without hope there is no recovery'?
Do I have the right to write a book that is a journalistic investigation into the latest scientific research on depression?
Do I have the right to publicly say/write that schizophrenia has been treated without medication for thirty years in northern Finland, using the Open Dialogue method which has the best schizophrenia treatment results in the world?
Do I have the right to conduct and make public an interview with Dr. Joanna Moncrieff, an English psychiatrist, the author of many scientific studies and the above-mentioned groundbreaking study about the supposed biological basis of depression?
Do I have the right to quote pieces of scientific research from peer-reviewed scientific journals on issues such as: the impact of playing sports on recovery from depression, vitamin D levels and treatment of depression, or cognitive behavioral therapy for depression/schizophrenia?
Nobody answered me!
I sent it also to the Ombudsman of the Polish parliament and to every foundation I could find that deals with the freedom of speech, as well as to all three existing journalists' professional associations existing in Poland.
Responses Begin
I got one reply from the Oro Iuris foundation inviting me to a meeting, and an email from the Press Freedom Monitoring Center of the Polish Journalists Association saying that they were willing to help. One lawyer offered to help pro bono if the lawsuit happens.
An assistant professor at the Institute of Psychology at the Pedagogical University of Krakow, the author of the doctoral dissertation entitled "The Biomedical Model in Psychopathology and the Opposition to It: A Psychological Perspective," referred to my film. And he did confirm that what I was saying was true and based on scientific evidence. He was THE ONLY SCIENTIST in Poland who had the courage to say publicly that I did say the truth! He was ignored by the media and journalists.
I now have a lawyer who offered to defend me in court, and the Association of Journalists in Poland has issued an official statement confirming my right to speak about it. However, there are three associations of journalists in Poland and only one had the courage to speak for me, and, what is more important, the statement was ignored by the media and nobody has mentioned it publicly.
So far nothing has changed. I am being portrayed as a liar and insulted in all possible ways. So far not a single journalist or any other public figure or body has spoken for my right to the freedom of speech or admitted I had the right to say the truth.
Privately I have received a lot of support from my viewers. Some people say they were forced to delete their positive comments under my video because they, too, were being threatened and insulted.
I will not be silenced, though. I am planning to open a foundation for people with depression and schizophrenia, speak publicly for them and present the latest research, and also planning to start my own podcast where I will invite scientists and researchers to talk about their latest work.