I think a better term to use is "medical harm aware advocate." It is a much better explanation of both the problem and the solution that we are working for. I've updated my graphic that explains why Allen Frances and mainstream mental health is using the word "anti-psychiatry" to avoid dialogue with our community.
And by the way, the blog with him about dialogue – it's not. It's just him promoting the same theory he came out with a week ago which has been soundly refuted by now. Where is his actual response to our criticisms of his theory? He asks us to merge two ends of the bell curve. How about he responds to our community's requests to address what's going on in the middle of the bell curve? That would have a lot more impact.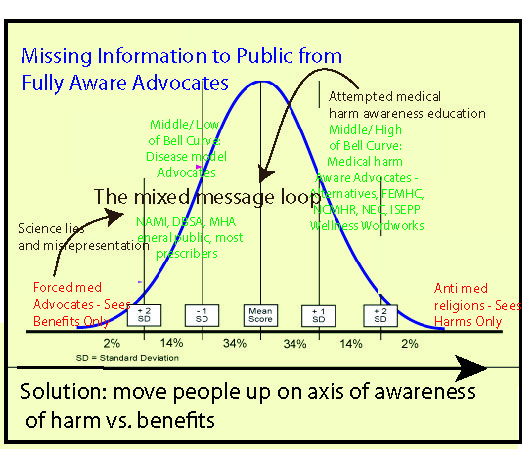 But since his community is hopeless for now, maybe we can look at language in our own community. Although we may be against much of what psychiatry is doing, saying, "medical-harm aware," places the blame them. It points out their lack of science knowledge, and doesn't point to us just for being against them.  This is kinda like David Oaks' blog on "Please Stop Staying Mental Illness," which asks people not to use the language of the oppressor. I have an earlier post on "Please stop Saying Medical Model," which explains that many political battles are lost when you accept the opponents' framing of your argument. In the abortion argument, who wants to be anti-life, or anti-choice?  Also, if we make this request enough, maybe we can teach the disease model apologists how to be respectful.
I'm not telling you what words to use. I'm not the the language police. Do what you want. But I just want to make a case for what I think might be more effective.  Some words work better than others. Some words communicate the idea better, are more respectful, and have more political weight. I'm just asking people to choose their words consciously, to look at why and how we say things. You can say things the way you want, but I think saying "medical harm aware advocate" will work a lot better.
***
Mad in America hosts blogs by a diverse group of writers. These posts are designed to serve as a public forum for a discussion—broadly speaking—of psychiatry and its treatments. The opinions expressed are the writers' own.
***
Mad in America has made some changes to the commenting process. You no longer need to login or create an account on our site to comment. The only information needed is your name, email and comment text. Comments made with an account prior to this change will remain visible on the site.