I'm feeling painfully hooked by the story of Brock Allen Turner and the woman he raped at Stanford University in 2015. There are countless incidents like it, but this one has caught me up more than most.
It's not just the telling injustice of Turner's pitiful 6-month jail sentence, but how it stands up against the frank and fearless-seeming statement offered by the woman he attacked. It's not just Turner's own pathetic denial of reality, but also the callous misogyny expressed by his father, and the starkly apparent biases of the judge who decided the case. Nor is it the number of times I've been forced to look into Turner's wide, innocent eyes or at his smiling face (plastered on so many articles regardless of their spin), but also the minimization by Turner's buddy, and her (HER!) claim that this sort of violence isn't like the rest of the violence because it's not… random enough?
It's not just what happened, but the doubts that so many have raised about who and what we are supposed to value and prioritize, all in seeming effort to plead mercy for this young (white, middle class, formerly steak-loving) man with such a promising swim team career.
This – this narrative of who matters in society and how we convince everyone that certain people don't count (including, sometimes, those people themselves) – should be a familiar one to all of us who've been touched by the psychiatric system in some way. But we don't talk nearly enough about how one interlocks with the other. For example, how do these attitudes about girls and women and their bodies serve as a sort of preparatory 'class' for the systems that will bind them just a little further down the road? How does one lead to another?
The sort of doubt that is cultivated by being so devalued and questioned and conned by societal expectations lays the groundwork for so many of us to be eaten alive by systems of the same design.
So, I'm having trouble looking away. And yes, this is personal.
Let me explain:
As a child, I remember my parents letting me spend time with a neighborhood boy. I can't recall how old he was… maybe 12? I was around 4 (the same age my daughter is now).
I do remember that my mother complained he played with my hair too much. (It made her feel uneasy.) And I remember that they used to let him take me swimming in the pool behind our house, and that I really liked going. And I remember the day that he walked into my room before I was ready. I was standing in the middle of the burnt orange carpet, bathing suit in hand, wearing nothing on my body. And then my memories stop, but… I never, ever wanted to go swimming with him again.
When I've tried to bring some of this up in later years, my parents say they didn't leave me alone with him that often and that my memories must be playing tricks… distorted by a child's way of perceiving the world. I guess I was too young to tell right from wrong.
It made sense to doubt that child over adult minds.
Then, when I was 15, a friend and I snuck out of my mother's house and went to hang out with two boys we knew. We drove to one of the richest neighborhoods in the area and crept into one of the boy's houses to hang out in his bedroom. There, I got drunk for the first time, and after reaching a prime state of intoxication, the two boys then took turns holding me down on the bed. They got on top of me, forcing me to kiss them and touching me while my friend threatened to get help if they didn't stop. I remember her voice got louder each time she said it.
But, you see, I had a crush on one of those boys, and I was painfully insecure. I defined what happened with 'fuzzy edges.' I 'forgave and forgot' in a desperate attempt to maintain connections. I stayed friends with them at the time. Hell, they're still among my social media acquaintances even now. (I'm sure they won't read this.) Maybe I'd asked for it. What kind of girl sneaks out of her house late at night to drink with boys? And, besides, we were all kind of drunk weren't we? Who can really blame them.
I deserved the doubt.
And, when I was 16 ('and a half,' as my daughter would want me to point out), I found myself in my second semester of college and hanging out with an older man who liked to 'visit' our isolated campus in the Berkshires. I let him come back to my room one night. The next thing I remember is him saying, "I've never had to force anyone before."
A month or so later, I remember hearing from others that he was raping women because he was HIV+, pissed off, and wanting to spread it. I had no idea of the truth of this rumor, but I managed to find my way to a confidential HIV testing site not too far from campus where they proceeded to ask me every possible detail about my sex life and question me on my choices.
After all, why did I let him come back to my dorm room? What was he supposed to think? And, it's not like I was some innocent virgin, right? I'd had (voluntary) sex for the first time with a boyfriend in a similar dorm room just the semester before.
How could they not doubt me? It was apparently their job.
When I was 17, I transferred to a college in Worcester, Massachusetts where I again met an older man who liked to 'hang out' among us young college coeds. He spent some time just talking to me on a bench near my dorm. I didn't know many people at the time, and I remember the attention felt nice.
Then, one day, he asked for a tour of the dorm and I said okay. When we got to the basement where the common hangout spot could be found (it was empty at the time), he pressed up against me and forced me to kiss him. I can still feel his hands wrapped around my neck.
I got away that time, but he followed me outside. He told me it was my fault because of the clothes and make up I wore. He also told me that he could go along with not thinking of me sexually, but only if I agreed to become his 'sister'… The catch being that he was from overseas and, in his country (so he claimed), a sister had to do everything their brother said. But, what was I supposed to do? I'd invited him to the basement of my dorm wearing clothes that apparently gave him the 'wrong idea.' That makes it my fault, right?
At around the same time, my mother also wrote me a rather lengthy note explaining that – because my body was larger than she thought it should be – men would probably only want to be with me because they'd think of me as an easy mark… a little desperate or something. Maybe it was partly because of that, too? I wanted it from this guy because I couldn't get it elsewhere? Was I sending out some kind of 'vibe'? Was he just trying to do me a favor of some sort?
Doubt became me.
It was around that time that my sense of reality began to shake most substantially. I believed people were talking about me, or thinking terrible thoughts about me, and I felt so distant from my body so much of the time. I doubted everything.
How wonderful for that to also have been the time that the 'mental health' system entered my life. I was perfectly primed.
I already doubted so much about my internal and external worlds and my worth and place in them, but this system made me question my very capacity to make any sense of things at all. The people who sought to 'help' me glossed over the terrible things that had happened (or didn't ask after them in the first place), and informed me I couldn't trust my own brain. They taught me that my reactions to my environment made no sense and were more the product of something broken within.
They gave me institutionalized doubt.
Doubt your sanity. Doubt your choices. Doubt what you think you know, what you see, your inner voices. Turn your agency over to people trained and paid to decide on your behalf. But, when it comes to making sense of your true self, why should we trust a capitalist-bred system's motives with any of that?
There is some deep misunderstanding here; a fundamental disconnect, if you will. People hear me say these things and they think I'm being overly dramatic, drawing false (or stretched) correlations.  They think I'm 'anti-psychiatry' (whatever that truly means beyond being just another label to try and discredit and silence what I know to be true), or not getting some aspect of the necessity of it all. If only so many of us weren't so sick (torn down by our own pasts), they wouldn't be forced to force. (It hurts them, too.)
There are so many answers I don't have, including what to do in every single situation (especially those I'm not in) where someone refuses support while appearing to spiral out of control (so you can keep all your 'what ifs,' thank you very much). I've never claimed otherwise. Yet, it strikes me as beyond puzzling that people wouldn't be able to more easily see that it makes no sense to try and further break someone who's been so fractured by the world around them; that a fundamental part of supporting people through so much pain and confusion would be to build them up, help their confidence grow, rather than further shake their faith that some sense can be made.
Breeding doubt (institutionalized or otherwise) in one's self is no path to healing. The two are mutually exclusive.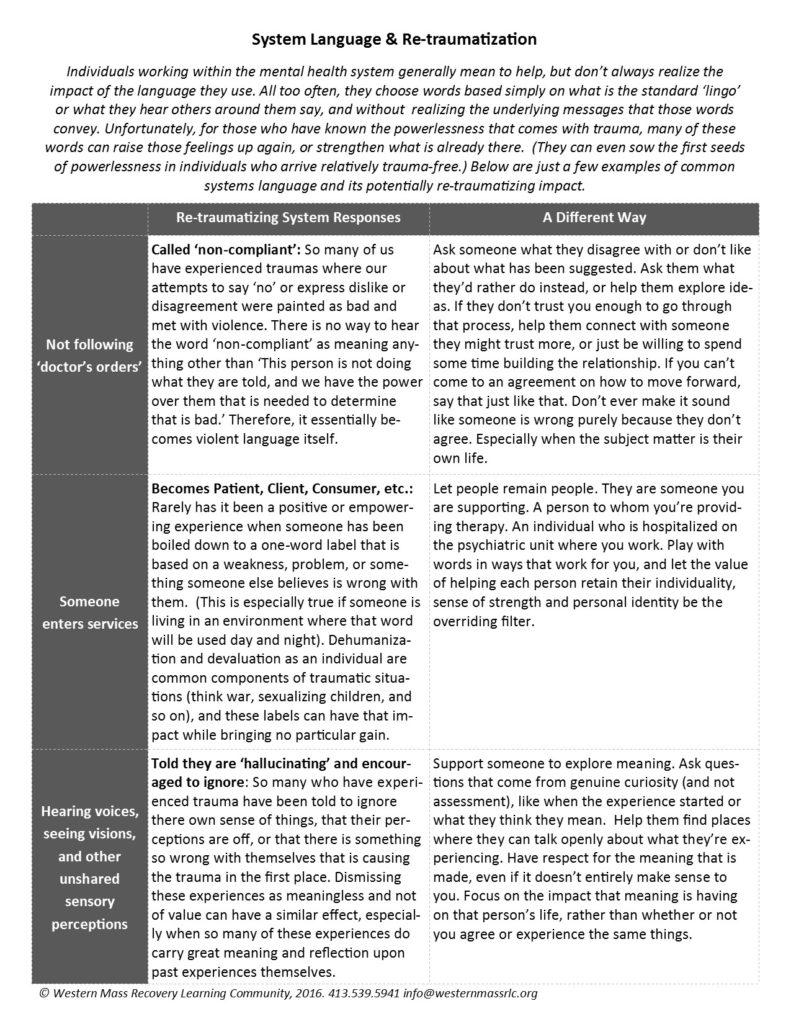 How can people be so blind to the ways in which our traumas in the world mirror our traumas in the system? I can describe rape and force in 'treatment' in ways that sound virtually the same, though most will balk at the 'bigness' of that claim. I've tried countless ways to illustrate the links – some of them bold and some of them more subtle, but even the most basic words that are regularly used in day-to-day conversation scream re-traumatization. (An example of what I mean is attached here, since I know you all love a good handout, or click here for a downloadable copy and to see the second page.)
Yet the blindness continues. Perhaps, the biggest barrier is that if there's any real acknowledgement that trauma in the system is directly comparable to all these abuses in the broader world… then there must also be some degree of admission that people working in those systems are directly comparable (at least to some extent) to a perpetrator of what our world is more readily willing to recognize as crime.
Now, I am someone who tends to come from a perspective that it is the system itself that is the problem, and that both those working and 'receiving' services within it are similarly caught up in its inner workings. However, I wouldn't argue against that conversation: What responsibility should people working in the system take for the traumas they are a part of inflicting? How can that conversation happen without those in power simply continuing to silence it out of fear, shame, or self-protection? And, even if we can grant a pass to those who have taken part in actions and words that harm for not fully understanding their role at the time… what do we demand from them now in terms of recognition, reparations and being a part of how to change things moving forward?
For my part, I still live with lots of the same doubt that set me up to be victimized (both sexually and psychiatrically). Doubt in myself and my perceptions. Doubt in my ability to be of real value to others (worth being able to say either 'no' or 'yes'). Doubt that I can form true connections. Doubt in everything around me to hold me safely in place.
This is what can happen to a soul when doubt – from wherever it may hail – eats into one's very core. It's hard to shake, and sets us up for more of the same.
I blame the people who hurt me and those who made way for them (both before and after) by setting me on ground that was never firm enough to gain real footing and then continuously kicking away the sand. I blame the systems that swallowed me up, saw my pain as the currency to pay for their 'help,' and further eroded my perch.
I admire the woman who spoke out against Turner because she did something I did not do which is to speak out at all. But, perhaps more than anything, I admire her for speaking in a way that conveys so little doubt – in spite of all those who cast shadows around her. Perhaps it will act as a protective layer.
It may be that she's just pretending, but it's meaningful all the same.
(I wonder what would have happened if a psychiatric diagnosis had been added to the game?)
***
Mad in America hosts blogs by a diverse group of writers. These posts are designed to serve as a public forum for a discussion—broadly speaking—of psychiatry and its treatments. The opinions expressed are the writers' own.