Six years ago I was a lecturer at the University of Auckland in New Zealand when a new neighbor moved into the house across the street. Paul Ellis was his name and we gradually moved from a nodding acquaintance to long conversations about philosophy and then to walking our dogs together. Then one autumn evening, he asked if we could meet and talk; he had something important to tell me, he said, something I should know. We sat outside in the garden and as it grew dark Paul told me that he had spent seven years in a forensic psychiatric hospital for killing his father in a substance-induced psychosis. He wanted me to know before our relationship went any further, he said. It was obvious how hard it was for him to tell me.
Since that night our relationship has indeed gone further and I have lost count of the number of people that have cited Oedipus when they learn of Paul's history as if there is no other way to make sense of this than through the mythical. But there is nothing mythical about this story – rather it is human, all too human. Nonetheless imagine for a moment that in a psychotic state, caused by abrupt cannabis withdrawal and intensified by an antipsychotic to which you are acutely sensitive, you kill your father.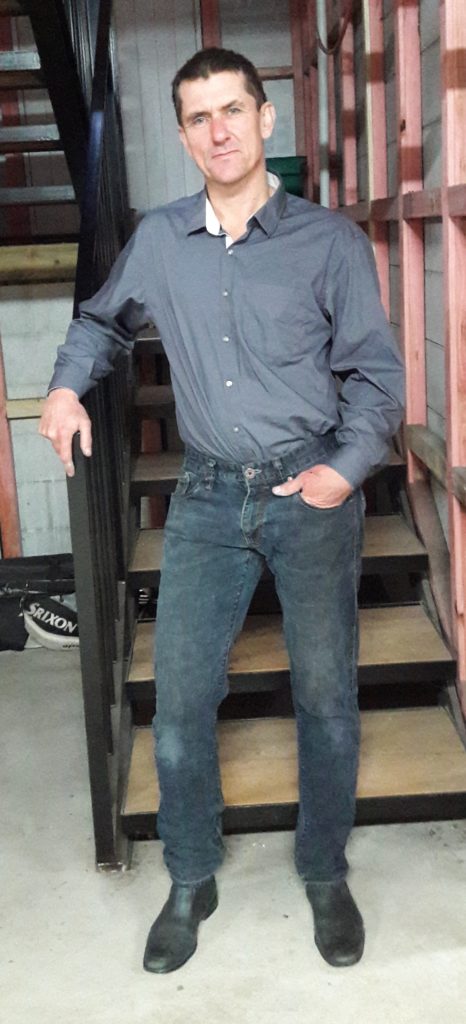 Paul Ellis
Now imagine that you emerge from that psychosis to become fully cognizant of what you have done and that being found not guilty by reason of insanity means you will spend an unknown number of years within a forensic psychiatric hospital. You are told within the first six months that you are schizophrenic – paranoid no less – and that you will have to take medication for the rest of your life. You accept this because a) you are completely overwhelmed and desperate for anything that will explain your own behavior to yourself and b) you are being told this by experts. But the experts keep increasing your medication until you feel as though you will explode into a thousand pieces if you have to keep still. Eventually someone notices your unrelenting movement and changes your medication to something that makes you feel numb, so numb that your face seems to lose all capacity for expression. This, you are told, is a sign of your schizophrenia and so your medication is increased.
Several years pass inside the hospital, years in which you never have anything remotely resembling a symptom of psychosis or indeed schizophrenia. This, you are told, is because a) it is currently in remission; b) the medication is 'treating' it and c) both (a) and (b). For this reason, you are allowed a day-pass to work several days a week except almost every morning that you have to wait for the train, you fall asleep and miss it because the medication is essentially a tranquilizer. You decide then to stop taking the morning dose of 200 milligrams because you are still taking a hefty 400 milligrams every night and the only difference you notice is a sense of yourself returning. And you had almost forgotten what that felt like. You decide then to further reduce your medication because – not for the first time – you have doubts about your diagnosis and this seems a way of testing what you have been repeatedly told: no medication = rapid decompensation. Of course you tell no-one because you know what the response will be: you will be deemed to be suffering from a "lack of insight" which will mean an increase rather than a decrease in medication. And what you learnt very quickly in the clinic was that the ability to keep a secret was the only power you had.
Gradually over the next few years you reduce your medication to nothing and although during that time you are placed under significant stress, there is no decompensation, not a single sign or symptom of schizophrenia or indeed any mental illness. Each time you are reviewed by the psychiatrists, they report your progress and mental well-being – you become in fact the poster boy for the "good" forensic patient – because they still believe you are taking 600 milligrams of Quetiapine every day.
It is now nine years since your index offence, nine years since you last touched cannabis or alcohol and nine years since you had any kind of mental disorder. This does not appear to be a coincidence. You are allowed now to live outside the clinic and are attempting to live as normal a life as possible though you are still very much under the control of the mental health system, still considered very much a risk. You are a paranoid schizophrenic in remission – ostensibly the longest period of remission ever recorded – but in the ever changing world of psychiatry, all things are possible. Except mistakes.
You have been medication free for over two years when the only person you trusted with this information, in a fit of pique, takes four months' worth of unopened medication to the clinic. You are immediately summoned to the clinic and told you will not be able to leave again unless you agree to be medicated and as you clearly cannot be trusted to take the medication, it will now be administered in the form of fortnightly injections. But there is a problem: you are not unwell – at all – and so the only way to force you voluntarily (and the irony of those three words is not lost on you) back onto medication is to keep you locked up until you agree.
It will take five months and a Mental Health Review Tribunal to release you. Five months of being told over and over again that you are deceptive and cannot be trusted. Five months of trying to tell them they have made a mistake. Five months of refusing medication. When you are finally released you have lost your job and are not allowed to see your children. And so you begin all over again constructing a life. Approximately a year later a highly respected independent psychiatrist will agree that you do not suffer from schizophrenia or bipolar I or schizoaffective disorder or any other of the received diagnoses but rather, as you have always believed, a substance-induced psychosis. You wonder how many other people are being locked up and medicated into illnesses that, like you, they never had.
It is now 2016. Fifteen years since the death of your father and eight since your last dose of medication. You are no longer subject to the Mental Health (Compulsory Assessment and Treatment) Act which means that your life is once again your own but no-one within the system will admit they made a mistake. Instead they say "Such changes in diagnostic formulation are common in psychiatry, as they are in other areas of medicine." They do not add the obvious: that other areas of medicine will not force you to take medication, that other areas of medicine are governed by science rather than subjectivity, that in other areas of medicine the goal is recovery rather than risk management.
You have rebuilt your life and a successful business and are half-way through renovating your own house. You really should be the poster boy for mental recovery. You read recently that "being able to feel safe with other people is probably the single most important aspect of mental health" and reflect that there was never a single day within the mental health system that you felt either safe or heard. As a result you now distrust all systems especially those that claim they are there to help you. You have learnt to help yourself. There is something quite evidently wrong with a system when the people it is meant to serve are afraid to use it.
You will not, however, allow your life to be one forged by fear – will not change your name or hide – but you know also that there will always be people afraid of you and your history, people for whom you are simply a headline, people who cannot imagine what I have just explained. Mostly it is because they do not know the truth of you – your courage, your honesty, the strength it has taken to be who you are now and for which you are deeply loved though you struggle sometimes to understand why.
So you see there is nothing mythical about this story – nothing that cannot, in fact, be imagined – rather it is a story of tremendous pain and loss, of inching one's way back from the abyss but that he managed to do so makes Paul's story one also of something hardier than hope, more profound than possibility for ultimately it is the very real story of a man who saved himself.
Love is not consolation. It is light.
***
Mad in America hosts blogs by a diverse group of writers. These posts are designed to serve as a public forum for a discussion—broadly speaking—of psychiatry and its treatments. The opinions expressed are the writers' own.
***
Mad in America has made some changes to the commenting process. You no longer need to login or create an account on our site to comment. The only information needed is your name, email and comment text. Comments made with an account prior to this change will remain visible on the site.