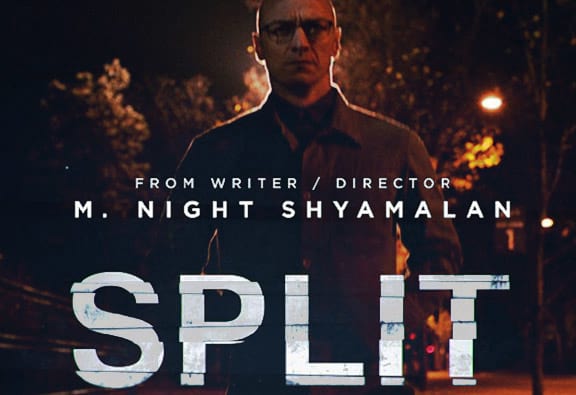 Content & Spoiler Warning: This article focuses on the new film 'Split' by M. Night Shyamalan. As such, it includes some fairly disturbing and explicit information about the film (including references to incest and explanations of how 'Split' plays into dangerous elements of rape culture and violence against women). Meanwhile, no effort whatsoever has been put in to avoiding spoilers. In fact, if I could push the film right out of theaters with righteous spoilage, I would do so in a heartbeat. 'Split' does not deserve respectful protection of even its most coveted secrets, for all the respect it has clearly failed to have for our hearts, our hurts, and our very humanity.
So, for starters, and before anyone offers this argument to shut the rest down: Yes, every 'type' of person takes their turn being represented as a criminal or in some other negative way in popular media. And, yes, such representations can be all in good fun or for the sake of the story. However, until the ratio of people labeled with a psychiatric diagnosis who are represented as 'good' verses those represented as inherently bad or broken matches the ratio of 'good' verses 'bad' for… say, undiagnosed, heterosexual, white males … then it's just flatly unacceptable.
Because it's precisely these out of whack ratios that lead the general public to believe they know what these diagnoses mean, and to assume that all people with such labels are some sort of monolith. Because even though they know they're watching fiction, those fictionalized representations are basically all they've ever seen. (Well… those and pharmaceutical commercials.) At best, perhaps some will also be eager college students co-mingling these fictionalized accounts with Psychology 101 or 'Abnormal Psych' classes where information tends to be about as skewed and one-sided as our nation's average history text.
Will 'Split' lead directly to someone dying or being beaten up? No, probably not. Not exactly, anyway. But, is it a pretty outrageous piece of evidence illustrating cultural trends that regularly represent people with psychiatric diagnoses as frightening and volatile? Absolutely. Do those cultural trends (and the beliefs they engender) lend themselves directly to people dying at the hands of police brutality, or languishing in psychiatric units where they are incarcerated against their will, violently restrained, force drugged, and ultimately dying decades earlier than they otherwise might? For sure.
After all, there really are only two ways that psychiatric diagnosis shows up in pop culture.
First you have the goodhearted soul loved by all (or at least most), but who inevitably slips up every now and again, falls off their drug regimen and gets at least a tad out of control… Perhaps all in effort to provide a sort of 'Public Service Announcement' about just how bad it can get when one is so 'non-compliant.'
Television is full of such for instances. They seem to think they're being 'progressive' for the inclusion… Maybe even (dare to dream) kinda 'hip'? For example:
Silver on 90210 (the reincarnated version) was bipolar and doing great until one young 'mean girl' came along and switched out her pills for placebo. She hit a bit of a bump, but got back on the (drug) horse as soon as she figured out what was up. Because those pills are "just like insulin for diabetes" her doctor spouted off like the model NAMI spokesperson she seemed to want to be. (Never mind that it's nothing like diabetes at all.)
More recently, Callie's half-sister Sophia on the Foster's revealed she had "Borderline Personality Disorder," which she went on to explain was the result of a "chemical imbalance," but she'd be just fine with treatment, of course! (Pay no mind to the fact that the 'chemical imbalance' theory has been, in reality, summarily debunked.) And, Rosie O'Donnell's daughter on the same show went wild with a bipolar outbreak when she went off her drugs. She stole, lied, and cheated with the best of them, but poor Rosie only sighed. She'd seen it before. (One might speculate that she had a hand in modeling this character after her real-life daughter who she has thoroughly exploited in the media, as well.)
Then you have Ian and his mom over on Shameless. One is properly in check and 'medicated' (at least, most of the time), the other clearly careening toward chaos on the regular. Some might even remember Sally Field's bipolar portrayal on ER back 'round about 2000. Apparently, it really wore her out.
The message is clear. It's the best sort of advertisement (especially for the young among us): Cool kids take their drugs as prescribed. Psychiatric diagnosis can be glamorous when properly medicated. This too can be you.
Almost never do these shows venture into the land of questioning meaning or challenging dominant paradigms. And, those who do question (like yet another character on The Fosters, Jesus, who contemplates the need for his 'ADHD' drugs over the course of several episodes) are slapped back down to 'reality' in the best pharmaceutically driven spirit of the game.
Then there's the other side of the diagnostic coin. The untreated villains. The dark and unlovable. The dangerous caricatures. Our worst nightmares come true. This is where 'Split' comes in.
'Split' is the latest in a growing line of twist-driven flicks offered up by M. Night Shyamalan who seems to forever be chasing his way to re-creating that satisfying "wait, what!?" so many experienced with the 'Sixth Sense'.
But, the end result of this particular attempt is nothing short of dehumanizing, degrading, and dangerous. One of the main characters in 'Split' (played by James McAvoy who – at the very least does appear to be enjoying himself) carries the birth name of Kevin, although we only glimpse him by that name for about thirty seconds of the film because apparently 'Kevin' has been sequestered from the 'light' (of day) for about four years by a handful of the twenty-three other personalities occupying his body.
We learn that Kevin has been diagnosed with 'Dissociative Identity Disorder' (DID for short, and previously known by the medical profession as 'Multiple Personality Disorder'). As it turns out, this film has several lessons to teach us about what it means to be multiple (a non-diagnostic way in which many people with this experience identify). Here's just a handful:
Split Says People Who are Multiple are Pedophiles:
One of Kevin's most dominating personalities heads out and kidnaps three teenage girls from a gathering at a local mall, including the closest to what the story has to offer as a 'hero', Casey (played by Anya Taylor-Joy). The reasons are more than one, but the first reason offered up is that that particular personality has pedophiliac tendencies. (He likes to watch underage girls dance naked.)
In fairness, Shyamalan writes in one other adult without psychiatric diagnosis (as far as we know) who likes little girls. Perhaps some may say that balances 'Split' out a bit, but honestly, the second character's actions simply serve as a plot device to justify one of the 'twists' at the end. More on that later.
Split Says People Who are Multiple are Super Funny:
But not in a good way. More in a degrading 'comic relief' sort of fashion. Early on in 'Split', we meet Hedwig, Kevin's 9-year-old part. He says lots of 'funny' things that get film goers tittering. The hilarity includes:
"My name is Hedwig. I have red socks."
"Kanye West is my main man."
"You might be pregnant now." (After he gives a quick peck on the lips to one of the female characters.)
He also ends lots of sentences with "Etcetera" which is meant to somehow be 'cute' or endearing. All the 'funny' continues right up until he tries to smash the female lead over the head with a baseball bat. Hardy har.
Split Says People Who are Multiple are Also Super Funny When They Cross Gender Lines:
The other 'Split' character who seems to generate the most laughs is called Patricia. This is especially interesting because – in a contest for most malevolent personality she'd place at least top three, and she'd win the 'who likes knife play most' prize hands down. Alas, audiences seem to find her most humorous. Presumably because Kevin (and the others we see) at least appears to be a cisgender man (someone whose biological sex assigned at birth was 'male' and who also has a matching gender identity of 'man'), everyone thinks it's the height of humor to see him dressing and taking on (somewhat) feminine ways of expressing himself.
Probably worth noting here that multiples who have parts that identify as a different gender than their core personality (Kevin, in this instance) nonetheless don't typically change their gender expression (for example, the way they dress) in quite that way. But, hey, thanks for the transphobia radar, M. Night!
Split Says Clinicians Who Take Non-Medical Views of These Experiences are Stupid:
"I don't know how you work with those people," says some unidentified older woman to Karen Fletcher, Kevin's therapist. (Or psychiatrist… Not quite sure which!) Karen responds in a kindly fashion, trying to explain. People with 'DID' aren't dangerous. They've experienced trauma. This is their brain finding a way to cope. It's amazing, not scary!
'Split' offers us the opportunity to see Karen approach this topic at least a few other times. She presents on a panel at a conference, frustrated to be grouped in with the 'mood disorders'. She has a lengthy conversation while out for a stroll with a colleague during which they both speak to the role of trauma in such experiences.
Great. Some of this might be vaguely redeeming if the end result weren't one of Kevin's personalities killing Karen.
Apparently, she's not just stupid. She also needed to be punished for all her oversights and the grandest transgression of believing that her friend from the start was wrong to be afraid.
Split Says Trauma Makes You a Superhero. No, Really.:
Um, what? So, Karen – before her demise – takes things several steps further than the idea that 'DID' develops as a result of trauma and the brain's efforts to cope. She points out that some people have personalities that are allergic to bee stings when others in the same body are not. (Kevin, in fact, has one part that requires insulin for diabetes that is not shared by the others.) That eyesight or cholesterol levels can be different. And, in fact, this is all consistent with what we know about being a multiple in the real world, too.
It continues. At one point, she goes so far as to suggest that perhaps people who experience what gets called Dissociative Identity Disorder are actually 'more' for the trauma they've survived and not 'less', that the trauma they've experienced has led to them unlocking some of the brain's secret capacities. She is basically seen as a quack for this revelation, but it is an interesting one that is – at times – echoed within (for example) the Hearing Voices Movement by people who speak about the strength and additive nature of their voices, and so on.
But then… There's the Beast.
The Beast is Kevin's twenty-fourth personality. The one that has yet to visibly surface. The only one that Karen denies is real, suggesting that it is a fantasy of the collective others. But – in the last fifteen minutes or so of the film – spirited along by a werewolf-like transformation – we learn it's no fantasy at all.
The Beast can crawl on walls. Literally. It can bend steel bars by hand. It eats young women for lunch (and, I suspect, dinner). It seems to be bulletproof. And, unfortunately, 'Split' forces us to bear witness to all of that.
But Then Split Says Self-Injury Saves the Day:
The Beast eats two of the three kidnapped girls. They are (so another personality tells us) 'sacred food'. But, as he goes to eat number three (Casey) he discovers something that fascinates him. This particular young woman (who, unlike the others, has managed to stay mostly fully clothed until this point) has finally lost her shirt, and what he sees are the telltale signs of self-injury.
There are cut and burn marks all over Casey's torso. (This is where the other pedophilia-related storyline links in, as we're meant to connect the dots and understand that sexual abuse at the hands of her uncle has led to so much self-harm.) And, when the 'Beast' sees that, he stops his bar bending (necessary to reach her), declares she's 'different' like him, and runs off.
So, apparently Shyamalan subjected Casey to childhood sexual abuse as a sort of shield to save her later in life. Nice twist. Great. Bizarrely in sync with what people like Bessel van der Kolk have noted old versions of the Diagnostic and Statistical Manual used to claim about incest (that it was rare and really no big deal, and could even be a protective factor for women who'd experienced it). (See the 'Psychiatry Must Stop Ignoring Trauma' video below at one minute and thirteen seconds in.)
Piecing Split Back Together
So, what did we learn in total? People who are multiple are dangerous, except when they're portrayed to be making a fool of themselves. Then they're super funny. Especially if they're gender-nonconforming, because who doesn't like to get a good laugh out of that. (I'm being facetious here, folks. Just in case that wasn't already abundantly clear.) But, really, they're pedophiles, murderers, and maybe even cannibals. All our worst nightmares about 'the mentally ill' are true. (For more on this: See also the Boston Globe's Spotlight on Mental Health Series!) Clinicians (and anyone else) who suggest otherwise are not only idiots, but they deserve to be punished. Oh, and incest might save you in the end.
We also learned that 'Split' is basically one big set-up for a sequel to one of Shyamalan's other films, 'Unbreakable'. The Beast is given the superhero (or, rather, supervillain) name of 'The Horde' (to represent the fact that he is both murderous and possessing of so many people within his one body). Bruce Willis (who played David Dunn in 'Unbreakable' back in 2000) even makes a cameo appearance at the end to drive the 'sequel-en-route' point all the way home.
Except. Except NONE of that is true.
'Split' is most dangerous for the fact that it has done some research on the 'DID' diagnosis. It interweaves vague realities of people who experience being multiple (like some of the language, connections to trauma, and different parts having different physiologies to name a few) with devastatingly dangerous fiction (like… almost everything else). This makes it all the harder for the unsuspecting film goer to separate those two things out.
A Little about What We Do Know:
People can experience plurality (another word sometimes used in place of multiplicity) for many reasons, and it can look and feel like many things. However, the type of plurality expressed in 'Split' is typically the result of severe early childhood trauma. Not infrequently, that trauma has included the sort of ritual abuse that some might find reminiscent of a few of the more disturbing scenes in this film.
Being multiple can mean there are two parts or dozens. And, several of those parts may even have their own social media accounts and so on. It's also possible for the different personalities to share a co-consciousness and co-operation (a sort of process of permission and consent to who is 'in the room' in a given moment and awareness of what each other is doing), as well as for there to be less integration and non-cooperation or disagreement.
Switching from one personality to another can be small and only internally noted, or it can be big and hard to miss. Interestingly, even when it's the latter, people in the surrounding environment tend not to understand or to make up explanations for what they've observed (e.g., 'x suddenly seemed awfully confused,' or 'x sure has frequent mood swings') because we humans have a strong tendency to see and make sense of everything around us through our own lens. We want the world to be as we understand it.
As aforementioned, many people who are multiple have come to develop their various parts as a product of trauma. It's their brain's way of surviving, or trying to protect them from various things that have happened in their past. Others see and experience plurality more as a natural or cultural phenomenon that is largely positive or a gift. Some describe it as not unlike tapping into different parts of themselves that are in possession of different skills, like Sarah K Reece does in the following excerpt from her blog, "I'm Multiple and I Don't Kill people."
You do not need to be afraid of me switching. Switching is just like someone leaving a room and another person coming in. One of us catches the seagull and figures out how to keep it safe, we switch and someone else comforts the distressed child who saw the bird get hit by a car. We tag team our life. It's actually completely lacking in drama.
From that description we can gather that – at least for some – being multiple can become a different way of recognizing that we all have different ways of being in the world or skills that rise to the surface depending on what's going on around us. Like so many other experiences, perhaps this one rests on the same spectrum where we all find ourselves, rather than on some other completely unrelatable planet. Yet, it remains essential to understand that being on a spectrum and fostering our ability to relate does not mean one is multiple. We are not all multiple, and to mistake relatability for actuality is a show of disrespect for the tremendous trauma people who are multiple have often been through and all they've needed to do to survive.
Most importantly, people who are multiple are not dangerous, at least not as a group. Let's turn once again to Sarah who explains this so well:
Have multiples ever been killers? Yes. It's rare but possible. Are some multiples violent or abusive or frightening? Of course. And so are some people who eat fish… Some psychiatrists. Multiples run the full gamut of human expression from demons to angels not because of our multiplicity but because we are human. Statistically, you are far more likely to be a threat to us than we are to you.
In many ways, it really does make sense to think of this in a manner that's very similar to the 'Hearing Voices' movement's framework. No assumption of disease needed. The goal does not have to be to get rid of all but the core personality. Many explanations of 'why' are welcome, and many pathways forward are encouraged to be explored.
All that said, it's also important to note that hearing voices and being multiple are also different things (although it's not unprecedented for someone who is multiple to have a personality that hears voices, or for someone who is a voice hearer to also be multiple). There are many differences in terms of how each is experienced, but another difference can be found in how the experience is perceived. For example, most clinicians (and the world) surely accept that people hear voices and buy wholeheartedly into the diagnosis of 'schizophrenia', whilst many fewer believe that being multiple is real (or even know what it means). A substantial number of doctors and therapists will still diagnose people with more than one personality occupying their body of having a personality disorder and accuse them of making the experience up altogether.
There's much to be learned, and it's incredibly unfortunate that the most visible teacher at present is a fraud called 'Split'. It's also hard that so much of what is out there about being multiple comes solely from a 'mental illness' frame, but what else is new 'round these parts.
In truth, it's difficult to find good information on being multiple out on the web, but here are a few reasonable spots to try:
So, what now?
We're living in a nation where the 'alternative facts' phenomenon is currently a 'thing' that's being promoted all the way up to (and most fervently by) our country's senior leadership. (For more on 'alternative facts' see the video below at about two minutes in.) It's dizzying to imagine where to even begin, but 'Split' – and each and every instance of 'alternative facts' that surfaces and impacts any vulnerable, oppressed, or dismissed group – needs to be a big deal to all of us.
For starters, you can sign on to this letter to M. Night Shyamalan, though we all know that doesn't tend to lead to much. More importantly, it's become increasingly clear to me that we need to create our own media.
Some of you are already doing that. We need to do more. Movies. Articles. Zines. Podcasts. Books. Maybe most of all, we need to start sneaking characters with positive and alternate representations of such psychiatrically labeled experiences into fictional stories that don't broadcast themselves as 'about mental health' or the system (or running counter to it), so we can trick the general populace into listening. So, perhaps we can lure them in to care.
I don't know quite how to get there, but it's clear that's where we need to go.
A special thanks to Emma and Sharon for helping me with this blog, and supporting my own learning about the experience of being multiple. It would have been a much lesser piece without you!
***
Mad in America hosts blogs by a diverse group of writers. These posts are designed to serve as a public forum for a discussion—broadly speaking—of psychiatry and its treatments. The opinions expressed are the writers' own.
***
Mad in America has made some changes to the commenting process. You no longer need to login or create an account on our site to comment. The only information needed is your name, email and comment text. Comments made with an account prior to this change will remain visible on the site.