It might seem like a silly question, but as we head into the holiday season it's worth noting that the parallels are striking and instructive. By "chemical imbalance" I'm referring to those explanations that suggest that mental health problems are caused by an imbalance of neurotransmitters (or chemicals) in the brain. The two most commonly identified culprits are serotonin and dopamine. Apparently, so the story goes, depression is caused by an imbalance of the neurotransmitter serotonin and schizophrenia is caused by an imbalance of dopamine.
An important detail to clarify at the outset is that a chemical is only identified as a neurotransmitter because of the way it functions in the brain. There is nothing special or unique about its chemical properties that make it particularly neurotransmitterish. A number of peptides, for example, function as either hormones or neurotransmitters depending on where they are located (Purves et al., 2001). And with serotonin, approximately 90% of the bodies' serotonin lies outside the brain in the gastrointestinal tract (Ruddell, Mann, & Ramm, 2008).
While the similarities between Saint Nick and chemical imbalances are interesting and informative there is at least one fundamental difference between them. Prior to exploring some of their commonalities, emphasising this important difference might provide an important context for what is to come. Whereas, in the Western world at least, Santa Claus is generally associated with kindness, warmth, and good tidings, the chemical imbalance narrative is mostly accompanied by misery and mayhem. Despite this troubling difference, the similarities are noteworthy.
Perhaps the greatest similarity is that both Santa Claus and the chemical imbalance are mythical. Santa Claus, as we know him today, has never existed, and many authors (e.g., Gotzsche, 2015; Healy, 2012; Moncrieff, 2009; and Whitaker, 2010) agree that there is not one shred of evidence for the notion that an imbalance of chemicals in the brain causes mental health problems. Ironically, any imbalance in chemicals associated with mental health problems seems to occur after people have begun ingesting psychotropic medication not before (Gotzsche, 2015; Whitaker, 2010).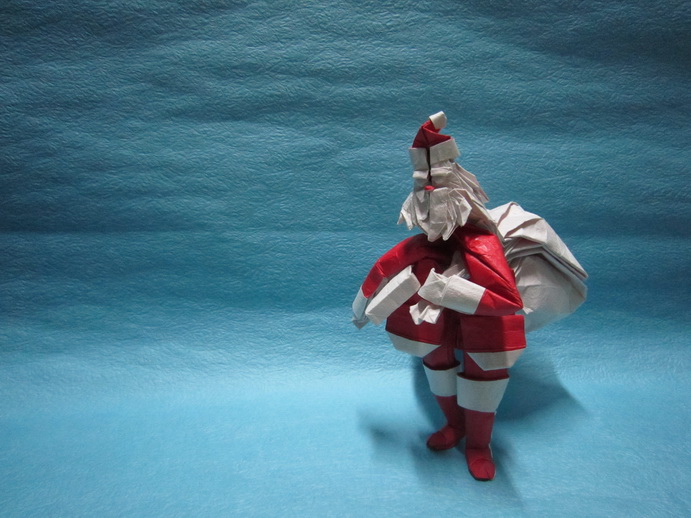 Both chemical imbalances and Santa Claus have been extraordinary marketing strategies. In fact, the chemical imbalance propaganda may eventually be recognised as one of the greatest marketing manoeuvres of all time. The tactic of promoting mental health problems as consequences of out of balance brain chemicals has literally turned pharmaceutical companies into some of the most successful organisations on the planet with profits that soar into the stratosphere of billion dollar figures. The fallacy that mental health problems "are just like diabetes" so that medication will need to be taken "for the rest of your life" has beguiled health professionals and patients alike despite the emptiness of its claims. While the Santa Claus story hasn't been as astronomically successful, it has certainly turned a Christian Festival into a very lucrative commercial enterprise.
The function of the Santa Claus and chemical imbalance stories are also practically identical. It could be argued that the main reason for the Santa Claus tale is so that parents have a way to "encourage" their children to behave sweetly.
He's making a list, he's checking it twice. 
He's gonna find out who's naughty or nice.
As Christmas draws closer, children are cautioned about the nonarrival of Santa should they transgress in ways that parents find objectionable. Similarly, mental health prescribers use the fantasy of the chemical imbalance to "encourage" their patients to be compliant with their medication. Despite its fictional nature, it is still not uncommon for patients to be told that the reason they are experiencing mental health problems is because they have a chemical imbalance. This is where the "just like diabetes" silliness enters the script and, of course, the delivery of the nonsensical life sentence remedy follows soon after. Moreover, it may also be the case that one type of medication won't be enough to restore the balance so multiple prescriptions are also a regular occurrence once people embark on the journey of the chemical cure. Not surprisingly, both the "life sentence" and the multi-pronged approach are both very useful in boosting pharmaceutical profits even further.
Santa Claus and the chemical imbalance are both creations from a Western cultural perspective and they both disregard explanations from other cultures. Despite his multifaceted origins, Santa Claus is now most closely linked to the Western Christian festival of Christmas. The chemical imbalance idea is firmly rooted in the Western bio-medical perspective. Despite their mono-cultural origins they have infiltrated other cultures and societies and usurped the indigenous explanations that exist there. "Mental health literacy" is a particularly insidious form of indoctrination in which people from other cultures are taught to think like Westerners with regard to the manifestation and treatment of mental health problems.
The invisibility of Santa Claus and the chemical imbalance is another shared feature. It is devilishly difficult to identify whether they are present or not. And, of course, the benefit for the chemical imbalance enthusiasts is that "One can never be sure whether something that does not exist has gone away." (Runkel, 2003, p. 368) so we need to keep taking those l'il ol' pills just to be sure.
We assess whether or not Santa has visited by the bulging Christmas stockings and the crumbs on the plate where a cookie used to be. To determine the presence of neurotransmitters we mostly rely on measuring metabolites in the blood, however, these substances do not have a straightforward relationship with the chemicals in the brain. There has certainly been progress in recent years in the development of different techniques for measuring neurotransmitters directly (Perry, Li, Kennedy, 2009) although these methods still have limitations. Perhaps the main limitations, however, are conceptual rather than pragmatic. Even if we were able to accurately determine what someone's dopamine levels were at any point in time, we still would have no idea of what the dopamine levels should be. And, given what we know about the bidirectional influences between the brain and behaviour, it would be a mistake to assume that any particular dopamine level was responsible for a particular mood state. It would be just as defensible to conclude that it was the mood state that changed the dopamine levels. That is assuming of course that we were able to tell that the dopamine levels had, in fact, changed from a previous level.
It is also the case that within the relationships in which the stories of Santa Claus and the chemical imbalance flourish there are distinct power differentials. Santa Claus is most often used in relationships between parents and children. In this context, Santa is the parents' little helper as they use the omnipotence and moral exactitude of Santa to reign in irascible children. The chemical imbalance is most often used in relationships between a doctor and a patient. In this context the doctor adopts the role of the wise sage and explains tirelessly and compassionately to the patient about their apparent neural deficiency. In this context the seemingly scientific "just like diabetes" sermon is delivered for the purpose of promoting compliance from sceptical, questioning, or otherwise wayward patients.
I intended this article to be a short satire using the similarities between Santa Claus and the chemical imbalance as a way of increasing awareness of the folly of adhering to this particular causal explanation of psychological distress. As I have proceeded, however, it is the differences that now appear more noteworthy to me. I described a contextual difference at the outset and, in closing, it seems appropriate to return to the differences as a way of emphasising the seriousness of the situation with which we are dealing.
Generally, most people, even little people, recognise that Santa is just a game. Children perhaps wholeheartedly believe in the story for a while but flaws in the narrative soon become apparent. The Santa Claus charade is of benefit to them, however, so they are likely to play along way past the time they could have legitimately exposed the deception so that they continue to enjoy a bountiful Festive Season.
Unfortunately, not nearly enough people recognise that the chemical imbalance is also a charade. The "mental illness is just like any other medical illness" has reached axiomatic proportions (Malla, Joober, & Garcia, 2015) despite the shakiness of its foundations. The uncritical acceptance of this idea by many people has had deleterious consequences which may well be the most important difference of all between the chemical imbalance and the Santa Claus fables.
Whether you do or do not believe in Santa Claus doesn't really matter. People tend to figure out the way they most like to celebrate the festivals and occasions that are important to them and, often, these differences can be an interesting topic of discussion.
Whether you do or do not believe in the chemical imbalance, however, does matter. And it matters both ways. If people do accept a chemical imbalance explanation for their difficulties they may well be reassured initially but they may also then disregard psychological and social treatments (Malla et al., 2015) which could have beneficial effects for them. If they choose pharmacology as their only remedy they risk experiencing some of the damaging consequences of long term psychotropic medication use (Whitaker, 2010). If people don't accept a chemical imbalance explanation, they may experience fractious relationships with their treating mental health professionals, they may be described as lacking insight, and they may become caught up in a cycle of "nonadherence" (Malla et al., 2015).
While it would be hard to imagine any stigma on a serious or wide-spread scale being associated with believing in Santa Claus, there is good evidence that medical explanations of mental illness such as the chemical imbalance idea are associated with stigma that is both serious and widespread. Malla et al. (2015) report that several well-conducted studies have concluded that when campaigns promote biological explanations for mental health problems this does not reduce stigma. Instead, people are less accepting of those with mental health problems and feel less positively towards them. This can include believing that people with mental health problems such as depression and schizophrenia are dangerous and unpredictable and the endorsement of an increased desire for social distance from these people (Read, Haslam, Sayce, & Davies, 2006; Speerforck, S., Schomerus, G., Pruess, S., & Angermeyer, M. C., 2014).
Believing in, and propagating, the chemical imbalance untruth does matter. It matters for a whole lot of reasons. While the comparison between Santa Claus and the chemical imbalance narrative is instructive, it should not distract from the damage that is done by continuing to promote the manifestation of psychological distress as attributable to out of balance brain chemicals.
People are controlling, autonomous agents. They experience difficulties when their ability to control the things that are important to them is blocked or disrupted (Carey, Mansell, & Tai, 2015). Promoting explanations that are consistent with the way people are designed will lead to more effective treatments and less stigma and other adversity for those who are psychologically distressed.
While Santa only visits once a year, the chemical imbalance hoax is always here. We can look on Santa's benevolent arrival with whimsical indifference but that is not the case with the chemical imbalance. Like the impostor it is, it needs to be exposed and evicted. When that happens we might look forward to greatly enhanced mental health services for the people who seek what these services have to offer.
* * * * *
References:
Carey, T. A., Mansell, W., & Tai, S. (2015). Principles-based counselling and psychotherapy: A Method of Levels approach. East Sussex: Routledge.
Gotzsche, P. (2015). Deadly psychiatry and organized denial. Copenhagen: People's Press.
Healy, D. (2012). Pharmageddon. Berkeley, CA: University of California Press.
Malla, A., Joober, R., & Garcia, A. (2015). "Mental illness is like any other medical illness": A critical examination of the statement and its impact on patient care and society. Journal of Psychiatry & Neuroscience, 40(3), 147-50.
Moncrieff, J. (2009). The myth of the chemical cure: A critique of psychiatric drug treatment. Basingstoke: Palgrave Macmillan.
Purves, D., Augustine, G. J., Fitzpatrick, D., Katz, L. C., LaMantia, A. S., McNamara, J. O., & Williams, S. M. (2001). Neuroscience (2nd ed.). Sunderland, MA: Sinauer Associates. Available from: https://www.ncbi.nlm.nih.gov/books/NBK10957/
Read, J., Haslam, N., Sayce, L,. & Davies, E. (2006). Prejudice and schizophrenia: A review of the 'mental illness is an illness like any other' approach. Acta Psychiatrica Scandinavica, 114(5), 303-18.
Ruddell, R. G., Mann, D. A., & Ramm, G. A. (2008). The function of serotonin within the liver. Journal of Hepatology, 48, 666-75.
Runkel, P. (2003). People as living things: The psychology of perceptual control. Hayward, CA: Living Control Systems Publishing.
Speerforck, S., Schomerus, G., Pruess, S., & Angermeyer, M. C. (2014). Different biogenetic causal explanations and attitudes towards persons with major depression, schizophrenia and alcohol dependence: Is the concept of a chemical imbalance beneficial? Journal of Affective Disorders, 168, 224-8.
Whitaker, R. (2010). Anatomy of an epidemic: Magic bullets, psychiatric drugs, and the astonishing rise of mental illness in America. New York: Broadway Paperbacks.
***
Mad in America hosts blogs by a diverse group of writers. These posts are designed to serve as a public forum for a discussion—broadly speaking—of psychiatry and its treatments. The opinions expressed are the writers' own.
***
Mad in America has made some changes to the commenting process. You no longer need to login or create an account on our site to comment. The only information needed is your name, email and comment text. Comments made with an account prior to this change will remain visible on the site.