To me, "May is Mental Health Month" has always seemed like an excuse to hold an annual four-week-long commercial for Pharma and bio-psychiatry. Under the guise of raising "awareness" and reducing "stigma," the PR reps out there make it safe for us average Joe's to admit how bad we feel or how stressed out we are. Then they tell us what our problem is ("mental illness") and conveniently offer us the solutions they are selling (pharmaceuticals and professional treatment). It's like the soda industry taking over July and turning "thirst" into a public health concern. Yes, every summer, you suffer from an urgent, potentially deadly, recurrent craving for liquid — but thank god Coke and Pepsi have thoughtfully created products that will relieve your symptoms if taken daily as directed!!!
Suffice it to say, I've become a bit jaded. The flashy flyers, sagacious slogans and tantalizing toolkits notwithstanding, my pessimism about the possibility of anything paid or professional in the mental health industry to actually make the world I live in better instead of worse has grown exponentially with repeated exposure. For sure, during the first few rounds, there was excitement from the initial hype and the opportunity to actually participate and DO SOMETHING. But inevitably, for me, this was followed by let-down as retrospective awareness set in. Hey, WTF…? I just put a boatload of energy and effort into this. But very little that actually matters to me has actually changed…
The release of the Power Threat Meaning Framework by the British Psychological Society earlier this year1 might just have changed that for me. Thanks to the British Psychological Society (BPS), there might finally be a provider-proposed paradigm that is worth the effort of making the public aware. In contrast to the medical ("mental illness") model, the Power Threat Meaning Framework (PTM) is a non-pathologizing, unifying model of human bio-psycho-social functioning. It applies to all human beings — not just those of us with mental health labels. It is also not just for providers. Rather, it invites everyone to look at and offer their experience. And it supports all of us to recognize, and make sense of, the diverse, culturally relevant strategies that people around the world may employ in order to survive, meet our core needs, protect ourselves or cope with overwhelming emotions.
This is a key difference between PTM and mental health as usual. Conventional mental health approaches take society as "normal" and endeavor to treat so-called "maladaptive" individuals who fail to "adjust." PTM, on the other hand, makes clear that meaning and distress must be understood and addressed at social, community and cultural levels, not just individual ones. In a 400-page meticulously-researched tome, PTM connects the dots and persuasively links wider social factors — like poverty, discrimination, abuse and violence — with the distressed or distressing emotional and behavioral responses that are currently being pathologized as "mental illness." It joins the United Nations in urging a global shift in focus from "chemical imbalance" to "power imbalance" in mental health awareness and practice.2 3 As PTM aptly observes, "The less access you have to conventional or approved forms of power, the more likely you are to adopt socially disturbing or disruptive strategies in the face of adversity." Accordingly:
The crisis in mental health should be managed not as a crisis of individual conditions, but as a crisis of social obstacles which hinders individual rights. Mental health policies should address the "power imbalance" rather than "chemical imbalance."
Why This Matters
BPS openly acknowledges that this is not the first time that ideas like these have been proposed. It is, however, jaw-droppingly monumental that a major professional body in mental health finally has stood up to bio-psychiatry, and, effectively, declared its independence. The equivalent in the United States would be if the psychologists in the American Psychological Association told the medical doctors in the American Psychiatric Association:
We don't care if you have MD's or think you are the boss of us. We're no longer going to follow your orders or consider ourselves bound by your thinking. We think you are wrong on the merits. We think your approach is hurting our clients. Accordingly, we are throwing out the model you developed and proposing our own.
In a word, it's a revolutionary act. Every other mental health-related profession in nearly every country in the world has basically caved to whatever the medical model is dishing out. Despite the claim of psychologists, social workers, psychiatric nurses and clinical mental health counselors to be "professionals" in their own right — that is, to have their own specialized knowledge, to promote the greater good, to operate in the public interest, to serve needs and interests of the clients who sought their services4 — these self-professed "independent" bodies have, by and large, abdicated their responsibility to conduct their own independent analyses. To the contrary, they have all but chewed up and swallowed whole whatever the psychiatric industry was dishing out.
Their major excuse: "We can't do anything. The insurance industry has tied our hands." Which begs the following questions:
What kind of profession, worthy of the name profession, let's slimy corporations like insurance companies determine how they do business?
What kind of profession, worthy of the name profession, claims to serve the public interest by conforming its knowledge and practice to the dictates of insurance claim examiners?
What kind of profession, worthy of the name profession, claims to serve the best interests of its clients, when it continues to perpetuate an insurance billing model that does not reflect the actual needs and life circumstances of the lion's share of its clients?
What kind of profession, worthy of the name profession, continues to bill insurance companies and collect tax dollars from medicare and medicaid on the one hand, while, on the other hand, whispering to their clients behind closed doors and out of public eye: "We know the DSM is a disaster and we don't believe that you really have x-diagnosis. But you don't want to have to pay for this out of pocket, right? [Wink wink nod nod]."
What kind of profession, worthy of the name profession, continues to actively and publicly represent that more and more social services funding is needed for more and more off-target, non-responsive services that slander the very clients they claim to serve — because that is what insurance companies will pay for?
I don't know about you, but the law school I graduated from had a 5 letter word for this kind of conduct: F-R-A-U-D.
Declaration of Independence
Not true, however, with psychologists in the UK. They stopped relying on the Nuremburg defense: "Someone else is responsible for my values." Unlike other mental health "professionals," they did not delegate their duty to their clients or their duty to develop an informed opinion to the "higher authorities" of doctors, insurers and drug companies. Instead of taking the easy route and abdicating their responsibility, they actually did the hard work that therapists have been telling their clients to do for decades. They stood up. They took back their voice. They took back their agency. They took back their self-respect, their dignity and their personhood. They did their own research and reached their own conclusions. They developed their own hypothesis of what is going on in the minds and bodies of the people they serve.
And when all was said and done — the analysis in, the research exhaustively reviewed — they said to biopsychiatry:
No more. It is finished. We withdraw our consent. We can no longer, in good conscience, defer to your judgment about what is right for the vulnerable, trusting souls who cross our threshold in search of our honest expertise and aid.
Now, that, in my book is something worth making the general public aware of. So here goes:
May 2018 is Power Threat Meaning Month: Online Series
This online series of mental health awareness events introduces the Power Threat Meaning Framework released earlier this year by the British Psychological Society. All events are online and accessible by computer or telephone. Workshops and mini-retreats feature facilitated discussions on the foundational topics and concepts of the PTM model. Sessions will revolve around several core questions adapted from the PTM materials:
What has happened to you? (In what ways have you felt over-powered, under-powered, dis-empowered …?)
How did this affect you? (What threats has this posed to your needs and survival?)
What sense can you make of it? (What did these situations and experiences mean for you?)
What did you have to do to survive? (What strategies did you use to respond to threats or create meaning from adversity?)
What values, strengths and resources have you been able to access? (What power resources are known and available to you?)
What is your story? (How does all this fit together?)
To Join Us:
Join by computer: https://zoom.us/j/119362879

Join by phone: +1 669 900 6833 or +1 646 558 8656

Enter Meeting ID: 119 362 879

International callers: https://zoom.us/u/jkwt3wHh
Schedule of Remaining Events
Wednesday, May 9th ~8-9:30 pm EST
Surviving Rejection and Invalidation
Friday, May 11th ~8-9:30pm EST
Surviving Childhood Adversity
Saturday, May 12th ~2-5pm EST
Mini-Retreat
Power, Threat and the Meanings of "Mothering"
Tuesday, May 15th ~8-9pm EST
Emily Sheera Cutler
Death by Oppression: Suicide as a Natural Response to Marginalization 
Wednesday, May 16th ~8-9:30pm EST 
Surviving Disrupted Identities and Roles
Friday, May 18th ~8-9:30pm EST
Surviving Setbacks and Defeat
Saturday, May 19th ~2-5pm EST
Mini Retreat
Power, Threat and the Meanings of "Suicide"
Sunday, May 20th ~2-5pm EST
Mini-Retreat
Power, Threat and the Meanings of "Mania"
Wednesday, May 23rd ~8-9:30pm EST
Surviving Entrapments
Thursday, May 24th ~8-9pm EST 
Emily Sheera Cutler
Smashing Paternalism: Intersections Between the Consumer/Survivor/Ex-patient Movement and the Fat Acceptance Movement
Friday, May 25 ~8-9:30pm EST
Surviving Disconnection and Loss
Saturday, May 26 ~2-5pm EST
Mini-Retreat
Power, Threat and Angry Meanings
Sunday, May 27 ~2-5pm EST 
Mini-Retreat
Power, Threat and Addictive Meanings
Sunday, May 27th ~Starts 10pm EST (Ends 12:12am EST on Tuesday May 29th)
MEMORIAL DAY STORY-TELLING MARATHON
26.2 Hour Vigil — Our lives go the distance
Bring your story — Bear witness to others
Drop in or sign up for time in advance
Tuesday, May 29th ~8-9:30pm EST 
Surviving Social Exclusion and Shame 
Wednesday, May 30 ~8-9:30pm EST 
Surviving Coercive Power
For more info:
Power Threat Meaning (PTM) in a Nutshell
Mental "illness" has meaning. The meaning comes from this:
1. Lack of Power
For a variety of personal, social and cultural reasons, we come to feel under-powered, over-powered, powerless or accountable to be powerful in ways that seem vitally important to us.
Here are some common examples of ways that lack of power can touch our lives:
Body power — society values preferences, attributes and abilities that we don't have or identify with
Coercive power — we are subjected to violence, aggression, threats
Legal power — systemic rules or sanctions limit our choices
Economic power — we can't afford needed goods, services, activities or opportunities on a par with others
Interpersonal power — we can't meet basic relational needs for intimacy, care and human protection
Social/cultural power — limited access to knowledge, connections and qualifications that make life easier
Ideological power — values, language and meaning are defined by powerful others
2. This feels threatening
Needing power and not having it is uncomfortable and often highly distressing. Some common feelings ("meanings") that arise from lack of power include:
3. Survival (coping) responses get labeled "symptoms" of "mental illness"
We respond to threat in ways that seek to overcome, escape or re-balance our perceived power deficits. Our responses can affect every aspect of our lives — e.g., physical, mental, social, spiritual. Here are some examples: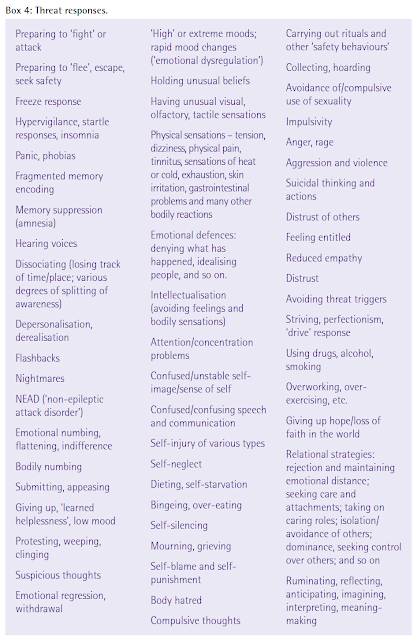 Threat responses often have appear strange to others — and sometimes even ourselves. Their meanings may be intuitive and unspoken — even to us. We may not understand or appreciate that gravity of what we are up against. This is especially true if we live in a group or culture that marginalizes our core experiences.
These concepts are critically important to get if we want to make sense of "mental illness." In effect, it is these very threat responses — essentially our attempts to cope with overwhelming personal, social and existential odds — that are currently being diagnosed and treated as "symptoms of mental illness" by conventional healthcare.
Just as important, however, the PTM framework recognizes that power operates positively (not just negatively!). Thus, the power of personal agency and social action can be developed to create meaningful individual and societal outcomes. In other words, we can rebalance power in ourselves — for example, how we treat ourselves in the face of vulnerabilities. And, instead of blaming ourselves, we can work to rebalance power in disabling relationships, systems and social dynamics in the world we live in. This, potentially, heals all of us.
***
Mad in America hosts blogs by a diverse group of writers. These posts are designed to serve as a public forum for a discussion—broadly speaking—of psychiatry and its treatments. The opinions expressed are the writers' own.
***
Mad in America has made some changes to the commenting process. You no longer need to login or create an account on our site to comment. The only information needed is your name, email and comment text. Comments made with an account prior to this change will remain visible on the site.