Just for fun, let's take a look at how far psychiatry will go when a bit of truth escapes from one of its own publications and must be deleted in clumsy desperation. This is not a blog—it is a special event. Something to lighten your day and deepen your cynicism about psychiatry.
By now, most people are aware that psychiatry and drug companies cannot be trusted to tell the truth and that they will, at every chance, suppress and censor information that throws a bad light on them and their treatments.
Anyone who has not yet learned this can quickly catch up by reading books such as Peter Gøtzsche's Deadly Psychiatry, Robert Whitaker's Anatomy of an Epidemic, or my book Medication Madness.
Now for this tidbit of disillusioning entertainment. My wife Ginger Breggin kindly helps me keep up with the universe in part by tracking psychiatric publications on the internet. We are not looking for new scientific information—psychiatry does not publish scientific information. Psychiatry has turned even the "gold standard of science" of randomized placebo-controlled clinical trials into a "gold standard for the big fix" by manipulating them so fraudulently that they cannot be taken seriously.
As a part of keeping abreast of psychiatric shenanigans, she receives "Google Alerts—Psychiatry." Here's what it looks like: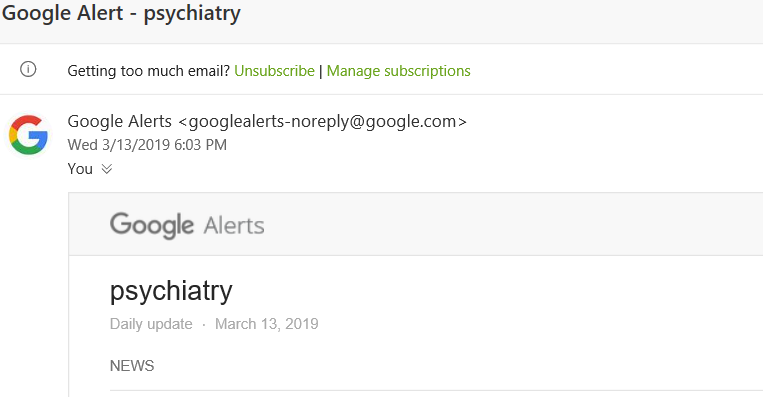 One of the Alerts that came from Psychiatry Advisor had a tantalizing lead, indicating that a lawyer was about to let the cat out of the bag that psychiatric meds can increase the risk of suicide:
Eagerly Ginger hit the link, waiting to find this all-important warning on a psychiatric site. It would be a first! But this is what she found:
Ginger was dismayed at what she found… or didn't find. The page now read: "Page Not Found." The link to what the attorney might have been warning psychiatrists about was gone. I would like to make "Page Not Found" into a song, into a book title, into a movie. Page Not Found! But I'll limit myself to a few more comments.
This, my dear friends on MIA, is the essence of psychiatry. When it comes to all the myriad and often tragic harms that psychiatric drugs can cause, my colleagues answer: "Page Not Found."
BUT WAIT, THERE'S MORE TO IT. So far I had been speculating that they were hiding something. Maybe it was a technical error.
I asked Ginger if she could send me a link to the "Page Not Found" webpage so I could put it in this report. When she pasted the link into her email to me, like internet magic, up popped the metatag which displayed the lawyer's complete summary statement.
https://www.psychiatryadvisor.com/author/ann-w-latner-jd/
Ann W. Latner, JD, Author at Psychiatry Advisor
When managing patients with depression, clinicians must always be cognizant that suicide is a possibility, and that sometimes the medications prescribed can actually exacerbate the situation.
Really, who knew that many psychiatrists still have no idea that antidepressants can exacerbate and even cause suicide? How could that be? It's kept from them at every opportunity.
Apparently, Psychiatry Advisor believes that its audience of psychiatrists has no idea that antidepressants are a menace to patients and even to normal volunteers who develop precursor to suicide symptoms like over-stimulation (activation). Psychiatry Advisor certainly wanted to keep the dreadful news from them!
They must have been in a mad rush to obliterate attorney Latner's warning about psychiatric drugs on the first day of its publication. They did the quickest thing, removing the article, but forgot the meta tag. The link revealed the hidden meta tag warning, "and that sometimes the medications prescribed can actually exacerbate the situation."
In addition to calling this censorship bumbling, what shall we say about it? It is the epitome of the constant psychiatric censorship that tries to hide the damaging effects of psychiatric drugs from everyone, including psychiatrists who happen to look for useful information on www.psychiatryadvisor.com, a "community for psychiatric clinicians." So this is how the psychiatric community is kept ignorant? By censoring? Yes, and by a heavy-handed underlying threat never to blow the whistle on the fact that biological psychiatry is doing far more harm than good.
Psychiatry's suppression of negative information about their drugs is a self-serving evil. It shows how the wellbeing of their patients plays a very, very minor role in the profession's considerations. For them, it's all about the drugs. Drugs are all they know, prescribing makes them look and feel like real medical doctors, and it pays very well.
Hey, what about the patients? Patients?… They are barely worth talking to. The modern psychiatric approach is "Give them ten minutes. The more of them I cram in, the more money I make." It's the "sardines in a can" approach to helping people.
* * *
Editor's note: Upon further investigation, it seems that all articles by the author Ann W. Latner, JD have been removed from the Psychiatry Advisor site. She has offered an explanation for why they were removed:
"The reason that article was taken down from Psychiatry Advisor is that I do not write for them. I write for two other Haymarket publications: Clinical Advisor (for NPs and PAs) and eMPR (for MDs). Occasionally the company tries to cross post my articles on their other sites, but they are not supposed to. (How is a freelancer supposed to make a living?) So that is why those articles are not there — there is no big conspiracy. The article IS located here: https://www.empr.com/home/features/can-a-physician-be-held-liable-when-a-patient-commits-suicide."
***
Mad in America hosts blogs by a diverse group of writers. These posts are designed to serve as a public forum for a discussion—broadly speaking—of psychiatry and its treatments. The opinions expressed are the writers' own.
***
Mad in America has made some changes to the commenting process. You no longer need to login or create an account on our site to comment. The only information needed is your name, email and comment text. Comments made with an account prior to this change will remain visible on the site.