In an effort to increase support for children vulnerable to "psychiatric illness," mental health screening assessments are now recommended by a wide range of regulatory agencies for adverse childhood experiences (ACEs), depression, anxiety, suicidality, etc. However, recent years have seen an increased intensity and zeal in the application of blanket screening policies, particularly related to depression and suicide risk.
In their commentary published last week in the Journal of the American Academy of Child & Adolescent Psychiatry, researchers Schuyler Henderson, Ruth Gerson, and Blake Phillips, offer a timely, critical perspective regarding the conflicting evidence for what constitutes "high risk," and what can (and can't) be done in response when risks are identified.
"The Joint Commission mandates a suicide assessment for patients 'who exhibit suicidal behavior or who have screened positive for suicidal ideation' followed by risk stratification: after 'this assessment, patients should be classified as high, medium or low risk of suicide,'" they write. "But is suicide risk stratification in child psychiatry ready for prime time? Are we putting the risk assessment cart before the horse?"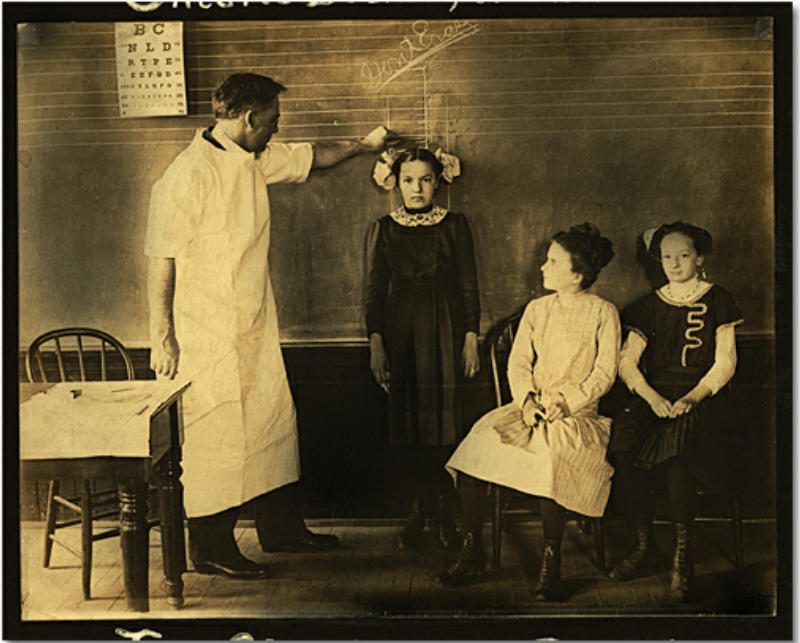 Henderson, Gerson, and Phillips aren't the first to identify patterns of alarmingly liberal efforts to detect psychosocial and behavioral dysfunction among youth by way of screening or risk assessment. In a 2014 Mad in America article entitled The Proactive Search for Mental Illness in Children, Bob Wipond explored screening and surveillance in clinical and, increasingly, school-based initiatives. He drew attention to the lack of evidence for a program in British Columbia called the Practice Support Program for Child and Youth Mental Health (PSP-CYMH), a joint initiative of the BC government's Ministry of Health and the Doctors of BC.
In 2017, Jeanne Lenzer, Associate Editor for The BMJ, critiqued the US Preventive Services Task Force Recommendation Statement suggesting that all children and adults be routinely screened for depression, stating that "many guideline bodies would better serve clinical practice by making fewer recommendations: reflecting more of the uncertainty around treatment decisions. What we need are fewer recommendations and more high-quality evidence to base decisions on. Currently, we seem to be seeing the exact opposite." Some of the complexities of the debate regarding screening were explored in a debate published in the Wall Street Journal.
In their report, Henderson, Gerson, and Phillis structure their insights by first addressing what may be implied by high risk (noting some variability in definitions and implications), exploring how risk-level determinations are made (risk stratification), pinpointing "the risk to risk", and concluding with potential alternatives to the direction psychology and psychiatry are together moving.
High risk, they note, can mean any number of things, ranging from vulnerability to bullying, to low-SES, to potential for school failure. The authors suggest that determinations of risk level may be useful when reliably predictive of dangerous outcomes and when appropriately possible to link to effective care.
However, using suicide as a running example, they emphasize the lack of sophistication of tools currently available to predict accurately risk level, the absence of formalized systems in place to link children to support, the scarcity of empirically supported intervention initiatives even in communities where programs are available.
"Suicide screening instruments can be useful for guiding clinicians or others working with children and adolescents who might not otherwise know how to conduct a suicide risk assessment or even ask about suicidality," they write. "However, these instruments do not necessarily add any value above the clinical standard of care for psychiatrists, either in risk stratification or in the prediction of suicidal behavior."
Their exploration of risk level determinations highlights the often-murky nature of designations. Risk factors for suicide have been well established in research, but precision in prediction remains weak. Thus, distinctions between risk categories (e.g., high, medium, or low) may not provide the insight regulatory bodies imply. Differentiation between risk categories may be less clear cut than often assumed.
"Regulation can inspire and direct scientific advances, but it is nevertheless a problem when regulations are based on premature conviction about the evidence base."
Henderson, Gerson, and Phillis reject the assumption regulatory agencies promote that there is no harm in screening, citing evidence of low sensitivity of some popular tools in identifying need, a lack of adequate programming illuminating the unethical nature of identifying risk without opportunity for appropriate intervention, and impractical protocol for intervention when supports are available. They write:
"If we are to be serious about addressing risk, we do know what to begin to do. Rather than algorithmic responses demanding services that may not be available or even indicated, public health measures instead should begin by restricting access to lethal means, mitigating risk factors on a population level, and enhancing broad access to care."
The authors emphasize the potential value in tighter regulation of weapons, substances, and potentially dangerous medication alongside a movement towards a system valuing youth safety over adult convenience. Further, efforts to promote community and inclusion at a school level could potentially mitigate risk for depression among youth. Psychoeducation for children and families and an emphasis on connectedness are evidence-based practices that could also impact change.
Henderson, Gerson, and Phillis make a compelling case that without the enhancement of broad access of supportive services, and widespread acknowledgment of the importance of context even the best screening tools would have minimal practical value. They conclude:
"We should not forget, as advocates for child and family mental health, that every time we talk about children at risk, we need to think about why adults are putting children at risk and what we should actually be doing about it."
****
Henderson, S. W., Gerson, R., & Phillips, B. (2019). What Is "High Risk" and What Are We Actually Supposed to Do About It? Journal of the American Academy of Child & Adolescent Psychiatry, 58(6), 561-564. (Link)
***
Mad in America hosts blogs by a diverse group of writers. These posts are designed to serve as a public forum for a discussion—broadly speaking—of psychiatry and its treatments. The opinions expressed are the writers' own.
***
Mad in America has made some changes to the commenting process. You no longer need to login or create an account on our site to comment. The only information needed is your name, email and comment text. Comments made with an account prior to this change will remain visible on the site.