A new study, published in the Journal of Clinical Psychology, seeks to answer the question, "why does mindfulness work?" The study explores the relationship between mindfulness meditation and positive mental health outcomes among adult populations. The researchers, led by José Ramón Yela, found that mindfulness may boost mental health by increasing self-compassion and the presence of meaning in life, and by decreasing "experiential avoidance," the tendency to suppress or steer clear of feared thoughts, feelings, or situations. 
"Contemporary psychology is undergoing an extraordinary and perhaps unprecedented interest in the study of meditation, especially mindfulness‐based practices," the authors write. "The training of mindfulness skills, frequently in combination with exercising benevolent attitudes and exposing oneself to inner experiences with a flexible and open attitude, has demonstrated usefulness in dealing with psychological issues, especially when depression, anxiety, negative emotions, and stress symptoms are involved."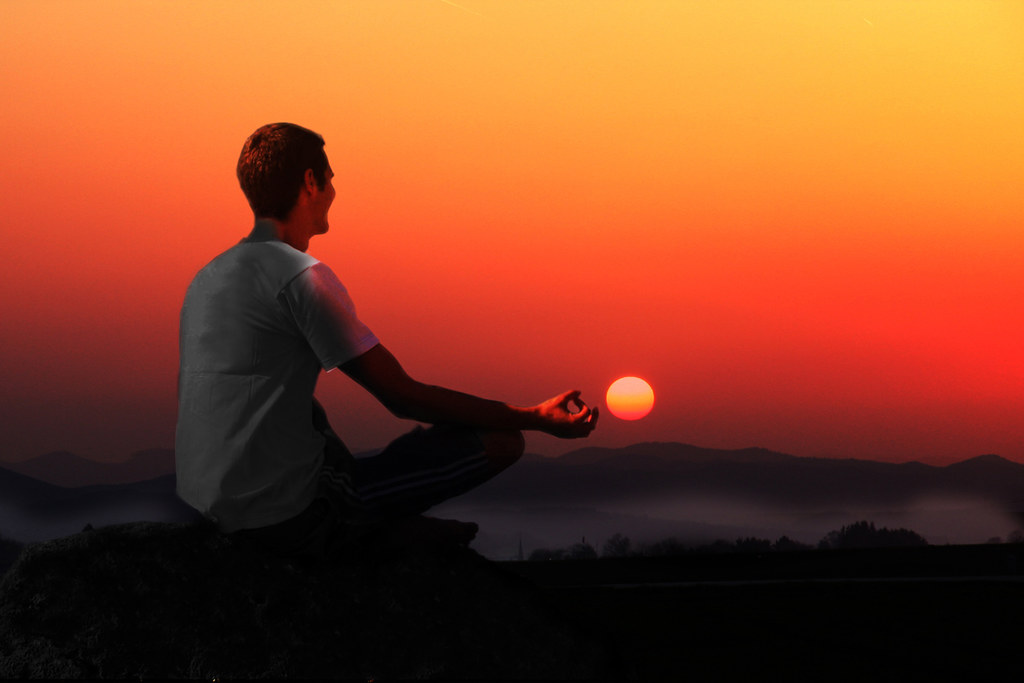 While mindfulness meditation has shown impressive results such as improving and preventing mental health issues, little is known about the mechanisms at play.
"Some years ago, a previous meta‐analysis identified an open question in the field of meditation, that is, why and how meditation works," Yela and colleagues write. "At the present time, in spite of increasing research about the relationships between meditation‐based approaches and mental health, the answer remains elusive."
Drawing from suggestions in the literature on how the process creates change, the researchers, from the Pontifical University of Salamanca in Spain, focused on three possible explanatory variables:
Self-compassion, which has been identified as a quality that has the potential to treat

depression

. Self-compassion can be understood as viewing challenges as human experiences and taking an attitude of kindness toward one's self.

The presence of

meaning

in one's life, which is linked to better health and wellness overall.

Experiential avoidance, which is a concept that explains an individual's unwillingness to experience and accept difficult inner thoughts or feelings.
The researchers hypothesized that the outcomes of meditation are mediated by self-compassion, meaning in life, and experiential avoidance. This suggests that as one practices mindfulness meditation, they develop increased self-compassion, improved sense of meaning in life, and decrease their avoidance of experiences and that this combination leads to the positive mental health outcomes found in other studies.
Using data from over 800 adults, the researchers investigated the frequency and duration of meditation practice of each participant and assessed mental health using a health survey primarily considering symptoms of anxiety and depression. Measures were administered for each of the three hypothesized mediating factors.
Through the use of structured equation modeling (SEM), the study analyzed the total effects and indirect effects of each variable. The results of the analysis showed, as predicted by researchers, a strong positive relationship to self-compassion and meaning in life. In addition, as expected, mindfulness meditation practice was shown to decrease one's experiential avoidance.  
"The avoidance of experiences has been highlighted as a risk factor for psychopathology and worsened well-being. For instance, higher levels of experiential avoidance are present among people with posttraumatic stress disorder, social anxiety, obsessive‐compulsive symptoms, stress perceptions, and major depressive disorder, among a variety of psychological disturbances."
Participants that reported practicing mindfulness meditation were found to have better overall well-being. However, within the meditators group, researchers were able to distinguish between those they called "occasional meditators" from "regular meditators" (those that practice meditation casually vs. those that practice at least once a week). In summary, while mindfulness practice is associated with positive outcomes, the frequency of practice is a crucial factor in seeing positive benefits.
"The regularity of meditation practice was associated with the participants' mental health, with regular meditators reporting better mental health than occasional meditators, and occasional meditators showing better mental health than nonmeditators."

"Meditation may require continuity and regularity of practice so that the psychological mechanisms leading to beneficial effects may be activated or developed to some extent, that is, occasional meditators are not taking the adequate 'dose' to benefit from the intervention. Not for nothing, meditation‐based interventions highly emphasize the importance of continuing meditation exercises once the training ends, as the abandonment of practice is associated with relapse."
****
Yela, J. R., Crego, A., Gómez‐Martínez, M. Á., & Jiménez, L. (2020). Self‐compassion, meaning in life, and experiential avoidance explain the relationship between meditation and positive mental health outcomes. Journal of Clinical Psychology. (Link)