A new study of about 50,000 people failed to find any genes that influenced "mental illness." David Curtis conducted the research at UCL Genetics Institute, University College London. The study was published in the Journal of Affective Disorders. 
"The results obtained from this study are completely negative," Curtis writes.
"No gene is formally statistically significant after correction for multiple testing, and even those which are ranked highest and lowest do not include any which could be regarded as being biologically plausible candidates," he adds.
Going further, he writes, "The distribution of results is exactly as one would expect by chance."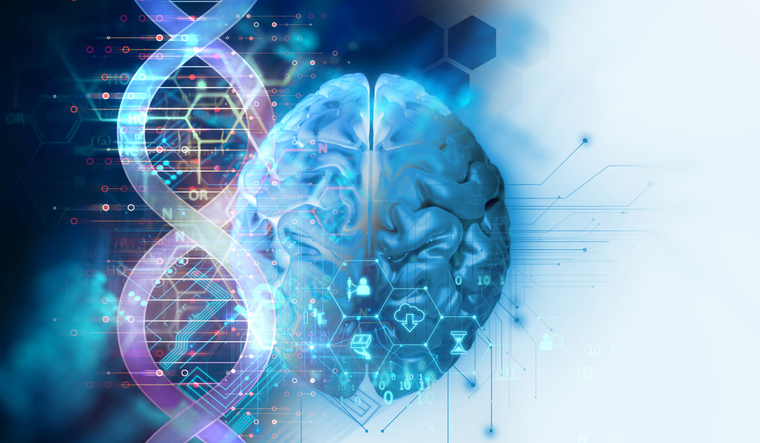 The study used data from exome-sequenced participants in the UK Biobank dataset. The defining question was, "Have you ever seen a psychiatrist for nerves, anxiety, tension or depression?" to which 5,872 responded "Yes" and 43,862 responded "No." These two groups were then compared.
One limitation of the study is that this is an inexact method—people may have psychiatric diagnoses but be treated by their general practitioner rather than a psychiatrist, for example. However, Curtis defends the use of this question as it may have more effectively captured people with more severe mental health concerns. Most importantly, it was a question that the UK Biobank participants had already answered.
Curtis also recently published another large gene sequencing study focusing on schizophrenia, which also came up negative. In the article reporting on that study, Curtis and co-author Thivia Balakrishna wrote, "The main conclusion of this investigation is a negative one" and noted that they had found no clinically significant genetic variants that influenced schizophrenia.
In the current article, Curtis concludes, "It seems unlikely that depression genetics research will implicate specific genes having a substantial impact on the risk of developing psychiatric illness severe enough to merit referral to a specialist until far larger samples become available."
However, requiring samples larger than 50,000 people even to begin to detect a supposed genetic effect on "mental illness" means that any such effect may be negligible.
Previous research supports this finding. Other studies have found that genetics explains less than 1%, or at most 2.28%, of the risk for various psychiatric diagnoses.
****
Curtis, D. (2021). Analysis of 50,000 exome-sequenced UK Biobank subjects fails to identify genes influencing the probability of developing a mood disorder resulting in psychiatric referral. Journal of Affective Disorders, 281, 216-219. https://doi.org/10.1016/j.jad.2020.12.025 (Link)