Yes, Soteria-Alaska is closing.  And its sister organization, CHOICES, Inc., has lost its way.  As the person who conceived of both of these and got them going, I have some thoughts that might be worthwhile about what went wrong; what should or might have been done differently; and most importantly, what lessons might have been learned.
A Brief History
After reading Mad In America by Robert Whitaker in late 2002, I founded the Law Project for Psychiatric Rights (PsychRights), CHOICES, Inc., and Soteria-Alaska.  I have written often that, to me, Mad In America was a litigation road map for challenging forced drugging by focusing on it not being in the person's best interest, and there being less intrusive alternatives.  Recognizing the need for truly helpful alternatives, I founded CHOICES, Inc., and Soteria-Alaska.  CHOICES was founded to provide community based assistance to people diagnosed with serious mental illness to recover and become full participants in society.  As did so many, I discovered Loren Mosher through reading Mad In America ,and found his book (with Lorenzo Burti), Community Mental Health: A Practical Guide, to be exactly what its title says.  Chapter 9 describes what a good community mental health program would look like.  Thus, the Articles of Incorporation of CHOICES, Inc., state that its purposes are to provide:
Prompt, non-harmful, holistic, accessible, client centered, non-coercive, recovery oriented, quality mental health, rehabilitation, and other services, with continuity, that respect and enhance the rights, dignity, and self determination of people seeking help for mental and emotional difficulties by

Recognizing that solving practical problems such as (i) finding adequate housing, (ii) financial security, (iii) meaningful activity, (iv) satisfying personal relationships, and (v) social self-help supports is critical to success,
Allowing them to determine the design and implementation of their services,
Focusing on their strengths, satisfaction and positive outcomes,
Promoting natural and community supports,
Incorporating their culture and value system, and
Finding or building such other supports and services they may desire to be successful living, working, and playing in mainstream society.
In fact, CHOICES' application for tax-exempt (501(c)(3)) status attached a copy of Chapter 9 of Community Mental Health: A Practical Guide as an explanation of its program.
In terms of mental illness industry nomenclature, CHOICES is an independent "case management" agency but we called our people "Recovery Coordinators."
Soteria-Alaska was founded to replicate, as much as possible, the original Soteria House in San Jose, CA., which was founded by Dr. Mosher and run so ably by Alma Menn and Voyce Hendrix.  Susan Musante, Soteria-Alaska's first Executive Director, has written about the philosophy and supporting evidence for Soteria here, so I won't go into it other than to say that it is designed to prevent people who experience a first psychotic break from immediately being put on neuroleptics (hyped by the marketers as "antipsychotics), and thus transformed into chronic, disabled mental patients.  It is pretty fair to say that 80% of such people so treated can get through their experience and on with their lives, compared to 5% of the people who can be considered recovered under the current psych-drugs-for-all, mainstream approach.
I always felt that Soteria-Alaska could be part of CHOICES, Inc., but the reason I formed separate non-profits was because while I didn't think we could get funding for both projects from a single, new, organization, it might be possible to get funding for two separate organizations.  I resigned from both boards in 2007 because PsychRights' mission involved suing the State of Alaska and it seemed hard to get money from the State if I was on the boards of directors for CHOICES and Soteria-Alaska while at the same time was suing it through PsychRights.
The strategy worked, and  CHOICES, Inc., was funded and opened in 2007, and Soteria-Alaska in 2009.   This was made possible by start-up funding from the Alaska Mental Health Trust Authority.  I have written about how this all happened in Report: Multifaceted Grassroots Efforts to Bring About Meaningful Change to Alaska's Mental Health Program.
Under the superb leadership of Susan, CHOICES and Soteria-Alaska were true to their missions and founding principles and improved the lives of many people caught in the mental illness system.  At the same time, the financial pressures were very daunting and the authorities' insistence upon billing Medicaid as much as possible was always a problem.  The idea of billing Medicaid, and the way that it is tied to disability, is contrary to the principles upon which Soteria was founded.
Soteria-Alaska also was fairly unable to receive first-episode, non-neuroleptized people for a couple of reasons.  According to Susan and others, by the time people get to the age of 18, which is the youngest Soteria-Alaska could house, they had already been on neuroleptics for a number of years.  Soteria-Alaska was a tremendous help to many of these residents but, frankly, it is not designed as a withdrawal program for people who have been on neuroleptics.  (Daniel Mackler wrote about this here.)
I always felt that collaborating with the Public Defender Agency was a way to give people who were experiencing their first psychosis and contact with the mental illness system a chance to go to Soteria-Alaska.  I have been informed the Public Defender Agency did not embrace the idea, but PsychRights was prepared to represent people who might have the right to go to Soteria-Alaska rather than be locked up in the psychiatric Hospital.  This approach was not taken because Soteria-Alaska did not want such an adversarial relationship with the hospital.
In 2011, tragically, a former resident, Mike McEvoy, came back to visit Soteria-Alaska; he shot and killed another former resident, Mozelle Nalan, who was also there.  Mozelle was one of Soteria-Alaska's greatest successes, having been psychiatrized and drugged from her early teen years, and arriving shortly after she turned 18 with extreme "psychiatric symptoms."  Over the time she was there, she was able to completely turn her life around and was in the process of becoming a volunteer and was on track to become a staff member.  Amazingly, through Susan's leadership (as well as Dr. Aron Wolf's) Soteria-Alaska was able to weather the storm.  However, it wasn't able to survive the relentless challenges to its program represented by the mainstream mental health system, and insufficient funding.
In early 2014, due to its dire fiscal situation, Susan resigned as a cost-saving measure, offering to work as a consultant to help Soteria achieve financial stability.  Instead, at that point the Alaska Mental Health Trust Authority provided additional financial support to hire the recently former director of the Alaska Division of Behavioral Health as a temporary executive director.  While generally supportive of the CHOICES/Soteria approach, this temporary executive director brought a mainstream perspective.  One of the things she did was  merge Soteria-Alaska into CHOICES, a decision which, on its own, made sense.
However, as far as I can tell the permanent director who was hired six months or so ago has no real appreciation for, nor understanding of, the CHOICES/Soteria approach.  It is therefore no surprise that CHOICES and Soteria-Alaska drifted away from their core missions and philosophy.  CHOICES even pursued and was awarded a large grant to establish an Assertive Community Program (ACT or PACT) and has reoriented its focus toward that.  Assertive Community Programs are inherently coercive and usually revolve around making sure people are taking their psych drugs.
The lease for Soteria-Alaska was recently up for renewal; the board decided not to do so and close it instead.  In sum, the original purpose and mission of CHOICES has been co-opted, and Soteria-Alaska closed.
Lessons?
I think the paramount lesson is that a Soteria needs to have sufficient funding to function as intended.  It is my understanding that the soon-to-be-opened Soteria-Vermont does have that kind of funding.  I hope so.
Equally important, organizations such as CHOICES and Soteria Alaska need to stand firm and stay true to their vision and mission, rather than accept funding that is inconsistent with them.  By so doing organizations get co-opted.
I was often asked, what about people who want to take psych drugs; shouldn't they have a place to go?   My response to that is there are lots of places for people who want to take psych drugs; this is one for those that don't.  Now, in Alaska, there will be no such place.
Clearly, the most important thing is that the attitude of the powers that be — the funders, and the public — need to be changed to accept the reality that the current psych-drugs-for-everyone, forever, of course, approach is not working, and the approach set forth in Chapter 9 of Community Mental Health: A Practical Guide needs to be adopted to be successful.  I have written and talked about this for quite some time, including here on MadinAmerica in A Three Pronged Approach to Mental Health System Change.
Why Does It Matter?
Above, I pointed out that not immediately going to neuroleptics can achieve 80% recovery rates, while our system is producing 5% recovery rates.  Behind these statistics are real people; real lives.
At the going-away party of a long-time CHOICES/Soteria manager who just couldn't continue there in light of its abandonment of its mission and principles, I talked to a young Alaskan Native who I knew from when he was a resident of Soteria-Alaska.  I asked him how he is doing.  He said great.  I asked him if he felt his time at Soteria-Alaska had helped him.  He said it had changed his life around.
A couple of years ago Matt Ladner wrote a piece in MadinAmerica, "This Place is Full of Life": On Deliverance at Soteria Alaska that describes his experience.  It is worth a read.
In conclusion:
I remember reading in an article by Dr. Mosher about a program he had created, that implemented the types of helpful interactions he proved were so beneficial, that went back to be a coercive, drugs-for-everyone program after he left.  I understand the same thing happened to Soteria-Berne in Switzerland after Luc Ciompi left.  From my viewpoint, this is what has happened to CHOICES in short order, as well.  So, one of the things that we need to figure out is how to continue the mission after the founding visionaries leave.
While I had the idea of forming CHOICES Inc., and Soteria-Alaska, and Aron Wolf was instrumental in helping to get it going, Susan was the heart and soul of Soteria-Alaska. She recruited an amazing crew and created an absolutely magical environment under very difficult financial (and other) circumstances.  It is no coincidence that Soteria-Alaska barely lasted a year after she left, despite her best efforts to set things up so it could continue.
Nevertheless; while Soteria-Alaska is closing and CHOICES, Inc., seems to have been co-opted by the system, one can see that they have had a profoundly positive effect on many of the people who were involved, and these will continue into the future.  I hope that the relatively short time Soteria-Alaska and CHOICES Inc., performed their magic serves as a beacon for continued efforts to achieve "non-harmful, holistic, accessible, client-centered, non-coercive, recovery-oriented, quality mental health, rehabilitation, and other services, with continuity, that respect and enhance the rights, dignity, and self-determination of people seeking help for mental and emotional difficulties."
* * * * *
Finally, I recently had occasion to correspond with former staff member Samantha Thornton, who had to leave after Mozelle's murder.  She wrote: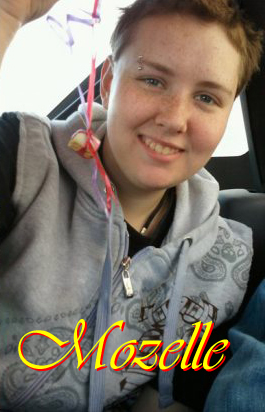 It is from those horrors we all redefine ourselves and make meaning of our journey. I loved both of those young people as if they were my own. And Soteria was a seed that lay dormant in my healing; and now I get the chance to regularly spread the message of that experience in a voice and language of hope and change. It will not close with the closing of its doors. Period. The message lives in all of us that shared that experience; and we take it with us in all of our endeavors; I just happen to be able to communicate to the mental health field, specifically. Some of us that lived through that time still have healing to do. I only know this because I still communicate with many of those who were a part of that family; and I still consider them all family. Please feel free to share that. Recently I was asked about Soteria by those with the power to invoke change  here…and I highlighted the self-actualization of choice, humane experiences, whole health…and most especially; that Soteria did something in my eyes that I have never seen done before; a community absent of power and control; dominance and defeat. For me, as a person with lived experience, it is the most surreal gift and what "treatment" never gave me; It is a gift for which I have no adequate words.I am sure I owe a large portion of my healing to those who were a part of that family.
Tomorrow, June 30th, is the 4th anniversary of Mozelle's murder.  Her boyfriend asked us all to plant forget-me-nots, Mozelle's favorite flower, as a way to remember her.  I think of her often, and always when I see the forget-me-nots in our yard, which are now blooming.
***
Mad in America hosts blogs by a diverse group of writers. These posts are designed to serve as a public forum for a discussion—broadly speaking—of psychiatry and its treatments. The opinions expressed are the writers' own.
***
Mad in America has made some changes to the commenting process. You no longer need to login or create an account on our site to comment. The only information needed is your name, email and comment text. Comments made with an account prior to this change will remain visible on the site.