Suicide, for me, is about overwhelming, inescapable stress. The conditions of life are stalking me, in a way that feels insurmountably scary and bad.
At first blush that may seem strange to you. After all, it's not like I live in a particularly rough neighborhood. Nor do I have to forage for my dinner or fight off predators who want to eat my young.
Even so, my life has some disadvantages compared to my mammalian forebears. It's not like I'm that lucky rabbit in the wild who can sniff the air, slip out of my hole for a few nibbles and then burrow back into safety for the rest of the day. Rinse, repeat tomorrow, and the day after that, and the next and next… yawn, ad infinitum…
Modern problems aren't like that. They're more like a shadow that goes wherever I do. Where to live? How to afford it? Who do I have to keep happy to keep it? How big of an ask will they make of me? Will I ever escape if I piss them off?  
Add to this databases, identity tracking, employment records, rap sheets, taxes, standardized tests… My failings are never forgotten. The same basic requirements, standards and regulations are everywhere, all requiring me to recall, disclose and defend the density I reported for lint particles in my navel at age 6…  Even with family or long-term friends, there is always a new obligation to be met or graciously evaded. Social media virtually assures it.
Modern society would have me believe that I'm crazy if this stuff kills my desire to live. In mainstream fairyland, no stress is happening:
Nothing is wrong, damaging, intentional. Hardship is avoidable, temporary, my fault. I need to be patient, persistent, responsible. The people in charge will make it all better. My attitude is the problem. If I weren't so bad or my genes were good, I would be coping like everyone else.
Frankly, those messages don't make me feel better—they put another nail in my coffin.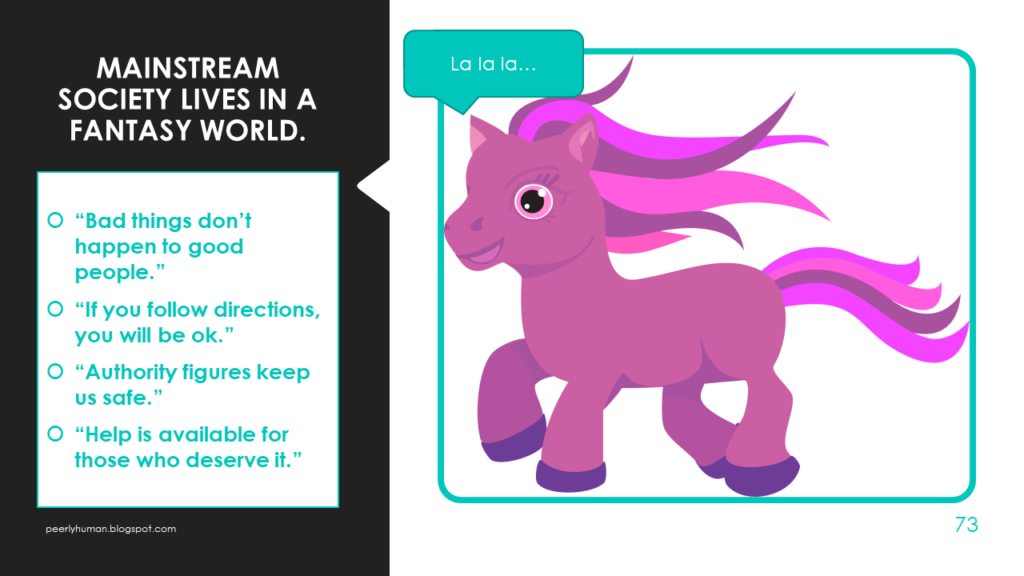 But here's a message that perked up my ears. It didn't come from the culture. It came from my own body. At the height of suicidal stress—demoralized, paralyzed, utterly despairing—the following questions floated into my dazed awareness:
What if some conditions are beneath the dignity of the Life Spirit?
What if the effects of chronic stress are killing me not because I'm "mentally ill," but because the human race needs to find a better way to live?
For me, those simple questions lit the Life in me on fire. I began to look for evidence. Here is what I found:
Head Start on Stress
The stressors cited above are First World problems. They are issues that anyone who can access the technology needed to read this piece is up against and has to reckon with on some level. Due to various kinds of social inequality, however, many of us also experience Second, Third and Fourth World problems, even in relatively prosperous nations.1 This includes poverty, violence, abuse, neglect, labor exploitation, homelessness, environmental hazards, intentional exclusion, substandard education, barbaric healthcare, predatory targeting, police brutality, unresponsive government, callous indifference… the list goes on.
Statistically speaking, these kinds of stressors have a huge impact on health and life expectancy. That's what the emerging field of study on the "social determinants of health" is all about. Here's the concept, pioneered by international social epidemiologist Richard Wilkinson2 in a nutshell: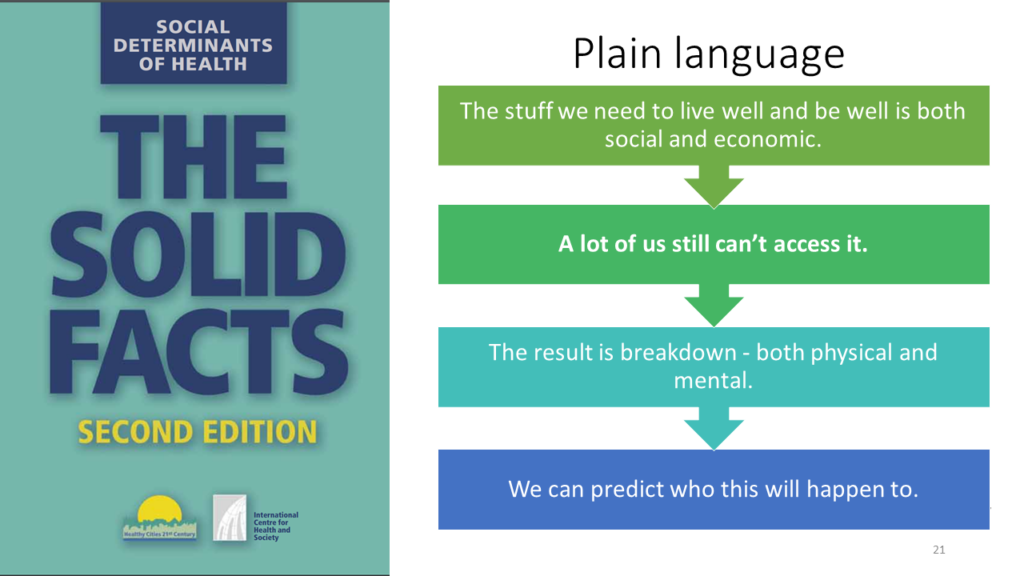 The potential impact of stressors like these on mental well being is shocking. In 2011, the National Council for Community Behavioral Healthcare reported that an estimated ninety percent (90!) of us in the public mental health system are survivors of pre-existing childhood adversities, including abuse, neglect, violence, poverty, discrimination et al. (pp. 6, 10, 13.)3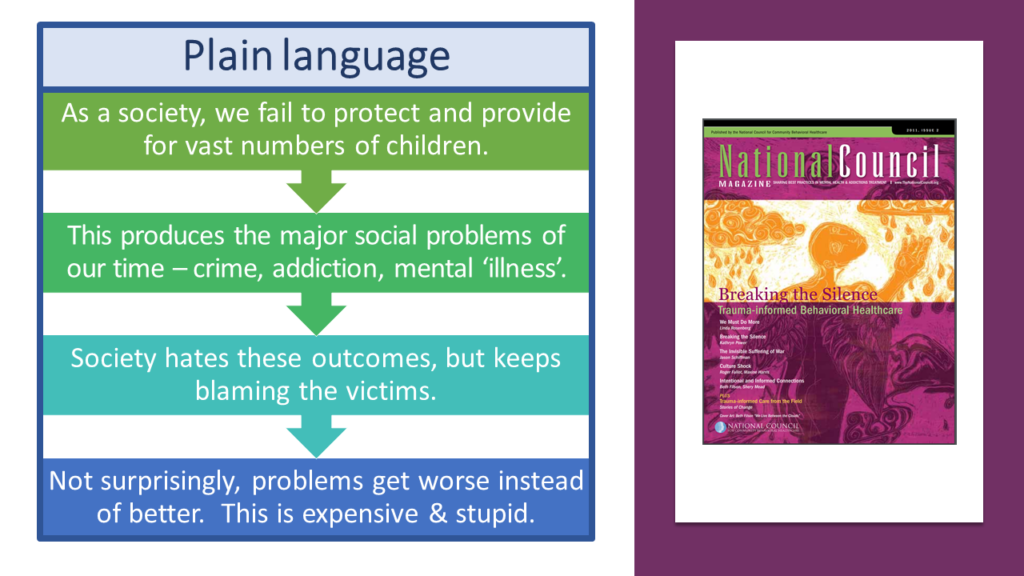 Thus, if I have a mental health diagnosis and I'm contemplating suicide, in all probability, I have a lifetime of disadvantage, adversity and resultant stress preceding that.
This isn't mere statistical correlation. It is easy to see the reasons this happens once I understand how the stress response works. As a child, my rapidly developing body makes me vulnerable to whatever is happening around me. If I'm growing up in a war zone, physically or metaphorically, my body is going to accommodate that. (Sapolsky, 2017, pp. 193-96.)4

As a result, a lot of us develop an overactive stress baseline as children. "High idle" becomes our natural normal. This can lead to enduring, devastating effects on both physical and mental health.
The way this played out for me was that I almost never felt comfortable in my own skin. It was hard to rest, relax or let down my guard. The continual discomfort took a toll and wore me down, both physically and mentally. Also, the elevated level of baseline pain made other life setbacks and frustrations feel more intense. That, in turn, affected my judgment and my relationships with others. All of this contributed to the progressing train wreck of demoralizing circumstances and experiences that, ultimately, made me vulnerable to giving up on life.
But wait, there's more!
The Social Inequality Game
When you look at the data on stress-related disease, it's not just that modern life is stressful. It's not just that some of us take harder knocks than others.
Nope. A huge source of stress for humans is, ehrm… each other. (Sapolsky, 2004, pp. 190-95)5
More specifically, it's how I've been socialized to view and treat you—and vice versa. We don't talk about it much where I live because, yanno, we're Americans and we're all supposed to be equal. But underneath practically everyone knows how to play the game:
Rule 1. Pick a measure of social worth (wealth, appearance, education, sports, culturally relevant access or knowledge).
Rule 2. Compare myself with you.
Rule 3: Whoever has more of what the culture values wins.
This is the Social Inequality Game. It's habitual, ingrained and played every day by practically everyone everywhere. I might not even know I'm doing it—unless I'm the loser. Then I notice. Ouch. That hurts. I don't measure up. 
According to Wilkinson (2018), this kind of "status anxiety—and its ill effects such as worsening health—affects everyone, the super-rich and the dirt-poor."6
The more inequality, the more status anxiety. Tortuously, privilege still has to beat out privilege. So even if I'm filthy rich and have the biggest yacht or boobs, the next Kardashian private jet or nose job can still put mine to shame. Also there are endless categories to compete in. Literally, I could feel bad about my lesser knowledge of bacterial life in Antarctica or Spencer Tracy movies in 1949.
Far more insidious is the way that status competition permeates the entire fabric of conscious existence:
[T]hanks to urbanization, mobility, and the media that makes for a global village, something absolutely unprecedented can now occur—we can now be made to feel poor, or poorly about ourselves, by people we don't even know. You can feel impoverished by the clothes of someone you pass in a midtown crowd, by the unseen driver of a new car on the freeway, by Bill Gates on the evening news, even by a fictional character in a movie. Our … modern world makes it possible to have our noses rubbed in it by a local community that stretches around the globe. (Sapolsky, 2004, pp. 191-92)
While probably no one is "up there" orchestrating it, status competition is demoralizing and destructive in a socially deadly kind of way. In the view of Robert Sapolsky (2004), professor of biology and neurology at Stanford University and world-renowned stress researcher, "when humans invented poverty, they came up with a way of subjugating the low-ranking like nothing ever before seen in the primate world" (p. 192). In other words, making each other feel poor has turned into an art.
If played to its logical conclusion, the outcome (literal and metaphoric) is mutually assured destruction:
We've created a highly status-conscious society.
Everyone is taught not only to seek high status for themselves, but also to police social status rules as a condition of being a good citizen.
It's a zero-sum game that I can only win by beating you out and keeping you down.
What is worse, to play at all, I have to buy into the idea that human beings have relative worth. Otherwise I don't create worth for myself by trouncing friends and neighbors. No less disturbing, to stay on top, I must repeatedly make a loser of you to maintain my illusion of superiority.
The end result is that I end up competing with you for virtually everything all the time. Also the stakes are really high. For most of us, the Social Inequality Game is not played for luxury vacations. We're competing for life and death necessities—safe neighborhoods and housing, nutritious food, adequate healthcare, the means to make a living and support a family…
This is not only frightening and traumatizing for the losers. It's even bad for the winners:
Basically, more unequal societies have worse quality of life. Across countries and among U.S. states, more inequality, independent of absolute levels of income, predicts higher rates of crime, including homicide, and higher incarceration rates. Add in higher rates of kids being bullied at schools, more teen pregnancies and lower literacy. There are more psychiatric problems, alcoholism and drug abuse, lower levels of happiness and less social mobility. And there is less social support—a steep hierarchy is the antithesis of the equality and symmetry that nourish friendship. This grim collective picture helps to explain the immensely important fact that when inequality increases, everyone's health suffers. (Sapolsky, 2018)7
What is worse, it's not just material needs that we're denying each other. It's basic social courtesies like respect, dignity, regard, time, attention, patience, fairness, an invitation to belong, the opportunity to take part, a meaningful audience…  Can any of us grow up feeling okay—or stay feeling okay—without this?
Sadly, this is all stuff that we could freely offer each other—without any grants, public funding or costing the taxpayer a dime. Quite possibly, we would be offering it—if our culture encouraged us to invest half as much in each other as we are encouraged to invest in "getting ahead."
But even that's not all.
Little Fish, Big Pond
A close cousin of status inequality is living at the mercy of concentrated wealth and power. Did you know that, since the 1920s, all it takes is a few media giants and a single concerted effort to straitjacket the collective cultural conscience?8 Within a few hours, days, months or years, there's a routinely recited "same page" I need to be on with the rest of my relevant social world (Chomsky, n.d.).9 If I dare to think, believe and voice out loud anything at odds with this, no matter how personally authentic or seemingly important, I risk widespread re-education from upstanding citizens who "got the message." Given what I hear from others, I also risk unemployment, community suspicion, monitoring for danger to self or others, and possibly ending up in the criminal justice or psychiatric system, or homeless on the streets.
Next, there's the marketers, corporations and political machines.10 How they maintain even the pretense of fairness is a mystery to me. Day in and day out, they devote unfathomable economic, intellectual and technical resources to studying and manipulating the rest of us and the rules of a game we are bound by. The rules are so complex most of us don't even know they exist. Yet, every minute of every day, behind impenetrable firewalls, the world's top minds are getting six or seven figure salaries to crunch the numbers of my existence—and to ensure that the thumb on the scale pushes the odds to favor their investors and special interests. Consider the likelihood that all of these players cross-pollinate.11 Then factor in their likely strongholds in education, curricula and research. Add to that their likely influence on the experts and outcomes selected for public news reporting.12
My first serious awakening to this clandestine advantage was in law school. We were studying a famous tort case involving Ford motors. Landmark punitive damages were awarded after it was shown that Ford executives knowingly refused to recall exploding vehicles due to an internal "cost-benefit analysis." They intentionally decided it was cheaper to let an estimated 500-900 innocent unsuspecting consumers burn up inside their cars than change the design.13 That's how much, and how callously, corporations are studying us—and selling us out, even unto death—to keep shareholders happy.
It's not like this was an isolated incident. It's big business as usual. Tobacco, Enron, the Gulf of Mexico oil spill, the mortgage crisis…  Not to mention the iatrogenic psychiatry-Pharma alliance that Mad in America is exposing.
And it's not just the big life and death stuff that kills me. There is also the excruciating long, slow death that comes in nickels and dimes. Does anyone remember the annoyingly long and hard to skip Verizon voicemail greetings? Not an accident. The extra time such greetings ran aggregated into billions of extra billable minutes for phone carriers over millions of voicemails daily, monthly, yearly… 14
And that's just the tip of the iceberg. I haven't even scratched the surface of cable TV, cars, computers, electric and fuel companies, internet service providers, healthcare and pharmaceutical marketing and zillions of other products that modern consumers interact with daily.
I'm not saying the big fish are lying and cheating on everything. I'm just too limited to know what parts. What I do know is that all of this scares me and stresses me out. I don't trust—or feel particularly safe with—what appears to be standard operating procedure for the lion's share of high level business and political players these days.
Big Brother is Watching
Now factor in the impact of technological surveillance. Not only in the interests of "national security," as Edward Snowden finally proved, but also the major industrial players. My habits, location, purchases, opinions, associations are either known or knowable by powerful others with a proven track record of throwing the little guy under the bus.
And the government that's supposed to protect me from that? Given wealth disparities in who gets elected, it's pretty clear that mostly the foxes are guarding us chickens.15
Just as important from a stress standpoint, how much weight do you think my opinion is going to carry if push ever comes to shove? I'm a lone citizen with documented "serious mental illness." They are experts with big degrees and corporations with big lawyers and friends in high places. Even if I'm right, almost no one in their right mind is going to bother pressing my case. The potential downside for everyone who can safely stay under the wire is simply too great.
Modern Predators, Modern Jungle
I used to think I was making a mountain out of a mole hill. Obviously this stuff was just all in my head. Certainly my brain knows the difference between a lion and intentionally bad customer service or an obviously self-dealing politician. And it has to be smart enough to know that it shouldn't go into blowout stress mode just because my health insurance "lost" my claim again. 
Um. Actually, no. It's not just weapons and fangs that kill me. Being stalked by industry, bureaucracy and social sentiment is deadly too. Mammalian bodies are not wired to endure chronic, pervasive threat and vulnerability (Sapolsky, 2004). Yet this stuff is ubiquitous and embedded into mainstream culture.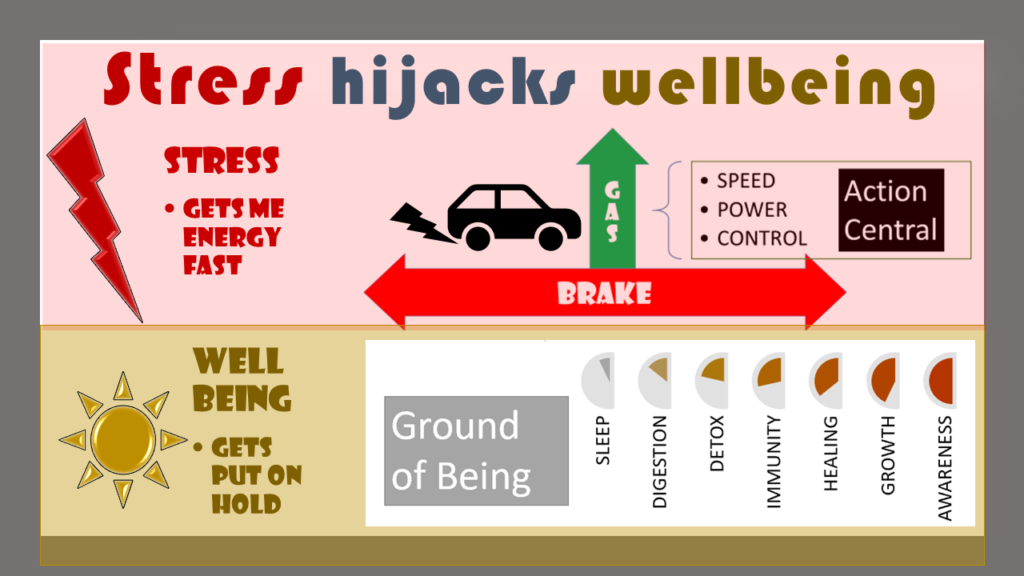 Thus, I don't need a lion or natural disaster to experience the ill-effects of stress. Anything that matters to me, including my future, will capture the attention of this system and erode my long-term health (pp. 7-8).
All of that used to make me feel a lot of shame. At the outer extremes, succumbing to the grip of stress can feel a bit like being possessed. I must be weak or crazy to let this stuff get to me. I'm wasting my life. It's so unproductive.
More recently, however, I've come to see stress activation as resulting far more from my gifts than my failings. It is the logical outcome of a brain that allows me to self-reflect, know my limits and appreciate the vastness that is out there. It's kind of amazing when I think about it:
I have hard-wired mental capacities that let me travel through time such that I can actually project my past experiences into the future and, based on that, make educated guesses about how to live today.
On the down side, this same capacity allows me to be aware (24-7-365) of the zillion things about life (past, present, future) that are beyond my ability to manage or control. If the world I live in is generally benevolent and protective, then all good. Control isn't such a big deal then because my relevant universe has my back.
On the other hand, suppose:
I'm a tiny fish in a big pond…
The big fish feel no sincere obligation to me or my kind…
They are only interested in what they can get and how fast they can get it…
There's little they want that I'm interested in offering…
They have the potential to track my every move…
There's no protection or recourse if they come after me…
They have friends in every high place I could turn to…
There's a zillion ways they could make my life miserable or get rid of me if they wanted to…
The rest of my kind is as vulnerable and scared as I am so we don't stick up for each other…
Clearly this does not bode well for letting the "soft animal of your body love what it loves" (Mary Oliver, "Wild Geese").16 To the contrary, given my capacity to appreciate vulnerabilities, project into the future, and hold my awareness of likely outcomes 24-7-365, it is pretty clear that stress is going to create problems for me.
Please pause here because this is an important distinction to get:
The problem of the modern world for me is not so much the stress of having a present threat to survival. It is a continual uncertainty about future survival given the conditions of life as I have come to know and experience them.
The Perfect Storm for Suicide
This is how I think mainstream culture has become deadly for me, and possibly a lot of other people. It sets up a perfect storm of predation and abandonment, wrapped together in a never-ending, ever-escalating cycle. The pervasive predation virtually assures that many of us will, at some point, find ourselves hopelessly in over our heads. The pervasive abandonment separates us from each other—and therefore cuts us off from naturally-occurring human support that is arguably our most powerful evolutionary resource in these circumstances.
The predictable outcome is the Sisyphus Cycle. The stress of trying to survive a predatory, abandoning culture leads to physical and mental breakdown. The breakdown itself makes me even more vulnerable to predation and abandonment, leading to progressive loss of material, social and emotional resources. Here's the diagram from the first piece in this series ( "The Sisyphus Cycle: How everyday stress leads to suicide"), if you want a quick review: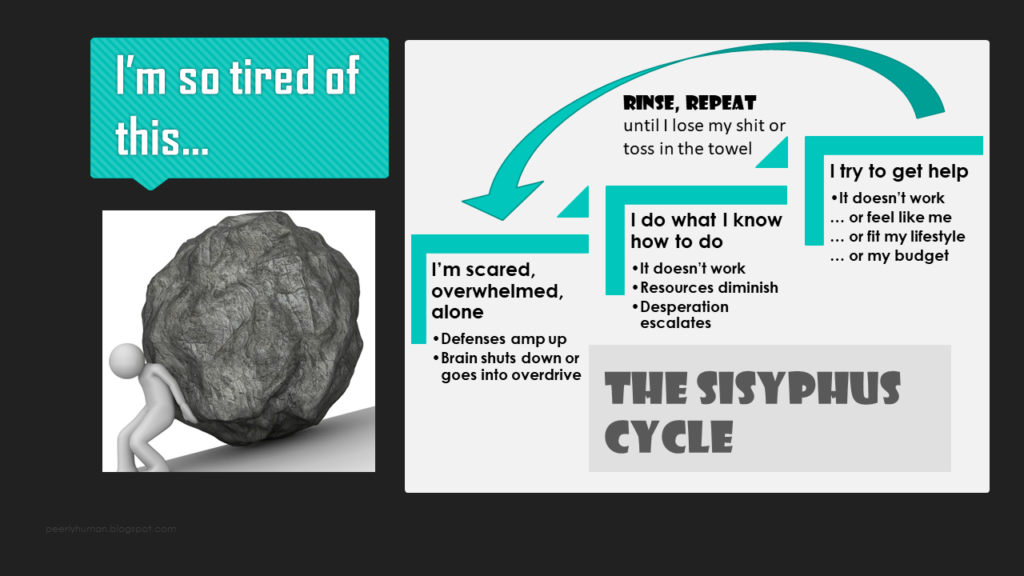 A really good example is what happens in mainstream mental health. Economic predation has led the mental health professions to market the message that "mental illness" is dangerous, complicated and beyond the capacity of untrained citizens. The pharmaceutical industry has teamed up with them to market its predatory message that these are brain issues, not stress or life issues, and thus require professional services, preferably drugs. Hence, both of these so-called helpers have used their considerable social and economic power to up their relative status and to limit the array of options available. This is done both at the expense of society (much of healthcare is funded by tax dollars), as well as at the expense of vulnerable people they claim to serve.
These industries also create a subsidiary class of predators. This includes ordinary citizens who are eager to take advantage of the status differentials that make them socially "better than." The fact of my label not only makes me fair game for this group, it also creates a natural tension with family and friends who now fear the downward status consequences of guilt by association.
The real life impacts are painfully real. When I try to talk about about what I see happening, how devastating and frightening this is, how much it is killing my motivation to live, responsible citizens mostly follow the directions they are given by professionals and experts through mass media. Time and again, respected others politely decline to offer basic human courtesies like attention and interest and instead suggest I see a professional.
The repeated effect of such socially diminishing responses in a status conscious world is devastating. The relative status of the diminishing, rejecting advice-giving person goes up. They have done their duty, followed directions, proven themselves a good citizen. So now they get to feel better about themselves.
The effect on me is the opposite. The person has literally added insult to my injury. Consequently, my status goes down, basic human needs go unmet, and I feel even worse. Yet, this happens over and over, even with family and close friends.
The next stop on the train is the therapist's office. Here I try to express my honest pain as I honestly see it:
Widespread mainstream denial
Rampant status competition
The professional guild privilege that siloed me into treatment and away from authentic human conversation
Social outsider status attendant to a diagnosis, the history of which will follow me and make me vulnerable to social and professional exclusion for the rest of my life even if I beat the odds and "get better."
If I honestly say, as I often have, that this makes me feel like my life is over and that everyone, including me, would be better off if I were dead, then out comes the suicide assessment.
The repeated effect of this socially diminishing response in a status-conscious world is also devastating. The relative status of the diminishing, rejecting, assessment-giving professional goes up. They have done their duty, followed directions, proven themselves a good clinician. Now they are in full compliance with the ethical advice of their profession and their legal obligation to society and the organization they work for. Society even tells them they have "no choice" because the legal profession predators and the surviving relative predators will team up and get them if they don't.
Not surprisingly, in this social world, I get worse instead of better. My basic human needs for honest conversation and meaningful connection about my painful state in a painful world are still going unmet. Plus my status is continually decreasing relative to others—simply as a result of voicing my sincere, honest and seemingly reasonable concerns. Again power is used by important others in predatory or abandoning ways, and I am paying good money for this. All of this increases my stress and discomfort, decreases my connection with others, destroys my hope of things ever changing and puts me at a loss for reasons to stay alive.
But do you know what's just as deadly?
Everyday Responses
Practically everyone knows this kind of stuff is happening. There are new abuses every minute, much of this documented. But if I call it as I see it, in most people's eyes, I'm paranoid, obsessed, overreacting, negative, dysfunctional, toxic, diagnosable….
I think that's really interesting. In fact, it kind of proves my point about how stressful it is to be alive these days:
Most people know that power is being abused at very high levels.
Most people know that higher-ups can take advantage of us and actively are.
Yet, we're all being told by the experts that healthy people cope with this.
Yup, thanks to mass media and mass marketing, I'm bombarded with tips for coping. The social message is that, if I get distressed by the moral outrages of social, economic and political power brokers, it means something is wrong with me. It's like: Well, boys will be boys. The mature citizen recognizes that and lets it go. In the end, every citizen is an "expert" and happy to share or enforce the coping message on us reluctant lag-behinds.
And just to prove that the social predators truly have no shame, they have turned coping into an industry as well. As a result, there are now countless services and products I can buy to feel better while I am being ripped off.17
If I put all this together, I get a clear, concise recipe for wanting to die: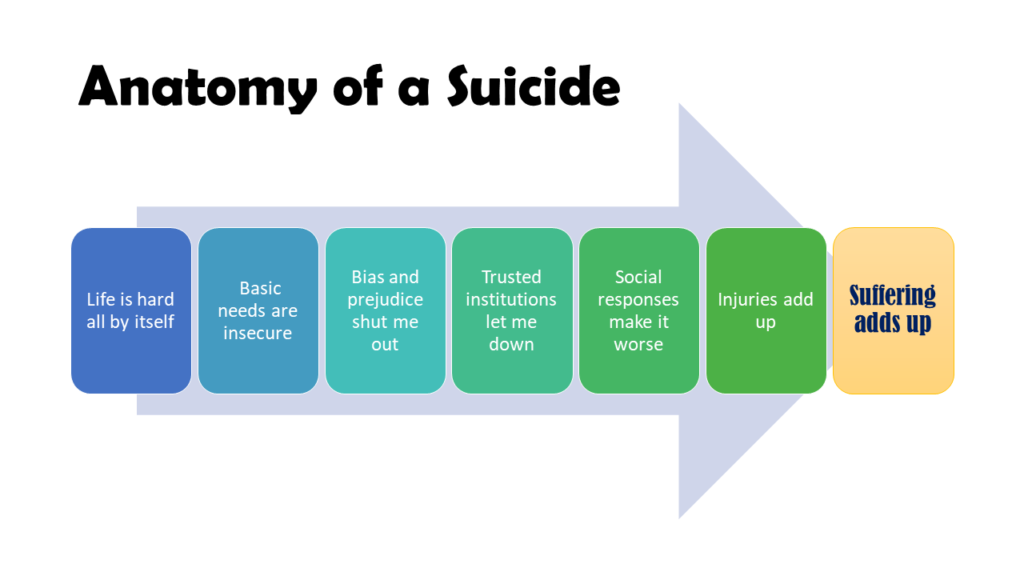 No bad genes or broken biology required. It's simply a matter of stress and chronicity. Challenges and injuries accumulate. Suffering compounds. At some point, there are too many injuries, in too many ways, that have happened too often and been too painful for far too long. It becomes too much.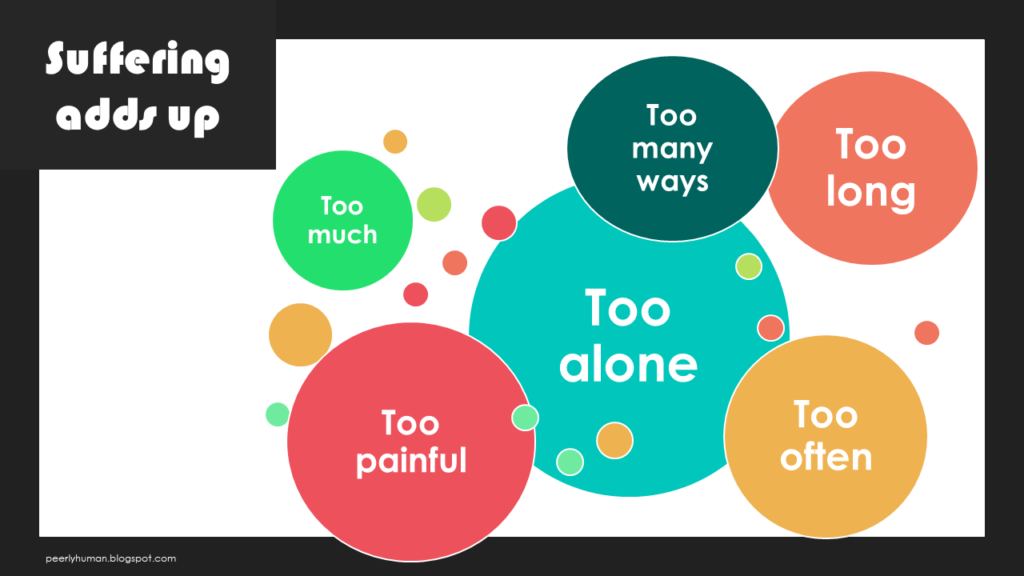 Ultimately, I reach a point where life feels disconnected, pointless and unbearable. I decide I have had enough. I am going to get out of the Sisyphus Cycle.
The next time I get energy, I take my opportunity. Some might call this a coward's escape, but it is also a hero's journey. The only weapon I have left is my life. Now I'm using it to send you one last message:
Whatever the hell you people think you are doing on planet earth, it is not okay with me. As much as I value my life, I'll take my chances with death. Given what you are offering, I'm betting my eternity that death is not the worst thing that can happen to me.
If stress is so deadly and pervasive, then why isn't everyone breaking down?
It's a legitimate question. After all, statistics suggest that suicide and "mental illness" are related. Roughly 50 percent of suicide completers in the past two decades had 'known mental health conditions' (Stone, 2019, Table 2.)18
A seemingly logical conclusion is that stress only gets to emotionally vulnerable people who are on their way to crazy already.
The problem with that kind of logic is that it assumes there is only one kind of breakdown from stress. Clearly that is not the case. Stress affects all sorts of functions in my body—digestion, heart rate, respiration, circulation, immune function, liver, kidneys, detoxification, sleep, healing, growth and development (Sapolsky, 2004). It also makes for poorer judgment and reasoning since it diverts resources from brain to brawn, primes my muscles to act and makes me want to jump out of my skin. Wear and tear, plus lousy choices, increases vulnerability to breakdown, including myriad common maladies: high blood pressure, high cholesterol, heart disease, diabetes, fibromyalgia, ulcers, acid reflux, allergies, colds, flu, pneumonia, asthma, emphysema, bronchitis, cancer, kidney and liver disease, anxiety, depression, addiction… the list goes on.19 Under the influence of chronic stress, such problems compound, potentially leading to system failure and death.
This becomes even clearer when you take a look at the leading causes of death in modern times: diabetes, cancer, stroke, flu/pneumonia, Alzheimer's, accidents, suicide.20 They are all potentially mediated by stress, including effects like those mentioned above. 21 In other words, quite possibly, stress is getting to all of us, not just some of us. Quite possibly, as a species, we are dishing out to each other more than any of us can safely take. In a very real way, we are all breaking down. We are all dying. It's just that we're all dying differently.
That only makes sense. Diversity is a strength of our species. Our bodies have different gifts as well as different challenges. Stress feels out frailties, and makes the kill from there. Whether mental or physical, however, stress gets most of us in the end.
Now I am at the interface between the gift of stress and the gift of wanting to die. Stress is my body's gift to me. It tries to wake me up to the fact that I'm in over my head and something needs to change. I ignore or kill the messenger at my peril.
Wanting to die is my gift to you. It's my attempt to share with you my sincere and desperate conclusion:
Some conditions and terms of life may not be worthy of the human body, mind or spirit. I think the culture we live in is deadly.
I have been dying inside from this. Unless something changes, you could be too.
[Don't worry, I'm not going to leave you alone or defenseless. There's a lot more to our bodies—and humankind—than the moral depravity we've been sold on to date. I'll talk about that—and what we can do—in the last two more installments of this series. If you can't afford to sit around waiting, there's a growing community of us who are trying to figure out how to support each other to navigate this territory with dignity, conscience and absolutely no coercion. We hold telephone and online groups that are free and accessible, literally, from around the world. You can find out more here.]
***
Mad in America hosts blogs by a diverse group of writers. These posts are designed to serve as a public forum for a discussion—broadly speaking—of psychiatry and its treatments. The opinions expressed are the writers' own.
***
Mad in America has made some changes to the commenting process. You no longer need to login or create an account on our site to comment. The only information needed is your name, email and comment text. Comments made with an account prior to this change will remain visible on the site.