On January 31, just ahead of the Iowa caucuses, Democratic presidential candidate Sen. Bernie Sanders (D-VT) released a wide-ranging disability policy plan naming disability rights as "an issue of fundamental civil rights." Sanders said in a statement, "A society that does not center the voices and needs of people with disabilities has yet to fulfill its most basic obligations."
Sanders' 'disability rights as civil rights' plan is distinctive in its explicit inclusion of people with psychiatric disabilities and diagnoses, an orientation that runs counter to prevailing policy discourse in the U.S. "Sanders' plan is particularly notable for how it addresses mental health," Jennifer Mathis, deputy legal director and director of policy and legal advocacy at the Judge David L. Bazelon Center for Mental Health Law, told Mad in America. 
Mathis, who is acknowledged as a policy advisor on the Sanders plan, added, "The focus on community integration, inclusion, autonomy and independence, the use of voluntary services, and the commitment to respecting privacy rights, stands in marked contrast to how most candidates have approached mental health — focusing solely on 'access to treatment' and sometimes explicitly calling for expansion of institutionalization and force and reduction of privacy rights."
Such anti-civil rights policy trends ramped up at the Federal level in 2013, when former Congressman Tim Murphy (R-PA), who perpetuated the false link between gun violence and psychiatric diagnosis, introduced the Helping Families in Mental Health Crisis Act. The bill received bipartisan support, and several key provisions were folded into the 21st Century Cures Act signed into law by President Barack Obama in 2016.
Every person with a disability deserves the right to live in their community and have the support they need to thrive.

This is an issue of fundamental civil rights, and we will not wait to advance disability rights.

Read our plan here: https://t.co/CfXu3ShX4H

— Bernie Sanders (@BernieSanders) January 31, 2020
Current presidential candidates, including Pete Buttigieg (D) and Amy Klobuchar (D-Minn), have endorsed policy positions favoring the expansion of institutionalization via repealing of the Institutions of Mental Disease (IMD) Exclusion, a statute enacted at the start of the Medicaid program to disincentivize states from over-relying on costly and dehumanizing institutions. While Elizabeth Warren does not mention IMD Exclusion repeal in her disability plan, her disability team has not yet responded to a request to clarify her position.
By far the most controversial mental health plan belonged to Sen. Kamala Harris (D-CA), issued just days before she dropped out of the presidential race last December. It not only called for the repeal of the IMD Exclusion but also pushed to expand involuntary outpatient commitment programs — euphemistically referred to as Assisted Outpatient Treatment (AOT) — and the opening of segregated "psychiatric campuses." The Harris plan was roundly condemned by the disability community for its coercive, punitive proposals.
In contrast, the Sanders plan unapologetically embraces a core tenet of the disability rights movement: "Nothing About Us, Without Us," namely, the imperative to center the leadership of voice and persons most directly impacted by policy and practice. Both Sens. Elizabeth Warren (D-MA) and Sanders included a number of people with disabilities and neurodiverse individuals as advisors in crafting disability policy.
Rebecca Cokley, director of the Center for American Progress's Disability Justice Initiative, served as a policy advisor to both Warren and Sanders. "Starting off with community integration shows that the Sanders campaign is clearly in touch with the energy and priorities of the grassroots," Cokley told Time.
Ari Ne'eman, an Obama appointee who also served as a disability policy advisor to both the Warren and Sanders campaigns, concurred with Cokley, telling Arc Digital, "the best disability policies and plans are about bringing disabled people into the community and keeping them there. That is the overarching goal of the disability community."
Sara Luterman writes in The American Prospect: "Sanders didn't just seek out people who already love him to develop his plan. Instead, it was developed by a big tent—the kind of coalition many commentators have been skeptical Sanders could pull off." Luterman also noted on Twitter that the plan was influenced by "cutting edge" experts.
It seems like @BernieSanders didn't invite any of those guys to the table in formulating his disability plan, and I sort of love him for that. Everyone thanked at the end are people who are not only experts, but are at the cutting edge. Sanders' plan is bold as hell.

— Sara Luterman (@slooterman) January 31, 2020
For Sanders, this level of engagement with, and approval from, the grassroots represents a significant departure from his radio silence on disability policy during the 2016 elections. "Sanders has risen from being among one of the worst candidates on disability policy to the leading disability rights champion of the primary," Luterman writes in the Prospect.
Sanders' plan has received such widespread admiration because it thoughtfully integrates disability into every facet of his existing platforms, including Medicare For All, Housing for All, Social Security, as well as the Green New Deal climate change proposal. "I'm struck by Sanders' ability to think through how to make the Green New Deal inclusive of the disability community," Cokley told Time.
Sanders "Opposes Proposals to Expand Involuntary Commitment Laws," "Weaken Privacy Protections"
Of all the presidential candidates' disability platforms, the Sanders plan appears to have the most robust set of rights protections for people with psychiatric diagnoses and disabilities.
As President, Sanders would "oppose proposals to expand involuntary commitment laws or weaken HIPAA and FERPA privacy protections, recognizing that mental health services work best when they are voluntary, evidence-based and available without cost or waiting."
Disability justice advocate Victoria Rodríguez-Roldán told The Hill that she was honored to have helped advise the Sanders campaign on its disability platform. "It is by far the most progressive disability plan in the field. It's particularly amazing how it takes such a firm stance against mental health institutionalization and coercive treatment."
Kathy Flaherty, director of the Connecticut Legal Rights Project, called the plan's rejection of proposals to expand involuntary treatment "remarkable."
To see a plan that explicitly rejects calls to expand involuntary treatment is … remarkable. My thanks to every single one of the fierce advocates who helped develop this plan. https://t.co/HESh3MTfuv

— Kathy Flaherty (@ConnConnection) January 31, 2020
Proposes "Aggressive" Enforcement of Olmstead to Address Criminalization 
The plan states that as President, Sanders will "fight to end the criminalization of disability, while also defending the rights of people with disabilities to make their own choices about treatment."
The Sanders plan includes a radically different set of policy solutions to criminalization than those typically proposed by caregivers and medical providers, which have included an increased focus on beds and involuntary outpatient commitment. The decision to combine a decriminalization agenda with the explicit support for rights and choice is notable, as these policy priorities have often been framed in Washington as being mutually exclusive and in opposition.
Sanders' disability plan avoids rebuilding the asylums as a solution to incarceration. Instead, the plan proposes to address the criminalization of people with psychiatric diagnoses and disabilities by improving enforcement of Olmstead vs. LC. This landmark 1999 Supreme Court decision gave people with disabilities, including psychiatric disabilities and diagnoses, the civil right to live in integrated, community-based settings.
Ne'eman said on Twitter that the plan's focus on Olmstead enforcement is "a huge deal," "given how candidates often talk about mental illness."
https://twitter.com/aneeman/status/1223245804607102976?s=20
Every state is supposed to have an Olmstead plan as per the law; some states still do not, Flaherty explained via Twitter. The Obama administration led a push to re-invigorate Olmstead enforcement, but such efforts have waned considerably during the Trump era.
The Sanders plan states, "We will use the Olmstead decision to challenge states that have failed to adequately support the voluntary, community-based mental health services that can divert people with mental illness from ending up in the criminal justice system." He said he would seek to return to the Obama-era momentum on Olmstead, appointing an Attorney General who will "ensure that the Department of Justice will vigorously enforce the Olmstead decision."
One policy point directly challenges the lawmakers, families, and medical advocates who seek to subvert the Olmstead mandate when it comes to people diagnosed with severe mental illnesses (SMI). Sanders promises to "defend the Americans with Disabilities Act from attempts to weaken it, whether those attempts come from Congress through legislation or businesses challenging the law."
Advocates calling themselves the "SMI community," whose policy priorities formed the basis for the Kamala Harris mental health plan, include in their policy platform an effort to dilute Olmstead. Among their policy asks are to "Clarify Olmstead for SMI. Least restrictive care isn't always least expensive or best. Examine, don't ignore, a person's ability to handle and benefit from a less restrictive setting."
Pursues Meaningful Action on Police Violence Against People with Disabilities
The plan also acknowledges and seeks to end longstanding patterns of police violence that have disproportionately impacted disabled people of color, noting:
"All too often, people with disabilities, especially people of color with disabilities, face violence from law enforcement. This requires more than just training — it requires accountability. Approximately half of all people who die in police-involved shootings have a disability. In order to protect the rights of people with disabilities, we intend to make discriminatory law enforcement interactions with people with disabilities a major enforcement priority of the Civil Rights Division."
The Sanders plan represents a significant departure from current mainstream policy trends on police violence against people diagnosed with SMI, which generally stop at mandating increased funding for mental health training for law enforcement such as Crisis Intervention Team (CIT) team training, also known as "The Memphis Model."
Even when CIT training has been effective in de-escalating violent encounters between law enforcement and individuals with disabilities, without an accompanying accountability mechanism, training has not resulted in significant systemic improvement. Furthermore, CIT Training has not been implemented in the majority of law enforcement agencies in America, and there is no consistently enforced legal mandate that only CIT-trained officers be dispatched to 911 mental health crisis calls.
As Alexis D. Campbell writes in the Columbia Human Rights Law Review, "Without the backing of the legal system, even the most well-designed program for training officers on how to best respond to persons in mental health crisis may not protect persons experiencing mental illness from unnecessary uses of police force."
The plan takes a progressive approach to crisis response, the site of much police violence against distressed and disabled people of color. It would "create a civilian corps of unarmed first responders, such as social workers, EMTs and trained mental health professionals, who can handle order maintenance violations, mental health emergencies, and low-level conflicts outside the criminal justice system." While Seattle-King County and other counties in the U.S. now employ a co-responder model that includes both mental health professionals and cops, Sanders' plan would seek to take law enforcement out of the crisis response altogether whenever possible, "freeing police officers to concentrate on the most serious crimes."
Assumes a Broad Human Rights Orientation 
Both the Sanders and Warren disability plans call for ratification of the Convention on the Rights of Persons with Disabilities (CRPD), the landmark human rights treaty adopted by the United Nations in 2006. America became a signatory to the CRPD in 2009; however, only ratification would make it a fully binding and enforceable mechanism in the U.S. To date, 181 countries have ratified the CRPD.
CRPD ratification would be meaningful for all disabled people, and it has particular legal resonance in the current U.S. policy environment for people with psychosocial disabilities, given the pendulum swing towards an increased policy push for force and coercion.
Article 12 of the CRPD touches the heart of current debates about capacity and choice, declaring that "persons with disabilities have legal capacity on an equal basis with others." A U.N. technical assistance document on the CRPD acknowledges that "Guardians and tutors acting on behalf of persons with disabilities sometimes fail to act in the interests of the individual they are representing; worse, they sometimes abuse their positions of authority, violating the rights of others."
The document notes that Paragraph 4 of Article 12 establishes safeguards to protect against the abuse of substituted decision-making mechanisms, such as the appointment of court-ordered guardians or conservators who have authority to make decisions on behalf of people "without necessarily having to demonstrate that those decisions are in the individual's best interest or according to his/her wishes."
The Sanders plan is also unique among disability policy plans in its emphasis on promoting supported decision-making models as "a best practice and alternative to guardianship and conservatorship." The plan states: "Bernie believes that people with disabilities deserve the right to make their own choices."
The right to choice is a bold vision in a policy environment that increasingly favors substituted decision-making programs. An example of the latter is SB 40, the expanded conservatorship program authorized last year by the San Francisco Board of Supervisors.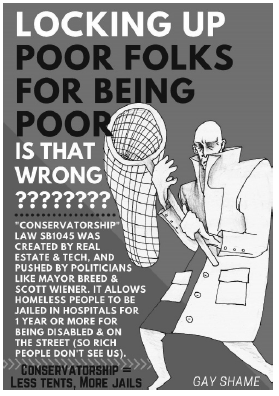 SB 40 has been vehemently opposed by a coalition of grassroots groups calling themselves Voluntary Services First. The coalition characterizes the bill as a "developer-backed bill allowing for three pilot California cities to expand conservatorship of people with both psychiatric disabilities and substance abuse issues. It is a naked attempt to target houseless people and remove them from the streets."
As its name implies, the Voluntary Services First coalition is pushing for "actually providing services and housing as a way to solve this problem. It is such a simple idea and apparently too complicated for city politicians: if real housing, drug treatment on demand and accessible mental health services existed, homeless encampments would shrink!"
Sanders also guarantees housing as a human right in his disability plan: "When we are in the White House, we will guarantee housing as a right for all and end housing discrimination once and for all." The Sanders plan would allot $32 billion over the next five years to address the housing crisis and homelessness, including doubling McKinney-Vento homelessness assistance grants to build permanent supportive housing and $500 million to provide outreach to homeless people to help connect them to available services.
The Sanders plan would fully fund tenant-based Section 8 Housing Choice Vouchers and would implement a non-discrimination law to address the rampant practice of landlords' refusal to rent to Housing Choice voucher holders.
Theo Henderson, an unhoused resident in Los Angeles and host of We the Unhoused podcast, shared with Mad in America via Twitter that Bernie's disability policy plan "would be needed after Trump attacking the disabled community."
Appointed last December, 'homelessness czar' Robert Marbut criticized California early on for its management of homelessness. Marbut has long said that he is against the popular and effective Housing First program, which offers supportive housing for people with disabilities, telling The Huffington Post, "I believe in Housing Fourth." Marbut's appointment signals a policy shift to an approach that bundles housing to prolonged compliance with services. Glenn Bailey, executive director of the Crossroads Urban Center, said of Marbut to the Salt Lake Tribune: "His philosophy on homelessness seems to be to kind of incarcerate folks in large campus settings that are away from everyone else in the city and isolate people."
Centers the Leadership of People with Disabilities
The Sanders plan centers the leadership of people with disabilities in numerous and concrete ways, from the formulation of policy to community-based participatory action research, another aspect distinguishing it from the prevailing mood on mental health policy. For example, a December daylong White House mental health summit did not include a single speaker openly disclosing a psychiatric history or diagnosis.
In contrast, the family- and medical provider-driven forced treatment movement tends to prefer medical authorities as leaders. A common refrain of Rep. Tim Murphy, Dr. E. Fuller Torrey, and other family and medical advocates was that a psychiatrist should be running the Substance Abuse and Mental Health Services Administration (SAMHSA). A cornerstone of Murphy's "Helping Families in Mental Health Crisis" legislation was the creation of the Assistant Secretary for Mental Health and Substance Use, who reports directly to the head of HHS, a position that is now indeed held by Dr. Elinore McCantz-Katz, a psychiatrist who also heads up SAMHSA.
Sanders' disability plan would create a new National Office of Disability Coordination. The office would be responsible for "coordinating and making disability policy to advance the full inclusion of people with disabilities, including ensuring every aspect of our public resources are ADA compliant and that the civil rights of people with disabilities are protected and expanded." This office would be headed up by a person with a disability.
The Sanders plan would also "require condition-specific advisory committees, such as the Inter-Agency Autism Coordinating Committee, to include individuals with the relevant disability as at least half of the public members of the committee."
Ne'eman tweeted that this requirement represented a "groundbreaking commitment from a presidential candidate."
https://twitter.com/aneeman/status/1223248295675539457?s=20
While not mentioned by name, under this new policy, the Interdepartmental Serious Mental Illness Coordinating Committee (ISMICC) chaired by Assistant Secretary McCantz-Katz, might have to make some changes. Of ISMICC's 14 non-Federal public members, currently only two members openly identify as being people living with a mental health condition.
Reflects the Growing Influence of the Disability Rights Movement
Many advocates feel that the strength of both the Warren and Sanders plans represents a testament to the growing power and influence of people with disabilities in the political process. #CripTheVote, a nonpartisan hashtag organized by the Disability Visibility Project's Alice Wong, Andrew Pulrang, and Gregg Beratan, even hosted a Twitter Town Hall Candidate Chat with Elizabeth Warren last month. As Sara Luterman writes in The Nation of Warren's participation, "The candidate's engagement with #CripTheVote is a sign that disability politics has finally gone mainstream."
#CripTheVote has also extended the invitation to Sanders and all candidates to participate in a Twitter Town Hall to answer questions from disabled voters and allies.
https://twitter.com/SFdirewolf/status/1223273524007038977?s=20
No candidate's disability policy plan has been perfect, with Warren and Sanders skewing the most towards community inclusion. But the fact that as of this writing, with the exception of Joe Biden, every frontrunner Democratic candidate has issued a disability policy platform represents a significant sea change from the 2016 election.
Even those who support the plan may point out the futility of a Democratic President Sanders or Warren passing any revolutionary legislation, especially in a GOP-controlled Senate. But Sanders anticipates this possible reality, planning to "use the power of the executive to make major disability policy advancements," and vowing to "take bold and necessary executive action to protect the rights of people with disabilities."
****
MIA Reports are supported, in part, by a grant from the Open Society Foundations