In this article, Peter C. Gøtzsche reports what happened, or rather did not happen, when he contacted National Boards of Health in eight countries with his serious concern that the use of depression pills in children is increasing and leads to more suicides, apart from Denmark where usage decreased by 41% in just six years because of two simple interventions. The continued official denial that these drugs cause suicide and that something substantial needs to be done is appalling.
On 4 March 2018, I explained in an article on the Mad in America website that the usage of depression pills—commonly but misleadingly called antidepressants—was almost halved among children in Denmark, from 2010 to 2016, whereas it increased in other Nordic countries.1
On 22 November 2018, I wrote an open letter to the National Boards of Health in Iceland, Norway, Sweden and Finland about this very serious matter and attached my paper. I noted that depression pills double the risk of suicide compared to placebo in the randomised trials in children and adolescents, which is why health authorities all over the world have warned against using the pills since the US Food and Drug Administration (FDA) alerted people to this fact in 2004 and again in 2006.2
Despite the warnings, the usage of depression pills in children continued to rise everywhere. In the summer of 2011, the Danish National Board of Health reminded family doctors that they should not write prescriptions for depression pills for children, which was a task for psychiatrists.
At the same time, I began to warn strongly against the suicidal effect of the pills, which I have done countless times ever since in radio, TV, articles, books and lectures. I was triggered by Lundbeck's director who claimed in a radio interview to the astonishment of the journalist and a person from the Danish Drug Agency that the pills protect children against suicide.1
In my letter, I wrote:
The result of these two interventions are dramatic. Since 2010, the usage of depression pills in children and adolescents has dropped by 41% in Denmark while it has continued to rise in Norway, Sweden and Finland (data not shown in the graph for Finland in the attached paper, but usage in Finland increased by 44% from 2010 to 2017):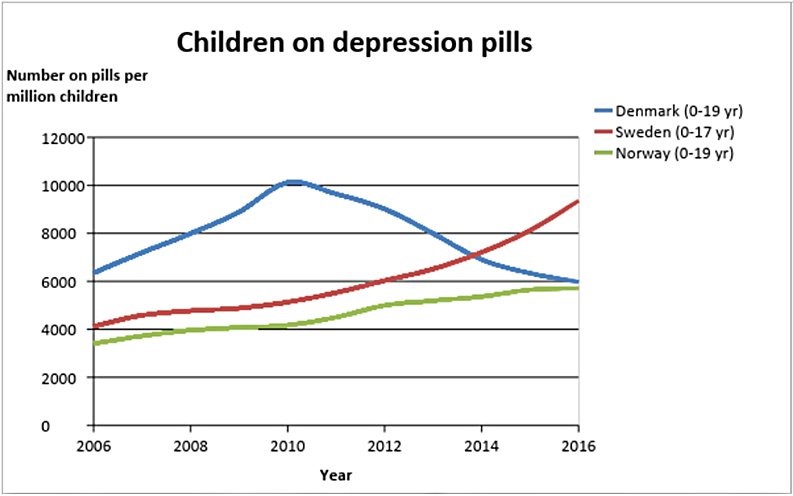 Leading professors of psychiatry in Denmark, Sweden and Finland have continued to deny that depression pills increase the risk of suicide in children to such an extent that they have claimed the opposite, that the pills protect children against suicide—in lectures, also for medical students, newspaper articles and scientific articles.
As I have documented in a book (Deadly Psychiatry and Organised Denial), to "prove" their point, these professors refer to unreliable research, and they consistently fail to cite much more reliable research that shows the opposite. Particularly two people have been responsible for the misleading research: Göran Isacsson in Sweden and Robert Gibbons in the USA. They, and others, have published papers showing that suicides went up after the FDA introduced a black box warning and the usage of depression pills went down, or vice versa. However, there are many countries and time periods where the opposite occurred, but leading psychiatrists consistently ignore also such data and publications.
In my view, this behaviour looks like scientific misconduct and it could be a punishable crime in a court of law, as drug companies have been held responsible for similar misinformation, also when it led to suicides in adults caused by the pills. The consequence of the collective, professional denial is that both children and adults commit suicide because of the pills they take in the false belief that they will help them. I shall not discuss the clinical effect here, only say that a clinically relevant effect on depression has never been demonstrated in children or adults (see my book, for example), not even for fluoxetine, which is the favoured drug for children.
In my view, children should not be treated with depression pills, and I therefore urge the Nordic National Boards of Health to take action. At the very least by issuing a guidance like the one issued by the Danish National Board of Health in 2011.
I explained that my research group had recently published unique research results based on our access to clinical study reports from the European Medicines Agency (about 70,000 pages) and that we were likely the only ones in the whole world who had ever read all these pages, which amount to 7 meters if stacked. This made it possible for us to show, for the first time ever that:
Depression pills double the occurrence of aggression in children.3
Depression pills markedly increase the occurrence of FDA defined precursors to suicide, violence and psychosis in middle-aged women with urinary incontinence.4
12% more patients (all ages) drop out of the trials when they are on a depression pill than when they are on placebo, which means that patients think placebo is a better pill than a depression pill.5,6
Quality of life (all ages) has rarely been reported, even when measured in the trials, and even in the clinical study reports, there is markedly selective reporting of the results. This makes it highly likely that quality of life is worse on a depression pill than on placebo.5
I ended my letter by saying that I was willing to discuss the issues and to lecture on this, reminding the boards of health that the matter is very serious, particularly considering that leading psychiatrists misinform the public about the suicide risk of depression pills in all Nordic countries.
No Replies—Or Late and Meaningless Replies
I received no replies, apart from one authority explaining they had sent my letter to another authority. I therefore sent the letter again, two months later, and noted that I would upload it as an open letter on my website.7
I noted that the science clearly shows that depression pills increase the risk of suicide in children and adolescents and that they should therefore be avoided. I also requested to know when I could expect a reply.
Two months later, four months after my first letter, the Norwegian Directorate of Health noted that they were already aware of the usage of antidepressants among children and adolescents and that independent information about the effects and safety of medicinal products was important. They did not communicate any concerns about whether usage was too high or inappropriate but invited me to a phone meeting.
At the phone conference, one of the people on the line spoke about his own good clinical experience from treating people with depression pills. Pretty astonished, I reminded the Directorate of Health that clinical experience in psychiatry is highly unreliable, which is why we required placebo-controlled trials.2 The conversation lasted one hour but I got nowhere. These people did not want to do anything.
After five months, the Finnish Ministry of Social Affairs and Health responded in the typical mumbo jumbo sort of way that civil servants use when they praise a system that clearly doesn't work, but refuses to acknowledge this and to take any action:
According to our legislation the health care must be based on evidence and it needs to be of high quality, safe and appropriately carried out. Finnish Medicines Agency Fimea promotes rational use of medicines in order to support the health of the population. Fimea also provides information on medicines in order to improve the effectiveness of medicinal treatments. National Supervisory Authority for Welfare and Health Valvira supervises and guides healthcare professionals and medical facilities both in private and public sector.
According to Finnish Evidence-Based Medicine Guideline on Childhood depression, "The use of medical treatment in childhood depression should always be carefully considered by a child psychiatrist, and any treatment should be monitored with frequent follow-ups … fluoxetine can be used … to treat severe or prolonged depression in children … increased suicidal thoughts have been connected with SSRIs in some studies."
According to philosopher Harry Frankfurt this is "bullshit," which he considers short of lying.8 I cannot see any difference to how drug companies praise themselves. Everything is always okay even when hundreds of thousands of patients die unnecessarily every year.9 Frequent follow-ups are a fake fix, as suicide in children often occur without any warning, when the child seems to be well but suffers terribly from the harms of the pill without realising that there is nothing wrong with them, only with the pill.2,10 Further, the systematic denial is obvious. "Suicidal thoughts" and only "in some studies." This is terribly misleading and underplays the harms. When all studies are taken together, it is clear that depression pills increase everything: suicidal thoughts, behaviour, attempts, and suicides, even in adults.11,12
After five months, the Swedish Board of Health replied that I needed to contact the Swedish Drug Agency that monitors the usage of depression pills in children. They also referred to national guidelines. They expressed no concern that the usage had increased by 82% in a short time window, from 2010 to 2016, while it decreased by 41% in Denmark.1 In a report from December 2017, the Swedish Board of Health writes that, "There is great general interest in increasing prescribing of psychiatric drugs for children and young adults. The Board receives many questions about this from the media, for example."13
It is not surprising that when the public has been seriously misinformed by people like Isacsson, who has been very active in promoting his dangerously erroneous ideas in the media, parents may think depression pills are good for their children.
After six months, the Swedish Drug Agency replied, in much the same way as the Finnish authorities did. It was all about processes, and since 2005, no new safety signal concerning suicide ideation/suicide had been discussed. I was told that the agency had issued treatments recommendations in 2016 so I looked them up. In February 2016, the Swedish Drug Agency arranged a meeting with experts in order to produce recommendations.14 For children, they suggested four different depression pills could be used. Under side effects, there was absolutely nothing about suicidality. Not a single word. Further down in the document, it was mentioned that depression pills increase the risk of suicidality slightly and significantly, but we are also told that, "they do not increase the risk of suicide, and there is some evidence that the risk is decreased."
This information contrasts with the text in the Swedish package insert for fluoxetine, which mentions that, "Suicide-related behaviour (suicide attempt and suicidal thoughts), hostility, mania and nasal bleeding were also reported as common side effects in children."15 Some of the so-called experts (e.g., Håkan Jarbin) had financial ties to manufacturers of depression pills, but none of this was declared in the report.
After six months, in June 2019, the Directorate of Health in Iceland replied: "We have asked for an expert opinion regarding the views expressed in your letter. I hope to be able to give you a detailed reply soon." I never heard from them again.
Around 1 May, I sent a similar letter to the Therapeutics Goods Administration, Australia, Greg Hunt, the Federal Health Minister of Australia, the Medicines and Healthcare products Regulatory Agency, the UK, National Institute for Health and Care Excellence (NICE), Public Health England, Matt Hancock, Minister of Health, New Zealand Ministry of Health, David Clark, Minister of Health, Medsafe, and Chloe Swarbrick, Spokesperson for Health, the Green Party.
I did not get any replies from Australia or the UK. I received an undated letter on 22 July 2019 from the Ministry of Health in New Zealand, which said that the drug regulator had not approved the use of fluoxetine for people less than 18 years of age. Furthermore, the government had just declared, in response to a report it had initiated, that they would complete a national suicide prevention strategy and plan and establish a suicide prevention office.
The background for this was dire, however. A UNICEF report from 2017 showed that New Zealand has the highest suicide rate in the world among teenagers between 15 and 19, twice higher than in Sweden and four times higher than in Denmark.16 Furthermore, the lack of approval of depression pills in children is no hindrance for their usage, which increased by 78% between 2008 and 2016.17 A report found that 3353 children under 14 were prescribed such pills through community-based providers (pharmacies) in 2018.18
Minister of Health David Clark declined to be interviewed about this, but the deputy director of mental health, Ian Soosay, said that, "Antidepressants will be part of a package" even though "the prescriptions aren't the only tool used to help under-14s."18
Why have a system of drug approval when even people in official positions don't care whether a drug is approved or not? When I visited John Crawshaw, Director of Mental Health, Chief Psychiatrist and Chief Advisor the Minister of Health, in February 2018, I was told by the drug regulator that antidepressants were not approved for children. When I argued that they were used off-label all over the world, also in New Zealand, and asked Crawshaw to make it illegal to use these drugs in children in order to prevent some of the many suicides, he responded that some children were so severely depressed that depression pills should be tried.
So-called experts on suicide prevention appear to be highly biased towards drug use and in the way they cherry-pick the studies they decide to quote despite calling their review systematic.19 Suicide prevention strategies always seem to incorporate the use of depression pills,19 even though they increase suicides, as has been seen also in a suicide prevention programme for US war veterans.20
Conclusions
The title for one of the chapters in my book about organised crime in the drug industry is "Pushing children into suicide with happy pills."9 Can we do any worse than this in healthcare, telling children and their parents that the pills are helpful when they don't have any relevant effect on depression and drive some children into suicide?2,9,10 To a considerable extent, the misconceptions about depression pills are due to outright research fraud leading to omissions of many suicides and suicide events in published trial reports.2,9,10,21
Why is it close to impossible to get the truth accepted and to incorporate it in official guidelines?
***
Mad in America hosts blogs by a diverse group of writers. These posts are designed to serve as a public forum for a discussion—broadly speaking—of psychiatry and its treatments. The opinions expressed are the writers' own.
***
Mad in America has made some changes to the commenting process. You no longer need to login or create an account on our site to comment. The only information needed is your name, email and comment text. Comments made with an account prior to this change will remain visible on the site.