A new article was published in Psychological Medicine in response to an ongoing debate around "precision psychiatry," the attempt to personalize treatment based on the unique characteristics of each patient, from genes to environmental conditions.
Jim van Os and AnneMarie Kohne of Utrecht University criticize precision psychiatry and its assertion that we must view mental disorders as brain disorders that can be cured with "the right treatment at the right dose at the right time."
"The very foundations of the concept of precision psychiatry are unsafe," they write. "It is therefore not enough to merely sing its praises. Perhaps it would be more prudent to first focus on the scientific holes in the theory before building a practice that the world outside the culture of traditional academic psychiatry is increasingly unwilling to accept."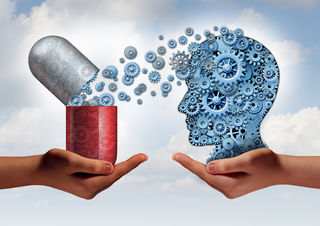 The authors criticize the popular idea within academic psychiatric circles that as our ability to examine the human body improves and our data collection strategies evolve, we can better prescribe the correct medication to alleviate mental suffering. The authors attack the two basic assumptions made by the champions of precision psychiatry: that mental suffering is ultimately a brain disorder and that mental health outcomes are determined and predictable.
Many authors have pointed to similar problems of an overemphasis of the biomedical model (mental suffering = brain disorder) in psychiatry. Although evidence is sparse, the biomedical model of mental illness has pushed other psychosocial models into the background. The result has been far more treatment models based around medications at the expense of other psychosocial alternatives.
Recently, the biomedical model of mental health has come under criticism by mental health professionals worldwide, including a 2019 United Nations report. There is also growing evidence that mental health predictions are unreliable, for instance, when it comes to the success of antidepressants. The criticisms of "precision psychiatry" made in the current article by Os and Kohne echo those made across psychology and psychiatry.
The authors begin by addressing the idea that mental disorders are brain disorders. They argue that precision psychiatry proponents take this assertion as self-evident and label anything that disagrees as a hoax or "antipsychiatry." This results in institutional unreadiness to treat mental disorders with anything but medications.
The authors point to a growing number of voices presenting contrary evidence, including those featured at Mad in America. For Os and Kohne, the existence of this body of evidence calls into question the "self-evident" assertion that a mental disorder is a brain disorder.
Os and Kohne point to how precision psychiatry is viewed outside academic psychiatric circles. They quote important figures from across the social scientific disciplines: For example, the well-known scientist John P. A. Ioannidis writes:
"There is an enormous investment in basic neuroscience research and intensive searches for informative biomarkers of treatment response and toxicity. The yield is close to nil."
Recently, the psychiatrist Caleb Gardner and the Harvard medical anthropologist Arthur Kleinman added:
"…psychiatric diagnoses and medications proliferate under the banner of scientific medicine, although there is no comprehensive biologic understanding of either the causes or the treatments of psychiatric disorders."
Researchers have also criticized the continued promotion of the brain disorders myth despite the lack of evidence. For example, Estelle Dumas-Mallet and Francois Gonon wrote in the Harvard Review of Psychiatry in November:
"We suggest that clinical psychiatry's taken-for-granted, everyday beliefs and practices about psychiatric disease and treatment have narrowed clinical vision, leaving clinicians unable to apprehend fundamental aspects of patients' experiences."
These quotes suggest that the idea that mental suffering is a brain disorder waiting to be discovered is not supported by the existing evidence.
The current article then addresses what the authors call "AI Solutionism," the idea that given enough data, we can determine any human outcome using machine learning algorithms. Os and Kohne draw a parallel between AI solutionism and the assertion by proponents of precision psychiatry that we can determine the right treatment at the right dose for each case of psychological suffering given enough data.
Ex-NIMH chair Thomas Insel has added to this trend in his efforts to find a "digital phenotype of mental illness" using online behavioral data. He moved in this direction after admitting that efforts to find quantifiable biomarkers during his time at the NIMH were mostly a failure:
"I succeeded at getting lots of really cool papers published by cool scientists at fairly large costs—I think $20 billion—I don't think we moved the needle in reducing suicide, reducing hospitalizations, improving recovery for the tens of millions of people who have a mental illness."
The authors argue that mental health treatment outcomes are linked to innumerable factors in the psychosocial world and will not be determinable and predictable the way precision psychiatry envisions. For the authors, this immense complexity is a refutation of the "self-evident" assertion from precision psychiatry that mental health outcomes are determined and predictable.
Os and Kohne criticize the notion within psychiatry that given enough data, we can tailor a personalized biomedical treatment for psychological suffering. They undermine the basic psychiatric premise that mental disorders are brain disorders and that brain disorders are predictable. Without these foundational yet ill-proven assertions in place, there is little scientific basis for the idea of precision psychiatry.
****
Van Os, J., & Kohne, A. (2021). It is not enough to sing its praises: The very foundations of precision psychiatry may be scientifically unsound and require examination. Psychological Medicine, 1-3. doi:10.1017/S0033291721000167 (Link)