The newest edition of the Diagnostic and Statistical Manual of Mental Disorders (DSM) is set to arrive in March. If you aren't alarmed, you should be.
The DSM is the book from which all our mental health diagnoses come. It's been with us since 1952 when it had a little over a hundred diagnoses and was virtually unknown. It now offers over five hundred diagnoses that clinicians give out so frequently that 46 percent of American adults and 20 percent of American children and adolescents will receive one in their lifetimes.
The new edition (DSM-5-TR) isn't getting much press, mainly because the American Psychiatric Association (APA), the private organization that publishes and profits from it, isn't publicizing it. Why? The previous edition (the DSM-5) sparked a veritable uproar. Criticisms ranged from the authors' ties to Big Pharma to the way the DSM pathologized normal thoughts, behaviors, and emotions and invented new diagnoses to how criteria were loosened to make disorders easier to diagnose to the fact that political wrangling, not science dictates what is deemed a mental illness.
The foundational problem with DSM diagnoses is that they're scientifically invalid and largely unreliable and have been called "scientifically meaningless." None can be objectively proven by a test, x-ray, or other biological marker and they aren't discrete disease entities. (The only exceptions are dementia and rare chromosomal disorders.) They don't exist outside a patient's self-reported symptoms and the clinician diagnosing them. They don't meet a standard of reliability, i.e., the chances of two clinicians agreeing on the same diagnosis in the same patient are somewhere between a coin toss and zilch.
The DSM-5-TR (TR for text revision) could have been a heroic act. The architects of the DSM could have spent the past decade removing or at the very least reevaluating the DSM's many, many invalid, unreliable, and suspect diagnoses.
Instead, a new diagnosis was added (prolonged grief disorder, which essentially says that if you grieve for a loved one longer than one year and your grief makes life difficult, you have a mental illness) and the potential addition of suicidal ideation and self-harm as mental disorders. The other diagnoses remain intact.
It's hard to overemphasize how troubling this should be to us. It means we're still accepting dubious diagnoses.
To give an example of the kind of diagnosis that remains in the DSM-5-TR, we'll use binge eating disorder (BED). Given how overeating came to be considered a mental illness, the players involved, the invalidity and unreliability of the diagnosis, and the dangers it poses to unsuspecting patients being diagnosed with it, it's hard to imagine why the DSM-5-TR didn't rush to remove it or at least take the time to reconsider it and others like it.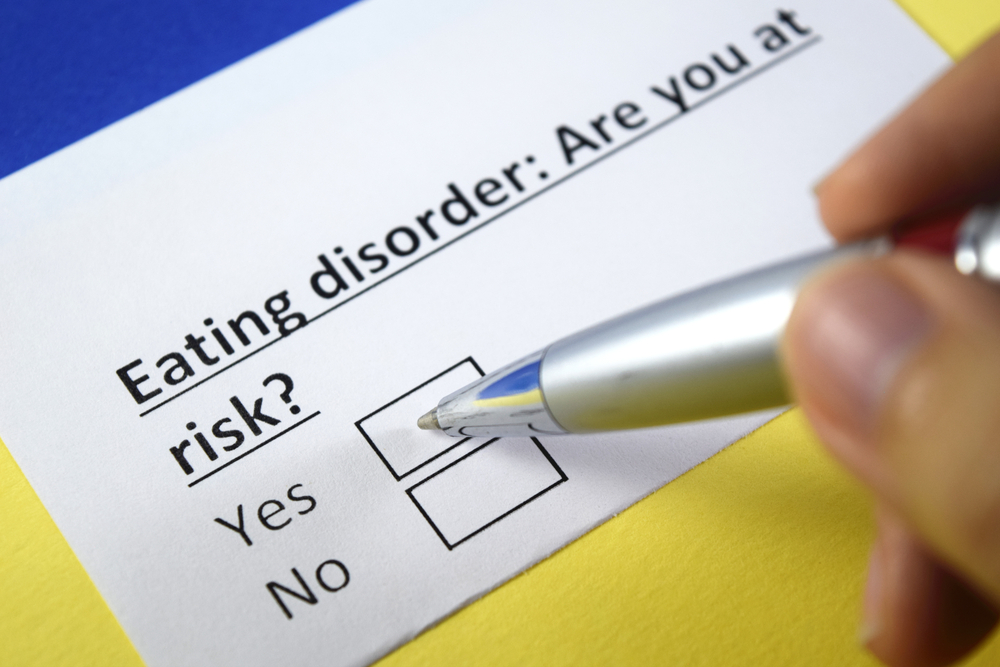 A Diagnosis Is Born
BED started as a theory. In the 1950s, psychiatrist Albert J. Stunkard, a pioneer in obesity research, published a paper on what he called "night-eating syndrome." This condition was characterized by nocturnal hyperphagia (extreme hunger at night), insomnia (sleeplessness), and morning anorexia (not eating the next morning). It tended to occur during stressful periods and was intricately tied to obesity. All of the participants in Stunkard's initial study had a weight disorder of some kind.
Twenty-five years later, binge eating made an appearance in the third revision of the DSM (the DSM-III) as a symptom of bulimia nervosa. Those who suffer from bulimia eat, often to excess, and then try to avoid weight gain by vomiting, using laxatives, or exercising. The next revision (DSM-IV) placed binge eating on its own in the catch-all category of Eating Disorder Not Otherwise Specified (EDNOS). The next revision (DSM-5) made it a full-fledged diagnosis.
As with many DSM diagnoses, the criteria decided on for BED is overly general or what's referred to as "loose," i.e. easy for people to meet:
Eating, in a discrete period of time (e.g., within any 2-hour period), an amount of food that is definitely larger than most people would eat in a similar period of time under similar circumstances and
The sense of lack of control over eating during the episode (e.g., a feeling that one cannot stop eating or control what or how much one is eating)."
Binge eating episodes only need to be "associated" with at least three of the following:
eating much more rapidly than normal
eating until feeling uncomfortably full
eating large amounts of food when not feeling physically hungry
eating alone because of being embarrassed by how much one is eating
feeling disgusted with oneself, depressed, or very guilty after overeating
For a BED diagnosis, a person need only binge on Oreos once a week for three months—on average. You can even skip a week (or two) and still have a mental illness. If a "larger amount" of Oreos is more than three (the serving size listed on the package), you only have to eat five or ten in a two-hour period to feel out of control (Double Stuf, anyone?) and face a binge eating disorder diagnosis.
There are no real parameters. Because body weight isn't a factor in a bulimia diagnosis, binging is no longer associated with obesity. The diagnosis doesn't clarify to whom, exactly, "most people" refers. The "similar circumstances" aren't specified. Many people feel embarrassed eating alone but for reasons that have nothing to do with how many entrees they order. And feelings of pleasure, happiness, and liberation after overeating so much that you have to unbutton your pants seem like inappropriate responses to the situation.
Loose criteria might be justified if the diagnosis could be validated, but it can't. BED has no validity. The diagnosis is based entirely on what the patient and the clinician perceive as a "larger amount" or "more rapidly than normal" or "uncomfortably full." Even its core feature of "loss of control" (LOC) has "no clear metrics." Once given the diagnosis, no objective test can confirm the patient does have the construct called binge eating disorder.
It also has indeterminate reliability. Using DSM diagnostic criteria, two clinicians can't reliably diagnose it in the same patient. In the DSM-5 field trials, binge eating disorder had a kappa reliability score of .56, falling below the.70 needed to be considered merely "satisfactory." Raters agreed on the diagnosis only half the time. But "satisfactory" doesn't mean much in the DSM-5. After field trials produced dismal scores for new diagnoses like BED and even tried-and-true ones like major depressive disorder, the DSM authors fixed the problem by lowering the kappa scores to allow diagnoses with unacceptable reliability ratings to be adopted or retained.
A Diagnosis Is Made
Enter Big Pharma. In 2011, when binge eating disorder was under consideration as an official DSM diagnosis, Shire Pharmaceuticals had already sought to market its drug Vyvanse, an amphetamine, as the only drug available to treat the disorder. With a 6.9% prevalence rate in the United States, a DSM diagnosis would create at least 21 million potential new customers and bring in an estimated to bring in $200 or $300 million to the company annually.
Vyvanse became the official BED medication because there was a DSM diagnosis of BED. The FDA seemed not to mind that it hadn't been proven as an effective treatment for binge eating disorder beyond its appetite-suppressing properties. A spokesperson for the Food and Drug Administration (FDA) said the drug was approved simply because there was no other medication to treat the newly minted binge eating disorder.
(Before Vyvanse, the "treatments of choice" for those who binged were psychological therapies: Cognitive Behavioral Therapy and Interpersonal psychotherapy—neither of which made money for big pharma. Other drugs had been tried: stimulants, antidepressants, and anti-seizure drugs, but many of those had lost their patents, i.e., drug companies were no longer cashing. None was terribly effective at treating binge eating disorder.)
To take full advantage of the situation, Shire launched a disease awareness campaign. The company didn't advertise the drug Vyvanse; it marketed the diagnosis BED. It partnered with patient advocacy groups like the Binge Eating Disorder Association and the National Eating Disorder Association (NEDA), which, ironically, sponsors this week's eating disorders awareness campaign to supposedly "educate the public about the realities of eating disorders" without, of course, disclosing its ties to Big Pharma. In turn, NEDA helped flood the internet with personal stories of binge eating.
It ran an advertisement featuring tennis star Monica Seles, "the face" of BED. The ad falsely claimed that BED was the result of a chemical imbalance. Shire urged consumers to self-diagnose based on a DSM symptom list and to talk to their doctors, presumably to get the diagnosis and a prescription for Vyvanse, both of which will be determined by the patient's self-reported symptoms based on the DSM's subjective symptom lists and the doctor's opinion.
BED has since become the most commonly diagnosed eating disorder. We can attribute that in part to pharma but without the DSM, there would be no diagnosis for the FDA to approve.
Defenders of the DSM argue that diagnosis will help counter the obesity epidemic but pathologizing overeating acts as a scapegoat for the real problems in our society. It's not surprising that 4 in 5 of us regularly overeat. Given our highly processed foods, enormous portion sizes, and limited fresh foods in low-income areas, binge eating seems practically inevitable. Junk food is designed to be binged on. An Oreo acts on the human reward system, not unlike the way heroin does. As Michael Moss, author of Salt Sugar Fat and Hooked, and others have shown, food giants like Nestle, Coca-Cola, and General Mills engineer foods not just to make them delicious but addictive. We're targeted by advertising campaigns for fast food, sugary drinks, candy, and unhealthy snacks. Celebrities get paid millions to influence us to buy the most unhealthy options. Overeating typically results from stress, and we're some of the most stressed-out people in the world. For those with economic means, food is plentiful and can be delivered to our doors.
BED is just one of the diagnoses we'll continue to receive as a result of the APA's failure to correct the mistakes of DSMs past. We're left with diagnoses designed to be easily given out, accepted, and identified with. As psychiatrist Michael First and scholar Jerome Wakefield put it, "virtually every psychiatric symptom characteristic of a DSM disorder can occur under some circumstances in a normally functioning person." When the DSM-5-TR arrives in March, it should be seen for what it is—a missed opportunity to improve mental health care where it begins: the DSM.
***
Mad in America hosts blogs by a diverse group of writers. These posts are designed to serve as a public forum for a discussion—broadly speaking—of psychiatry and its treatments. The opinions expressed are the writers' own.
***
Mad in America has made some changes to the commenting process. You no longer need to login or create an account on our site to comment. The only information needed is your name, email and comment text. Comments made with an account prior to this change will remain visible on the site.