I can't even begin to count the number of times I've heard "Research has found that about 90% of individuals who die by suicide experience mental illness." This particular sentence is courtesy of our good friends at the National Alliance on Mental Illness, although it's repeated many places elsewhere (both live and in print), and sometimes in even more inspired ways. For example, the 'Man Therapy' website has this to say (emphasis added):
"There's nothing inherently wrong with the personality or character of a person who dies by suicide. However, 90% of the time, there is an underlying sickness in the brain. And, like any organ, such as the heart, liver or kidneys, when the brain gets sick too often, it can lead to some life-threatening consequences."
If you haven't checked out the 'Man Therapy' website, by the way, it's worth a look… at least if you care to experience a combination of horror, befuddlement, and 'can't-look-awayness' all at once. A stereotypically 'manly' fictionalized therapist, Rich Mahogany, will lead you down a path of strange ideas and misinformation that follow no particular uniform code. For instance, I still find myself bewildered by the answer to the question, "Am I going to be seeing a therapist or need medication for the rest of my life?" This question (to be found in the 'Man FAQs section') offers the following response:
"No, you probably won't. Depending on the severity of your issue, therapy and medication often is prescribed for 16 to 24 weeks."
Wait. What!? While I appreciate the message that medication isn't forever, I'm mystified by the message that an average expectation would be 16 to 24 weeks, especially given the site's simultaneous claim that depression is a 'sickness in the brain.' Is there anyone reading this who's only been prescribed a so-called antidepressant for 16 to 24 weeks and then stopped taking it because your psychiatrist felt it 'did the job' and sent you on your way? All I can fathom is that this is some sort of trick… A bait and switch, if you will. In this nation where 'short term' often refers to years (at least where psychiatric drugs are concerned), perhaps it's just a 'we're telling you this so you'll go down the road of getting started, and THEN we'll tell you it may actually be for a lifetime" kind of game. But I digress.
So, yes, that 90% figure is offered up time and time again. But, what on earth does that figure even mean? In a world where one can earn a psychiatric diagnosis largely because they acknowledge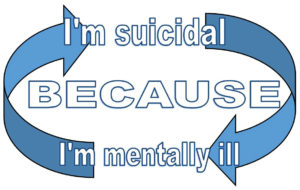 suicidal thoughts or tendencies, this may just be the greatest tautological trap of all time. In other words, what does it really mean to say one is suicidal because they're 'mentally ill', if the proof of such supposed malaise is largely that they're suicidal in the first place?
Here's what I believe it means in far too many instances: It's an 'out.' It's an easy answer that absolves us all of blame. If someone has a 'sickness in the brain,' then it doesn't have to be our fault or even necessarily our concern. We can ignore homelessness, racism, transphobia, poverty, homophobia, misogyny, joblessness, lack of good healthcare, the impact of war and violence, and so many other societal ills with impunity because the reason that person killed themselves is because they were 'mentally ill.' Nothing wrong with us! At worst, maybe we just failed to force a good, old fashioned hospital stay on them when it was most needed (before releasing them out into the same chaos from whence they came).
Conveniently, it's also easy enough to tear down anyone who should say otherwise. After all, not all people who are subject to the incessant abuse and traumas that can come with being trans* die by their own hand! Not every woman feels broken down by constant objectification. Not all people who are homeless try to kill themselves, right? And, in fact, it's true. Some people (for example) live on the streets for many years and still feel deeply invested in continuing to breathe. However, it's a strange, cruel world we live in if it then makes sense to anyone to say, "If you can't handle the terror, pain and desperation that often comes with being homeless like that guy over there, then boy do you have a problem! I call mental illness!" We're allowed to have different tolerances, and sensitivities. Inevitably, each of us will learn to survive hell in our own ways and tolerate it for different amounts of time. That doesn't make any of us sick.
This absurdity represents an outrageous failure within all of our systems, and a relentless level of denial (perhaps due to our own sense of hopelessness and helplessness about our ability to change some of those things). And until we come to terms with at least some fraction of that fact, we will continue to diagnose people (sometimes posthumously) to keep ourselves rolling forward while committing a sort of societal suicide along the way.
Unfortunately, and as with so many other similar situations, this ridiculous diversion prevents us from ever asking any of the right questions. If we strip away all the things we know not to be true – the chemical imbalance lies and our own brains in the role of supreme super villain – then maybe we can start to see. And, if we stop being afraid to take some responsibility – not for each other, but for our role in creating or perpetuating some of the conditions that lead to such despair – then maybe we can find our way to change.
I can't pretend to know why particular people choose to kill themselves. I'm still learning and exploring more and more about why this is an urge I sometimes face, and I'm certainly not going to claim one uniform reason (or even a few) across the board. But here's what I do know:
There are at least two key questions in supporting people who are struggling in this way. Neither of them include 'do you have a plan?', nor do they ever require you to assess and identify an objective reason as to why death might be the current topic at hand. (These are little more than the flailing efforts of someone who knows not how to approach another human, but rather simply seeks to yell, 'Stop!' while they plug their ears.) Instead, they are:
When you say you want to kill yourself, what do you mean by that?
And
What is leading you to the point of wanting to die?
Now, I'm not suggesting that those two questions be consistently asked, and certainly not word for word. They are not 'the' answer anymore than anything else. What I'm getting at is that some people talk about wanting to kill themselves when they really mean something else entirely. Some people have simply been trained to use 'I am suicidal' as a code word for, "I want to go to the hospital," or to represent need or want for some other service. Others may mean that they want some particular thing in their life to stop (or 'die'), and they're at a loss as to how to make that happen without dying themselves. And, skipping over that layer of exploration can actually play a part in pushing someone in a direction they hadn't really intended to go in at all.
Meanwhile, for people who do actually mean that they are literally contemplating death by their own hand, failure to even try to understand why (especially out of the arrogance of assumption that one already knows) can truly mean the difference between life and death. This is decidedly not because knowledge means the power to 'fix'. That will often still elude us. But it is a necessary step toward really being able to sit with someone else in their pain, and that level of being 'seen' has more healing potential (for society and for one another) than most anything else we typically have at our disposal.
The real truth is that people are going to die. Sometimes they will die because they kill themselves. There's no way we will ever be able to stop that, and it seems clear that we do far more harm than good by acting as if we have (or should have) such power over one another. By constantly focusing on the superficial stopping of the act itself (often by any means necessary), we rob ourselves of the time and relationship needed to build understanding. It is in that relationship that we find our real strength.
The graphic below is not intended to offer any answers, but is simply meant as a visual reminder of the complexity of our words and experiences and the value of exploring them and learning from one another. (Click here for a printable version.)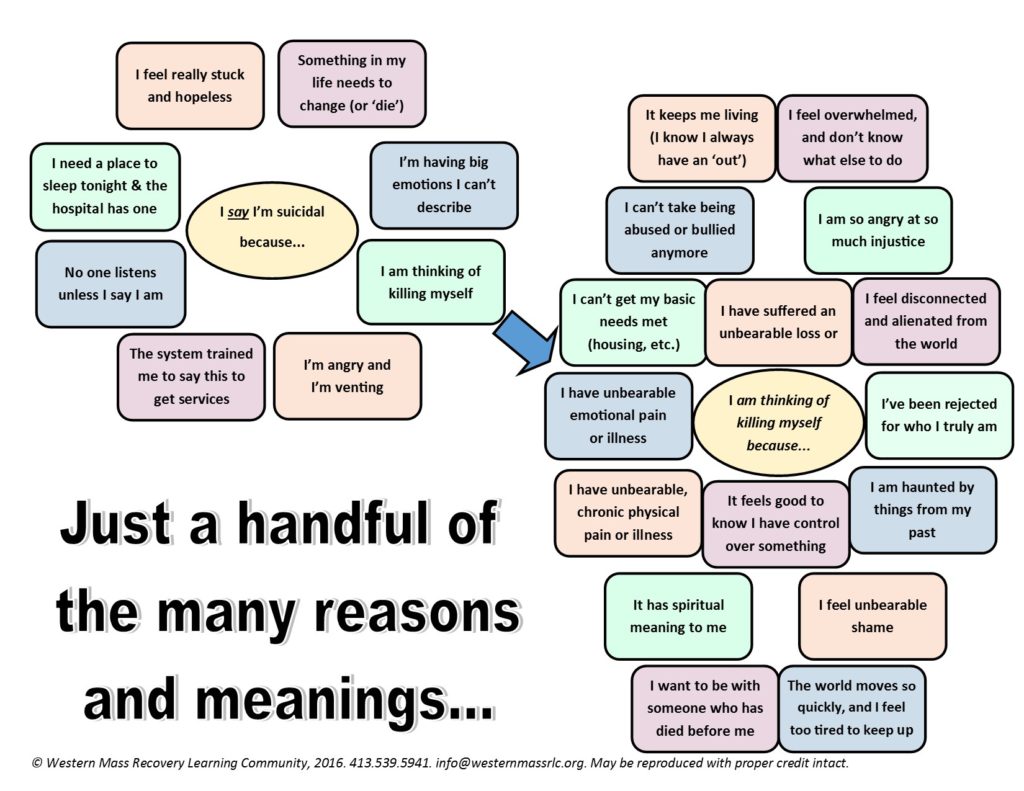 Coming soon: Suicidal Tendencies, Part 2: But, when do we call the cops? No, really…
***
Mad in America hosts blogs by a diverse group of writers. These posts are designed to serve as a public forum for a discussion—broadly speaking—of psychiatry and its treatments. The opinions expressed are the writers' own.
***
Mad in America has made some changes to the commenting process. You no longer need to login or create an account on our site to comment. The only information needed is your name, email and comment text. Comments made with an account prior to this change will remain visible on the site.