I did it. I finally did it. I went and took a Mental Health First Aid (MHFA) class.
Why did I do it? (Why does everyone around these parts keep asking me that?!) Well, honestly, I just wanted to be able to critique it better.
I mean, I had already conjured it up in my mind to be big, bad and terrible based on what I understood to be its basic premise, the affiliated website, and all I've ever heard about it from anyone else. However, the truth is that many of those anyones also hadn't taken it, and so… what if it was better than we all thought? What if we were full of assumptions and were just plain wrong?
First, what is this thing called Mental Health First Aid? MHFA markets itself as:
"an 8-hour course that teaches you how to identify, understand and respond to signs of mental illnesses and substance use disorders. The training gives you the skills you need to reach out and provide initial help and support to someone who may be developing a mental health or substance use problem or experiencing a crisis."
The training's target group is the 'average Joe,' and not so much someone who specializes in the 'mental health' field and is already assumed to have 'deeper knowledge' of these issues. Attendees may range from teachers to first responders to family members to your concerned neighbor Sally. In fact, before taking the course myself, I'd always kind of thought of it with the sub-title of, "The average citizen's guide on how to diagnose and send off your friends and neighbors." (And, in fairness, I still kinda think of it that way now, too.)
MHFA is also heavily backed by one of the nation's most powerful mental health-oriented organizations, the National Council on Behavioral Health which has professed the dream of reaching 'one million Mental Health First Aiders in the U.S.' (It's worth noting here that the Council is pro-Murphy Bill and heavily backed by the pharmaceutical industry.) MHFA also has its share of celebrity endorsements. For example, Dr. Oz's sweet mug even greets you on the front of the MHFA website saying, "Dr. Oz is trained in Mental Health First Aid. What about you?" Now, if that doesn't convince you, I don't know what will.
But, what does an actual day in the life of Mental Health First Aid look like?
First, I want to take a moment before truly diving in to say that this blog is NOT a criticism of the two trainers who led the class that I took, and I don't plan to identify them or the organization for which they work. They actually seemed to be putting in genuine effort to create space for me and the friend who accompanied me to challenge the material. Sometimes they even expressed their own contrary beliefs. (Why they then would feel compelled to continue to teach this curriculum as it's written is a topic I'll leave for another time… or, at least, later in this blog.) Yes, the class could have been much worse had we found ourselves at the hand of more rigidly minded facilitators. Thank goodness for small favors and all that.
So, moving on to the material itself: I have to admit that there was one (and only one) area where it seemed a bit better than the average tripe, and that was 'self-injury.' While it still had some problematic things to say on this topic, it also is probably the first training (coming from the traditional mental health set, anyway) that has ever stated so clearly that self-injury does indeed have a tangible benefit.
Otherwise, however, it hit all the most stereotypical marks including a nod to the 'chemical imbalance' myth (absent the mentioning of the myth part, of course), ignored most environmental factors (homelessness, racism, poverty, and so on), and offered plentiful references to the value of psychiatric drugs (including some solid re-assurances that at least the 'anti-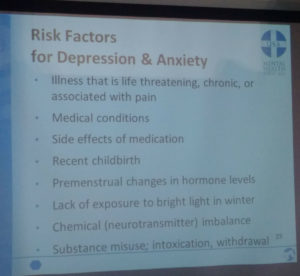 anxiety' variety has supposedly "minimal side-effects"). And, had I been playing a drinking game based on how many times the words 'mental illness' or 'disorder' showed up (verbally or in writing), I would have left very drunk.
We were also asked to repetitively review (and sometimes chant) the meaning behind MHFA's foundational tool, ALGEE. (One exercise even required us to put together a sort of word 'puzzle' to further help drill it into our heads.) It goes like this:
A is for '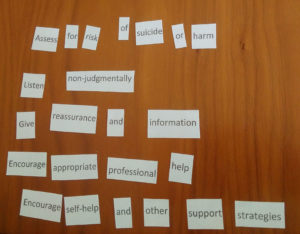 Assess for risk of suicide or harm'
L is for 'Listen nonjudgmentally'
G is for 'Give reassurance and information'
E is for 'Encourage appropriate professional help'
(Give me another) E is for 'Encourage self-help and other support strategies'
And at least some of that didn't even sound half bad… I mean… not the 'listen
nonjudgmentally' part anyway. By the way, as it turns out, ALGEE is also the name of MHFA's Koala bear mascot.  (I always love when tools to push people along the 'mental health' pipeline masquerade as 'help' and are marketed with cute little stuffed animals… don't you?)
Really, it was all to be expected, though. (I'd actually even met a live version of ALGEE all dressed up and cheerfully taking photos with conference attendees at a National Council conference just a year or so before.)
What I absolutely didn't expect, though, were some of the exercises that encouraged us to sink to truly bizarre levels of judgement and MHFA's own brand of 'disordered thinking.' Here's one of my favorites: Early on in the day, the trainers literally asked participants to arrange a list of 'disorders' by severity.  No, seriously. (Stop it! I'm so not kidding!) The list included (in no particular order):
Moderate depression
Severe depression
Non-invasive breast cancer
Severe asthma
Epilepsy
Low back pain
Uncomplicated diabetes
Severe schizophrenia
Severe dementia
Gingivitis
Severe vision loss
Severe post traumatic stress syndrome
Paraplegia
Severe chronic bronchitis or emphysema
Here's the list re-ordered by Mental Health First Aid from (supposedly) least to most severe:
Gingivitis
Low back pain
Uncomplicated diabetes
Epilepsy
Non-invasive breast cancer
Moderate depression
Severe asthma
Severe vision loss
Severe post-traumatic stress syndrome
Paraplegia
Severe chronic bronchitis or emphysema
Severe depression
Severe schizophrenia
Severe dementia
That's right, folks. So-called 'moderate depression' is seen as worse than breast cancer, but both 'moderate depression' and breast cancer still trump blindness or not having use of one's legs. And, at least three potentially fatal medical illnesses (cancer, severe asthma, and emphysema) are apparently all preferable to schizophrenia. Hell, apparently just about everything is preferable to the devastation wrought by 'schizophrenia!' (Unfortunately, this last point is a theme that continues throughout the training.)
If you're feeling particularly masochistic, you can actually watch a video of people participating in this exercise (third one down), although the instructor in this version refers to the ordering as being based on 'least to most disabling' (as opposed to least to most severe). Not that that improves anything. At all.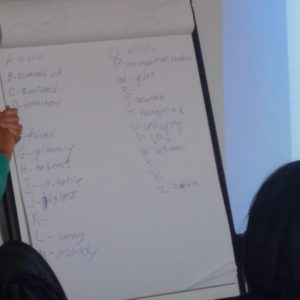 There were a host of other strange exercises, including relatively inexplicable requests to 'draw' representations of the symptoms of depression and anxiety, and to alphabetically call out words that we commonly hear in our culture related to 'mental health.' (My friend snuck in 'pharmaceutical industry' when we reached the 'P'!)
And then there was their handling of all things 'psychosis.' While the curriculum required the instructors to parrot the line about 'people with psychosis [being] more at risk of being victims of violent crime,' literally everything else flashed a virtual neon sign of 'danger.' For example, only when reviewing the section specifically labeled 'psychosis' did we come across any tips for 'de-escalation.' And, while film clips (oh yes, there were film clips for each diagnosis!) for earlier labels portrayed people benignly immobilized on couches, the 'psychosis' clip compounded the already readily apparent fear and agitation with echo-y effects, and featured two women who were clearly afraid to enter their neighbor's home when they realized he was 'arguing with someone who wasn't there.'
Check out this segment of said clip (starting about 50 seconds in).
It charmingly focuses on the fact that 'psychotic' neighbor man has stopped taking his 'medications.'  The full clip (sadly, not available in its entirety on-line) also concludes with one of the women threatening this man (who they lured out of his home against his protests and who was not making any of his own threats toward himself or others) with calling the police if he doesn't agree to call crisis evaluation services or go to the hospital (a perfectly satisfying ending for the MHFA set).
Finally, at the end of the day, when we were given what amounted to our MHFA certification exam (passing grade required to become official), both questions focused on this particular area were clearly written with fear, danger and violence in mind:
#4: You're outside the pre-school waiting to collect your child when you notice another adult behaving strangely. He's walking in circles and having a heated argument with someone who isn't there.
Do you:
Ignore him. He's not your problem as long as he doesn't come anywhere near your child.
Assess the situation for risk of harm to yourself or others. If needed, encourage others not to be confrontational with him. If you feel safe and able to approach him non-confrontationally, ask if he's OK and what help he might need. Consider notifying school personnel.
Approach him directly, standing squarely in front of him and making clear eye contact. Put your hand on his shoulder and be assertive, telling him that he needs to leave the area.
#8: You're at a party when one of the guests becomes violent. She has a knife and it's obvious that she's responding to voices only she can hear.
Do you:
Try to gain her trust by pretending you can hear the voices too. Agree with everything she says until you can get close enough to take the knife away from her.
Take her down physically be whatever means possible and have someone call the police.
Call 911. While you're waiting for the police and mental health crisis team to arrive, turn off the music and encourage people not to confront her or get too close; make sure your exist is not blocked. Perhaps speak calmly to her, but don't argue with her.
Interestingly, several people (from trainers to the general public to some of my Facebook acquaintances) have attempted to defend MHFA as 'worthwhile because it teaches compassion to the average citizen'  (or some variation on that theme). Most of them have acknowledged it has its shortcomings (though, they may still argue as to whether MHFA is more or less severely impaired than cancer or diabetes).  Few of them seem to have even the slightest inkling of just how dangerous such mass-marketed tools can become.
In fact, I might argue that it's the guise of 'teaching compassion' (along with the few other benefits it might genuinely purport) that is precisely what makes it so dangerous for all the masked misinformation those benefits allow it to slip in unnoticed.  Haven't we yet learned that teaching people that so much human distress boils down into illness does nothing to reduce 'stigma,' and in fact, makes discrimination worse? Aren't we now wise enough to see that the more medicalized we become, the more disability and despair plagues us, as well?
There is no benefit to teaching more people that this is all 'mental illness,' or playing part in increasing its numbers and count. There is no benefit to 'one million Mental Health First Aiders' further cementing knowledge based on fiction or assumption, or creating higher walls between us and unlearning. The suggestion that all of this loss may somehow be 'worth it' because we're teaching people to talk openly, comfortably and with care about 'mental health' is beyond foolish if it's tied inextricably to labels and language that damage us at the same time.
There are other options to teach 'compassion,' and ways to talk to people about their distress or unusual experiences. There's no reason to talk about MHFA as if it's this or nothing. And, hell, if you don't have access to one of those other alternatives, create your own! Anything would be better.
At the end of the day, I completed this training and I also completed the final exam. But, in true-to-me form – for about half of the questions – instead of choosing from among the answers available, I added a fourth option. I turned in my test that way, and seeing it was ungradable and that I would inevitably fail and not earn my certificate, one of the trainer's asked me:
"Could you just answer the questions how you think Mental Health First Aid would want you to answer them?"
No, I'm sorry. I can't. It's not worth it. Not even for a second. I refuse to fall into that trap of feigning belief in something harmful for the sake of some perceived or implied gain. And, I can only hope that you'll come to see that it's not worth it, too.
***
Mad in America hosts blogs by a diverse group of writers. These posts are designed to serve as a public forum for a discussion—broadly speaking—of psychiatry and its treatments. The opinions expressed are the writers' own.
***
Mad in America has made some changes to the commenting process. You no longer need to login or create an account on our site to comment. The only information needed is your name, email and comment text. Comments made with an account prior to this change will remain visible on the site.