My story spans all thirty-three years that I've been alive. I could not possibly include all the details, so I'll keep the timeline succinct before appealing for a major change in psychiatry.
I come from a small town in Nova Scotia, Canada where, especially in the early 1990s, there was no such thing as mental health care. I also grew up in a troubled, alcoholic home and from an early age suffered from severe anxiety. And so, when I was 15, my family doctor prescribed me a benzodiazepine: Ativan, twice daily. Not knowing that benzos are tranquilizers, I took it faithfully as prescribed and functioned quite well in high school as a result of my laid-back attitude from the soothing relief the pills provided.
Late in my final year of high school, however, I began to feel sick much of the time, so I stopped taking the Ativan cold turkey. Looking back, I now realize I fell into severe withdrawal, but at the time it was assumed by family and doctors that I had suffered a "nervous breakdown." My parents were worried I'd take my own life, so I began seeing psychiatrists at the nearest hospital to my hometown, but nothing the doctors suggested could revive me.
The year was now 2001. I was 6'6" and weighed 250lbs, being an avid bodybuilding fan. Yet when 2002 hit, I was down to 187lbs and looked like a skeleton. I slept during the days and stayed up nights by myself so I wouldn't have to face the criticism of my parents for my current condition. I never left the house and would not let anyone in to see me. I didn't know what was happening, but I knew it wasn't my fault. I couldn't convince anyone of this, however, so isolation from people became my refuge.
Suddenly my health took a sharp turn for the better that same year. I saw my family doctor again, and, similar to in 1998, he prescribed a benzodiazepine (clonazepam) as well as an antidepressant (Celexa). Unlike the treatment from the mental health professionals in hospital, I came back to life immediately: returning to the gym within days of being re-medicated and speaking to friends and family again. In fact, within the next 12 months, I attended university full-time and no one would ever know by looking at me that I had been through a prescription drug addiction and withdrawal.
On clonazepam I soared, making the Dean's List in all fours years of university, graduating with first-class honours, and receiving a full scholarship to graduate school. I was also fully dedicated to weightlifting again.
Just before graduation in 2007, though, I experienced my first trauma flashback stemming from childhood. It scared me, but I was already seeing a university counselor and taking my "medications," so I didn't think much of it at the time or worry about the future. I knew I was a great student, so I assumed there would always be a career for me in academics.
After moving to Toronto to attend graduate school is when I fully fell apart. I began seeing "big city" doctors in Toronto who diagnosed me with Major Depression and General Anxiety, but nothing changed from the care my family doctor provided; it was still just frequent antidepressant changes and daily doses of benzos. When I would bring up family issues, I'd just have the option to choose another antidepressant, as no doctor had the time to sit down and talk about my feelings or thoughts; they only wanted to know my symptoms. They'd refer me to a counselor for all my personal issues.
I grew sicker and weaker over the next two years until I was unrecognizable to myself: having fits, in constant pain, insomnia, internal bleeding, digestion issues, derealization and panic attacks on top of the stress of grad school and my family imploding. I began checking myself into any emergency room in the city that offered psychiatric care, pleading for help. Not once were the benzodiazepines pointed to as something that could be hurting me after (at this time) 11 years of use.
In 2009, I decided to commit suicide: sitting on the edge of my bed with a knife in one hand and a bottle of benzos in the other, my plan was to swallow the remainder of the pills and then, when I was dozing off into unconsciousness, cut my throat. But something unexpected happened: when I loaded the benzos into my mouth, they started to melt! I panicked. It was no longer my decision when I cut my throat. I was suddenly on the clock due to the rapidly dissolving tranquilizers in my mouth. It was now or never. I chose never, spitting the pills all over my room. Crying uncontrollably, I called a cab to take me to another emergency room, but I knew this time I'd not be coming home for a while.
Starting in 2009 and into 2010, I spent 10 months in four different hospitals. In each hospital, I was ripped off benzos in days only to be given a fresh prescription when leaving inpatient care after I failed to get better. I realize now that no treatment or therapy in any hospital would have worked, as I was in severe withdrawal and kindling from the benzos. Yet doctors saw it as a personal failure on my part: why did I not want to get better? The fourth and final cold turkey attempt resulted in doctors suggesting electroconvulsive therapy, as I was clearly beyond modern psychiatric help.
I woke up too soon from my first ECT session: I regained consciousness, heard the doctors and nurses talking, knew I was being moved, yet I couldn't speak or breathe because the muscle relaxers had yet to wear off while the anesthesia clearly had. I was a living corpse at that moment. Thus, for the following 16 rounds of ECT, I pleaded with my anesthesiologist to kill me. I hoped to never wake up again rather than experience another ECT session. To think about how I was crying out for help, but couldn't move, speak or breathe, is a nightmare I'll never outgrow. Further, it's the perfect metaphor for the next two years of my life navigating the public mental health system.
Upon hospital discharge I was given a public psychiatrist who had zero time for me from the get-go. He looked at my hospital charts, saw the ECT sessions and the grocery list of pills I'd tried and asked me why I wasn't getting better. It was my fault: why did I resist treatment in the past? Why was I so stubborn in dealing with doctors? Why was I against medication? Why did I not want to get better? I've heard it all.
Yet, this time — after being broken by ECT — I wholly gave in to psychiatry. I accepted all the pills. My family couldn't help; they told me to stop resisting treatment despite the horror stories I told. Within months, I was on eight medications: 1) Effexor for depression, 2) Clonazepam for anxiety, 3) Wellbutrin to help the Effexor, 4) Zopiclone for sleep, 5) Synthroid just in case my thyroid was out of whack, 6) Lithium because, by now, it was just assumed I was bipolar as well, 7) Seroquel because, if I was bipolar, well, why not at this point? And 8) Lamotrigine because one ER doctor said it was a "miracle pill." To top it all off, I was prescribed psychodynamic therapy twice a week.
After eight pills and twice-weekly psychodynamic therapy, I simply gave up. Knowing I'd not commit suicide, I settled for cutting myself… and it felt amazing. In fact, it felt so good that it became my therapy of choice over the next two years (2011-12), and I stopped trying to get help from the public mental health system. I had no money, no place to stay, no food, nothing. Cutting was the least of my worries, and it made me feel better, so I did it. I knew I was getting a surge of dopamine each time I cut myself, so I reasoned that if this were the only way to stop the pain I would do it to stay alive. I quit psychiatry because I was getting better help from a steak knife.
During this time free from doctors, I tried to make use of my education, gain employment and just be myself, but I could still barely function despite the cutting. I'd find a job and then lose it; I'd get Social Assistance, find another job, and then eventually lose them both. I did, however, manage to wean myself off of Effexor, Wellburtin, Synthroid, Lithium and Zopiclone while staying with friends.
As each drug came out of my system, I functioned slightly better. At one point in 2012, I was in low-income housing and working two part-time jobs. I was binge eating, cutting and eating Seroquel like they were candy, but I was functional enough so that the public mental health system and provincial government could stop caring about me entirely. I was 29 and this sure wasn't how I'd pictured my life turning out.
In 2012, I discovered Buddhist meditation and teachings. The one good thing to come out of my 2010 hospitalization was a free mindfulness meditation course based on Jon Kabot-Zinn's Mindfulness-Based Stress Reduction work. During my first body scan I knew there was something to mindfulness, yet it wasn't until I discovered the Buddhist teachings that life became slightly more manageable. I soon discovered that I was a basically good human being simply by existing. There was nothing wrong with me after all. I was just anxious, but so is everyone in modern society. What a revelation! I knew I was trying hard all these years. Deep down, I knew I was working my butt off just to stay alive, yet I'd never get any credit for my work from doctors or family.
Despite reading Buddhist texts and meditating regularly, I was still unable to hold down full-time work. I always crashed due to the enormous amount of energy it took to perform the self-care I needed away from the job. At this time, I was a client of a group that helped people with disabilities secure and hold employment. This group offered to fund 12 sessions with a private psychologist to help ensure future employment. That's the day my life started to turn around for the better. Having never been able to afford private care before, I jumped at the opportunity.
After one session, the doctor told me she knew what was wrong, but wanted to wait one more session to confirm. After the second session she told me that I had Complex PTSD.
I was blown away. I cried, I laughed, I raged, I found hope again. I've always suggested to past doctors that I may have PTSD, but they would only scoff, get irritated and hand me the DSM IV, which clearly stated that I needed to have suffered a near fatal event in order to have PTSD. Where was my Vietnam? Where was my car crash? No, to them I was just looking for attention, and they'd follow that by telling me to let them do their job. However, in 2013 an updated DSM5 included Childhood Post-Traumatic Stress Disorder or Complex PTSD, so maybe I should have been doing their job after all?
Here's how my psychologist cured my PTSD: she listened to me, first and foremost. Here's why psychiatrists would never cure my PTSD: they'd ask for my symptoms, and only my symptoms. Next, they'd walk across the room, look in the DSM IV and tell me I have _________ (based on whatever diagnosis cross-referenced with my symptoms that day, which changed often).
I've seen people put more research into how to cook a turkey at Christmas time than previous psychiatrists did for my health. From the DSM to the prescription pad, if it wasn't there, it didn't exist. It's a very cut-and-dry, mix-and-match method to modern medicine that has harmed millions of people, and it nearly killed me.
Instead, through a Cognitive Behavioral/Exposure Therapy model, I was working full-time within one year. I'm still shocked at how quick my turnaround was. I survived PTSD and was proud of myself. My physical symptoms never went away though. I was in pain all the time, mainly headaches. Also, I still couldn't sleep without benzos and Seroquel. My stomach kept giving me more and more problems; it was no longer bleeding, but it was always bloated and extended. I was having visual problems and was very sensitive to light and sound. But I was content and happy to live like this forever, if need be.
Having taken on too much responsibility with a full-time supervisory position, plus being in my first relationship in seven years, my physical symptoms kept getting worse until I started to regress mentally. Once again, I sought out a psychiatrist because my psychologist couldn't help me with the physical pain. The first thing to come from seeing a new psychiatrist was Prozac, and it helped the pain for about a month. Along with the Prozac, I also started EMDR therapy, and Wellbutrin soon followed; so, in my mind, I was going the wrong way again: too many similarities to the days of eight medications and psychodynamic therapy. Critically, the new psychiatrist never said that benzos were harming me either; in fact, she increased my dosage. Fortunately and unfortunately, though, she'd soon never give me another pill again as she moved to another province and left me with no follow-up care.
At this point, I was spiraling downward again due to physical pain and regressing mental health. I lost my job and my relationship. Then I had to rely on the government again for food and shelter. Even without the stressors of the job and relationship, though, I kept getting physically sicker and weaker. I'd have trouble just walking to the grocery store and back. I'd be in bed, not from depression, but because I just couldn't muster the strength to stand up anymore. I was fading fast and there was nothing my psychologist could do.
Yet, she did the most important thing imaginable: she believed my theory that the benzos were killing me, and she offered to see me for free when I no longer had money. Basically, she listened, again, and she saved my life, again.
It took exactly one year to find a new psychiatrist. When I found one, I wasn't excited; instead I was terrified, having zero trust left for anyone with a prescription pad. Yet he listened to my horrible past and agreed that the benzos were destroying my life. After having doctors say I'd be on benzos for the rest of my life, here was one saying I needed to get off of them or I'd never be healthy again. I reasoned that after dealing with roughly seven years of PTSD, I'd kick these pills no problem. I was wrong.
About five months into my taper, I lost the ability to walk any further than the bathroom and back with any reliability. With three months to go until my final pill, I began experiencing acute withdrawal symptoms: burning nerve pain in my spine, brain and limbs; sickening nausea so bad I wanted to die; insomnia; extreme depersonalization to the point where I questioned what was real; my sense perceptions were all off and, of course, I had no energy. This lasted for 12 months. I'd have a few hours of relief every three or four days, but for the most part, I had to be in bed with pillows over my head to block out all light and sound. I lay in bed wanting to die, daily.
It's been 14 months since my last benzodiazepine. At the 9-month mark, I was able to walk consistently again and the pain and nausea started to lessen. I'm about 50% healed now. I still struggle mightily with the withdrawal (perhaps brain injury is a better term at this point). But I'm myself once more, even with the physical pain and sickness. I've returned to a creative life that gives me purpose, meditating daily, eating well, and working part-time so I can afford food, while hoping to exercise soon.
I've had my life ruined by trauma and pills, yet there are days when I'm happier than any time I can remember in over a decade. I've found an unshakable faith in myself through this journey. And now that I'm almost in the clear of psychiatric medications (I have Prozac left to taper) and I can trust my mind and feel that I know myself, I'm convinced that I'm on this planet to help others find the same kind of peace.
I want to share my story of recovery with the world to ensure that everyone currently suffering knows that they are worthy of help, support, treatment and love. I offer hope as one person in the fight toward a global shift in the way society thinks and treats people with mental illnesses.
What needs to change in psychiatry? It's simple: doctors need to listen to their patients and treat them as individuals rather than as a puzzle piece to be slotted into a diagnosis. Of course, doctors know more about the body and brain than I do, but I know more about my body and brain than any doctor.
I truly believe that if doctors just listened a little more to their patients, suggested lifestyle changes first (like diet, exercise and mindfulness), and only took out the prescription pad after the conversation was over, there would be a lot less mentally ill and chemically dependent people in society. Also, as a doctor, allow yourself to think outside the box, as the current box (psychiatry's model of care) is dangerously broken. As a doctor, you're most likely intelligent, so use said intelligence instead of mindlessly following what's been done before that clearly doesn't work.
The overprescription of psychiatric drugs ruins lives. There's no longer any doubt. Thus, be part of the solution and not part of the problem by treating patients as individuals. It's the least anyone deserves who's seeking help. No matter how overworked or burnt out a doctor is, he/she can always take a nap to recover, or even quit the profession altogether. Patients don't have that option. Once hooked on psychotropic drugs, we remain hooked until we either find a rare, life-saving doctor who listens — or we die.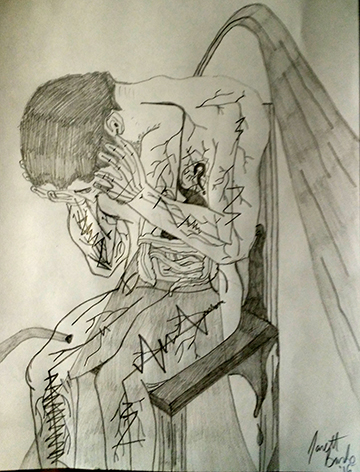 ***
Mad in America hosts blogs by a diverse group of writers. These posts are designed to serve as a public forum for a discussion—broadly speaking—of psychiatry and its treatments. The opinions expressed are the writers' own.
***
Mad in America has made some changes to the commenting process. You no longer need to login or create an account on our site to comment. The only information needed is your name, email and comment text. Comments made with an account prior to this change will remain visible on the site.