Warning: I made the decision to include 'spoilers' in this piece. As this is a true story, the information I reveal is already circulating. Additionally, it is pivotal to why I feel people should see this film — and, most importantly, ensure other people beyond this community get exposed to this film. Maybe even involuntarily.
"Everybody's here to 'help' me. That's why I need help."
– Eleanor Riese
"I always thought it was my primary job to care for the patient, not manage them for my own convenience."  
– Collette Hughes
55 Steps is a new film (though long in the making) written by Mark Rosin, directed by Bille August, and starring Helena Bonham Carter and Hilary Swank. In some ways, it's one of those unlikely 'buddy' films. However, this time, rather than featuring some iteration of two men bonding, it centers around two women: a lawyer with a tendency to work long hours, and Eleanor Riese, whose stacks of journals documenting her journey with psychiatric drugs indicate that she has spent far too much time incarcerated in hospitals.
The film begins with a fairly graphic and intense scene showing Eleanor (played by Carter) being restrained, forcibly drugged, and left in seclusion. There, she has at least one seizure unwitnessed by those who have left her lying alone on the floor. Some hours later, she urinates on herself when no one responds to her pleas for a bathroom. The scene was so true to life that, in the screening in which I participated, one audience member who'd been through it herself got up and walked out. But another said, "Good. Good that it's so real. Good that people will finally get to see what it is like."
Note that she said "what it *IS* like," and not "what it was like." And therein lies one of the risks of this film, based on a true story, and therefore set some 30 years in the past. We want people to see the truth of what has happened to so many of us behind those locked doors where far too many seem to believe we have belonged to get "help," but haven't been interested enough in the conditions to look for themselves. We want them to know it's still happening. Not much has changed.
Eleanor first meets her lawyer, Collette Hughes (played by Swank), when she calls seeking an attorney from a payphone in the hospital following the ordeal described above. We don't know quite who she calls, as we hear only her brief demand. Collette responds quickly, and before she even meets Eleanor, she is warned that she should expect a "very explosive patient." But what she gets in Eleanor is a smart woman who says what's on her mind and is ready to fight for what is right — not just for herself, but for all others like her who want a choice about the psychiatric drugs that they are given. Before it's too late.
Carter's portrayal of Eleanor seems a little "Rainman." In other words, a little too "cute" and stereotypical; her lines a little too scripted and perfect for the moment. However, both Rosin (the film's writer) and the real life Collette Hughes (both of whom were at the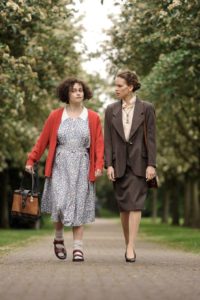 aforementioned screening) swear it's right on the mark. At one point in the film, Collette notes that Eleanor's chart indicates that she was drugged simply for being "sarcastic." Collette calls that a violation of her First Amendment rights. She is not incorrect.
However, the film ultimately focuses less on the First Amendment and more on the concept of informed consent. Although unclear in the way that the film is shot, the story spans the course of five years during which Collette fights for Eleanor's right to choose whether or not she takes psychiatric drugs, what she takes, when and how much. Unfortunately, as we learn fairly early on, it's too late for Eleanor to have too much choice herself. The drugs have already done so much damage to her body that she's unable to use the bathroom without inserting a catheter, and unable to stop taking at least one of her prescriptions without seizures ensuing. In many ways, the fight is less for Eleanor, and more for those who will follow in her path.
The fight is not easily won, and Eleanor can't bear to keep walking up the 55 steps to the court room after the first loss. Yet Collette hangs in there, with Eleanor's fiery encouragement and sometimes not-so-gentle ribbing from the outside. Collette is also partnered with another attorney, Mort Cohen (played by Jeffrey Tambor), who was actually the lead attorney on Eleanor's case.
It is perhaps this section of the film — where the focus is on Collette and Mort — that I found most difficult to watch, and for very different reasons than the opening scene. The audience is introduced to the fact that, although Collette is Eleanor's lawyer and has been doing all the foot work, Mort will always be the one presenting the case before the court. There is a painful sequence during which Collette is coaching Mort to learn the details and technical terms related to psychiatric drugs and their risks (something with which Collette was naturally quite familiar, given her past career as a nurse) before he's in front of the judge. At that point, more than one of us wanted to yell at the screen, "Sit down and let her do it herself!" But that's not how it happened in real life, and real life Collette was clear that she didn't see that as an issue. So, I've tried to let it go.
It's also during this period in the film that we have to make our way through doctors agreeing to support Eleanor's argument for informed consent, not because of the potential harms caused by psychiatric drugs, but because they believe that a collaborative approach will increase adherence to the prescribed regiment. And, at one point, Mort himself argues to the court that — in spite of all the harms caused — most people will likely still take the drugs even if given a choice because "they want to get better."
This misses an opportunity to push further, into the realities that the psychiatric drugs so often aren't making many people 'better' at all. It hurt a little bit. Okay, a lot. Some folks in the audience flinched or grimaced. But Mark Rosin explained that he took those words directly from the court records (the real life Mort actually spoke them), that the film couldn't fight all the issues (especially since it's based on real events), and that it was likely a strategy to get the court to listen.
And that strategy (if it indeed was one) did work. In reality (as in the film), after a lengthy battle, the courts (mostly) sided with Eleanor and laws were changed in California that required informed consent and placed significant limitations on a hospital's ability to forcibly drug someone. But I'll be honest, the real win in my eyes — at least the one that matters most at a national level — wasn't the court's decision.
Not long after Eleanor's case was won, she died. And, for the first time ever (at least that I'm aware of), a film featuring mainstream movie stars explained in clearly written words placed directly on the screen that Eleanor Riese died at the age of 47 due directly to the negative effects of psychiatric drugs. To me, that's the real win right now.
This film is imperfect. It doesn't argue all the points quite the way I'd like. Frankly, I wish more liberties had been taken with the truth. But the importance of this film can't be ignored. The implications of getting the general public to unwittingly walk in to a large dose of reality are too tangible.
55 Steps was released in the US this week by Vertical Entertainment. It's currently available through various streaming sites, including iTunes and Amazon.  It is set for limited release in theaters next month (November 16) in locations to be determined.
But will anybody see it? Are Helena Bonham Carter and Hilary Swank's fan base enough to draw in folks who otherwise wouldn't take an interest in the subject matter? Will the release of 55 Steps steer Hollywood toward or away from topics like this? We all know how capitalism works, so it seems like some of that is up to us. After years of trying to get people to listen, but finding ourselves preaching mostly to the choir, this is yet another tool that is primed for our use.
So… let's use it.
***
Mad in America hosts blogs by a diverse group of writers. These posts are designed to serve as a public forum for a discussion—broadly speaking—of psychiatry and its treatments. The opinions expressed are the writers' own.
***
Mad in America has made some changes to the commenting process. You no longer need to login or create an account on our site to comment. The only information needed is your name, email and comment text. Comments made with an account prior to this change will remain visible on the site.