"What makes my need to share less important than your need not to hear it?" – Stephanie Gimeno
Graphic Detail, Part I
Graphic detail is terrifying.
I'm fragile. I'm broken.
If you insist on unleashing this storm,
Ignited by your pain,
All my fractured bits might collapse in upon themselves.
Words you say…
They turn and twist like lava
Searing through grooves and valleys
And into my wounds, lying in wait.
A river of fire pouring out from you and into me
Leaves nothing but ash in its wake.
How am I supposed to survive you,
When you insist on stirring all this pain?
You can call me 'Consumer,' but I'm not buying what you have to sell…
Typically, when I hear people refer to individuals like me as "consumers" I bristle. I'm not interested in being given any one-word label based on my current or former relationship to the mental health system. But, if I pause for a moment and think deeper about it, I realize that — of all the labels of this kind — 'consumer' is the most appropriate of the bunch, because they sure are doing their right best to sell us something. The primary problem, though, is that we seem to lack the privilege possessed by the average customer to refuse to buy.
You're sick. You're imbalanced. You need our drugs, our therapy, our groups, our belief system, our very definition of you. Oh, and you also need our protection, because you're very, very weak. In fact, our favorite question to ask you is if you're "safe," and most of the time we mean from yourself. You need to be kept "safe," even from what you've already survived. Shhh. Don't speak of it. Just calm down, sweetheart. Hand over your sharps, swallow these pills, and put those big words down. (Or the drugs can put them down for you, if you'd prefer.) You can thank us later. We've got you now.
Unfortunately, it's hard for the system to not succeed when so many of us seem willing to become complicit in tearing the words from our very own mouths. They tell us we're too fragile to speak our own truth, and that those around us are too fragile to hear it. If you must name what happened to you, at least slap a "trigger warning" on yourself, and don't "paint a picture." Too much truth all in one place is dangerous for us all.
The devil is in the (graphic) detail
Fuck that. Fuck all the silence and presumptions of brokenness and "too much." Fuck the vaguely named traumas packaged up for someone else's comfort, and all those damn FYOGs.  Most of all, fuck this idea that what I had to live through may be too much for you to hear laid out in words. And fuck two times over the suggestion that if it is too much for you in this singular moment, that that isn't more about you than me, and that we can't best mitigate such tension by you choosing not to listen rather than me having to not speak. I want to breathe life into my memories, even the worst of them. I need to so that I can own them, sit with them, make sense of them, reclaim power over them, and be able to move on if and when I fucking choose.
So, here's some graphic detail of my own:
I'm standing on this burnt orange, tightly woven area rug in my "big girl" bedroom. I'm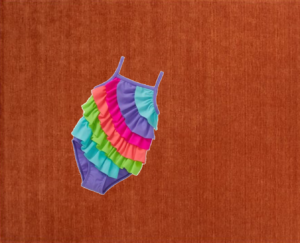 shakily putting on my swimsuit with all the balance and grace that a 5-year-old does commonly possess. I'm so excited to go swimming with the older boy from down the street who said he'd watch me in the pool. I'm trying to hurry. Then, just as I navigate one of my legs through the first leg hole of my one-piece, he walks in. I don't remember anything after that… Just that I never wanted to go swimming with him again. I'm a teenager now, and it's the first time I ever drank. Orange juice and vodka. Screwdrivers. It's so late at night. His whole family is asleep when they pin me to the little twin mattress in the upstairs bedroom. The ceiling slopes over us, and they risk hitting their heads as they climb on top of me, taking turns forcing me to kiss them. Their hands are all over me, on my breasts and down my pants with all the overeager roughness of an adolescent boy… because that's what they are. My best friend says she'll start screaming if they don't stop. But, I don't remember… I'm in my "closet single" at college. I let the older guy who'd been hanging around campus into my room. (Why did I do that? Was I asking for it?) As he is shoving my head down toward his erect cock, he offers feigned lament, throatily whispered: "I've never had to force anyone before." I made him so frustrated (or excited?) with all my resistance. I don't have a period for months after it happens. I thought he made me pregnant. But… I don't even remember having sex.
A year or so later, I drive to visit my friend at college. I hook up with a guy I meet there. He is a friend of my friend. He tears my fishnet stockings off of me. I didn't mean for it to go so far. After, he would gloat to his buddies that he'd "slapped the shit" out of me, and still had my blood on his fingers. The next day, I wear a coat that is too warm for the weather, to cover the bruises on my body. But… I don't remember. Not long before I move off campus (and ultimately get kicked out of school), I am hanging around outside talking to a guy on a park bench. He tells me about his culture in the country where he was born. When the conversation ends, I don't notice that he follows me back into my dorm and down into the basement where people sometimes hang out late at night on couches, study together, and watch movies. No one else is there when he grabs me, fingers digging into my neck, and forces his mouth onto mine. He leaves dark, angry marks where his fingers press into my flesh. I thought I was safe. It was broad daylight outside. I barely get away, and when he catches up, he tells me that he can only think of me non-sexually if I agree to be his sister… The catch? Sisters have to do everything their brothers tell them to do where he's from. And… I. don't. fucking. remember.
I want to throw up. I want to throw up all the words and memories, but some of them are just out of my reach. My own mind silences me by filing all that graphic detail where I simply can't find it. And, I don't know if I should thank me or tear myself apart trying to uncover those lost moments. Would being able to remember and speak all that into the world help free me? I may never know. But I do know that if it were in my power to do so, no one would be able to make me stop. I would speak every word, and would only get louder for every time someone tried to quiet me. No one would have the right to take my graphic detail away. And these memories I do have of being forced will never be forcibly stolen from me again.
Detail Envy
I envy people like my friend, Sharon, who speaks her memories with such vivid rawness. She gives just a taste of that in her piece, "A Brief Experience of Multiplicity."  I envy her strength, insistence, and unabashed refusal to let the world turn away from it all. Yet, I'm terrified of all the people who respond to her graphic details with disgust and derision, as if what's most wrong is not what happened to her but that she dare speak of it out loud. Meanwhile, I mourn for another friend who didn't find out until she was nearing 50 how normal it is for young girls to have orgasms when they're sexually abused, because no one talks about such dirty little facts… I mourn for that girl who she was, left to grow up believing that her body's natural adaptations made her bad or wrong somehow. Society with all its delicate sensibilities was the culprit who left her even more vulnerable to the man who hurt her by hiding those facts. And I rage for yet another friend who was told by a therapist that she was "too much" when she shared the graphic details of being raped in college, just because someone else felt upset at hearing them.
I am not too much. None of us are too much. (And, if we are 'too much,' then, as Caroline Mazel-Carlton suggested in her Alternatives 2019 keynote, let's thank each other for that.) The problem isn't talking about what happened. It's that it happened at all. And what a mind fuck it is that the mental health system expects us to talk about the very worst things that have happened to us on demand when we desperately don't want to, usually in some long and relentless assessment checklist format, and then shut up and swallow it all back down.
This lack of control… this system that reinforces that our 'no's don't matter, and that defines so much of our value and potential by how completely we give in… that is the problem. Sometimes it leaves us locked up in wards to "make us better," while our abusers roam free. This system centers the problems deep inside of ourselves, where all the lost words of our graphic details are also lodged. And, in doing so, it gives those who hurt us a pass. Yes, sure, what they did was wrong, but our response to it is apparently the real problem that needs 'fixing.'
How strange it is that when people are upset by someone's sharing what they've survived, that we can't regard it as a potential gift. For in their sharing, not only have they performed a great act of trust in all us listeners, but they've helped us touch something in ourselves. When will we learn that when one person's story wakes up another person's pain, that the answer isn't to silence the storyteller, but rather to turn to the awakened one and invite them in to share, too? Pain is an indicator of a need for healing, not censorship.
The truth is that graphic detail can make some of us stronger in a way that silence never could. Our fear grows in the darkness created by the absence of words, where we're left to mingle with memories unspoken without even a hand to grab onto in the pitch black. When we speak them into the world, those secrets begin to lose their power and we get stronger if for no other reason than we no longer need to hold them entirely alone. Those who try to teach us to be quiet are the enemy… even if only an unwitting and benevolent one. They are our captors, forcing us into silent prisons for fear that our minds will break should the floodgates open… but the truth — the graphic detail — shall set us free.
Graphic Detail, Part II
Or maybe, just maybe…
Graphic detail is raw truth,
The wounds you bare for me to see,
Birthed by your pain,
I will grow stronger just for knowing you.
Words you say…
I will stand in witness of every last one…
I will dance and wail by your side
And collapse with you in the darkness.
A river of fire pouring out from you and into me,
Helps clear me out for rebirth.
How did I ever survive without you,
Fooled into thinking that silence could set us free?
***
Mad in America hosts blogs by a diverse group of writers. These posts are designed to serve as a public forum for a discussion—broadly speaking—of psychiatry and its treatments. The opinions expressed are the writers' own.
***
Mad in America has made some changes to the commenting process. You no longer need to login or create an account on our site to comment. The only information needed is your name, email and comment text. Comments made with an account prior to this change will remain visible on the site.