The standard conversation that typically ensues when an individual inquires, "Should I ever ask someone if they're suicidal" centers around the myth that asking a person such a question might potentially be the cause of them reaching that state; as if the mere utterance of the word itself somehow makes someone more susceptible to a suicide infection of sorts. That's nonsense. Most of us know that. But, there is a much deeper conversation to be had here. Specifically, even if we all fully accept that asking someone if they're suicidal does not magically make them so, does that necessarily mean it's a good idea?
The implication from the suicide preventionists who spend substantial time disabusing people of the aforementioned myth is that asking this question is basically the best idea ever. Gatekeepers unite! (Yuk.) And yet, I'm not so sure. It's true that some people have said that being asked that question and answering it honestly was a "weight off their shoulders." It gave them space to finally acknowledge their own personal elephant, and shrink it down to a more manageable size simply by speaking the words out loud. But that's only a fraction of the story. It doesn't change another, somewhat separate truth: The question itself has long since become corrupt.
For every person "Are you suicidal?" may assist, there are many more of us who are scared into silence when those words are uttered. Why? Well, "Are you suicidal?" is, in fact, the king of the suicide risk assessment questionnaire, with "Do you have a plan" serving as its beloved queen. Too many of us now know that those questions don't typically come from the mouths of people who are invested in more than whether or not we need to be controlled and locked away. As such, "Are you suicidal?" has become the red, neon, flashing sign that screams "Stop! Don't talk to me!" Perhaps this might just explain some of why suicide risk assessments are well known not to work.
It's interesting that risk assessment is always seen as a one-way street: The professional evaluates the (so-called) "client" (or "consumer," or "patient," or "peer"… don't get me started…) for "risk to self or others." But, what of the risk posed to us by those seen as there to "help"? Given that force (including coercion), and being held on a psychiatric unit are both associated with increased risk of death by one's own hand, the risk posed to us by providers (and those who see their roles as deferring to them) can be great. Saying "Yes, I am suicidal" to the wrong person can be the precise precursor to loss of job, relationships, identity, and freedom. Studies now abound that tell us that even being quarantined against one's will in a cushy hotel or one's own home can have long-lasting emotional impacts, and psychiatric facilities are usually a hell of a lot worse than all that. No wonder that question sends so many of us running in the opposite direction.
The truth is that the best way to create space for taboo topics like suicide to be discussed is not to hammer away at them, or try to force them open, but rather to build trust and create space for the conversation to move naturally where the person wants it to go. Such a process often allows for not only the answer to that question to be revealed but also for the much more important "why" to rise to the surface. This concept is, in fact, what underlies the Alternatives to Suicide approach.
All that said, there's that question—Are you suicidal?—still hanging around, and occasionally used as a tool for good effect. So, let's consider how we determine if it's ever worth asking within that aforementioned provider "risk assessment" framework. In order to do so, we need to consider (as any good risk assessment does) not only the risks, but also protective factors. The flowchart below attempts to do just that.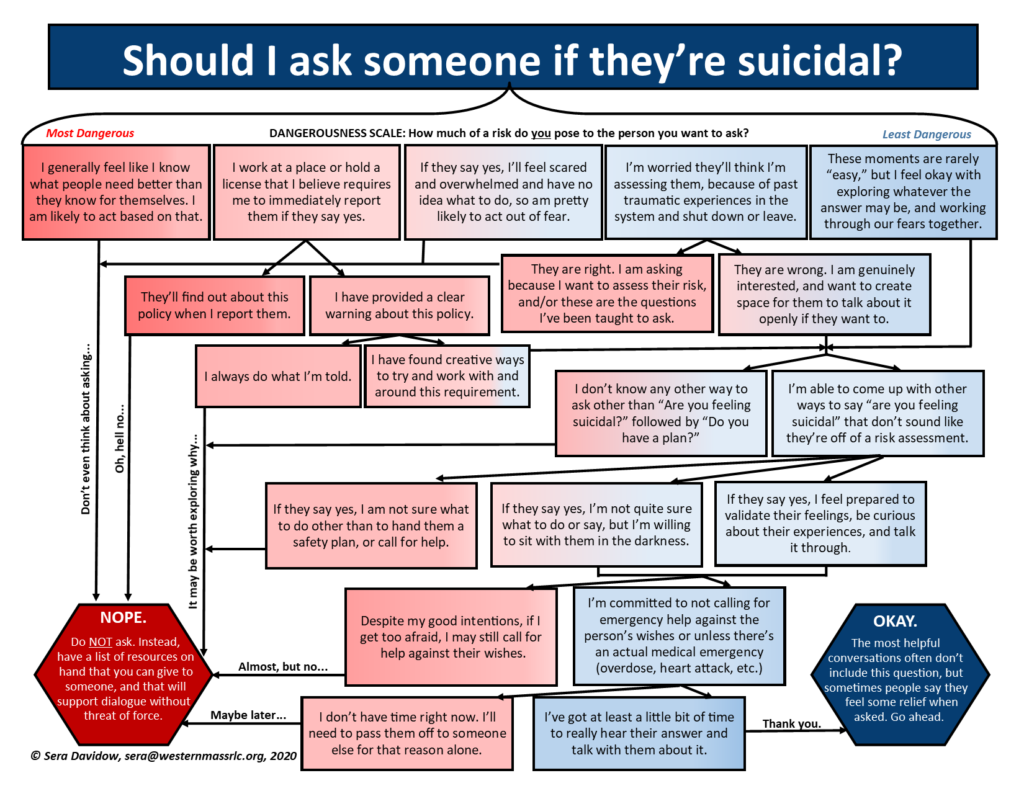 As you see, some of the major risk factors include:
Routinely believing you know (due to your training, your work experience, or perhaps just your superior brain) what's best for others. Unfortunately, this level of arrogance—not uncommonly rooted in the apparently unbearable worry that one has wasted their time and money on higher education and/or unintentionally harmed those they were charged with helping—leads people to crush personal autonomy and miss what's right in front of them on the regular.
Working in a role that (you at least believe) requires you to report the moment someone indicates they may be considering killing themself. This belief is often rooted in erroneous ideas about what it means to be a "mandated reporter," liability concerns, and not wanting to be fired or face potential disciplinary action. It's all often quite misguided, but all the more dangerous for how easily it is justified as "just doing my job."
Lack of access to other tools or time spent thinking of ways to speak about suicide beyond the most basic risk-assessment language. When someone hasn't had a chance to unpack what they've been told, hasn't been supported to understand the influences of systemic oppression and marginalization, and hasn't been offered any other words or tools to explore… they tend to revert to what they (think they) already know. Effective or not.
And, while being overly confident that you know what's best for others is high on the list above, conversely so is being wracked with a significant level of fear and uncertainty about what to do.  Why? Because when we get afraid, it's only natural that we fall back on the most concrete "what to dos" that let us feel like we've at least "done something" without leaving much space to evaluate how or why.
On the other hand, protective factors include:
Adequate time to be present and not just pass someone down the line. Because you can be the most trustworthy, well-intended, anti-force-committed soul around, and it still makes it unlikely that the person to whom you make your "warm handoff" (gross!) will hold to the same standards.
An already established commitment to avoiding coercive and force-laden acts, as well as a pre-established understanding of what constitutes a true "medical emergency." Knowledge about the true impacts of force and coercion are not come by easily in this world. It takes work that cannot possibly be done when one is in the midst of what at least feels like a crisis. And, where medical emergency is concerned, should we care to assess the hospitals as to their efficacy in treating different conditions, we will consistently find that they do well in responding to overdoses and heart attacks. Quite well, in fact. But not so much for emotional distress of any kind.
Prior work done and resources available to help the supporter to sit with their own fear rather than projecting it onto someone else. We are all caught in a society that tells us that the lines that separate the helped from the helpers is quite clear. That is a lie. And even when one is sitting most squarely in the "helper" role, everything challenging that comes up won't be coming from the person they're attempting to support. It is absolutely essential that each person learn to do their own work and find support resources for the fear that it is normal to have rise up in situations such as these. Otherwise, they're all the more likely to make sweeping gestures to try and control what the other person does simply as a counterbalance to their own discomfort.
This idea of a risk assessment for providers is one that bears much more looking into, and is a project I hope to get to soon. In the meantime, when considering the seemingly simple question of whether or not to ask someone "Are you suicidal?" I hope we can at least find a way to simultaneously drive out the fear of talking about death that's wrapped up in what might stop our mouths from forming around those words… while also finding better ways to be with and talk to one another all the same. It's not that the question will cause suicide. It's OK to ask some of the time. It's just that we can do better than that. We have to.
Click here for a shareable PDF of the image above.
***
Mad in America hosts blogs by a diverse group of writers. These posts are designed to serve as a public forum for a discussion—broadly speaking—of psychiatry and its treatments. The opinions expressed are the writers' own.
***
Mad in America has made some changes to the commenting process. You no longer need to login or create an account on our site to comment. The only information needed is your name, email and comment text. Comments made with an account prior to this change will remain visible on the site.