49 people died in a club in Orlando, Florida at the hands of a man who is now dead, too. In only a few hours time, he destined himself to be forever made infamous as one of an increasingly long line of 'shooters' that have sent our nation on a desperate search for who or what to blame. I never met this particular 'shooter,' but in my teens I did meet one.
Here's how that went:
I entered college eleven days after I turned 16. It was great because I was on my own and out of the house where I grew up for the first time ever. It was also terrifying because I was on my own and out of the house where I grew up for the first time ever.
Why I ended up in college at a relatively young age is a long story, but suffice to say it had to do with equal parts privilege, abusive home environment, and difficulty fitting in at my hometown high school in Greenwich, Connecticut (for so very many reasons).
The short version of the story goes like this: Things were really bad (and getting worse) between my mother and I, and I'd started to skip class and do pretty poorly in school. She thought to 'get me under control,' she'd send me off to boarding school. So, she paid big bucks to some educational consultant to 'make it happen.' But, that high-priced hire instead suggested a college that accepts kids who have finished at least their Sophomore years, and I got hooked on the idea. So, upon acceptance, I dropped out of my Junior class, and then in mid-January, off to college I went.
I muddled my way through my first semester, even though I was sometimes so scared that I shook and I couldn't feel my fingers when I tried to write. I also didn't really make friends in those first few months, although there were people I admired at a distance in my entering class of twenty other kids. Fortunately, in my second semester, I started to form some connections.
One friendship that began to blossom was with a young man who came along one semester behind me. He was just as scared as I'd ever been. He explained that his family had been very strict, and it felt weird to him to stay out late, even though freedom was at his fingertips whenever he wanted it now. Gradually, he loosened up, and we took long drives together late at night. (I'd managed to acquire a somewhat old, but relatively reliable used car by then.) He told me about the girl he liked who had also played violin in the same orchestra in which he'd played back at home in Montana, and that his favorite song was Lady in Red.
Eventually we drifted apart. I don't remember why, exactly. I just remember that the last time I saw him, it was one semester later (my third) and I was crossing over a little foot bridge. I looked up at his dorm, and he was gazing out a second floor window in my direction. Our eyes caught, and then we both looked away.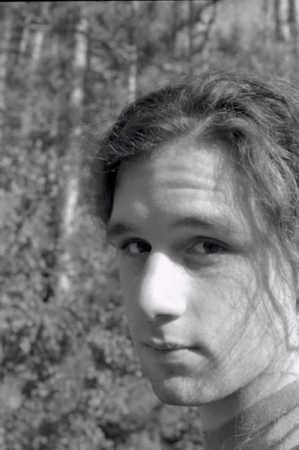 I left after that semester, and I'm glad I did. Because the following January (20 years to the day before the shootings at Sandy Hook Elementary took place), he picked up a gun and became one of the first well-publicized school shooters spoken of in the media. Although more were injured, he only ended up killing two people. One of them was a boy (Galen Gibson) toward whom I'd harbored a longstanding crush. (He was one of the aforementioned 20 in my entering class.)
The court proceedings and media chaos that ensued in the aftermath assembled various characters who bickered back and forth about whether his motives were racially based, or the result of such psychiatric phenomenon as 'paranoid schizophrenia' or 'narcissistic personality disorder.' Incidentally, I've had contact with him off and on in the last few years, and he says that he never received any 'mental health' treatment after he was convicted of all 17 counts that stood against him and sentenced to two life terms in prison. He says that his reasoning and the events that transpired that January are a blur. (I have my own theories, but none of them are easy or fit nicely in a box as most would prefer.)
Since that time, there have been so many more tragedies, and so many more heated (and often futile) arguments grappling with why. Don't get me wrong.  I understand the need to make meaning. It's not just so that we can find peace in what's come to pass, but also so we can mend the gaping hole in our collective illusion that the world is a 'safe place' moving forward. Because without patching that up, it's hard to feel okay about running errands, and letting our offspring out of our sight to go to school and living our regular day-to-day lives in any way. I should know. I have to intentionally put effort into turning off the 'what if' switch in my brain every day.
So, we choose those explanations that feel furthest from ourselves and at least sound like they're real. In our current climate, that most typically amounts to he was a 'terrorist,' or he was one of 'the mentally ill' (and sometimes both).  Although I personally spend more time arguing against the 'mental illness' piece based on my work and life experience, both answers seem to offer a similar benefit: They are two things most people feel they themselves could never become. It's safety wrapped in distance wrapped in pat words (wrapped in so much ignorance and hate). So neat and tidy!
Except. Except that neither one (not 'mental illness' nor the 'terrorist' designation) is particularly finite, and both are entirely movable by those in power who are free to lay those labels wherever they choose, either before or after something happens. Whatever serves the purpose at hand. Of course, this generally makes them utterly meaningless as serviceable 'reasons' why it all happened in the first place, but no one seems to bat an eye or name that problem (at least not too publicly), or recognize them for what they truly are so much of the time: Tools of social control.
I don't think I've ever used the term 'mental illness' as much as I am in this piece (and please do note the quotations in each instance), but here it goes a few times more: It seems such willful ignorance that people accept 'he was mentally ill' or 'it wouldn't have happened if he were in treatment' as any kind of answer in these sorts of situations, and especially since so many in question were in fact in treatment of some kind. (I sometimes hate to acknowledge this point, because certain groups will hear it as affirmation that 'they' were 'mentally ill' since they sought some sort of assistance, when in fact, I mean it more as a note that so many of us struggle at some point in our life and are met with 'help' that does not 'help' and sometimes drives us further into the abyss.)
As aforementioned (but worth saying again) I think the driving force behind the acceptance must be to not feel paralyzed from all the fear of the not knowing and randomness of life. Or to not look too close to home because doing so might point the finger back at some of us.
The logic is so loose. Why is it seen as an acceptable 'answer' to say someone was 'mentally ill,' when so many who are diagnosed don't harm anyone? (Never mind that there is no objective test for these supposed diseases of the mind, and psychiatrists can't even agree which 'disease' someone has half the time.) Even if the quality being blamed does exist on some level (as in, he was in fact diagnosed or has been struggling emotionally in some way), correlation does not mean causation. It's almost just as silly to say that he did it because he had a psychiatric diagnosis, as it is to say he did it because he was 20-something (simply because of the broad base of evidence suggesting youth is somehow tied to certain crimes).
There is always more to the story. Someone who hears a voice saying to kill another doesn't have to be any more likely to act on that order than I am when my own mind indicates to me that I should 'strangle a person' out of frustration. (Although admitting the former is certainly likely to land one with a psychiatric label, who among us has not had such a thought?) Most of us contemplate ending our lives at our own hands at some point, yet few of us act. The majority of kids at college get drunk, are full of hormones, and get rejected at some point, yet most of them do not rape. Clearly there are other layers and influences at play.
Similarly, why are we so quick to accept the answer of radicalization, as if it were some far off and foreign thing that is not of our own culture? These explanations seem of similar ilk. If we can accept Islamic radicalization as a full response to explain away something terrible, then how about hate radicalization in general? Like racist or misogynistic radicalization, for example? Or the elements of Christian radicalization that so many use as justification for their horrific disposition toward those who do not live up to religious man-plus-woman expectations?
Why is it so easy for people to see one as a systemic issue applicable to a whole group of people (and that their often willing to go beyond the law to attack), while they view the others as 'isolated incidents,' or a good thing gone off course, and that perhaps was even somehow (in some cases) still fueled by something akin to 'mental illness,' too? In spite of the stark reality that many more people of color, women and individuals existing along the 'LGBT' spectrum are hurt by these supposedly 'isolated' ideas and individuals gone rogue, it remains easier to focus in on terrorism and 'mental illness' as the primary problems because it makes it more about 'them' and not 'us.' And, in the end, that's what we need to sleep at night, right?
So, no, he did not kill them because he was mentally ill or because he was of a different culture that we do not understand or have demonized for our own solace. He killed them because he was violent. He killed them because he wanted to and he had access to guns. He killed them because he felt alienated from and angry at society. He killed them because he felt numb to everything but intolerable indifference (sometimes drug-induced). He killed them because he'd been taught to have hate and rage in his heart, and to believe he was somehow righteously justified to act upon it.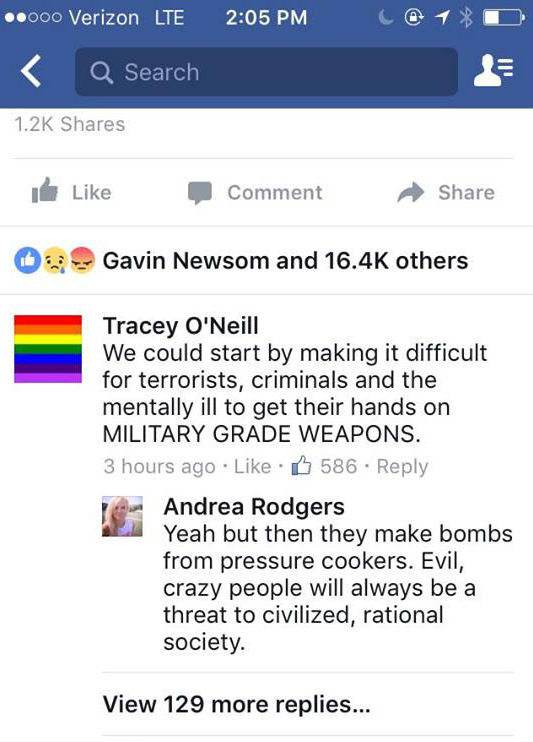 49 people died in a club in Orlando, Florida last night, and it (unsurprisingly) took less than 12 hours for both terrorism and 'mental illness' to get pegged as the culprits.  Facebook posts like this one scored thousands of likes a piece by mid-afternoon.
But, he didn't do it because he was mentally ill. Whatever his allegiance with various groups, 'terrorist' is also not an adequate answer. (Perhaps, instead of these factors, some 200 anti-LGBT bills introduced in the last handful of months might have provided some of the fuel here?)  Saying so might bring some people a vague sense of peace for all the reasons I've named above, but what gets lost in all this false 'fact' finding is the very real harm done along the way. When violence is conflated with 'mental illness' (or particular religions, as the case may sometimes be), the price we pay for that imaginary sense of security are the very real lives of those we've deemed worthy of all the blame. They become our 'fall guys,' if you will, simply so that we can feel like we're in 'the know,' and post angry Facebook diatribes demanding 'action.'
In truth, these attitudes push us toward force and oppression and even more hate. These 'reasons' compound the underlying problems that drive the violence, and lead many people to feel somehow 'above the law' in their efforts to control future outcomes. How sad that our fitful efforts to increase our safety in the world, do nothing but tear it all down.
Yes, what happened in Orlando was a tragedy, but it will become no less tragic if we comply with those forces that would have us blindly sacrifice more innocent souls to our drive for easy answers. There are no gods waiting to spare us further loss if we continue down this path.
***
Mad in America hosts blogs by a diverse group of writers. These posts are designed to serve as a public forum for a discussion—broadly speaking—of psychiatry and its treatments. The opinions expressed are the writers' own.
***
Mad in America has made some changes to the commenting process. You no longer need to login or create an account on our site to comment. The only information needed is your name, email and comment text. Comments made with an account prior to this change will remain visible on the site.