On October 7th I gave a talk titled "The Transformation Triangle: Public Education, Alternatives & Strategic Litigation" at MindFreedom's mini-conference in Portland with the theme of Continuing the Creative Revolution: Alternatives to the Medical Model. My very first blog on Mad In America was on the Transformation Triangle in A Three Pronged Approach to Mental Health System Change so I am not going to go over that again here, but in thinking about my talk, I realized that I could piece together a very short video on neuroleptics reducing the recovery rate from 80% to 5%.
It is really a very simple case, with all of the pieces supplied by Robert Whitaker, who has always been very gracious in allowing me to use his research. The video is only 97 seconds, which is in the range that people are willing to devote. My hope is that it will reach beyond the Mad In America choir.
It starts out with looking at the Open Dialogue results:
One can see that they are achieving an 80% (or 79%) recovery rate.  It turns out that the original Soteria House achieved essentially the same results: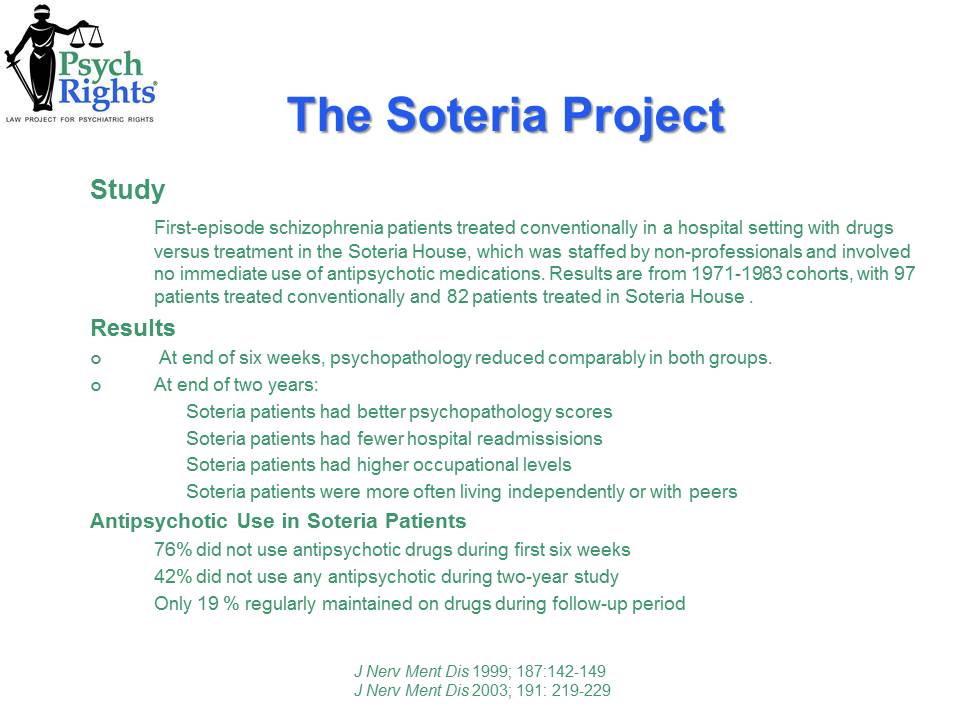 The PsychRights logo is on this slide, but again, this is Robert Whitaker's slide.
So then we compare this to the Harrow & Jobe study of long term recovery rates of people who had been on neuroleptics for a while.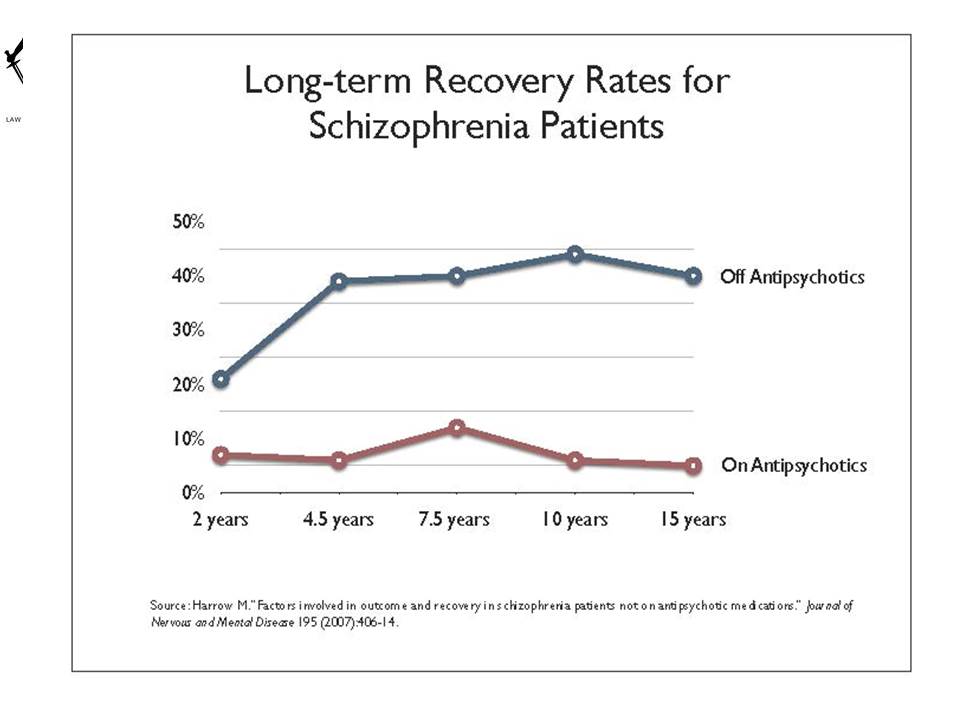 Here, we see that 40% of those getting off the neuroleptics recover while only 5% who stay on them recover. This 8 times recovery rate for those getting off the neuroleptics is dramatic in itself, but the other thing it shows is that once people have been on the neuroleptics for a while, the chance of recovery even if one gets off of them is 40% compared to the 80% rate if one was never put on them.
This shows how important it is to try to keep people from being put on the neuroleptics if at all possible. This is what Robert Whitaker has been saying since he published Mad In America in 2002, and all of the evidence since then has just reinforced this conclusion.
Finally, a word about words. You will notice I use the word "neuroleptic" rather than "antipsychotic." The reason for this is that neuroleptics don't have antipsychotic properties for most people. They just disable people to the point where they are not so troubling. "Neuroleptic" was the original name and means "seize the brain." This is an accurate description, while "antipsychotic" is marketing propaganda.
***
Mad in America hosts blogs by a diverse group of writers. These posts are designed to serve as a public forum for a discussion—broadly speaking—of psychiatry and its treatments. The opinions expressed are the writers' own.
***
Mad in America has made some changes to the commenting process. You no longer need to login or create an account on our site to comment. The only information needed is your name, email and comment text. Comments made with an account prior to this change will remain visible on the site.