The vast majority of people who talk about the 'stigma' of suicide basically mean this:
"Isn't it so terrible that people aren't allowed to talk about mental illness and suicidality openly so that they can get into treatment and be saved?"
They wholeheartedly believe that the 'stigma' is all about the unnecessary shame that comes with accepting the mark of 'mental illness,' and the barrier that shame creates between such an individual and the wide, welcoming arms of 'treatment.' They want it to be easier. Smoother. Unfettered by doubt and other interference. This… this accepting of something gone awry in one's brain. This idea that one needs drugs or therapies delivered by the cold, controlled touch of the system.
They're wrong. Bear with me here as I digress a bit.
Suicide.org
Today, I searched on 'the stigma of suicide' just to see what came up. Not long after, I fell into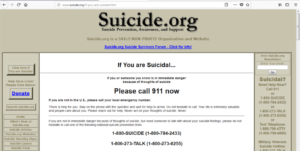 a black hole. Beyond all the anticipated NAMI and World Suicide Prevention Day links lay a deep, dark black hole called Suicide.org. I'm still trying to pull myself out. (Should I call 911 perhaps? I bet Suicide.org would recommend it.)
I realize that those who organize this site are trying to do good. But, here's (just a taste of) what they have to say:
"Because of the stigma (the ignorant stigma, mind you) that still exists concerning mental illness, many people who need help do not seek it. Even though there is clear scientific data that indicates irrefutably that a physical connection exists with most mental disorders, many people still stigmatize others because they stupidly hold on to the misguided beliefs of yesteryear that people with mental disorders are weak or just lack will power."
Actually, 'they' seems mostly to be one man, Kevin Caruso, at least as judging by the 'Our Team'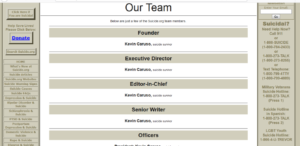 page (where he is listed as filling just about every role). But, regardless… Clear scientific data? Irrefutable physical connection with mental disorders? Gosh. Where is all this incontrovertible proof? The site reads mostly like all the headlines that make big claims, then count on the desire of a gullible readership to be led to easy answers. It's like coming across a "Schizophrenia gene found" header only to read on (as so many fail to do) and learn that they're talking about a five gene combination that, when present, has perhaps a two percent (unreplicable) association with a handful of diagnoses.
False dichotomies
Also wrapped up in the above statement is how stuck in a rut so many people seem to be with this false dichotomy of disease versus weakness. It's pure trickery, yet disease model proponents seem to expect the conversation to go something like this:
Doubter: So, I'm not sure about this whole mental illness thing.
Proponent: Well, you know, it used to be believed that people who struggled in these ways were just weak. It wasn't until we understood mental illness as disease that people didn't need to feel ashamed of being weak anymore. They finally understood it was not their fault. You don't want people to feel like it's their fault, doooooooo you?
Doubter: Oh. Well. No… Of course, I don't want people to feel ashamed or at fault for their pain. So… you win?
Proponent: I'm so glad you understand now.
I guess it works to pretend there are only two options or ways to explain why people struggle with thoughts of death and killing themselves. It's a trend in the mental health system, really. It's like when I was offered the "choice" to go voluntarily to the hospital or else be sectioned unwillingly to exactly the same spot. We'll offer you two ways to explain what the problem is, but we'll barricade off the second option by making it so unbelievably distasteful that you realize there's truly only one way to go. Great. I suppose the one perk is that no critical thought is actually required. They've made it so easy for you to just go on and walk right this way.
I've thought about death and ending my life off and on for as long as I can remember. I don't identify as "hearing voices," but I do have these internal thoughts that don't feel quite my own. They come in a sort of third person kind of way, and have been visiting me for many years. They offer me a near constant barrage of messages about how people are just trying to trick me… especially the ones who are nice. How they're going to set me up to make me look silly. How they're going to laugh at me, and tell others so they can laugh, too.
These messages come in moments of sadness and fear, but also happiness, trying to wreck (or at least place enough doubt about) anything good that's going on so I can't really enjoy it. Sometimes those sorts of thoughts make me feel so vulnerable I become paralyzed. I want to live in the space between showing no emotion whatsoever (because any emotion I show opens a pathway for someone to know enough of me to hurt me), and not appearing to be cold and uncaring. Yet there is no actual space there. All this gets wrapped up and intertwined with how sensitive I often am to the noise and bustle of the world, and it stops seeming like there's any place left for me to be or to breathe. And so ceasing to breathe becomes the obvious choice.
At some point, I started getting better at recognizing those thoughts for what they were. Inside me, but not exactly a part of me. Not (usually) reflective of the reality around me (anymore). I've learned how to anticipate them, find the corners where space lies around them, and regard them as a sign of fear or nervousness, rather than truth. But, there they remain and sometimes they nonetheless still manage to get the upper hand.
Yet I regard myself neither as "weak" nor "mentally ill" (nor "in recovery" [gag]… see my "Recovery Trap" blog for more on that topic). I do see myself as incredibly sensitive to the world and the things that happen in it, which brings both bad and good. I do see myself as having experienced the traumas I did very deeply. (See my "Born to Sense" blog for more on that.) And, I know that when people attempt to tie my personal suffering in with weakness or mental illness, it makes me want to scream. For all that they are erasing about who I am. For all they are doing to let those who've hurt me off the hook.
So, to hell with false dichotomies. Let's move on.
And the real 'stigma' is…
At the start of this article, I said that people who define the 'stigma of suicide' as being tied to the barriers between human suffering and 'treatment' were wrong. They are. Dead wrong. Pun intended.
Sometimes they're innocently wrong, speaking from ignorance and the lines they've been fed, but genuinely trying to fight for the 'right thing.' Sometimes they have ulterior motives, wielding 'stigma' as a marketing tool for pharmaceuticals and the like. Regardless, they all equally miss the mark.
Because the true 'stigma' of suicide (if we're going to persist in using that 'stigma' word… which I hate… see my "Anti Anti-Stigma" blog for more on that) lies in the hands of the treatment system itself, not in what might keep one out of its clutches. The true 'stigma' happens when someone is unable to confess the magnitude of their pain without facing the consequence of involuntary incarceration (aka hospitalization). The true 'stigma' happens when someone wants to die because of how powerless and trapped they feel in this world, and the system's response is to hastily grab their last remaining drops of power away. The true 'stigma' happens when someone wants to die because this world has left them raped or homeless or discarded, and the system tells them that the cause of their pain is all in their head and slaps a diagnosis on. The true 'stigma' happens when our pain based on so very many real things in our world is magically transformed into a 'lifelong illness' for which society bears no blame.
It's the system that leaves the mark of shame, not the suffering itself.
I don't begrudge people wanting to get 'help.' People deserve support when they're struggling, but research on Open Dialogue (for example) does seem to indicate that help is most helpful when people aren't afraid to reach out. When they don't hold out as long as possible for fear of the freedoms they'll lose in the process. And when the help itself has a broader focus than simply keeping someone alive for that moment in time.
Caruso's site spends a lot of time comparing help for 'mental illness' to a broken leg. It reminds me of my very first direct interaction with dear Ronald Pies back in March of 2013 when he compared psychiatric 'disorder' to migraines in the New York Times 'Sunday Dialogue.' I said then, and I'll say again now:
"As someone who has received diagnoses of both ophthalmic migraines and psychiatric disorders, I can assure you that no one has attempted to hospitalize or medicate me against my will for the former."
The question is not how to reduce shame so that more people file willingly into a system that doesn't seem to be doing most people much good (Jung et al, 2017); that's stuck on sustaining itself and controlling people just enough to (try to) prevent catastrophe. That does little more than continue to fight its version of 'stigma' by fetishizing the stories of  those who've suffered or been most marginalized, and demanding they tell them more and more publicly so the masses can feel 'inspired' without ever really needing to change. The question is why are we so incapable of creating supports that don't require people to choose between their basic dignity and a helping hand? Why — when clinical supports fail — does the system perpetually think the answer is more of the same?
These are questions that I and others have asked before. The answers are multilayered. The solutions aren't coming any time soon. In the meantime, perhaps we can at least help each other navigate (or get out of) the system a bit more skillfully. To that end, I am a part of a project (with friend and colleague, Sean Donovan) where we are gathering people's hard-earned wisdom on what they've learned about how to get what they need (and avoid what they don't) from what currently exists, and without needing to buy into anyone else's definition of 'stigma' or what's right.
If you're interested in contributing, please follow the links below:
Survey: Written & Unwritten Rules of the System
Survey: Written & Unwritten Rules of the System for Providers, Family, & Friends
***
Mad in America hosts blogs by a diverse group of writers. These posts are designed to serve as a public forum for a discussion—broadly speaking—of psychiatry and its treatments. The opinions expressed are the writers' own.
***
Mad in America has made some changes to the commenting process. You no longer need to login or create an account on our site to comment. The only information needed is your name, email and comment text. Comments made with an account prior to this change will remain visible on the site.