In a Mad In America survey of people who had been patients in mental hospitals, nearly 500 respondents told of an experience that was often traumatic, and frequently characterized by a violation of their legal rights, forced treatment with drugs, and physical or sexual abuse. Only 17% said they were "satisfied" with the "quality of the psychiatric treatment" they received.
"If it is within my power, I will never ever allow myself to be coerced into going to one of those places ever again," said one female respondent, who, most recently, had been in a California hospital in 2013. "My God, what horrific things go on in those places."
To conduct the survey, MIA solicited responses from Facebook, Reddit, and Mad In America users, from October 20 to November 5. As the survey did not involve a random sampling of ex-patients, but rather relied on respondents who chose to answer the questionnaire, the survey findings should be understood to have come from a self-selected group of ex-patients. However, the experiences reported in this survey echo findings from other investigations of the treatment of patients in mental hospitals, including a 2009 Department of Justice report, a 2016 Buzzfeed investigation, and a 2016 declaration by the United Nations Working Group on Arbitrary Detention.
The most notable findings of the MIA survey include:
More than half of the respondents described their psychiatric ward experience as "traumatic."
Thirty-seven percent said they were physically abused in some way (with forced treatment included as an example of physical abuse).
Seven percent said they were sexually abused.
Only 27% said they felt "safe and secure" while on the psych ward.
Only 17% said they were "satisfied with the quality of the psychiatric treatment" they received.
The survey, even with its evident limitations, serves as a reminder of an ever-present question: why does the history of psychiatric hospitals so regularly tell of "treatments" that many patients find objectionable, and why do so many patients experience psychiatric hospitalization as "traumatic?"
In addition to responding to the survey questions, respondents were asked if they wanted to comment generally about their experience. A sampling of their comments can be found after the presentation of the survey results.
Also, for purposes of full disclosure, while I work for Mad in America and conceived of this survey in collaboration with Mad in America's editors, I have ex-patient experience on two psych wards. This was part of my motivation for wanting to survey other psych ward patients, and to hear their thoughts.
Survey Results
Upon admission
Two-thirds of the 486 respondents were women, and nearly 75% had been hospitalized within the previous eight years. Almost two-thirds had been involuntarily hospitalized at least once, and in contrast to the public perception that forced hospitalizations regularly involve people who are aggressive and violent, only three percent of this group said that "violence," or a situation involving the police, had led to their forced hospitalization. Nearly half said it was because they had attempted suicide, or were suicidal, or had engaged in self harm.
Those forcibly hospitalized reported that doctors and hospital staff often failed to provide a clear reason for their hospitalization. Most told of not being given an opportunity to contact a patient advocate who could help them contest their involuntary commitment.
---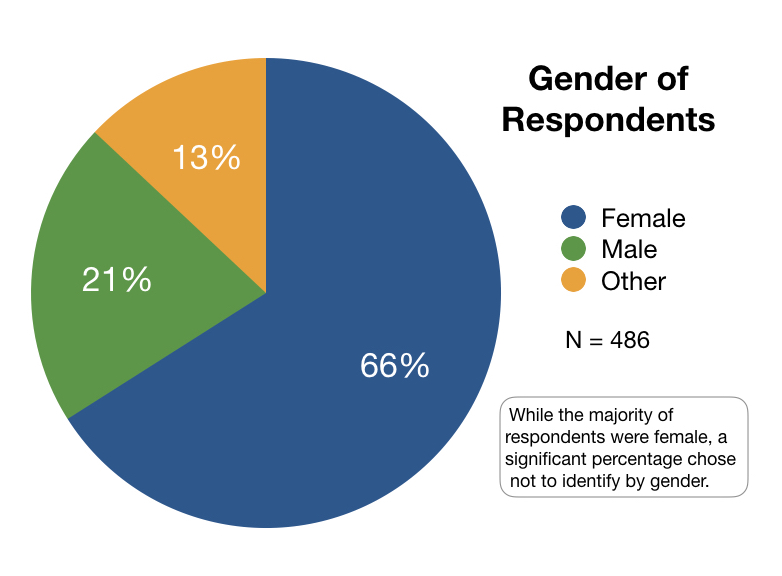 ---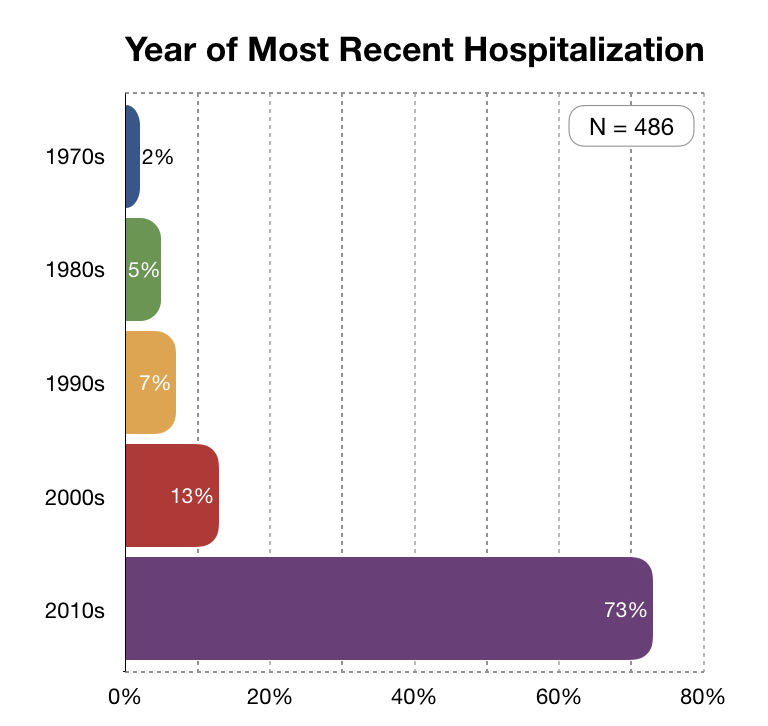 ---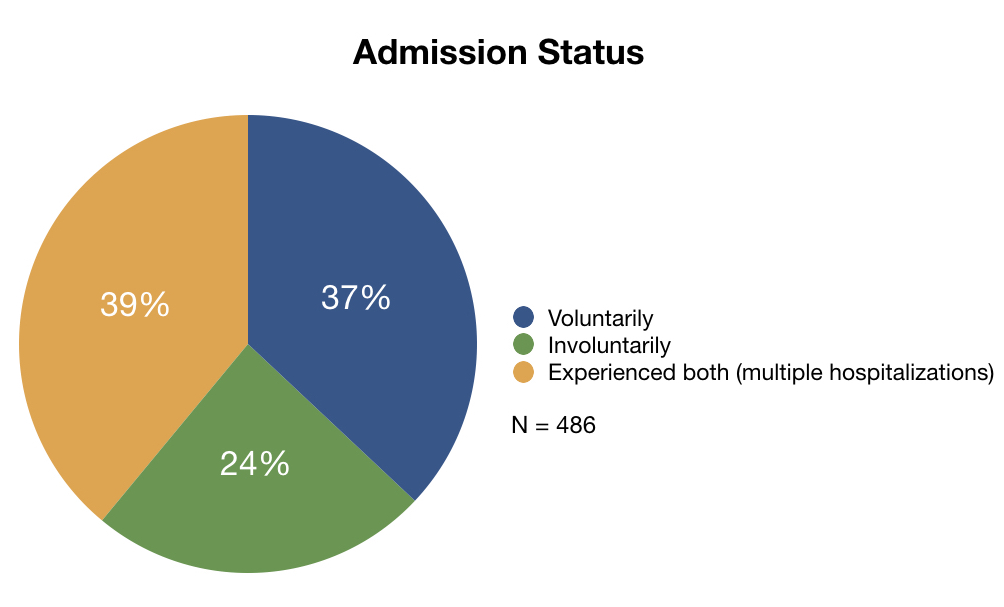 ---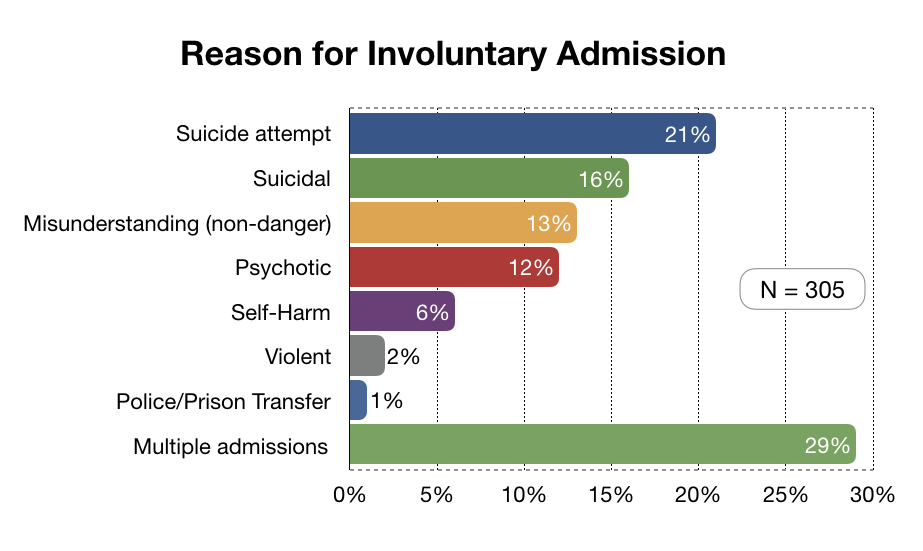 ---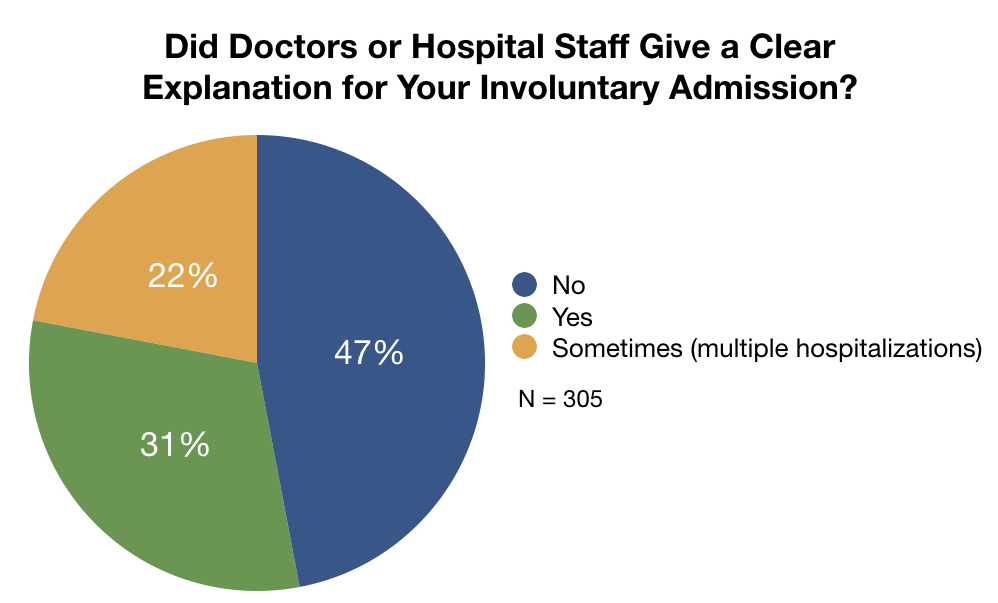 ---

---
Treatment in Hospital
Once in the hospital, nearly everyone was given a diagnosis, with depression and bipolar the most common diagnoses, which is consistent with the fact that the majority of survey respondents had been hospitalized for mood-related difficulties. Nearly everyone was medicated, and polypharmacy was common. Forced treatment, physical abuse, and sexual abuse (attempted rape, groping, or sexual harassment) were reported with some frequency, and not surprisingly, nearly all of those who suffered such abuse considered their psych-ward experience "traumatic." Only about a quarter of the patients said they felt "safe and secure" on the psych ward. Every question related to patient satisfaction produced a majority of respondents who had a negative attitude toward their hospitalization, and this was true also for the medications they were given.
---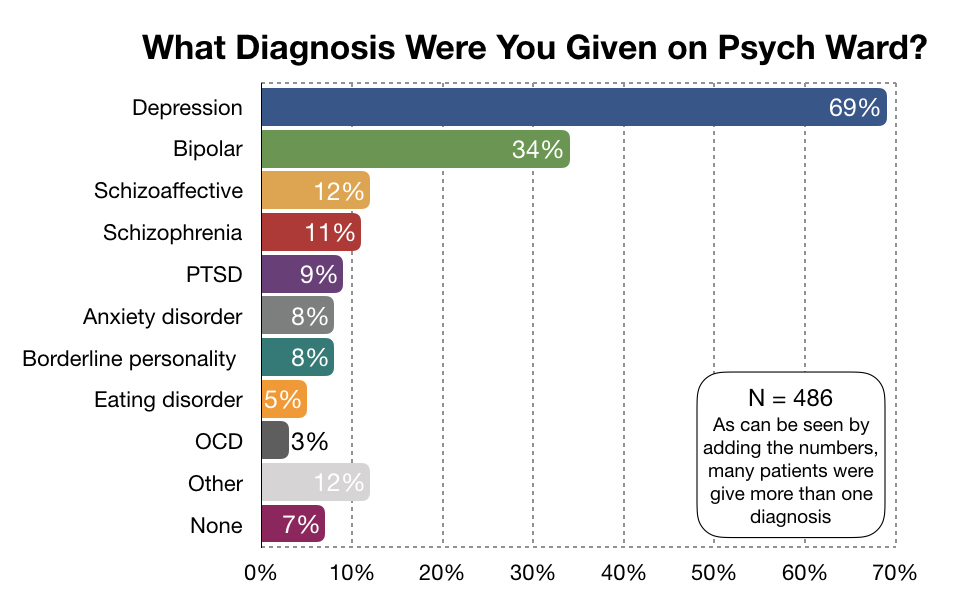 ---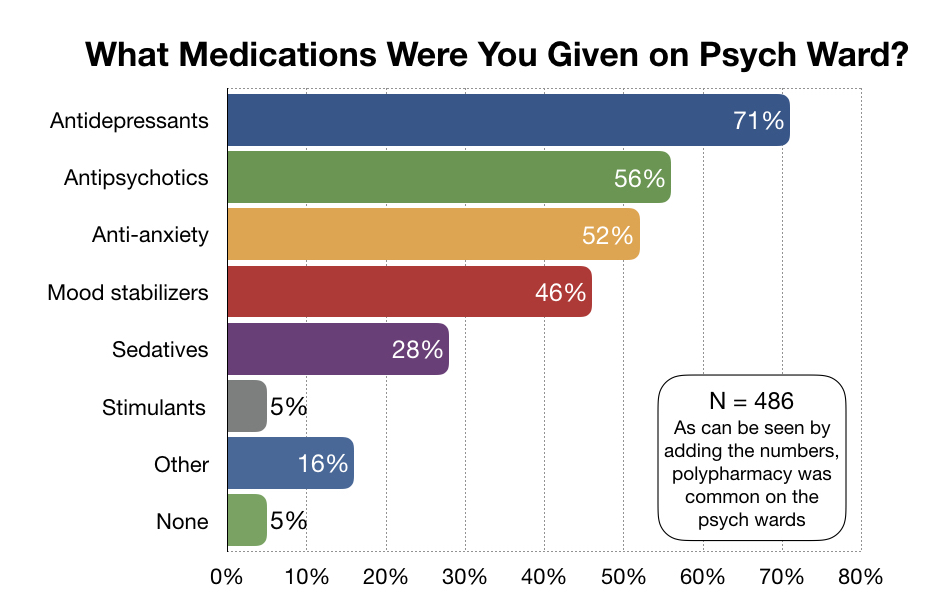 ---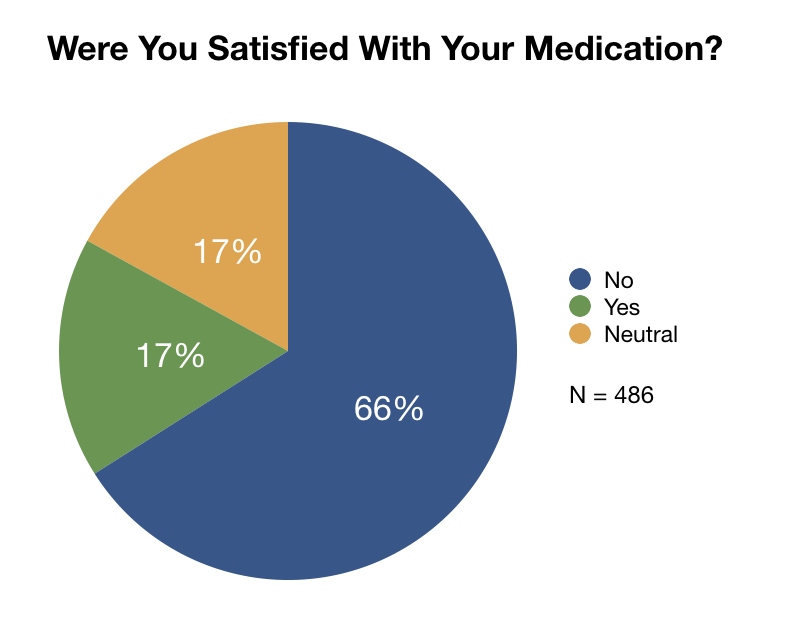 ---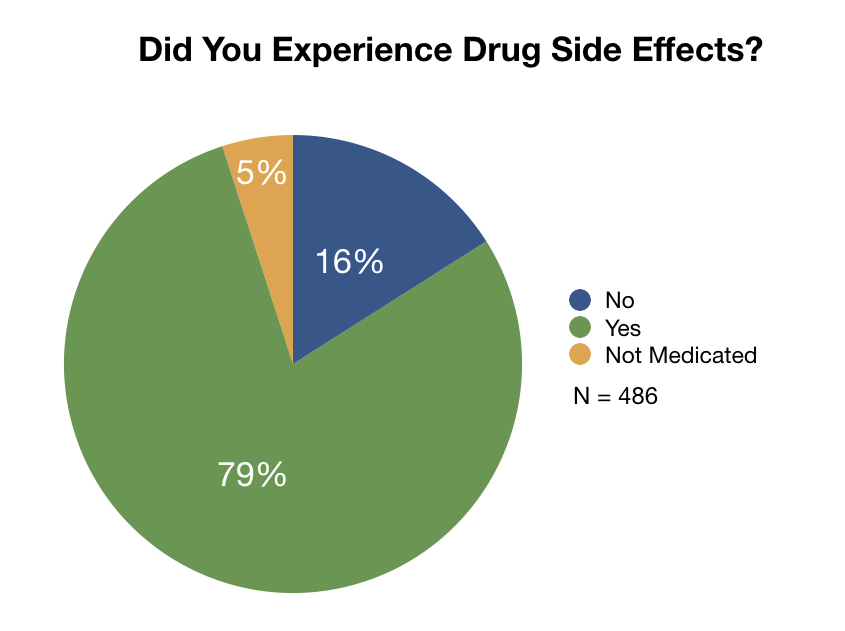 ---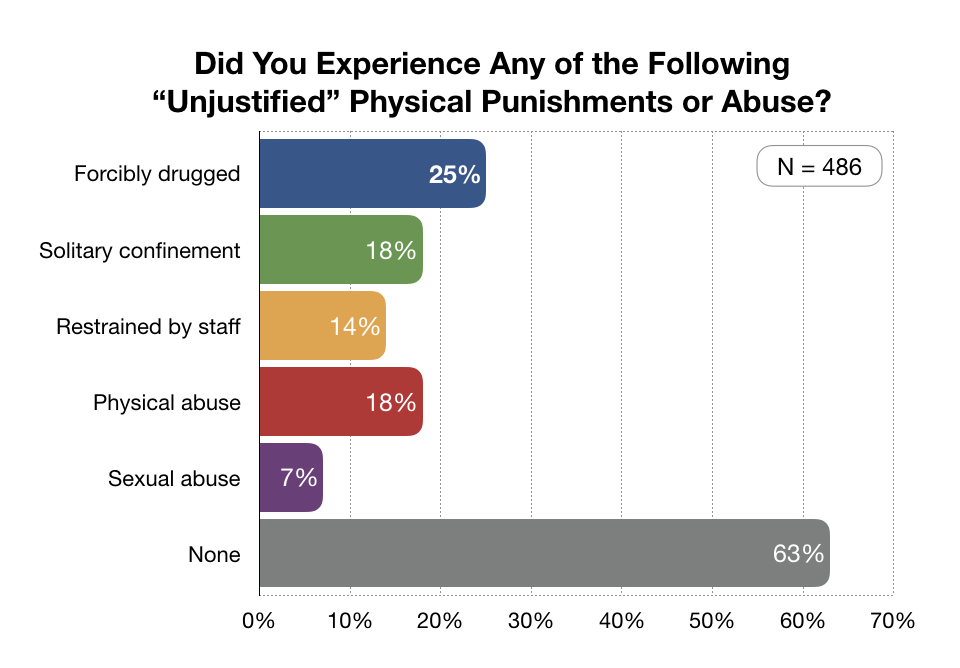 (Note: There were a small number of respondents who reported being restrained or put in solitary confinement or forcibly medicated who didn't consider these actions "unjustified." The figures reported in this graphic are only for those who considered the restraints, confinement and forced drugging "unjustified.")
---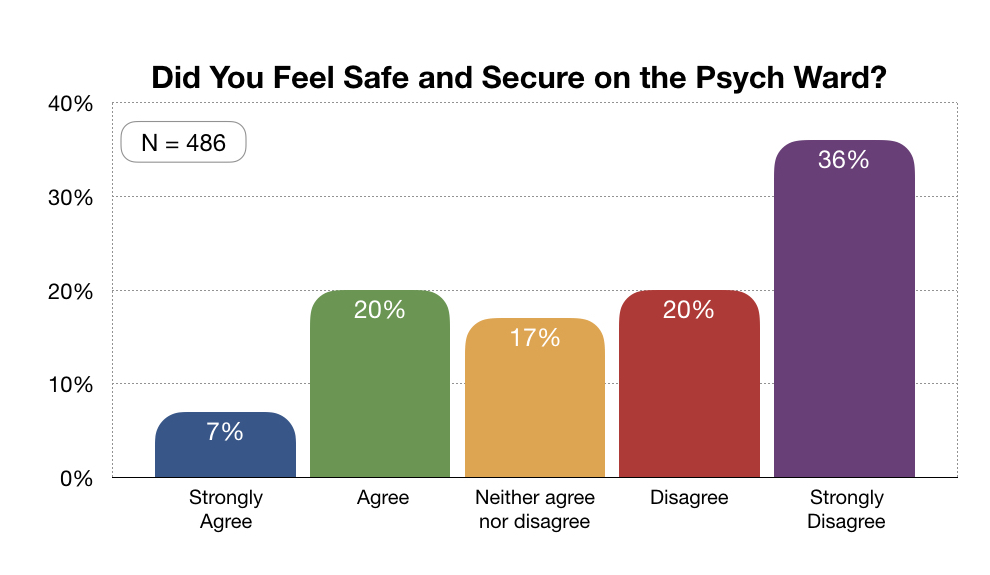 ---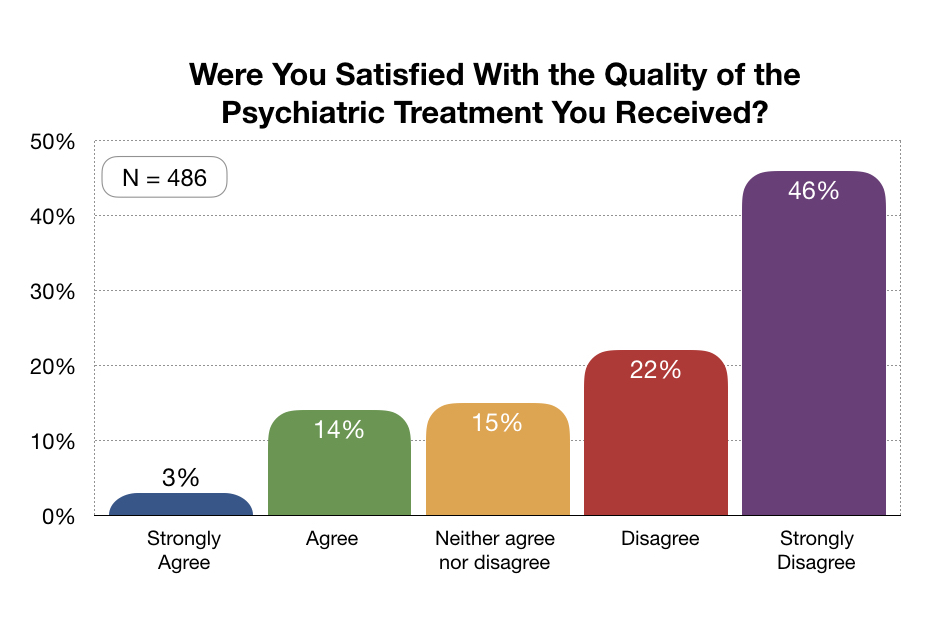 ---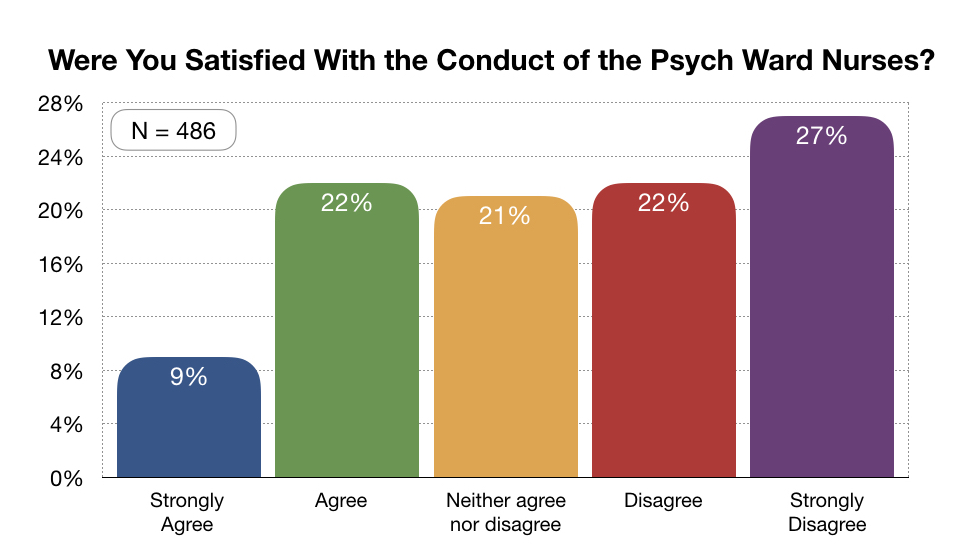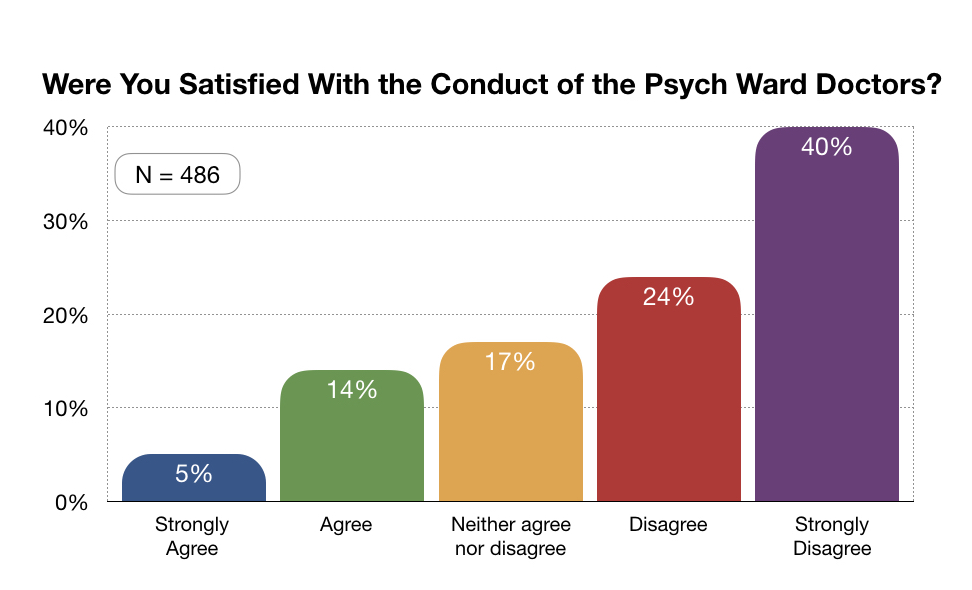 ---

---
Upon Reflection
Although the majority of respondents told of experiencing their hospitalization as a negative, or as traumatic, the majority still said that there were times, particularly in the case of an emergency, that they would recommend "psych ward treatment" to a "mentally unwell friend or loved one." A third, upon reflection, said they believed that their own hospitalization had "saved" their life. These answers tell of a majority of respondents who, perhaps in spite of their own negative experiences, still believe that hospital care can be helpful, at least in times of severe crises.
---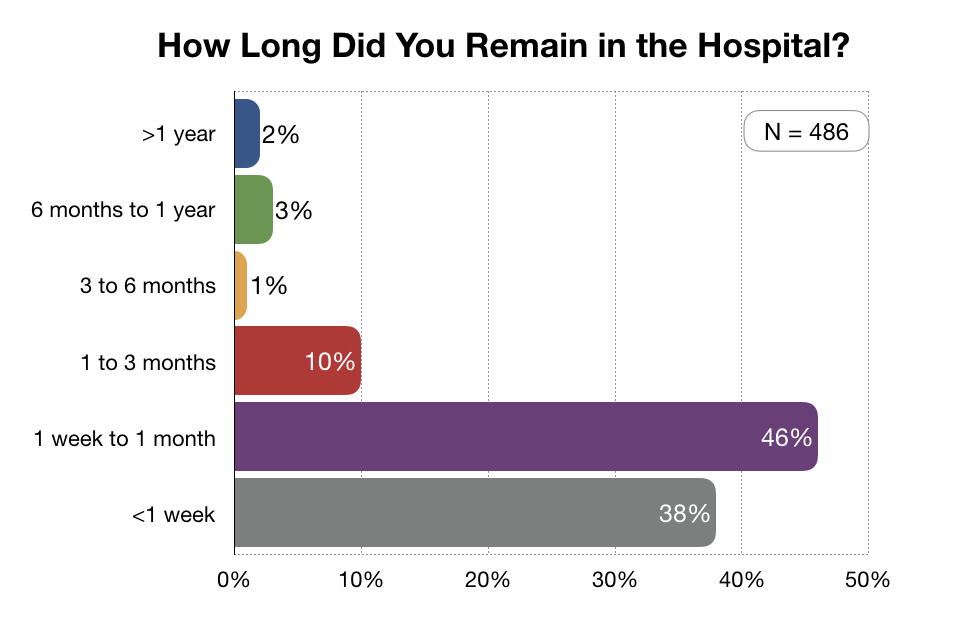 ---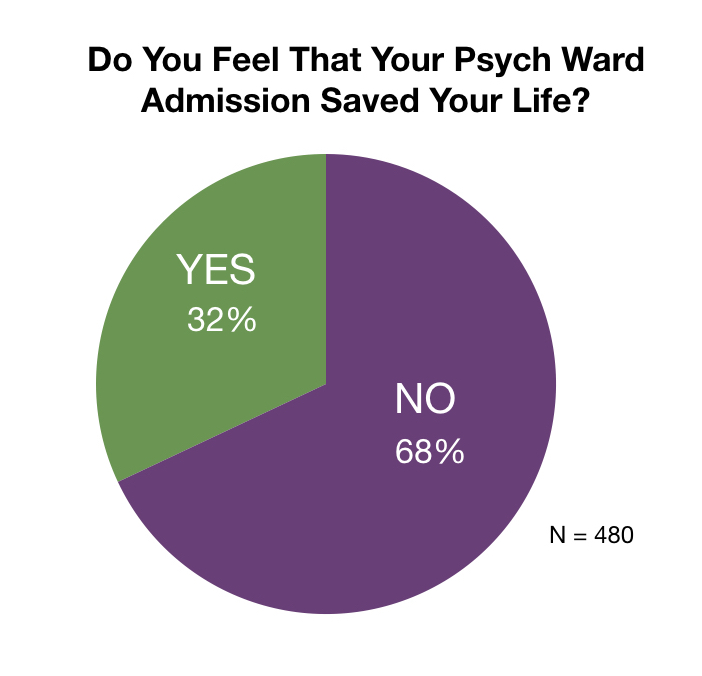 ---

---
Comments
Of the 486 survey respondents, 281 provided additional feedback in the form of written comments. In this group, four percent were positive toward their hospitalization experience, eight percent had mixed feelings, and eighty-eight percent had negative feelings. Many of the comments tell of their having been extremely traumatized by their hospitalization, and how difficult it has been to recover from that experience.
Here is a sampling of the comments:
I only learned that there's no quick fixes and there is something worse than the depths of depression, which is being in a psych ward while severely depressed. No one seemed concerned about helping me, only getting me in and out to pass on the liability.
—
As a survivor of childhood and adolescent abuse and domestic violence, I cannot believe how abusive the hospitals are…Pyschiatric hospitalizations damaged me to the point of giving up, feeling so worthless that I believed I wasn't worth the air I was breathing and needed to die.
—
I feel the need to explicitly emphasise how traumatic the experience was overall, but especially the repercussions which effectively destroyed my high school GPA and social life.
—
It completely angered me to see that the mental health system would fail me this much. I thought it was horrible before hospitalization. Now I know it is. I consider it to be the worst week of my life.
—
Like being in prison and abused, emotionally and mentally, treated like a nonhuman, worse than a dog.
—
Would quite literally do anything and everything to avoid being ever sent to a psych ward again, including taking my own life. Death is far preferable to that kind of false imprisonment, dehumanization, humiliation, cruelty, and trauma.
—
After 8 years of being a zombie, I was finally able to recover when I weaned myself off all psyche. meds. I have a full and serene life today after my escape from the mental health system.
—
It was the most disempowering, stigmatizing, terrifying experience of my life. I am terrified to reach out for help when I am distressed.
—
When I describe precisely some of the worst experience of mine as involuntary prisoner in "psychiatric hospital" folks have assumed I was speaking symbolically but no it was actually literally actually what happened.
—
The only help I received was from other patients and the feeling of satisfaction helping other patients.
—
Being institutionalized was a life changing experience for a girl on the spectrum. It was an exercise in power, and totally unjustified.
—
I lost my 20s to psych facilities, the terrible over-drugging treatment, resulting catatonic depression, and the damaging ECTs prescribed because of that catatonia.
—
I was in a reasonably funded ward attached to a normal hospital, not a city mental institution serving underserved populations, and it was appalling in there. I have nightmares about my experiences.
—
It pretty much ruined my life and I spent over 12 years not really trusting anyone who "cared about me" & wondering if someday my parents and the psychiatrist would turn out to be right (that i would prove to be "ill" and unable to work or live normally).
—
Even though it was 4 years ago, I'm still coming to terms with everything that happened.
—
Psych wards are psychological hell holes and it was pure torture to my humanity and sanity having to be treated for behavior that I literally never even exhibited.
—
I had all my power taken away in a time where I already felt entirely powerless.
—
I was taken against my will and never even got treated.
—
Involuntary Commitment is basically the same as kidnapping, only its legal and "for your own good".
—
My experience with psychiatry is one that I never want to repeat – much of my life destroyed by ECT – much of my life lived as though it never happened due to over-drugging and ECT.
—
My overall functionality took a nose dive after my first hospitalization…I suffer from flashbacks, nightmares, and dissociation. I cannot even be in a room that is visually similar to the one I had at Rush without breaking down.
—
I was frightened due to the unchecked aggressive behavior of a particular patient, and also because of the sexual harassment I was experiencing from other patients, and the cavalier attitudes of the staff.
—
i would of had a better experience, and spent less money, if i instead booked a Caribbean vacation.
—
I was 18, (I'm now 69) I believed them, it took many years to shed the psychiatric label and accept myself and realize it was up to me to have a life.
—
I wish that I could've gotten the doctors and social workers who mistreated me in trouble, they hurt me in a way that destroyed my life when I tried desperately to come forward about abuse, and I havent recovered mentally to this day, my cptsd has driven me to near suicide constantly.
—
I don't think they should be diagnosing in there. That was a major problem I had. I was given a "permanent" diagnosis for a temporary state. And you just can't easily withdraw from mood stabilizers.
—
The system pretty much chewed me up and spit me out. When the way they wanted to help me didn't work instead of communicating with me to figure out the best way to help for real most clinicians have just labeled me either treatment-resistant or 'too difficult to work with.
—
Traumatic. Awful. Unprofessional staff. Obscenely medicated into oblivion.
—
The traumatic experience I felt was so overwhelming I can not begin to undertsand or make it relevant so anyone would or could understand it.
—
Still have nightmares, still have hypervigilance and various triggers when having to have medical procedures. The doctor should have been put in prison for hurting me and many others. This was all 50 years ago, but I still suffer greatly from what they did.
—
My experience was probably not typical (if there is such a thing) but I'm willing to talk about it if that can help anyone. It's been almost 10 years of PTSD therapy and healing, but no meds. I'm not mentally ill but what this experience taught me about the abuse and lack of rights this population experiences is absolutely haunting. If there's ever a way to use my story to undermine that system, I'm here for it.
—
Trauma issues were totally ignored in the hospital and I was told I had biologically-based mental illnesses that would follow me for life. I was heavily medicated and when I complained about the adverse effects I was either ignored or given additional medication. I found that as a patient my voice and preferences were ignored.
—
At one hospital one of the staff told the assembled patients that "mental illness is incurable." How's that for eliminating all hope? I raised my hand and said not only did I not believe that, but I didn't think it was right to demoralize us like that.
—
The experiences we're crushing to my body, mind and soul.
—
Treatment was weapon brandished to control our behavior. It's made it difficult to connect to even the most respectful, well-meaning mental health practitioners ever since.
—
Too painful to reply.
—
They don't listen to patients. It felt an awful lot like I imagine prison feels. Overall, I was treated like I didn't exist or matter.
—
If it is within my power, I will never ever allow myself to be coerced into going to one of those places ever again. My God, what horrific things that go on in those places.
—
I can't stress enough how horrible it was to be ripped of all control over my life and treated without any respect or dignity.
—
It's tragic this is the best the United States has to offer.
—
Human beings should never be treated that way. I am still dealing with trauma. Currently living in denmark due to fear of ever going back to a mental hospital in the states.
—
I was in hospital twice, once after suicide attempt. It felt like a punishment. I am better now, but would rather die by suicide than go to the hospital ever again.
—
I was totally traumatized and I would never NEVER go back, even if I needed the help. I would do anything to keep out of that hospital. It was about the worst experience of my life, and it made my issues much worse, not better… Really the worst experience of my life.
—
Was just horrible. One of the most traumatic experiences in my life.
—
Not one person asked what was going on in my life while admitted, I knew once I was in I should not have been there, but had to follow protocall in order to be approved to leave. I felt I had no voice.
—
There was a sort of comfort in confinement, but it overall the experience was degrading, humiliating, inhumane and condescending.
—
Worst experience of my life. Death is preferable.
—
The human rights violations that routinely happen in the wealthiest country in the world are mind boggling.
—
My psych ward experience was horrific and has left me with trauma. I am now deeply afraid and distrustful of doctors and nurses, and still have nightmares about my time there.
—
They never listened to my concerns about the medication. Once I got out and stopped, my side effects stopped, including the psychosis.
—
The first psych ward I ever went to saved my life. The second psych ward I went to saved my life and my marriage. Neither experience was happy, because healing is never happy. Making the choice to see another day, knowing it and the ones that follow will indubitably be painful, is hard. But psych wards can save lives. It is the closest thing to dying temporarily – to cutting yourself off from the word without permanently severing ties. It can be a relief and often is.
—
I am one of the nicest people, I can't understand how the abuse still goes on. As a person called "mentally ill" it's been a nightmare I have no rights I get abuse time time again no one cares. I tell everyone my children if I am ever locked up again I rather die. I am not suicidal but I'd rather DIE.
All of the comments can be read here.
MIA will be conducting more surveys in the coming months. We welcome your feedback on this survey, and if you wish to send us private feedback, please do so.