Most of us know that there are serious issues with the National Alliance On Mental Illness (NAMI) at the national level. And if you don't know or have any lingering doubts, please oh please, check out at least one of these articles:
In quick summary: NAMI is pro-force, heavily funded by pharmaceutical companies, and one of the lead perpetuators of the whole "we know it's all a brain disease" myth. In spite of the fact that NAMI leadership has at least feigned moves to reduce pharmaceutical funding due to public backlash, one can still look at their 2017 annual report and spot more than two fistfuls of pharmaceutical companies on their list of corporate donors. There's also the disturbing addition of genetics-based companies like 23andMe that encourage the average citizen to turn over DNA samples for casual testing. Think on that for just a minute. Seriously.
I'll wait.
Yet, each and every time I write about NAMI, at least one person approaches me and says, "But not all NAMIs!" People constantly want to let me know that the local NAMI chapters across the country vary tremendously. And, in fairness, that much is true. While many NAMI chapters have busied themselves with such admirable tasks as giving an award to now disgraced Tim Murphy back when he was trying to push through the atrocious Murphy Bill (shout out to NAMI New York!), some of them are undoubtedly more progressive than others. Certain chapters have helped coordinate talks on alternative approaches like the Hearing Voices Network, or invited speakers who challenge the dominant paradigm. I've even heard of a few that intentionally avoid pharmaceutical dollars. For example, in 2012, NAMI Vermont pledged to not accept any pharmaceutical money to fund their activities. And, in 2016, they made their annual walk a local event to avoid association with Alkermes, a pharmaceutical company that became an elite sponsor of the national iteration.
So, here's the thing: I'll never say that all people associated with NAMI are bad. There are plenty of good people in there. (Most of them, really.) For those seeking support, they often land with NAMI for lack of any other option, and it's awful hard to blame desperate people for chumming up with the psychiatric equivalent of the devil's right hand when they're faced with a choice between the sense of community they might find within versus complete isolation on the outside. For people ending up in employee roles, sometimes it's about their wanting to make change "from the inside," or because they've been just as lied to as anyone else about the fact that there's more ways to look at things (or some combination of both). But, none of that changes this small fact: Yes, all NAMIs. Every. Last. One.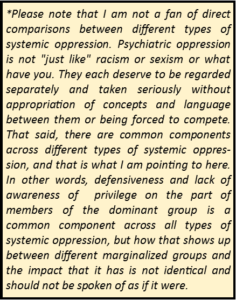 Yes, even the local chapters of NAMI are a problem. Saying "Not all NAMIs" isn't all that far off from any other "Not all" statement. "Not all men." "Not all white people."* Because even the best of them are somehow benefiting from the systemic oppression perpetuated by the dominant group to which they are tied. Sure, not all parts that are associated with the whole believe the same things or act in the same ways. And some of them are even willing to go to bat and stand up to their national head over issues like Involuntary Outpatient Commitment (euphemistically known as Assisted Outpatient Treatment), as NAMI Massachusetts (among others) has consistently done. However, they all benefit from the privilege of association with power, and participate somehow in sustaining the imbalance.
For example, being associated with NAMI means…
You (NAMI folk) are most likely to be the one to get the call when a local school or other group is looking for speakers.
Because, well… familiarity. And familiarity often means not entertaining even a second thought to look any further. For example, the Western Mass Recovery Learning Community where I work has had a strong presence in Western Massachusetts since 2007, and is home to multiple internationally recognized speakers. Yet in spite of our extensive outreach efforts and local and national media presence, we can't compete with the NAMI machine. Colleges and high schools will still frequently seek out speakers from the NAMI office nearly two hours away without ever realizing we're right in their back yard.
I'm aware that might just sound like "sour grapes" to some, but the implications are pretty substantial. If nothing else, behaving as if NAMI is the only act in town creates a self-reinforcing loop that keeps individuals (and perspectives) not associated with NAMI on the outside looking in, and perpetuates the idea that there just isn't anything or anyone else to know.
When one requests a NAMI speaker, there's a possibility that they'll end up with family members or other employees without first-hand experience of their own, either in addition to or to the exclusion of people who've lived through it all themselves. However, much more commonly, it's the 'In Our Own Voice' crew who now responds to the bulk of these requests in many areas. This program was developed under the NAMI thumb by and for people who've been diagnosed.
Well, sort of…
In Our Own Voice was originally called 'Living with Schizophrenia and Other Mental Illnesses'. It was first funded in 1996 by a grant through Eli Lilly, which not-so-coincidentally pushed Zyprexa through FDA approval that same year. (Let's never forget how pharmaceutical industry experts have publicly written about how "advocacy groups" like NAMI are their best marketing tools, as detailed in my 'Dear NAMI' article.) But Eli Lilly funding did not stop there! It continued funding the program at least until 2002 when "Living with Schizophrenia" changed its name to "In Our Own Voice" according to a NAMI press release as follows:
The National Alliance for the Mentally Ill (NAMI) has named one of its premiere education programs-in which consumers with mental illnesses speak directly to community audiences about their experiences with brain disorders, treatment and recovery-in honor of In Our Own Voice, a documentary produced independently by Idaho Public Television (IDPTV) with funding from the Idaho Department of Health & Welfare. The IDPTV documentary includes interviews with NAMI Idaho members and received NAMI's national media award for outstanding public education in 2001. For more information, click here.
Now, I'm told that NAMI further updated the program in 2017 to move it away from a strictly medicalized view of things. The changes were hard won and are supposed to be significant and move away from the old categories of "dark days," "acceptance" and "treatment" (etc.) to much broader ones ("what happened," "what helps," "what's next") that can more readily hold many different perspectives. However, if one looks at the national NAMI website, it's hard to see sign of that revamp in its generic statement. (Could it be that this is all just a way to appease those calling for a shift while not risking too much of their own skin?) Meanwhile, many local chapters continue to describe In Our Own Voice in the same old medicalized way as they always did. (See, for example, Cook County, Illinois's detailed description.)
We are actually lucky in Massachusetts that at least some NAMI employees take a more expansive view of the root of their and other people's experiences, and have for quite some time. However, whether or not all NAMIs across the country will truly follow suit remains to be seen. (Apparently, the deadline for the big shift is in February.) And, regardless, I'm still left wondering whether this undeniably positive shift may do little more at the systemic level than make NAMI national look better, while further securing their relative monopoly on the outreach game.
You (NAMI folk) may find yourself with an automatic seat on various legislative committees and commissions. 
For example, check out the 21 members of a recently formed Massachusetts commission on "community behavioral health promotion and prevention." Note that in addition to NAMI being among the 10 organizations (along with the state's provider lobbying organization, Association for Behavioral Healthcare, and so on) granted a seat, there doesn't appear to be a single spot that requires anyone to have any kind of psychiatric history (not that one would be enough, anyway).
Legal Authority: Chapter 208, Section 1 of the Acts of 2018
Section 219.  (a) There shall be a commission on community behavioral health promotion and prevention located within, but not subject to the control of, the executive office of health and human services. The commission shall work to promote positive mental, emotional and behavioral health and early intervention for persons with a mental illness, and to prevent substance use disorders among residents of the commonwealth.
(b)(1)  The commission shall consist of 21 members, as follows: the secretary of health and human services or a designee, who shall serve as the chair; the commissioner of mental health or a designee; the commissioner of public health or a designee; the chief justice of the trial court or a designee; the director of the center for health information and analysis or a designee; the house chair of the joint committee on mental health, substance use and recovery; the senate chair of the joint committee on mental health, substance use and recovery; 1 person appointed by the speaker of the house; 1 person appointed by the senate president; 1 person appointed by the house minority leader; 1 person appointed by the senate minority leader; and 1 representative from each of the following 10 organizations: the Association for Behavioral Healthcare, Inc.; the Massachusetts Association of Community Health Workers, Inc.; the Massachusetts Association for Mental Health, Inc.; the Massachusetts Organization for Addiction Recovery, Inc.; the Massachusetts Public Health Association; the Massachusetts Society for the Prevention of Cruelty to Children; the National Alliance on Mental Illness of Massachusetts, Inc.; the Social-Emotional Learning Alliance for Massachusetts, Inc.; the Freedman Center at William James College; and the Massachusetts chapter of the National Association of Social Workers, Inc.
Whether or not it's the case here, this sort of thing tends to be the result of many years of high-priced, pharmaceutically funded lobbying efforts to convince everyone that the NAMI voice belongs at every table. Unfortunately, it also often encourages those legislative bodies to believe they've somehow 'checked the box' for including people with first-hand experience on the matters they've set out to discuss, thanks to NAMI's ongoing efforts to convince everyone that family members are "peers," too. (Granted, many NAMIs do maintain a percentage of their staff who actually have psychiatric histories themselves, but these legislative seats set no such prerequisite by design.)
P.S. Dear Legislators: Those boxes are still decidedly unchecked. Please bear in mind that most people who've been through the mental health system have had their lives interrupted in substantial ways. They don't understand the complicated legislative process any better than any other average human, and have often been granted even less access to education on the matter than most. They've also frequently received the message that their voice doesn't count (or even that it's likely to be ignored if they speak up), and they have absolutely no access to lobbyists. If you truly wish to check that box, it's on you to dig (way) deeper and invite people in.
When news happens, you (NAMI folk) are likely to be contacted for your opinion on whatever is going on.
And, if you aren't contacted, you're frequently cited as a primary local resource, even if any actual support offered is minimal and there are other groups providing much more substantial resources. In fact, it is my experience that many local NAMI chapter offices are woefully unprepared to support someone who is actually in distress.
In fairness, I should add that many chapters are clear that direct support is not their main gig (if it is their gig at all). Yet, it seems to me that these supposed national experts on psychiatric diagnoses ought to be able to do better than the average bystander when faced with a crisis, and I'm just not convinced — from all I've seen — that they'd be able to do that at all. But, hey, maybe with your help we can test that out? Perhaps some of you are willing to perform an experiment: Show up to that local chapter office. Say you're thinking about suicide, or hearing scary voices. Act really angry or sob uncontrollably. See what happens to you. Frankly, I'd be stunned if a significant number of 'secret shoppers' didn't find themselves surrounded by blank stares, and people reaching for their phones to dial 911. (Note: I'm saying this in jest. Please don't actually do this. I have no back-up plan for the bad things that may befall you up to and including being shipped off to a hospital. I do not… I repeat… I do NOT… have the personal capacity to bail you out.)
In the end, all this representation basically amounts to free advertising for this already unstoppable self-promotion beast, as well as further access to shaping public opinion which is key to keeping things as they are.
You (NAMI folk) may find yourself with new contracts for which you didn't even have to apply.
For example, recently, a Massachusetts-based funder supplied NAMI Massachusetts with a sizeable chunk of change to research impact and experience of local emergency psychiatric crisis services on the individuals and families who've used them. NAMI did not need to apply or engage in any sort of competitive bidding process for this contract. They then used the funds to create a terrible survey devoid of any input from people who've been through those services and that basically required people to identify as 'mentally ill' in order to even respond. I complained loudly to NAMI and the funder and refused to help circulate it (undoubtedly earning some ire). As a result, the funder did ask NAMI to make some changes to their wording… but they still got to proceed.
Meanwhile, Massachusetts is a state that hosts at least one prominent and well respected research organization that has demonstrated its ability to collect meaningful data with the intentional involvement of people who've been 'in' the 'service recipient' seat in the mental health system (e.g., Human Services Research International), as well as five Recovery Learning Communities where the voice of people who've been 'in' the system is (at least supposed to be) centered at every level of all they do. Nationally, there's also Live & Learn led by Laysha Ostrow (who has absolutely worked with multiple folks in the Northeast) that is all about survivor-led research. It's a wonder in this landscape why said funder would ever think NAMI was the right place to land this sizeable contract, and without any sort of competitive bid process.
In Other Words, All NAMIs…
In other words, NAMI's existing voice and 'brand awareness' serves to only increase their access to financial resources, voice, and power. And it's not as if we all have equal access to achieve the same results. There is no way for us to quite "pull ourselves up by our bootstraps" here. NAMI's ability to get to the point where their name recognition was so significant that it all just kind of keeps feeding itself required them to have substantial financial backing from their early beginnings, and included a combination of pharmaceutical dollars and lobbyists supplied directly by Big Pharma. In other words, their willingness to play party to unethical practices is what allowed them to reach this point. And, it's a point that those who are determined to act with integrity simply aren't able to attain.
Imagine if it was somehow okay for us all to just "do what we need to do" to build our name and then (and only then) disavow our association with the backers who got us there? But that's just not how it can or should work. And what this means for those who have done this — those local NAMI chapters who claim to no longer be benefiting from pharma dollars — is that they still basically are… They might be able to minimize their benefit by not taking dollars now, but it's kind of too late to entirely wash off that stink. It's how they got where they are, and there's no denying that fact. In fact, there is another level of 'gross' here, because those chapters get to scream "Not all NAMIs" the loudest in some ways, while still ultimately benefiting from the power and privilege that was expressly gained because of the many years of being in pharma's cushy bed. There's just no winning here. Even if I'm to believe that some of these changes are for the best (and they certainly are, at least at the individual level), there's still so many reasons to be mad, and not accept it as "enough."
And that's the good ones. The best of the best. The closest to "Not All NAMIs" that there could ever be. Meanwhile, most NAMI chapters actively perpetuate the worst messages. Here are a few examples:
But, that's okay, because they love and accept you (just read their newsletter and you'll see!), and a god that you may or may not believe in also loves and accepts you… So, they're just going to proceed like you believe in that (every last one of you, no matter what you say) because who cares what you believe in or not, anyway. After all, even though they "accept" you, they still know you're crazy, and their belief system is the dominant one and they have more power than you. So, they don't actually need to care what you think.
Playing Twister with NAMI
I've watched organizations contort themselves for all these 'Not all NAMIs' based on a wide array of justifications. Sometimes they are even doing so in an effort to try and build enough of a rapport that NAMI might someday be influenced to change. And, in some ways, I can appreciate that strategy. Hell, I've implemented it myself in other scenarios. Yet, my question to such organizations and groups is: How's that working for you?
Is the time and energy invested actually getting you the results you want? What have you had to give up or compromise on as a result? And what groups with even less power than yourselves might you be harming along your way to trying to tap into the power that NAMI currently holds? Is it all actually worth it? And, if not, wouldn't your energetic resources be better spent elsewhere?
I just recently had an argument with a friend on this topic. He suggested that if we could just reach some of the lowest hanging fruit — the local NAMI chapters that seem most open to change — that perhaps those local NAMIs would then take on the task of influencing the national NAMI to change, too. I don't buy it. Not for a second. All I see being accomplished is our spending our energies working on an impossible goal when we could be working on something else. Another common feature of systemic oppression is the tantalization of marginalized groups who are somehow convinced to willingly turn so much attention to unwinnable battles, rather than doing something productive. It reminds me of my high school physics class where we compared the energy created by pushing on an immovable wall, versus a heavy stone that, while hard to push, will actually roll.
However, my friend did make one point that caught my attention. Specifically, he suggested that maybe if certain local NAMI chapters could be so radicalized as to, at some point, choose to drop the NAMI name and affiliation altogether, we could perhaps make some progress. Now, there's something I could get behind. How best to chip away at a gigantic force than to convince some parts of its actual body to fall entirely away, and morph into something unrecognizable as once being a part of the whole? There are, in fact, people in some of those NAMI chapters doing good work, and maybe this is a way for that good work to stay good, and not inadvertently strengthen something bad.
But, of course, that would require all those local chapters to give up the power and privilege they gain through that affiliation. They'd have to be willing to not only speak differently, and argue for different things, but accept that they'll face much bigger challenges and barriers simply for excommunicating themselves from the parent with all the power.
Until then, I'm unconvinced. Some NAMI chapters may not be taking (as many) pharma dollars anymore, but they're still benefiting from all the years that they did, and that NAMI national still does. They may now be at the start of offering more varied narratives about what "mental illness" is and how to move through it. Yet, this comes only after decades of harm caused by the "mental illness is just like diabetes" empire that's been built, and that continues to thrive. I'm interested in the dismantling, not the building further up. The building further up scares me, even (and maybe especially) if some of the new blocks are made of good, solid wood.
Now, I should add that inevitably I'll get some backlash for this piece. There's a certain expectation that we all exist under a "big tent" that welcomes "many perspectives," and that anyone who bucks that is the real problem. (See also: It's a Circus Under This Big Tent.) Yet it seems just a little bit strange that I should be expected to "play nice" with a group whose history includes fighting for all the most damaging, force-ridden and dangerous ideas and actions (and sometimes lies) against people that my job and my life and my values demand that I defend. Stranger still that I should be the one at risk for exclusion (new diagnosis: "Doesn't play well with others!") should I not be willing to do so. And, strangest of all that I — with my tiny fraction of access to any speaking platform at all — should be critiqued for using it to speak my truth, and not wanting to share with people who have already claimed the other 98% or so of platform real estate on this particular topic.
In reality, I don't need to pretend that what's been said and done hasn't been harmful for the sake of aimless diplomacy or avoiding conflict. I'm going to have to accept the losses that come with speaking truth, because I can't accept the losses that come with silence. Because why on earth should those who've been harmed be expected to go out of their way to keep those who've done the harming comfortable, or to make space for them to continue to do damage? Where does the idea that that's how it should be even come from? I'm not the one who owes a debt, here. But I won't be holding my breath for those who do to fully pay up any time soon.
***
Mad in America hosts blogs by a diverse group of writers. These posts are designed to serve as a public forum for a discussion—broadly speaking—of psychiatry and its treatments. The opinions expressed are the writers' own.
***
Mad in America has made some changes to the commenting process. You no longer need to login or create an account on our site to comment. The only information needed is your name, email and comment text. Comments made with an account prior to this change will remain visible on the site.