In order to survive in this world one must choose, in some way, to "be mad." Orthodoxy, at least from the perspective of the Orthodox, is the way that succeeds best. To truly live an Orthodox life one must be willing to be perceived as mad in the eyes of the world.
For some, the beliefs of the Orthodox may appear to be pure madness, even delusional, especially from the perspective of modern western medical science. However, the DSM-5 contains a loophole in the definition of delusion that would technically prevent any professionals adhering to that manual from making such judgments:
delusion:  A false belief based on incorrect inference about external reality that is firmly held despite what almost everyone else believes and despite what constitutes incontrovertible and obvious proof or evidence to the contrary. The belief is not ordinarily accepted by other members of the person's culture or subculture (i.e., it is not an article of religious faith). When a false belief involves a value judgment, it is regarded as a delusion only when the judgment is so extreme as to defy credibility. Delusional conviction can sometimes be inferred from an overvalued idea (in which case the individual has an unreasonable belief or idea but does not hold it as firmly as is the case with a delusion).
The Orthodox know that some of their beliefs may appear to some as "so extreme as to defy credibility," however, they are "article[s] of religious faith." Thus, the DSM-5 would technically prevent all healthcare professionals bound by that book (and others like it) from making any diagnoses based on such beliefs. Likewise, international law — and often national law — protecting freedom of thought, conscience, and religion or belief would prevent governments conforming to such laws (and professions regulated by those governments) from imposing beliefs that deny these freedoms. Anyone in the private sector is free to disagree with Orthodoxy, even in the strongest of terms, but those in the public sector can only do so as private citizens and not in any official capacity.
Orthodox clergy, such as the author of this blog, are free to publicly express themselves on matters pertaining to the Orthodox Faith, and this freedom is legally protected by secular governments that uphold freedom of thought, conscience, and religion or belief. This may appear to give them an unfair advantage in debating any conflict that may arise with the beliefs imposed by such governments or government-regulated professions, since those they would be debating would be legally unable to present any rebuttal. If this were to hypothetically happen, however, the question would be: how can such governments or government-regulated professions legally impose such beliefs on their citizens in the first place?
An Orthodox clergyman or monk is called to be a physician of souls, which in Greek is ιατρού των ψυχών (iatrou ton psychon). If one were to coin a single English word based on that Greek, it would be: psychiatrist. This is no mere coincidence because the main concern of a true psychiatrist is the care and health of his psyche (i.e., his soul) and all the souls for whom he is a spiritual father. (This is why the honorific "Father" appears before the name of the author of this article.) Presumably, there may be some overlap, possibly even conflict, between the psychiatric beliefs of the 2000-year-old Orthodox Faith and government-regulated medical professionals falling under a similar term coined by the German physician Johann Christian Reil in 1808: psychiatry. (Copy and paste the abovementioned Greek roots of the word psychiatrist into Google and see what images are presented.)
Below is a description of Orthodoxy followed by a summary of modern western psychiatry from an Orthodox perspective. The intent is not to argue for or against any particular religious belief or lack thereof since Mad in America is not an appropriate venue for such debates. Orthodox belief regarding the human psyche is simply presented with a description of how this belief would see modern western psychiatric theory and practice. There will be no actual argument for or defence of these Orthodox beliefs because this is not the place for such discussions.
Orthodoxy
Since the following section will briefly describe modern western psychiatry from an Orthodox perspective, we will first consider Orthodoxy from a non-Orthodox perspective. The Orthodox firmly hold that everything bad that is taking place in the world is due to evil. They go to Church services, often more than once a week, pray, buy icons, and study Church literature. They fast on Wednesdays and Fridays because they believe Judas Iscariot betrayed Christ for 30 pieces of silver on Wednesday and on Friday the council of Jewish priests had Christ crucified. When they pray, they may appear to talk to themselves in a low voice. They believe in the existence of heavenly essence, God and angels, etc. They are unable to criticize their beliefs and some have been known to hallucinate (e.g. "vision of ghostly evil spirit with horns on the head") even at a young age, such as 12 years old.
A person as described above could potentially be diagnosed with schizophrenia or some other mental illness involving psychosis if the DSM didn't exclude such "article[s] of religious faith" from being used in making such diagnoses. The above description is actually based on an English translation of a 1966 hospital chart from the Georgian Soviet Socialist Republic Tbilisi Healthcare City Psycho-Neurological Hospital. While the translation may benefit from some improvements, this person was diagnosed as: "psychopathic person, inclined to schizophrenia-like psychosis blanks." "He was treated with the aminazinophrazia and syptomicine therapy, after which he passed commission."
As such diagnoses are known to do, this person, an Orthodox monk named Gabriel, was ostracized by society, even being suspended from priestly ministry. Due to the way he was treated by authorities and society, he decided to embrace the ascetic discipline known as foolishness for Christ's sake. A fool-for-Christ takes on the appearances of insanity to bring upon himself the ridicule of others in order to battle within himself the root of all sin, the passion of pride. (Please note that the word passion has a more specific usage in Orthodox theology than in Aristotelian philosophy.)
While the root of all sin is the passion of pride, the remedy for all of the passions is humility. In this lifestyle of appearing insane for the sake of humility, Monk Gabriel grew in holiness and within a few years began to gain the respect and reverence of both secular and church figures. Seven years after his repose on November 2, 1995, the Georgian Orthodox Church officially recognized him as a saint: Saint Gabriel (Urgebadze) of Mtskheta, Georgia, Confessor and Fool-for-Christ.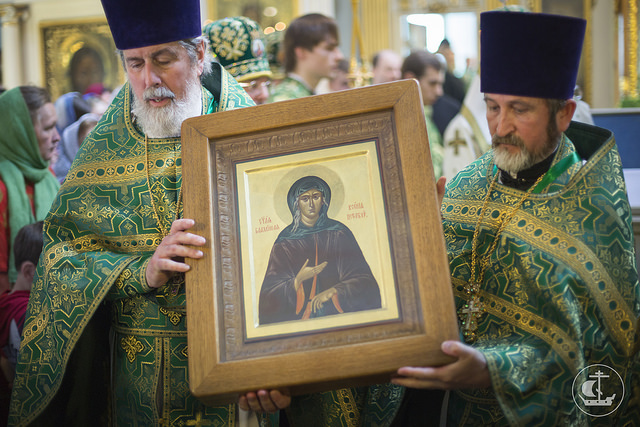 The Orthodox believe that we are all mentally ill due to sin and that the Orthodox Church is the hospital for the soul, the psychiatric hospital with God being our Psychiatrist, the Physician of our souls:
"O Physician of our souls, who knowest the mind of man, in Thy compassion heal our infirmities, for we are weak and broken by sin." (Troparion of the Prophecy for the Sixth Hour of the Monday of the Third Week of Great Lent)
This psychic healing comes from acquiring an "inner stillness," which is called hesychia, through ascetic discipline and contemplative prayer. The stages of acquiring this "inner stillness" or hesychia are often described as: katharsis, the purification of the soul from egotistical passions; photisis, the enlightenment of the soul, a gift of the Holy Spirit once the soul has undergone purification; and finally theosis, union with God. Theosis is partaking of the Divine nature and escaping the corruption of this world, which the Orthodox believe is salvation.
From a worldly perspective, this hesychastic practice of the Orthodox may resemblance the mysticism of Eastern religions (e.g., Buddhism and Hinduism), but any similarities are merely superficial. To use the Jesus Prayer as a mantra, for example, would violate its purpose and be considered as spiritually harmful in the hesychast tradition. Nonetheless, hesychasm is quite different from the modern western understanding of Christianity.
The Orthodox Church began 2000 years ago in the Land of Israel, which was part of the Roman Empire at that time, and spread throughout the known world within a few centuries. They described their faith using the intellectual language and philosophy of that time and place, which followed in the tradition of the ancient Greek philosophers. While they used this language and philosophy, the Orthodox Faith itself came from Divine revelation and did not develop from Greek or any other philosophy. Thus, the Orthodox Faith must be understood from the perspective of the Orthodox Faith and not from ancient Greek philosophy or any other modern or ancient philosophies.
Although there are many books concerning Orthodox belief regarding the psyche and its healing (one by the Greek metropolitan and theologian Metropolitan Hierotheos even having the title Orthodox Psychotherapy), for simplicity's sake, only two modern books will be recommended as representing this important aspect of Orthodoxy. The first is God's Path to Sanity: Lessons From Ancient Holy Counselors on How to Have a Sound Mind by Dee Pennock, which provides a clear and orderly summary of the writings of Orthodox physicians of souls. The other is Wounded by Love: The Life and Wisdom of Saint Porphyrios, which is a compilation of more than three decades of notes kept by a couple of women who knew Elder Porphyrios. While this latter book is a good summary of the Orthodox Faith in general, it also contains a great deal specific to Orthodox psychiatric belief.
Modern Western Psychiatry
The ancient Greek philosopher Hippocrates theorized that mental illness may be rooted in physiological abnormalities. Hippocrates even wrote that he praised Democritus for cutting open animals in his garden in an attempt to discover the cause of madness and melancholy. Nonetheless, a central idea found in ancient Greek philosophy is the concept of the psyche (i.e., the soul), which is immortal and distinct from that which pertains to the body (i.e., the somatic). This is why the Orthodox adopted this same language in describing the human person as a psychosomatic being with the destruction of this psychosomatic unity resulting in physical death.
Since that time, many physical illnesses and injuries have been identified as having a profound affect on the psyche and the psychosomatic relationship. However, the exact nature of how these physical illnesses and injuries cause these problems has eluded secular medical science. The Orthodox, on the other hand, would explain this as Fr. Theophanes (Constantine) did in Volume 1 of The Psychological Basis of Mental Prayer in the Heart:
"The soul functions through the body, and if the body is damaged, say in its higher brain centres, then the soul cannot express itself, without for all that having been lost."
The field of psychology can be open to either psychic or somatic causes for various psychic problems; however, medical science is focused solely on the somatic, on the biology. While medicine can be combined with psychology, somatic medicine itself is incapable of healing a psychic problem that has no somatic cause. The Orthodox will admit that some psychological methods can be useful to a certain point, but somatic medicine is incapable of actually healing illnesses that are truly psychiatric.
The wide-scale acceptance of the 17th century theory of materialism, which developed in reaction to Cartesian dualism, creates further confusion for somatic medicine. The belief that matter is the fundamental substance in nature subsequently requires believing that all mental aspects are the result of material interactions, with the conclusion that mental illnesses must be material (i.e., chemical) imbalances.
By incorrectly placing psychiatric illnesses within the domain of physical illnesses, somatic medicine is expected to do something it cannot do. This is not only unfair to those who seek treatment from professionals in the wrong field, it is unfair to place such expectations upon those professionals. It must be maddening for such professionals to know that less than 5% of their patients will recover, but to have no clue as to why that less than 5% is able to recover. It would be even more maddening for these professionals to know that between 40% to 50% of patients who terminate treatment will recover without any of their professional expertise. It is doubtful that a person would go into such a field knowing this, but once committed to that field, they are trapped within a culture holding false beliefs about external reality, and continue to firmly hold these beliefs despite all incontrovertible and obvious proof and evidence to the contrary.
The theory of materialism, for which there is no empirical evidence and must be accepted merely on blind faith, is not only in direct conflict with the Orthodox Faith, the use of the terms "psychiatry" and "psychiatrist" make no etymological sense within the context of materialism. Since the Greek concept of the psyche is distinct from anything somatic, which is why the Orthodox adopted these words, the medical field of "psychiatry" is wrongly called so because it does not deal with anything specifically psychic, but only the somatic. While the term psyche could possibly be used as a metaphor for something somatic, this would make the word psychosomatic rather meaningless.
While the modern western medical field of so-called "psychiatry" deals only with the somatic, their somatic treatments do have a profound affect on the psyche and the psychosomatic relationship. Although it was the observed lessening of the psychic troubles of epileptics after having seizures that led to the development of electroconvulsive therapy (ECT) and other shock treatments, followed by the development of neuroleptics and newer classes of psychotropic drugs, this same response can be observed in survivors of traumatic brain injuries (TBI). Some TBI survivors who have also had major interpersonal and social traumas, often caused by becoming disabled, can objectively look at their situation and conclude that they should feel depressed, but can't because of their acquired TBI. In like manner, the neuromodulating techniques of somatic medicine could potentially quiet or mute psychic troubles, but they are unable to do so with much accuracy or consistency. More importantly: they are not actually treating the true problem.
Dee Pennock sums this up well in the above-mentioned book:
Many mental afflictions are caused by passions disturbing or temporarily taking possession of the soul. The medical art can sedate symptoms, but cannot remove passions from the soul. One time when it's important to understand this, and to make the right choice between a medical doctor and a physician of the soul, is in the treatment of prolonged or recurring depression. Is the cause physical or spiritual? Is it in the brain, or in the soul? Can it be healed medically, or must it be healed spiritually? (Healing isn't proved just by having the symptoms disappear, as they could through incapacitation or death. It's shown by such a recovery of health that the underlying cause of the symptoms is itself removed.)
Pain often alerts us to something wrong inside the body. And depression serves a similar purpose, say holy counselors. It's frequently given or allowed by God, they say, to draw our attention to something threatening the health of our soul. Most depression, in persons not suffering severe loss or injury or other trauma, comes from specific spiritual disorder… So the medical art, though it may be used to give temporary physical relief, is not the primary need here. Rather, the spiritual treatment prescribed by physicians of the soul is the one called for.
Applying medications to suppress symptoms caused by a spiritual infection in the soul, say holy physicians, will leave the soul blocked off, with no relief from what is producing the symptoms. Attempting to treat a spiritual disorder by material means like this wrote one ancient counselor, is like covering a festering wound with a plaster, preventing it from draining, and leaving the poison to spread beneath the surface.
A person may have lived many years with suicidal and even homicidal ideation without ever being in any danger of acting upon these symptoms of psychic distress. While there is a chance that some form of neuromodulation prescribed by a somatic physician may completely mute these symptoms, there is also the chance that the rational part of the soul that has prevented the person from acting on these symptoms is muted, resulting in suicide or homicide, or both. Nonetheless, even if the neuromodulation is successful in muting the symptoms alerting the person of the need to address serious psychic problems, they will then feel no need to address those problem, leaving them just as ill, but with no symptoms.
Regardless of how a materialistic approach attempts to treat psychiatric problems, according to the Orthodox, it cannot succeed. However, the suffering and humiliation caused by the so-called "psychiatry" of modern western medicine can be spiritually beneficial. As Saint Porphyrios said in the other above-mentioned book: "A person who is accustomed to humiliation attracts the grace of God."
Elder Porphyrios also explains why humiliation is beneficial in healing psychiatric illnesses: "The cause of psychological instability and disorder is egotism. This is something that psychiatrists themselves, if they explore the matter, will discover, namely, that the egotist is sick."
A spirit of humbleness, full of peace and love, is not only beneficial to the person being harmed, it can also be beneficial to those who are doing the harm. The example for the Orthodox is set by Christ, who prayed as He suffered: "Father, forgive them, for they do not know what they do."
Holy Protomartyr and Archdeacon Stephen, and many others, followed this example by praying just before falling asleep in this life: "Lord, do not charge them with this sin."
This is much easier to say than to do, but for those who have acquired hesychia ("inner stillness"), it is even possible to follow Christ's command: "bless those who curse you, pray for those who mistreat you."
To the world, this may seem like madness, but to the Orthodox, it is the only path to sanity.
Conclusion
Feel free to agree or disagree with the Orthodox beliefs presented above and any possible future articles on Mad in America regarding the Orthodox Faith, but please voice this agreement or disagreement elsewhere. It is quite gracious of Mad in America to post this Orthodox perspective on psychiatry and hopefully no offence will be taken by others with different beliefs as none is intended. Those with different beliefs would, presumably, also believe that their beliefs are correct and those beliefs are protected by international and national law. Perhaps you should ask yourself: are your beliefs regarding psychiatry being protected by law?
Of course, expressing an opinion that the Orthodox perspective presented here is madness and the author himself is mad would not really offend anyone. After all, Our venerable and God-bearing Father Anthony of the Desert (251–356 CE) said: "A time is coming when men will go mad, and when they see someone who is not mad, they will attack him saying, 'You are mad, you are not like us.'"
***
Mad in America hosts blogs by a diverse group of writers. These posts are designed to serve as a public forum for a discussion—broadly speaking—of psychiatry and its treatments. The opinions expressed are the writers' own.
***
Mad in America has made some changes to the commenting process. You no longer need to login or create an account on our site to comment. The only information needed is your name, email and comment text. Comments made with an account prior to this change will remain visible on the site.