I was surprised when members of my field theorized that emotional suffering (sadness/anxiety) is a physical illness caused by a spontaneous chemical imbalance that takes control of one's brain. I was stunned when millions eagerly adopted this never-verified idea,1 without any confirming blood test or brain scan.
We've all become upset over upsetting circumstances or events. Yet many of these believers either deny the reality of having such reasons for being upset ("My life's fine; I've got no problems. Depression just runs in my family") or acknowledge reasons but fervently dismiss their reaction to them as unwarranted ("I shouldn't be getting so upset over such things, so it must be chemical"). They often zealously insist that "antidepressants really fixed my brain chemistry" even after being shown proof that these drugs only work via the placebo effect,2 and even though there's no way they could distinguish a real effect from a placebo effect. I've heard these or similar quotes from many people who've come to see me.
I had déjà vu: Where had I encountered such widespread, unshakably devout, illogical thinking before?
Then it came to me. For thousands of years, man has accepted the never-verified idea that our suffering is under the control of an all-knowing/loving god, who'll heal us if we pray to him regularly (as guided by priests) and "take him into our hearts." This is parallel to how we now get our 'chemical imbalance' healed by regularly asking doctors, who we trust to be wise and caring, for drugs that get taken into our brains.
Both systems utilize parent-like caretakers who alluringly promise easy solutions to life's difficult realities. Both involve firm belief in a force that's powerful and fate-controlling, yet completely undetectable (God or an inborn 'chemical imbalance'). We understandably wish it was true, but on some level probably know it's highly unlikely. Our faith is reinforced by others around us also believing in it; it seems that if we all pretend together that something is real, then that itself can make it so. We thereby trick ourselves into transiently feeling better upon praying or taking antidepressants, despite their not really doing anything, and despite our troubles still being there.
As Robert Whitaker showed in "Do Antidepressants Work? A People's Review of the Evidence," not only do antidepressants' placebo benefits not last long, but people who take them tend to get more miserable in the long run. This begs the question: Why do they choose to stay with them? Here we find another parallel to other religions: It must be their enduring faith that if they keep believing in 'chemical imbalances' and remain steadfastly adherent to pill-taking rituals as guided by their leader, then eventually their patient struggles will be rewarded with everlasting peace and happiness ('nirvana' or 'heaven').
Why did our society adopt this new faith? Darwin's and other scientific discoveries in the 1800s-1900s ultimately caused many to question their faith in God. Since everything was now undeniably explainable as a mere consequence of evolution, the concept of some divine master plan became a less plausible explanation for our existence/suffering. Hence, our need for hope of some miraculous but plausible solution to life's unavoidable struggles became unmet. This likely led to our colluding to found our "depression is a treatable disease caused by a chemical imbalance" religion, since it could masquerade as a credible science. Its seeming to come from science was especially fitting, since it was science that had dethroned God.
It started with the Church of Prozac ca. 1990 AD. That's exactly when the number of religiously unaffiliated Americans began its big rise (from 6% up to 25%, after staying about 6% for decades).3 Antidepressant use rose 400% during this time.4 This supports the idea that our ceasing to hear God drove us to embrace 'Listening to Prozac'.5 Along with other factors I discussed in an earlier article, it explains why antidepressants and the chemical-imbalance theory, despite being around since the '50s, didn't catch on until 1990.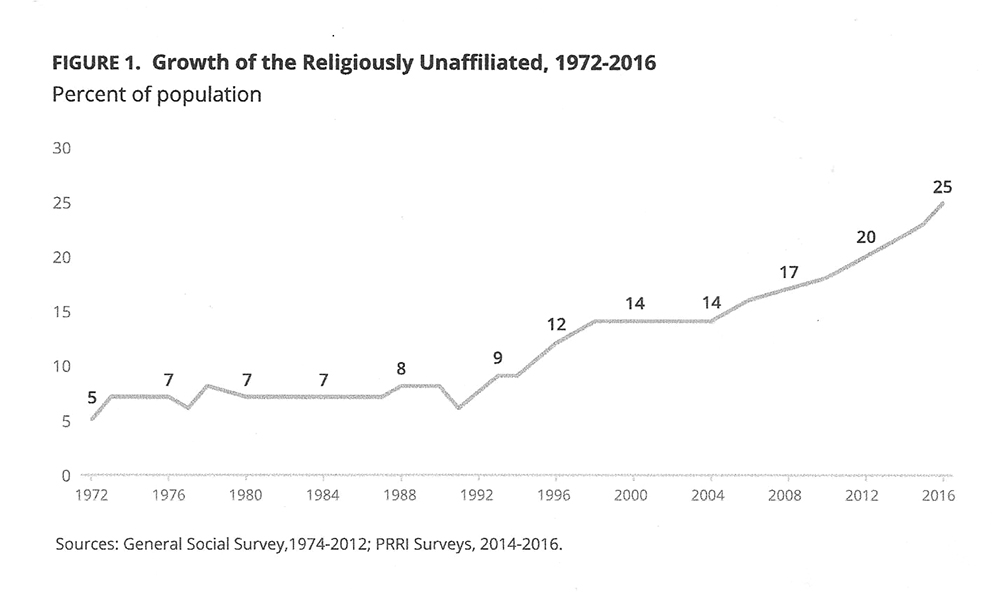 It's likely not coincidence that their symbols are nearly identical: The cross-like medical symbol Caduceus is said to originate from Moses's affixing a snake to a pole so that his people, who were being incessantly bitten by snakes, could be healed upon viewing it. It occurred as they wandered endlessly through the desert, desperately searching for the promised land;6 it's all a clear metaphor for man's unending quest for release from his painful struggles. Jesus later promised to heal his followers just as Moses' snake-on-a-pole healed his.7 But thanks to Darwin, we've had to move out of the "City of God"8 and into "Prozac Nation."9
As far as me — I'm a realist. So I expect that anything that's survived since the dawn of civilization, as religion has, will last forever in some form. No doubt people will never give up hope that someday the long-awaited messiah, or the elusive chemical imbalance, or some other future savior, will be revealed to us.
***
Mad in America hosts blogs by a diverse group of writers. These posts are designed to serve as a public forum for a discussion—broadly speaking—of psychiatry and its treatments. The opinions expressed are the writers' own.
***
Mad in America has made some changes to the commenting process. You no longer need to login or create an account on our site to comment. The only information needed is your name, email and comment text. Comments made with an account prior to this change will remain visible on the site.