When persons holding the beliefs of modern western "psychiatry" advocate for and attempt to explain electroconvulsive therapy (ECT), formerly known as electroshock therapy, they usually say something like: "We don't know how it works. We just know that it works." This is completely understandable since those working in this field of medicine rarely have any training in electrical theory or safety, unlike those working with electrical injuries or those truly using electricity for therapeutic modalities, such as physiotherapists.
Persons working in the field of modern western "psychiatry" are likely to say the same thing about computers: "We don't know how they work. We just know that they work." Of course, if they did know how computers actually work, they would never suggest that ECT is like "rebooting the brain," which is a very common analogy used in modern western "psychiatry." The suggestion of rebooting a person's brain the way a computer is rebooted would be horrifying to anyone familiar with computers and the rebooting process. One may be tempted to sarcastically respond to such suggestions and explanations with: "What operating system do you intend to load when you reboot my brain?" Or: "How long will it take to reload all the data into my brain that I've acquired throughout my life and where is this data saved while my brain is rebooting so that it can be reloaded?"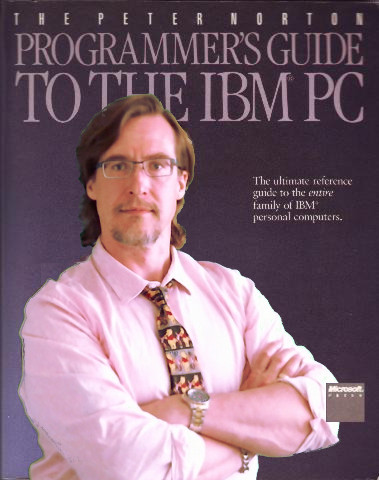 Those trained in electrical theory and computers, such as the author of this blog, who is a Certified Engineering Technologist (CET), would have to agree that the explanations of modern western "psychiatry" about ECT seem to confirm that they "don't know how it works." However, the use of the term electroconvulsive rather than electroshock seems to suggest that they understand more about how it works then they are now willing to openly admit.
The term "electroshock therapy," despite the word shock also having relevance in the field of electrical injury, was incorrect because a pathophysiological state of shock was not the actual goal, but rather to induce a grand mal seizure with bilateral convulsive tonic and clonic muscle contractions. This is more evident in other so-called "shock therapies" that were really convulsive therapies, such as those that induced convulsions with pentetrazol or flurothyl. Thus, "electroconvulsive therapy" more correctly describes what is achieved with this treatment.
From the perspective of electrical injuries, the term "electroshock therapy" is also inaccurate because electric shock encompasses even small currents that would be imperceptible or produce only a light tingling sensation. Such electric shocks are normally harmless, though they could startle someone and inadvertently result in an injury by causing some other accident. If, however, an electric shock is strong enough to cause convulsions, it is well beyond the range of harmless and the convulsions themselves are evidence of an injury. Thus, the word electroconvulsive correctly implies that an electrical injury is the objective.
The combination of the word electroconvulsive with the word therapy does not seem to make much sense, except to perhaps evoke cognitive dissonance. Whether or not an electrical injury of the brain is therapeutic, however, will be addressed later on in this blog when the perspective changes from electrical science to an Orthodox understanding of the human psyche, which is beyond the realm of the empirical sciences.
E is for Electro
A scientific understanding of electricity's effects on the human body has only been around since the last half of the 20th century. Charles F. Dalziel, a professor of electrical engineering and computer sciences at the University of California, Berkeley, was a pioneer in understanding electric shock and set the standards for understanding electrical injury. In addition to his book The Effects of Electric Shock on Man published in 1956 by the U.S. Atomic Energy Commission, Safety and Fire Protection Branch, he also invented the ground-fault circuit interrupter (GFCI), known in the United Kingdom as the residual-current device (RCD), in 1961. While his groundbreaking work (if you will forgive the pun) has prevented many injuries and deaths, as with all science, our understanding of electricity and electrical injury has increased a great deal since then and continues to increase.
If this understanding of electric shock and electrical injury from the latter half of the 20th century was had in the first part of the 20th century, electroconvulsive therapy (ECT) would likely never have been accepted by modern western medicine. Unfortunately, ECT was invented and accepted by modern western medicine before a scientific understanding of electricity's effects on the human body had been established. Having ECT approved as safe by any responsible regulatory body would have been much more difficult after the publication of Professor Dalziel's book, but ECT had already been accepted with widespread use by that time.
In 1902, Leduc of Nantes demonstrated the possibility of putting animals into a condition he called "electrical sleep" or "cerebral inhibition" by sending intermittent constant current through a part of the central nervous system. Zimmern and Dimier replicated Leduc's study in 1903 with transcerebral currents and concluded that this "cerebral inhibition" was a post-epileptic coma. The first cases of surgery on animals with electroanesthesia were in 1907, but the early decades of electroanesthesia was always associated with muscle contractions, cerebral shock, cerebral hemorrhage, hyperthermia, cardiac arrhythmia, and convulsions. Due to these intense side effects, interest in electroanesthesia waned.
Frederic Batelli, a physiologist in Geneva, was the first, in collaboration with Jean-Louis Prévost, to achieve defibrillation of the heart by electrostimulation. However, he also documented being able to induce convulsions through electrostimulation of the brain. He assumed this was harmless, even though his experiments in inducing ventricular fibrillation with less electricity were obviously fatal if defibrillation with larger currents of electricity was not achieved.
It was this work of Batelli that led Ugo Cerletti and Lucio Bini to use electricity in 1938 to induce a convulsion in a human. They assumed it was safe because Cerletti had witnessed pigs being anaesthetized using electric shock in a Roman slaughterhouse. If an animal was not immediately slaughtered, it would eventually recover consciousness and walk away, which assured Cerletti it was safe to use on humans. Apparently, he was not aware that electroanesthesia was not accepted for use in surgery due to the above-mentioned side effects, but such side effects were irrelevant if electroanesthesia was only used to make slaughtering an animal easier. Thus, ECT was invented and became popular without any real understanding of electric shock's effects on the brain other than that an electric current that was usually fatal when applied to the heart was not fatal when applied to the brain.
Whether or not an electrical current through hand-to-hand contact caused ventricular fibrillation was the main concern outlined in Charles Dalziel's 1956 book. The value given in that book for this concerning amount of electrical current was 50 milliamps. However, as little as 30 milliamps could potentially cause ventricular fibrillation and almost everyone who has done any automotive mechanics has experienced at least one electric shock in excess of 50 milliamps without experiencing ventricular fibrillation. Thus, the amount of electricity is not the only factor. Nonetheless, comparing the 50 milliamps cited by Charles Dalziel with the 500 to 900 milliamps cited in the specs of ECT machines, a person may have thought more than twice about whether it was safe or not.
Physiotherapists are trained in electrical theory and safety because they do use currents that could potentially be harmful. Nonetheless, the range of a typical TENS machine is 0 to 80 milliamps, with some machines providing outputs up to 100 milliamps. This is far less than the 500 to 900 milliamps of ECT machines, but physiotherapists are still taught not to use TENS directly on the spinal column or transcerebrally (i.e. through the head) for fear of possible adverse neurological damage.
High Voltage Pulsed Current (HVPC) is used to stimulate wound healing, pain relief, and to facilitated oedema resolution. Since it uses between 150 to 500 volts, it could be compared to ECT since ECT has a cutoff limit of 450 volts. However, HVPC uses pulses that are less than 200 microseconds while modern ECT uses pulses in excess of 250 or 300 microseconds, often as much as 1000 or 2000 microseconds. Thus, the current flow through tissue will average to a very low level in HVPC, while it will be much higher in ECT.
Even the electrical load delivered by a Taser is less than that delivered by ECT. However, the electrical theory needed to compare the load delivered by ECT to the load of a Taser appears confusing and complicated to the average person, just as the theory needed to compare ECT to HVPC and TENS will appear confusing and complicated to the average person. As well, such numbers do not necessarily have a direct correlation to the amount or type of damage done to a person. One thing is obviously certain about ECT, though: it causes convulsions.
C is for Convulsive
A person, whom we shall call "George" for the sake of anonymity, once had a series of ECT followed by a number of years of various drug trials. After tapering off all medications and terminating this treatment, he continued to intermittently suffer some strange symptoms, especially at night. He hoped that these symptoms would eventually resolve, but they continued to worsen over the years and for longer periods of time. It became so bad that he would sometimes need three or four hours to recover from a night's sleep or even just a 20-minute nap, and this would go on for a few days at a time. He suspected that this was due to some of the various drugs he had been put on, but it was suggested to him that these might be nocturnal seizures due to the series of ECT he had years earlier.
He requested to see a neurologist and eventually was able to see one. By this time, he had become aware that the medical community is reluctant to investigate any possible negative side effects of so-called "psychiatry," especially ECT. (Perhaps this may start to change after the recent lawsuit resulting in Somatics, LLC issuing a warning of "permanent brain damage" in its new risk disclosures of October 19, 2018.) He had heard of people losing opportunities for a proper medical evaluation, such as an EEG, after it had become known that they had previously had ECT.
Fortunately for George, he had previously worked in a field that involved electricity. As long as the neurologist never reviewed his medical history, he hoped that by mentioning something about his former job and that he'd sustained an electrical injury to the head, he would received a proper medical evaluation. This plan was successful and nocturnal seizures were ruled out; however, before being sent for his EEG, the neurologist said a couple of very revealing and affirming things to George.
After assuming that George had received an electrical injury in a work-related accident, the neurologist asked him if he convulsed. George was startled by this question and was surprised that it seemed to be the main question to determine the severity of the electrical injury. Obviously, George confirmed that he had convulsed, which seemed to impress upon the neurologist how seriously George had been injured.
He had also explained to the neurologist that at the time of his appointment, he was experiencing the above-mentioned symptoms on a nightly basis. The neurologist said that it was highly unlikely to be nocturnal seizures and than added, "If you were having nocturnal seizures on a nightly basis like that, you'd have an IQ of 60 and that obviously isn't the case."
Although there is a great deal that is unknown about epileptic seizures, neurologists and, presumably, all other healthcare workers are well aware that they are accompanied by brain damage and subsequent lowering of a person's IQ.
A person, whom we shall call "Alice" for the sake of anonymity, received a series of ECT, after which she began to receive maintenance ECT every three weeks. Although different protocols have been and are used, a series of ECT usually consists of two to three treatments a week for three to six weeks. Once a person has initially recovered from a series of ECT, often a single ECT must be administered to renew the effects received from the series of ECT, which is then repeated once initial recovery is again achieved, which usually takes between two to four weeks. In Alice's case, she received a series of eleven ECTs over the period of a month, which was followed by ECT every two weeks, then every four weeks, then becoming rather consistent at every three weeks.
After receiving maintenance ECT for four years, she followed a suggestion to try a different "psychiatrist" (please see our last post for an explanation of why the word "psychiatrist" is in quotes here). This new "psychiatrist" sent her for a neurological assessment to determine if she should continue ECT. It was this appointment with a neurologist that really began to open her husband's eyes concerning ECT.
Alice explained to her husband that another lady who was receiving maintenance ECT at the same clinic had to stop ECT after a neurological assessment determined she had accumulated too much brain damage and could not risk any more with ECT. Alice's husband found this quite disturbing, but he found it even more disturbing that his wife did not find this disturbing. She indicated that all of the patients receiving maintenance ECT were aware that they could also eventually accumulate too much brain damage and would have to discontinue ECT. They saw this as something undesirable because they would then have to rely solely on medications, which were less effective and produced worse side effects. This reasoning perplexed Alice's husband because all of these patients were also on medications and discontinuing ECT did not seem to change their medication protocol to any great extent.
Alice told her husband that he should not repeat what she had told him because people would not understand. Her husband, however, began to understand very clearly that his wife was in a very abusive situation, as were all of the other patients. Alice passed the neurological assessment and continued ECT under her new "psychiatrist." It took quite some time and a great deal of effort, but Alice's husband eventually succeeded in stopping both Alice's maintenance ECT and medication protocol. Alice had actually tapered off her last medication successfully a month before she even knew it. Her husband had continued the taper after she refused to continue it and for the last month, she had been taking empty capsules.
Three days after Alice had unknowingly discontinued her last medication, she had an appointment with her "psychiatrist." Her "psychiatrist" openly admitted that he was confused as to why Alice was doing so much better. She had disconnected ECT more than six months earlier and, as far as Alice and her "psychiatrist" knew, was on a dose of medication that was below the "therapeutic threshold." Alice's "psychiatrist" was confused about why Alice continued to show improvement when she had effectively stopped all therapy, especially since she had not shown any real improvement in the years just prior to terminating "psychiatric" treatment.
Alice's husband was confused about why someone who was intelligent enough to get through medical school seemed to lack any sense of rational thought or critical thinking. It was obvious to Alice's husband: Alice was doing better because she had had six months of recovery from the traumatic brain injury caused by ECT and had stopped ingesting neurotoxins. Of course, the confusion experienced by Alice's "psychiatrist" had nothing to do with a lack of intelligence, but with delusional convictions that suspend rational thought. Although there is evidence to suggest that at least some, if not many, in the field of modern western "psychiatry" are aware of what they are really doing.
In addition to using the example of rebooting a computer to explain ECT, so-called "mental health" practitioners also often compare the importance of taking "psychiatric" medications with how important insulin is for diabetics. The interesting thing about such a comparison is that so-called "antipsychotics" were originally called neuroleptics because they supposedly accomplished the same thing as epileptic seizures. However, insulin is important for diabetics to prevent them from going into diabetic shock and having seizures, which all healthcare workers know will cause neurological damage. Thus, these so-called "psychiatric" medications were specifically meant to cause what insulin for diabetics is meant to prevent: brain damage.
(As a side note: apparently some clinics are now screening diabetics for possible symptoms of bipolar disorder because statistics show that diabetes is often comorbid with bipolar disorder. The very bizarre thing about these statistics is that some bipolar medications are known to cause diabetes, which results in the statistics of bipolar disorder having a high comorbidity with diabetes.)
It is very strange that other fields of medicine attempt to prevent what modern western "psychiatry" specifically causes with its therapies, but do not acknowledge or treat the illnesses they cause (aside from things such as diabetes). Research and treatment of electrical injury, especially diffuse electrical injury (DEI), clearly contradicts the misinformation the medical establishment provides the general public concerning ECT. Acknowledged symptoms of electrical injuries, often from electrical currents smaller than those used in ECT and not with the head being in the direct path of the current, are almost always dismissed when they are a result of ECT. Many of the symptoms experienced by persons who have received ECT, but specifically denied by the medical community, are listed in this scientific study on diffuse electrical injury (DEI):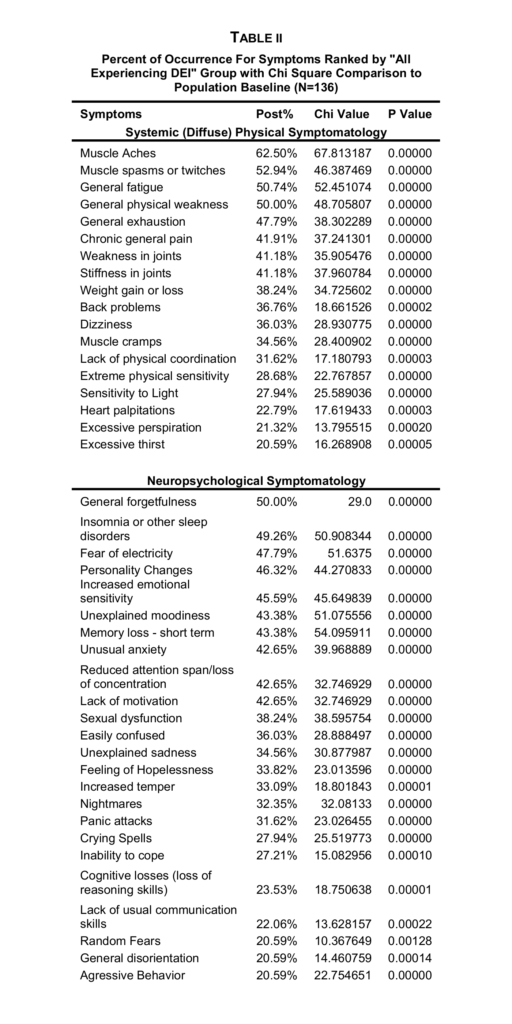 While the medical community seems to be very reluctant to acknowledge the obvious, perhaps an appeal should be made to the professionals in this field. The code of ethics of every professional association of engineers and technologists would prevent anyone from designing, manufacturing, and maintaining ECT machines without risking serious disciplinary actions. Nonetheless, for those not so technically inclined, simply the fact that enough brain damage is done by ECT to induce a convulsion should be sufficient evidence that ECT is not therapeutic, but abusive treatment causing bodily injury.
T is for Therapy
Jeffrey A. Lieberman has some very interesting things to say about the field of modern western "psychiatry" in his book Shrinks: The Untold Story of Psychiatry. In writing about when he was in medical school during the 1970s, he writes: "Back then, the majority of psychiatric institutions were clouded by ideology and dubious science, mired in a pseudemedical landscape where devotees of Sigmund Freud clung to every position of power."
This bleak description of his profession in the 1970s is contrasted by his description of his profession in the 21st century: "For the first time in its long and notorious history, psychiatry can offer scientific, humane, and effective (sic) treatments to those suffering from mental illness. I became president of the American Psychiatric Association at a historic turning point in my profession. As I write this, psychiatry is finally taking its rightful place in the medical community after a long sojourn in the scientific wilderness. Buoyed by new research, new technologies, and new insights, psychiatry does not merely have the capacity to raise itself from the shadows but the obligation to stand up and show the world its revivifying light."
If we overlook the overtly religious overtones, not to mention that the "historic turning point" he mentions was only in May of 2013, these statements from the introduction of his book clearly outline the theme: "…psychiatry progressed from a field that didn't have really any scientific foundation to one which established a scientific basis…" (Lieberman's own words while promoting his book). The history of ECT clearly demonstrates that ECT was developed and became popular without any scientific basis other than that it didn't result in immediate death and that brain damage mutes the symptoms of mental illness.
In his book, Lieberman does not discuss any of the actual science involved in ECT other than mentioning some of the additional protocols introduced to reduce the physical harm caused by the convulsions and the direct path of the electrical current. "[T]he strategic placement of the electrodes at specific locations on the head" determine which part of the brain receives the full load of the ECT machine and, therefore, the concentration of brain damage. However, his suggestion that "improved technologies enable ECT to be individually calibrated for each patient so that the absolute minimum amount of electrical current is used to induce a seizure" appears to contradict the sales literature from Somatics, LLC: "Ultrabrief stimuli need higher current for greater efficacy. If you still use the 800 mA maximum current of Mecta devices, to assure full efficacy you should upgrade to the 900 mA provided by Thymatron instruments."

Among the various modifications to ECT that dealt with the problem that, as Lieberman notes, "the experience of delivering ECT can be quite disturbing" is the change from a sine-wave current to a pulse-wave current. Since the objective of ECT is to administer an electrical load that causes enough brain damage to induce a convulsion, changing from a sine-wave to a pulse-wave would require, as the sales literature from Somatics points out, a stronger electrical current. The shorter the pulse, the greater the current that would be needed to deliver a large enough load to trigger a convulsion. The most advantageous reason to use a pulse-wave rather than a sine-wave would be to suggest to an uneducated audience that a smaller electrical load is being delivered. Perhaps even an uneducated audience, however, would see that the 0.5 joules delivered into a load cited in research into TASER and Sudden In-Custody Death is obviously much lower than the 0.8-202.8 joules cited by Mecta in their international sales literature for "ultrabrief" ECT machines (this is twice the maxim of their machines sold in the USA).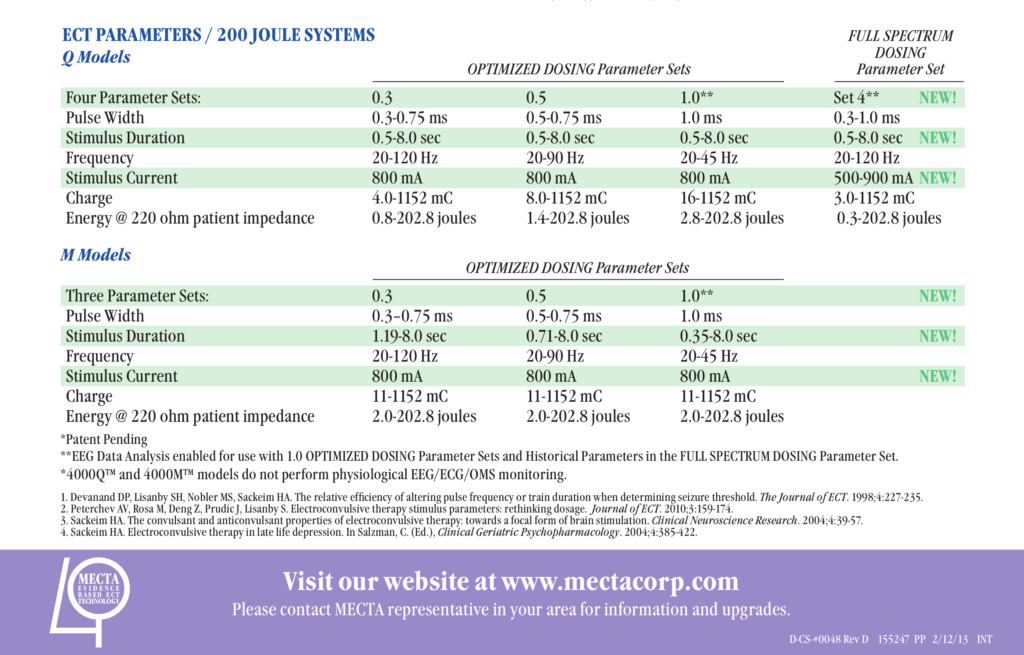 Lieberman begins to conclude the segment of his book on ECT by saying that this invention of Cerletti and Bini "was the only early somatic treatment to become a therapeutic mainstay of psychiatry." This statement may cause one to wonder how a somatic treatment can be, or at least appear to be, therapeutic for a psychic illness. Alice's husband, who is mentioned above, witnessed a very clear example of this.
As Alice recovered from her maintenance ECTs, her husband would visit with another patient who would have maintenance ECT on the same day as Alice, only he seemed to recover from this treatment much faster than Alice and wanted to visit. Please note that we are only referring to recovering consciousness and being able to walk away, much like the animals Cerletti witnessed in a Roman slaughterhouse. We are not referring to the two to four weeks initial recovery from the resulting traumatic brain injury, after which another ECT is needed to renew the brain injury. For the sake of anonymity, we shall call this other patient "Gordon."
Although Gordon was usually pretty happy after an ECT, sometimes he would express his great anger towards his brother whom he hadn't seen in many years. Apparently, Gordon had bought a brand-new truck, which his brother then totaled in a car accident. Gordon would become so angry over this that he would talk about wanting to go to his brother's place and beat him up. Alice's husband would do what he could to change the subject to something less upsetting, which often didn't take much effort.
When her husband began attempting to explain to Alice that the ECT was causing her brain damage and that she should stop, she attempted to defend the use of ECT by using Gordon as an example. She said that he already had a traumatic brain injury from a car accident, so it didn't matter that ECT also caused a traumatic brain injury. This line of reasoning didn't make any sense to her husband, but after he finally succeed in having Alice not go back for any more ECT, she revealed something else about Gordon. The car accident in which Gordon acquired a traumatic brain injury was the same accident in which Gordon's brother totaled Gordon's truck. Worse than that, Gordon's brother was killed in that accident.
Gordon was not actually angry that his brother totaled his brand new truck. He was simply attempting to grieve the death of his brother. The psychic trauma Gordon suffered from being in the car accident that took his brother's life was apparently being treated by sustaining a traumatic brain injury that prevented him from remembering or caring that his brother was killed. This may produce the empirical appearance of being therapeutic, but any unbiased and sane person should be able to see that this is a false appearance and that this so-called "therapy" is actually preventing any real healing.
After obtaining and reading Alice's medical charts, her husband noticed that Alice's extreme memory problems began when they switched from unilateral ECT to bilateral ECT. Thus, switching from concentrating the damage on only half of Alice's frontal lobe to her entire frontal lobe resulted in a noticeable cognitive deficit that is consistent with research on head injuries. While the resulting convulsions would have appeared the same, the amount of brain volume directly damaged by the electrical load was much larger. This does suggest that a convulsion is not actually the goal of ECT, but the brain damage that induces the convulsion, even though the pseudomedical literature generally no longer admits this.
Before the introduction of "modified ECT" and modern western "psychiatry" starting to "offer scientific, humane, and effective (sic) treatments," so-called "psychiatrists" openly speculated on how brain damage and a lower IQ was beneficial to persons suffering from psychic trauma. Since such speculation is no longer publicly acceptable, all they can say is, "We don't know how it works. We only know that it works."
ECT works by preventing the psyche from expressing itself through the soma, that is to say, ECT works by preventing the soul from expressing itself through the body. As quoted in our previous post, Fr. Theophanes (Constantine) explains this in Volume 1 of The Psychological Basis of Mental Prayer in the Heart:
"The soul functions through the body, and if the body is damaged, say in its higher brain centres, then the soul cannot express itself, without for all that having been lost."
While Orthodox psychiatry has a great deal more to say on this subject and how modern western "psychiatry" actually attempts to prevent any true psychiatric healing, the above summary is sufficient for now. Even if one does not wish to explore the Orthodox perspective on this subject, any unbiased examination of the empirical evidence clearly demonstrates that ECT works by damaging the brain. The only issue for intelligent discussion is whether or not such brain damage is therapeutic, and the only rational question to ask is: how could an intelligent person believe brain damage is therapeutic? It is obviously not therapeutic and believing it is therapeutic is not a question of intelligence, but concerns the ability to think rationally.
The Orthodox believe that human intellect is fallen and corrupt, and that rational thought is only possible with Divine assistance. Perhaps only a little rational thought may allow one to realize that a "psychiatrist" who believes the psyche is actually somatic rather than psychic is only under the delusion of being a "psychiatrist." It is often impossible to convince a person under a delusion that he or she is delusional. Such a person is more likely to suggest that the sane person is delusional. This is why our venerable and God-bearing Father Anthony of the Desert (251–356 CE) said: "A time is coming when men will go mad, and when they see someone who is not mad, they will attack him saying, 'You are mad, you are not like us.'"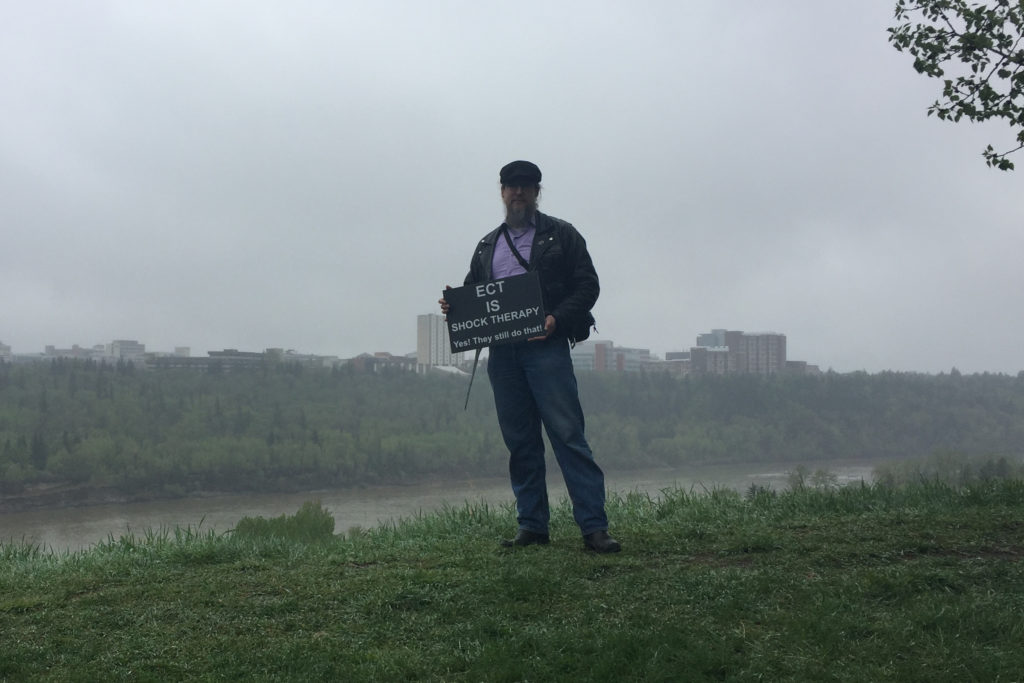 ***
Mad in America hosts blogs by a diverse group of writers. These posts are designed to serve as a public forum for a discussion—broadly speaking—of psychiatry and its treatments. The opinions expressed are the writers' own.
***
Mad in America has made some changes to the commenting process. You no longer need to login or create an account on our site to comment. The only information needed is your name, email and comment text. Comments made with an account prior to this change will remain visible on the site.