We are very sorry to tell of the loss of one of our longtime posters and community members. Stephen Boren, who posted here under the name Stephen Gilbert, passed away November 12 after a battle with cancer. He is survived by his beloved cat Sweeney and many close friends.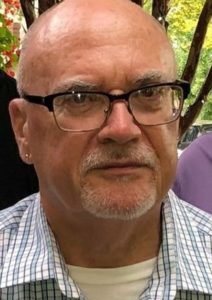 Stephen has been a regular part of the conversations in the Mad in America comment section since the website began in 2012. He worked as a peer support worker at a hospital psychiatric ward for many years, the same ward where he had once been held as a patient, and his comments were largely about his ongoing battle with the insensitivity, disrespect and sometimes outright abuse he observed during his time there. He represented what "peer support" ought to be — someone who really understood what it was like to be a "patient" and who would fight for the rights of those who were subjected to the vagaries of a typical psychiatric ward that, intentionally or through ignorance, so readily disregarded or violated those rights. Stephen was a true warrior battling "behind enemy lines," yet his comments were always respectful and supportive of both those who had been through it and those who worked in the system, even though that respect was not always returned.
In his first-ever post on our site, responding to Keris Jän Myrick being named president of NAMI in 2012, he wrote:
I would like to believe that this is a good thing and a ray of hope for things to come. However, many times peers are used if and only if they parrot the sacred mantra of "take your med!" As a peer worker myself I find that I quickly become persona non grata when the other so-called "professionals" find out that I believe in freedom of choice in treatment choices. They only want you around if you are willing to support their biopsychiatric take on things. My training as a peer worker quickly throws me into opposition to the people making decisions for patients at the hospital where I work; it's almost impossible to function as you were trained to function because we stand for mutual relationships and freedom of choice. These are not supported by the powers that be. I hope that I'm wrong, but I have the feeling that this woman is being used because of her status as a well-known peer worker.
This was characteristic of Stephen's posting over the years — the conflict between the claim that the system wanted "peer workers" like himself, and the way that honest discussion from the "peer" point of view was suppressed when it didn't fit with the desired narrative.
His last comment underscored his approach to this work:
I want to make it clear that I never tell people that they must take the drugs. I say absolutely nothing about the drugs, period. I do advocate for people but most of it is in indirect ways. I am successful in the small things that I attempt and most of the staff, outside of the psychiatrists, don't oppose me. There are more and more staff who don't believe the lies that psychiatry pushes but they can't do as much for people as they'd like because their jobs become the bargaining chip. But it is heartening to know that the numbers who don't believe the lies is growing bit by bit.
In addition to his work in peer support and patient advocacy, Stephen had been a high school religion teacher and served as a chaplain for 14 years. He was known for his compassion and being there for people who were struggling. A visitor to his memorial website commented: "When Steve was at Pres Village, he had a special folding chair that he called 'the sitting chair'. When folks were coming to the end of their lives, he was wonderful to sit with them so they wouldn't die alone. I trust God has a special place for him."
Here on Mad in America, he offered gentle encouragement to other posters to look beyond the "mental illness" narrative and believe more in their own ability to decide their own reality. He was also frank about his disgust with the mental health system, psychiatry in particular. As another poster wrote, "He was firmly opposed to psychiatry and had, in addition to his day job, been involved in anti-psychiatry organizing for the past two years (which can now be revealed)." Stephen often wrestled with the knowledge that by working within the system, he was participating in harm despite the good he was able to do for people. In a post from earlier this year, he wrote:
Those of us who work in the system and who truly care about those in our care must begin bucking our masters and unlocking the doors to free those who are held captive within, given "treatment" that harms rather than helps. We must begin civil disobedience against those who control the system, which are the psychiatrists. "Mental health workers are complicit in harm if they aren't actively helping the patients escape the system." The first rule of the battlefield is that you don't leave your wounded behind so those of us with lived experience who work in the system must begin finding ways to make it change because it will never do so on its own.
Over the years, Stephen commented 3325 times on published posts, which constitutes a body of published work in its own right. His contributions always added in thoughtful ways to the discussion, and as staff we valued him for being such a steady member of the MIA community. We will miss his daily presence on MIA.
Those who knew Stephen are invited to share their remembrances here.
***
Mad in America hosts blogs by a diverse group of writers. These posts are designed to serve as a public forum for a discussion—broadly speaking—of psychiatry and its treatments. The opinions expressed are the writers' own.
***
Mad in America has made some changes to the commenting process. You no longer need to login or create an account on our site to comment. The only information needed is your name, email and comment text. Comments made with an account prior to this change will remain visible on the site.