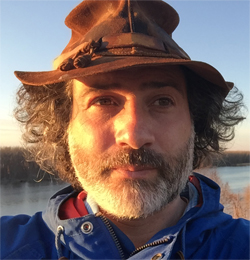 In David Healy's review of my book, The Zyprexa Papers, he writes:
If you think what happens to Bill Bigley could only happen in some out of way place, like Anchorage, think again – this is the reality of being a non-person in New York, Washington, Berlin, London and likely Beijing too.
It can also happen to people born into very wealthy families.
For a little over a year now I have been trying to help Evan Durst Kreeger as a life coach, not as his attorney.  Evan is a member of the Durst family, which owns the Durst Organization, "one of the most powerful companies in Manhattan real estate for almost a century" according to Charles Bagli of The New York Times in Episode 5 of the 2015 Emmy winning HBO documentary, The Jinx: The Life and Deaths of Robert Durst.
In 1982, when Evan was 12 years old, his beloved Aunt Kathie disappeared.  For various reasons, suspicion centered on Kathie's husband, Robert Durst, Evan's uncle.  Evan's parents and his extended Durst family wouldn't acknowledge what had happened and, most importantly as it relates to Evan, wouldn't talk to him about it or let him talk about it or otherwise get him help dealing with this traumatic loss.  He not only had grief over the loss of his beloved Aunt Kathie, but also trauma from his understanding that his Uncle Robert had killed her.  He even had to attend family gatherings with his Uncle Robert, which was extremely traumatic.
This was not the first time his family did not validate Evan's trauma.  He reports he was sexually abused by a childcare person when he was very young, and his parents wouldn't deal with that either.
Dr. Paula Caplan testified for a client of mine a few years ago about how parents betraying their role of protector can cause psychological problems for their children.  In that case, my client's father had physically abused her when she was a child and her boyfriend was also physically abusing her.  In both cases, because these people were just not supposed to be harming her, she believed they were impostors.  This was a way for her to reconcile the psychologically impossible fact that her father was hurting her, and then her boyfriend.  For Evan, my take is his parents' and the larger Durst family's refusal to discuss the probable murder of his beloved Aunt Kathie by his uncle caused analogous problems for Evan.  This resulted in him getting swept into coercive psychiatry, with all of the unwanted drugging that goes along with it.
The so-called mental health experts did not acknowledge the trauma-based cause of Evan's problems, saying instead that there was something inherently wrong with his brain, he was permanently mentally ill and needed heavy-duty psychiatric drugs, including neuroleptics, for the rest of his life.  This is what his parents and the head of The Durst Organization, Douglas Durst, believe.  This is what the "experts" have told them.  People should be entitled to believe such recognized experts, but sadly, it is misplaced trust.  One of the benefits of this view is it absolves Evan's parents and the larger Durst family from any responsibility for Evan's problems.  I distinguish "responsibility" from "blame."  They can be responsible for the results of well-intentioned actions and not be blameworthy.
In a Charlie Rose interview about The Jinx, Marc Smerling (who, along with Andrew Jarecki, made the documentary), was asked the most surprising thing he learned:
[T]he most surprising thing was, for me, was the reaction of the Durst family. I was shocked by how we were closed out from them, how the one Durst family member who came forward to speak to us was punished for lack of a better word and how they just, to this day, don't seem to want to discuss this sister-in-law, daughter-in-law who disappeared. It just seems to have been erased from their history.  (underlining added).
Evan was the only Durst who would talk to them.
One of the results of being very wealthy, as the Dursts are, is they tend to get their way.  Evan is a beneficiary of trusts which generate a significant amount of income that is allocated to Evan.  However, any distributions to Evan are supposedly discretionary and the trustees have punitively used this to bend Evan to their will.  They have used cutting off Evan's distributions from the trusts to force him into psychiatric hospitalization and being put on psych drugs he doesn't want.
Evan finds some psych drugs helpful and others the opposite, and he wants to be able to make his own decisions as to what therapy he receives and what drugs to take.  He wants help dealing with the presumed murder of his beloved Aunt Kathie by his Uncle Robert and to achieve his goals in life.
Evan contacted me at the suggestion of MindFreedom International a little over a year ago.  I couldn't represent him as a lawyer because I am not licensed to practice law in New York, but I told him I would work with him as a life coach.  My perspective is that Evan gets frantic about trying to get his family to deal with the probable murder of his beloved Aunt Kathie by his Uncle Robert.  This can lead to him to do things his family understandably doesn't like, such as widely accusing them of various misdeeds.
In The Zyprexa Papers I write about how I related to Bill Bigley because we were the same age, he encountered the psychiatric system just a couple of years before I did, and I could have been made permanently mentally ill by the system just as he was.  Instead, because of family standing and resources, and just plain luck, I was able to escape his fate.  I relate to Evan because my family has extensive real estate holdings from which I derive income and I have suffered the vicissitudes of plummeting distributions.  It is nothing like the Durst Organization, of course, but I didn't dismiss Evan because he was born with a silver spoon in his mouth; I know family money can be problematic.  Sadly, unlike for me, family standing and money hasn't helped him avoid coercive psychiatry.  Just the opposite.
Using the Durst trusts as a bludgeon is apparently not unique to Evan.  I understand two of Evan's uncles, including Robert, sued the Trustees for analogous punitive withholding of distributions and were able to pull their share of the trusts out—to the tune of tens of millions of dollars.
Last August, Evan's family cut his distributions from the trusts from over $11,000/month to virtually nothing.  I believe this was intended to break Evan so he would behave in a way they could use to have him locked up in a psych ward and have him drugged, or impose a guardianship on him and force him to take drugs that way.  If a guardianship is imposed against Evan, virtually all of his right to make decisions could be stripped away from him.  In Susan Rogers' review of The Zyprexa Papers she notes:
[T]he Late Claude Pepper, who championed the rights of older adults during his long career in Congress, called [guardianships] "the most punitive civil penalty that can be levied against an American citizen, with the exception, of course, of the death penalty."
In early October of 2019, such a guardianship petition was filed against Evan in New York.  However, the family's expectation that Evan would have such a meltdown from the stress of his income going from $11,000+ per month to virtually nothing that it would make it easy to win the guardianship had not panned out.  Plus, it turns out a guardian's power to force the administration of unwanted psych drugs into their ward is severely limited in New York.
A few weeks ago Evan was lured to McLean hospital in Massachusetts by his family (even though COVID-19 is rampant in psych wards) for what he believed was a voluntary admission into a program he was willing to work with.  However, as so many people find out when they voluntarily go into a psych hospital, they won't necessarily be allowed to leave.  A petition to commit him involuntarily was subsequently filed against him, but Evan agreed to go to a different program voluntarily.
Shortly after that, for reasons that are unclear, Evan was discharged to the streets, walked 7 miles to Cambridge, and took a taxi to Cape Cod where his family has a house.  His father called the police to have him hauled to the Cape Cod Hospital where he was held for a few days.  While there, Evan's parents filed to have an old health care proxy declared valid and in force and his father appointed as his proxy, meaning he gets to make  decisions about Evan's health care.  An attorney was appointed to represent Evan, and according to the court records, did not object to declaring the health care proxy valid and that Evan was not competent to revoke it.  The court then issued such an order.  It is hard to imagine the old health care proxy would have been declared valid or Evan found incompetent if he had had top-notch legal representation.  For example, I could have been called to testify by telephone.
Guardians are restricted in Massachusetts and New York in being able to force their wards to be involuntarily committed and drugged against their will with neuroleptics but, in Massachusetts at least, I understand a health care proxy can "consent" to have their ward drugged with neuroleptics against their will.
It seems likely Evan's parents will be taking the Massachusetts declaration that Evan is incompetent to revoke his health care proxy to the New York Court in support of their guardianship petition.
Unlike Evan's Cape Cod lawyer, his court appointed attorney in the New York guardianship has been resisting what his parents are trying to do so there is some hope there.  However, the "Full Faith and Credit" clause of the United States Constitution requires a court in one state to honor the orders from another state's courts.  There are exceptions, and it seems to me the Massachusetts order could be challenged in New York as invalid on the grounds that the Massachusetts order was not based on a fair proceeding.  However, the Full Faith and Credit Clause would be a high hurdle to get over.  Better would be to immediately challenge the order in Massachusetts with a good lawyer who will zealously represent Evan.
I am very concerned that Evan is about to be devoured by psychiatry's maw.  Things could be different if Evan were able to hire an attorney or attorneys to deal with all of these different legal actions coming at him and otherwise protect his interests such as sue the trustees for their unconscionable actions, but as I have indicated, his trustees have cut off his money so he can't hire such an attorney or attorneys.
In 2008, I wrote a law review article, Involuntary Commitment and Forced Drugging in the Trial Courts: Rights Violations as a Matter of Course, where I describe how people's rights are uniformly ignored in these types of proceedings and the great harm inflicted on them as a result.  What has happened to Evan is a classic example.
The last time I talked to Evan he wanted me to write an article about what is being done to him.  It is the least and, sadly, apparently the most, I can do for him.
***
Mad in America hosts blogs by a diverse group of writers. These posts are designed to serve as a public forum for a discussion—broadly speaking—of psychiatry and its treatments. The opinions expressed are the writers' own.
***
Mad in America has made some changes to the commenting process. You no longer need to login or create an account on our site to comment. The only information needed is your name, email and comment text. Comments made with an account prior to this change will remain visible on the site.