Editor's Note: Over the next several months, Mad in America is publishing a serialized version of Peter Gøtzsche's book, Mental Health Survival Kit and Withdrawal from Psychiatric Drugs. In this blog, he discusses the risk of suicide and other causes of death from psychiatric drugs, focusing on neuroleptics. Each Monday, a new section of the book is published, and all chapters are archived here.
Suicides, other deaths, and other serious harms
It is a well-guarded secret how many people are killed by psychiatric drugs. This has been obscured in many ways.
The easiest way is to wipe the deaths under the carpet, "so that we don't raise concerns," as a Merck scientist was told when he was overruled by his boss.51 The scientist had judged that a woman on Merck's arthritis drug Vioxx (rofecoxib) had died from a heart attack, but the cause of death was changed to unknown, also in Merck's report to the FDA. Other sudden cardiac deaths on Vioxx disappeared before the trial results were published.
When the many deaths could no longer be hidden, Merck withdrew Vioxx, in 2004. I have estimated that Vioxx killed around 200,000 people, most of whom had not even needed the drug.51
Fraud with lethal consequences is common in drug trials,4,51 and our major medical journals, in this case the New England Journal of Medicine, often willingly contribute to it by publishing flawed trials and by not taking action when action is clearly needed in order to save patients' lives.51
Psychiatry is no exception. Only about half the suicides and other deaths that occur in psychiatric drug trials are published.81
Another big problem is cold turkey withdrawal in the placebo group. Since virtually all trials suffer from this design defect, they will underestimate how deadly psychiatric drugs are.
Neuroleptics
Neuroleptics are very toxic and likely the deadliest of all psychiatric drugs.4 When I wanted to find out how deadly they are, I decided to focus on elderly, demented patients. I assumed that few of them would be in treatment before they were randomised and that there would be enough patients to draw a conclusion because many of them die, whether they are on drugs or not.
I found a meta-analysis of placebo-controlled trials in dementia with a total of about 5,000 patients.82 After only ten weeks, 3.5% had died while they were on one of the newer neuroleptics, olanzapine (Zyprexa), risperidone (Risperdal), quetiapine (Seroquel) or aripiprazole (Abilify), while 2.3% had died on placebo. Thus, for every 100 people treated for 10 weeks, one patient was killed with a neuroleptic. This is an extremely high death rate for a drug.
Since half of the deaths are missing, on average, in published research,81 I looked up the corresponding FDA data based on the same drugs and trials. As expected, some deaths had been omitted from the publications, and the death rates were now 4.5% versus 2.6%, which means that neuroleptics kill two patients in a hundred in just 10 weeks.83
I also found a Finnish study of 70,718 community-dwellers newly diagnosed with Alzheimer's disease, which reported that neuroleptics killed four to five people per year compared to patients who were not treated.84 If the patients received more than one neuroleptic drug, the risk of death was increased by 57%. As this was not a randomised trial, the results are not fully reliable, but taken together, these data show a death rate so big that I cannot recall having seen another drug the patients don't need that is so deadly.
Can we extrapolate these results to young people with schizophrenia? Yes. In evidence-based healthcare, we base our decisions on the best available evidence. This means the most reliable evidence, which are the data just above. Thus, absent other reliable evidence, we will need to assume that neuroleptics are also highly lethal for young people. We should therefore not use neuroleptics for anyone, also because an effect on psychosis has never been demonstrated in reliable trials.
We don't need to go any further, but it might be interesting. According to the FDA, most of the deaths in the demented patients appeared to be either cardiovascular (e.g., heart failure, sudden death) or infectious (e.g., pneumonia).83 Young people on neuroleptics also often die from cardiovascular causes and suddenly.
And I would expect some of them to die from pneumonia. Neuroleptics and forced admission to a closed ward make people inactive. When they lie still in their bed, the risk of pneumonia increases. Depression pills, sedatives/hypnotics, and antiepileptics also increase the risk of pneumonia. Furthermore, a closed psychiatric ward is not a department of internal medicine, and if a patient develops pneumonia while lying zombie-like in a bed, it might not be noticed.
The psychiatrists are fully aware—and have often written about it—that the lifespan for patients with schizophrenia is 15 years shorter than for other people, but they don't blame their drugs or themselves, but the patients.84
It is true that these people have unhealthy lifestyles and may abuse other substances, in particular tobacco. But it is also true that some of this is a consequence of the drugs they receive. Some patients say they smoke because it counteracts some of the harms of neuroleptics, which is correct because tobacco increases dopamine while the drugs decrease dopamine.
It is also indisputable that neuroleptics kill some patients with schizophrenia because they can cause huge weight gains, hypertension, and diabetes, but how common is it?
When I tried to find out why young people with schizophrenia die, I faced a roadblock, carefully guarded by the psychiatric guild. It is one of the best kept secrets about psychiatry that the psychiatrists kill many of their patients with neuroleptics.
I described my experiences with the roadblock guards in 2017 on the Mad in America website, "Psychiatry Ignores an Elephant in the Room,"85 but subsequent events were even worse.
Large cohort studies of people with a first-episode psychosis provide a unique opportunity for finding out why people die. However, as there is too little information in these studies, or no information at all, about the causes of death, you need to ask.
The TIPS study: 12% of the patients died in just 10 years
In 2012, Wenche ten Velden Hegelstad and 16 colleagues published 10-year follow-up data for 281 patients with a first-episode psychosis (the TIPS study).86 Although their average age at entry into the study was only 29 years, 31 patients (12%) died in less than 10 years. However, the authors' detailed article was about recovery and symptom scores.
They took no interest in all these deaths, which appeared in a flowchart of patients lost to follow-up and were not commented upon anywhere in their paper.
In the text, they mentioned only 28 deaths (11%), so it was not even clear how many died. In March 2017, I wrote to Hegelstad and inquired about the causes of death. Most patients were still on neuroleptics 10 years after they started, which I considered very frightening because around half of them would have developed tardive dyskinesia (a terrible movement disorder, which is often irreversible but masked by ongoing treatment) and because many, if not all, would have developed permanent brain damage at this point.
I sent a reminder ten days later and was told I would get an answer shortly. Two months later, I wrote again and mentioned that it was important for the world to know what all these young patients had died from. I also asked if we needed to file a Freedom of Information request to get this information.
Hegelstad replied that they were preparing a manuscript detailing the information I asked for. The paper came out the next month, in World Psychiatry, but the number of deaths was now different from their first paper, and the information I had requested wasn't anywhere.87
Two months later, Robert Whitaker and I wrote to the editor of World Psychiatry, professor Mario Maj, asking for his help in getting a unique insight into why so many patients had died so young. We hoped he would ensure that the knowledge the investigators had in their files became public by publishing our short letter to the editor and by asking them to respond. "That would be a great service to psychiatry, the patients, and everyone else with an interest in this vitally important issue."
We explained in our letter that the authors had reported that 16 patients died by suicide, seven by accidental overdoses or other accidents, and eight from physical illnesses, including three from cardiovascular illness:
"In order to attempt to separate iatrogenic causes of death from deaths caused by the disorder, we need to know: When did the suicides occur? Suicides often occur early, after the patients have left hospital,88 and are sometimes iatrogenic. A Danish register study of 2,429 suicides showed that, compared to people who had not received any psychiatric treatment in the preceding year, the adjusted rate ratio for suicide was 44 for people who had been admitted to a psychiatric hospital.89 Such patients would of course be expected to be at greatest risk of suicide because they were more ill than the others (confounding by indication), but the findings were robust and most of the potential biases in the study were actually conservative, i.e. favoured the null hypothesis of there being no relationship. An accompanying editorial noted that there is little doubt that suicide is related to both stigma and trauma and that it is entirely plausible that the stigma and trauma inherent in psychiatric treatment—particularly if involuntary—might cause suicide.90
What does accidental overdoses and other accidents mean? Did the doctors overdose or did the patients overdose themselves by mistake, and which types of accidents were involved? Psychotropic drugs can lead to falls, which can be fatal, and suicides are sometimes miscoded as accidents.91
It is surprising that 8 young people died from physical illness. What were these illnesses exactly and what were the cardiovascular illnesses? If some of these people suddenly dropped dead, it could be because antipsychotics can cause QT prolongation."
Eight days later, we were told by Maj that, "Unfortunately, although it is an interesting piece, it does not compete successfully for one of the slots we have available in the journal for letters."
So, there was no space in the journal for our letter of 346 words, no longer than a journal abstract, and no interest in helping young people survive by finding out what kills them at such a young age. This was psychiatry at its worst, protecting itself while literally killing the patients.
Five days later, I appealed Maj's decision:
"Allow me to add that people I have talked to in several countries about deaths in young people with schizophrenia—psychiatrists, forensic experts and patients—have all agreed that we desperately need the kind of information we asked you to ensure we get from the very valuable cohort of patients Melle et al. reported on in your journal.
There is widespread and well-substantiated suspicion that the reason we have not seen a detailed account of causes of death in cohorts like the one in the TIPS study by Melle et al. published in your journal is that the psychiatrists prioritise protecting their guild interests rather than protecting the patients. By declining to publish our letter and get the data out that Melle et al. have in their files, you contribute to that suspicion. We previously asked one of the investigators, Wenche ten Velden Hegelstad, to provide us with these data but were told on 10 May this year that they would be published … They have not been published, as what Melle et al. have published in your journal is not an adequate account of why these young people died.
Therefore, we call on you to ensure these data get out in the open, for the benefit of the patients. We believe it is your professional and ethical duty—both as a journal editor and as a doctor—to make this happen. This is not a matter about the slots you have available in the journal for letters. It is a matter of prioritization."  
We did not hear from Maj again. In contrast to the authors of the TIPS study, Danish psychiatry professor Merete Nordentoft was forthcoming when I asked her about the causes of death for 33 patients after 10 years of follow-up in the OPUS study, also of patients with a first-episode psychosis.92
I specifically mentioned that suicides, accidents and sudden unexplained deaths could be drug related. Nordentoft sent a list of the deaths and explained that the reason cardiac deaths were not on the list was probably because the patients had died so young. In the death certificates, she had seen some patients who had simply dropped dead, one of them while sitting in a chair.
This is how it should be. Openness is needed if we want to reduce the many deaths that occur in young mental health patients, but very few psychiatrists are similarly open as Nordentoft. I asked Hegelstad about the conflicting numbers of deaths and also asked to get details on the causes of death. I didn't hear from Hegelstad again.
TIPS was supported by grants from 15 funders, including the Norwegian Research Council, the US National Institute of Mental Health, three drug companies (Janssen-Cilag, Eli Lilly, and Lundbeck), and other funders in Norway, Denmark, and the USA. I asked all the funders for detailed information on the deaths, emphasizing that funders have an ethical obligation to ensure that information of great importance for public health, which has been collected in a funded study, gets published.
The silence was daunting. In December 2017, the Norwegian Research Council published its policy about making research data accessible for other researchers, which left no doubt that this should happen, without delay, and not later than when the researchers published their research.
Janssen-Cilag replied: "We find the data on mortality published by Melle et al. 2017 in World Psychiatry fully satisfactory." Both they and Eli Lilly encouraged us to contact the authors, which was absurd, as I had written to the companies that the authors had refused to share their data with us. Lundbeck did not reply.
Five months after I had written to the Norwegian Research Council, I received a letter from Ingrid Melle who had been asked by the council to respond to me. I was told I had misread Figure 1 in the original paper86 where I had counted 49 deaths. I hadn't. Their figure is seriously misleading because flowcharts otherwise always show numbers of patients who were lost or died during a study.
I have redrawn the figure here:
Overview of Patient Participation in a Long-term Follow-up Study of Early Detection in Psychosis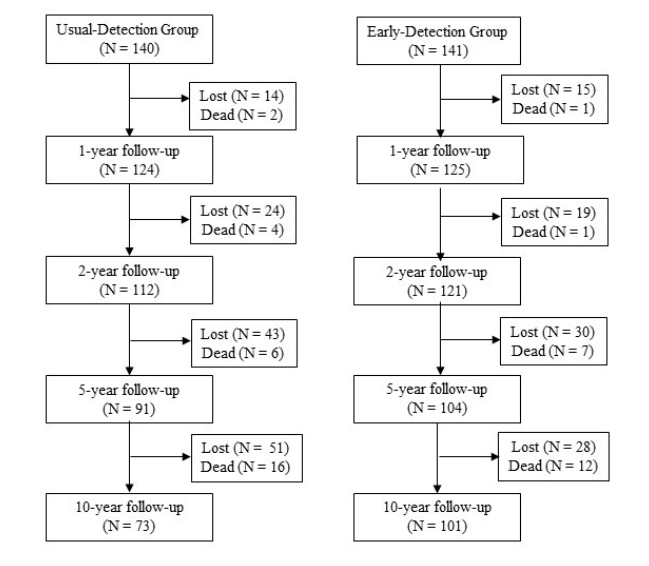 The reason that there were 31 deaths, and not 28, in Melle's paper was because they had added one to three years of observation time, which didn't exactly make it more transparent what the researchers had been doing.
Melle sent me a table, which was not particularly informative: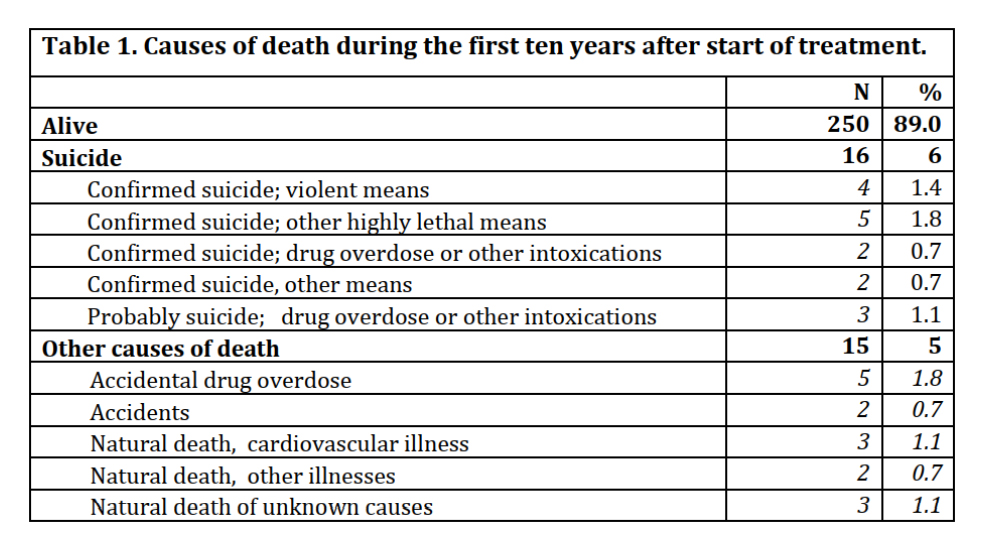 Melle explained that accidental drug overdose means taking too much of an illegal substance, or substance, or too strong a substance by accident, and that is does not refer to prescription drugs. If information about overdoses was ambiguous, it was defined as probable suicide.
This was really interesting. Why did 16 young people (6%) commit suicide in just 10 years? And why was this vitally important information not explored by the researchers? We cannot conclude it was their schizophrenia that led to suicide.
It is more likely the drugs enforced upon them, other forced treatments, involuntary admissions to psychiatric wards, humiliation, stigmatization and loss of hope, e.g. when patients are told that their disease is genetic, or can be seen in a brain scan, or is lifelong, or requires lifelong treatment with neuroleptics.
I am not making this up.4 It all happens, and some patients get it all. It is no wonder they might kill themselves when there is no hope.
The accidental drug overdoses are also of interest. The term is a bit tragicomic because patients with schizophrenia are usually overdosed by their doctors with prescription drugs and if they take an illegal drug as well, it is rarely possible to say that it was the illegal drug that killed them and not the prescription drugs. It could be the combination, and it might not have happened if the patient had not been forced to take neuroleptics and other dangerous drugs, e.g. depression pills and antiepileptics, both of which double the risk of suicide (see Chapter 1).
Finally, there were eight deaths from "natural causes." It is not natural for a young person to die. I would have liked to know in detail what happened. It might be "natural" for psychiatrists that young people die in psychiatry but that's because the psychiatrists ignore their own role in this.
I wrote again to the Norwegian Research Council, pointing out that Melle had told me that the data on causes of death contained the full information available to the doctors writing out the death certificates. I requested to see this information, in an anonymised format. I also noted that neuroleptics had been used liberally in the study and that some or all the deaths could have potentially been caused by the drugs the patients were on, which often involve polypharmacy.
I found it curious, considering the very high death rate of 12% (see Table 1 just above), that the authors had not discussed whether the deaths could have been caused by the drugs and had not reported which drugs the patients were on.
Finally, I noted that Melle had asked me: "Since you are writing with a Nordic Cochrane Centre letterhead, I'm curious if Cochrane has any plans for doing anything in this area?" I noted that I did not understand the relevance of this question. Why would I not use the letterhead for my own centre?
I heard no more. But Melle's inappropriate comment about my centre's letterhead, which I used in all official correspondence, seems to have been part of a concerted effort with the aim of removing me from my job as Cochrane director.36
Harassment from psychiatrists and Cochrane
In my letter to the 15 funders, the final paragraph was:
"You may consider this a Freedom of Information request, which means that if your organisation does not have detailed information on the deaths in the TIPS study, we expect your organisation to obtain this information from Hegelstad and to send it to us. Anything short of this would be unethical in our view, and we are convinced that patients with psychotic disorders agree with us (I am Protector for the Hearing Voices Network in Denmark)."
This would seem straightforward, but the US Stanley Medical Research Institute did not write to me. Instead, psychiatrist Edwin Fuller Torrey, associate director of research at the institute, complained about me in two letters to the CEO of the Cochrane Collaboration, journalist Mark Wilson, where he, among other things, wrote:36
"The Cochrane Collaboration's credibility rests upon the assumption of objectivity … Such objectivity appears to be very much in doubt for Dr. Peter C. Gøtzsche who identifies himself as the Director of the Nordic Cochrane Centre and as the Protector of the Hearing Voices Network in Denmark. This organization promotes the belief that auditory hallucinations are merely one end of a normal behavioural spectrum, thus casting doubt on whether schizophrenia actually exists as a disease, and that hearing voices are caused by trauma in childhood, for which there is no solid evidence. Given such clear lack of objectivity, I personally would not find any Cochrane publication on mental illness to be credible."
Torrey also wrote that the Hearing Voices Network encourages people who take neuroleptics for their schizophrenia to stop taking their medication, and that, "It is very difficult to imagine how anyone with these views could possibly be objective regarding a Cochrane study of antipsychotics, thus impugning your credibility which is your most important asset."
This was bizarre. How can my objectivity be "very much in doubt" when I merely ask for the number of deaths and their causes? Furthermore, contrary to Torrey's assertions, there is solid evidence that psychosis is related to childhood traumas, with a clear dose-response relationship.29,30
Torrey also drew the logically false conclusion that because I am protector of the Hearing Voices Network, no Cochrane publication on mental illness is credible. There is no relation between these two things. Here is an excerpt of a comment the Network sent to me:
"We take issue with Torrey's attempts to discredit the Hearing Voices Movement to add leverage in his attempt to discredit Professor Peter Gøtzsche. In 2016, we invited Gøtzsche to be protector because of his pioneering work regarding psychiatric research. We are honoured to have him as our protector.
We believe that Torrey's comments to Mr. Wilson regarding Gøtzsche being our protector to be bordering on the ridiculous when he attempts to discredit the whole Cochrane Collaboration.
We would ask that Torrey stops using the network as a platform to insult a respected professor along with the Cochrane Collaboration. We would also suggest that he considers apologizing for his disrespectful remarks about voice hearers."
The motto of the Cochrane Collaboration is "Trusted evidence," which Wilson had demanded we should all use, also in our letterheads, as if we were a drug company and not an independent scientific organisation registered as a charity. He also required we used short names for our centres, which created great confusion among journalists who often wrote the "Cochrane Nordic Centre" even though my centre's name was the "Nordic Cochrane Centre":

Cochrane's motto is highly misleading when it comes to its reviews of psychiatric drugs. As I have explained above, very few of them can be trusted.
My criticism of the drug industry's organised crime,4,51 psychiatric drug trials, and the overuse of psychiatric drugs was never popular at Cochrane headquarters after Wilson took office in 2012 and changed an idealistic grassroots movement into a business with a focus on brand and sales.36
Wilson and his deputy's harassments of me were particularly damaging after I published the article about 10 myths in psychiatry that are harmful for the patients in 2014,38 and when I explained in the BMJ in 2015 why long-term treatment with psychiatric drugs causes more harm than good.36,94
Wilson also bullied me on this occasion. Instead of dismissing Torrey's complaint, which was the only right thing to do, Wilson wrote to me that I had broken Cochrane's Spokesperson Policy by using my centre's letterhead and my title and that this would reasonably lead any reader to assume that the request was from the Nordic Cochrane Centre and that the views expressed were those of the centre.
Wilson wanted to apologise to Torrey for "any confusion in this regard." Quite interesting, that one bully wanted to apologise to the other bully when the person between the bullies had done nothing wrong.
The setup was ridiculous, and even Cochrane's own hired lawyer didn't find I had broken the policy, neither in this case, nor in another similar case that was also about psychiatry,36 but such trifles don't matter for bullies. There was no problem, but Wilson invented one. It was clear that the request came from the centre; that I as Director was authorised to speak on behalf of my centre; and my views were even shared by my staff. Furthermore, my letter was not a public announcement, but a letter to a funder. No one could become "confused."
US lawyer Ryan Horath described the farce this way:36
"Cochrane leaders became obsessed about Gøtzsche using Nordic Cochrane letterhead to send this request. And a very large number of people seem to agree with the board's obsession … JESUS CHRIST, WHAT IS WRONG WITH YOU PEOPLE? A researcher is making inquiries about the suppression of information regarding children who died in a clinical trial and everyone is worried about what letterhead it is written on? … Even worse, it is clear the outrage over use of Cochrane letterhead is feigned outrage, as this was a private letter. Was Fuller Torrey confused about whether the letter represented Cochrane's views? Apparently not … Instead, Torrey argued that Gøtzsche was not 'objective' and this damaged Cochrane's reputation—something totally different … So, Cochrane leadership's use of this complaint in its case was misleading. The complaint is about one thing, and they used it as evidence of another (false allegation). That is how kangaroo courts operate."
What is the bottom line of neuroleptics?
Countless unreliable studies have been concocted to fabricate a fairytale about neuroleptics helping people survive their psychosis. I have dissected some of them in my previous book.4 They have serious flaws and the patients that are being compared—those on neuroleptics and those not—are not comparable to begin with. Particularly a Finnish doctor, Jari Tiihonen, has published one misleading study after the other.4
Don't pay any attention to these reports. Whitaker once wrote to me that it required extraordinary mental gymnastics by the psychiatrists to conclude that these drugs, which cause obesity, metabolic dysfunction, diabetes, tardive dyskinesia, lethal cardiac arrhythmias, and so on, protect against death.
Furthermore, as noted above, the psychiatrists often take away the patients' hope of one day living a normal life. Why bother about having a healthy lifestyle, if life will never be worth living? It is not only neuroleptics, often in combination with many other psychiatric drugs, that kills the patients, it is the whole package psychiatry delivers to them.
If acutely disturbed patients need something to calm them down, benzodiazepines are far less dangerous and even seem to work better.95 When I have asked patients if they would prefer a benzodiazepine or a neuroleptic next time they developed a psychosis and felt they needed a drug, all of them have said they preferred a benzodiazepine. Why don't they get it then?
Do everything you can to avoid getting treated with a neuroleptic.
Do everything you can to avoid anyone dear you to get treated with a neuroleptic.
If a doctor insists, give the doctor a copy of my book and say you will sue, if the doctor ignores you.
Ensure you can document that you warned the doctor, e.g. by recording the conversation, bringing a journalist to the meeting, or demanding a written note from the doctor on the spot, not later. If doctors get in trouble, they often deny what happened, and they might even change the written records.45

To read the footnotes for this chapter and others, click here.
***
Mad in America hosts blogs by a diverse group of writers. These posts are designed to serve as a public forum for a discussion—broadly speaking—of psychiatry and its treatments. The opinions expressed are the writers' own.
***
Mad in America has made some changes to the commenting process. You no longer need to login or create an account on our site to comment. The only information needed is your name, email and comment text. Comments made with an account prior to this change will remain visible on the site.