I began smoking marijuana in college in the late 1990s. It was illegal at the time and it was difficult to procure, so I started out having it randomly at parties with friends. I liked the way it made me feel, the out-of-body type weirdness, the creativity, the euphoria. By the end of college, I had become a daily user, a habit that I carried for the next 20 years. I considered myself a high-functioning pothead, and because it didn't seem to be negatively affecting my life in any way, I did not see it as a problem.
In 2011 I made a new friend who had a medical marijuana card. She bought high-potency weed from dispensaries and would then turn around and sell it to her friends, including me. After smoking for so many years, the effects of the cannabis weren't as strong for me and I was happy to feel the high of this new, stronger stuff I was smoking. But strange things started happening in my mind once I started using the medical-grade weed.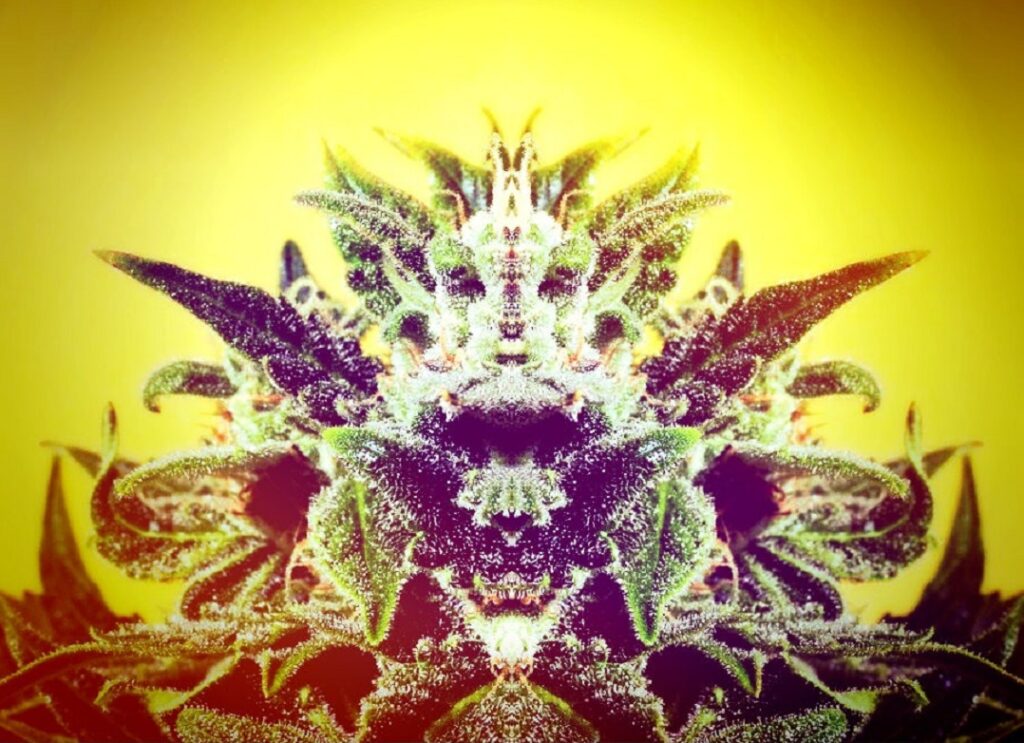 I began to see connections where none existed. I would see a butterfly on a magazine cover in line at the grocery store then see someone with a butterfly tattoo and know that it was the Universe trying to tell me something. What it was trying to tell me, I don't know. It was part of the mystery that "they" needed me to figure out. Soon, every song on the radio was being played specifically for me, the lyrics becoming messages I was supposed to decode and interpret. It wasn't long before I had a full-blown mental breakdown.
I was diagnosed as bipolar in the summer of 2012 at the age of 33. Known as Truman Show Syndrome, my first psychotic episode consisted of me believing wholeheartedly that I was being watched by cameras everywhere and that I was the star of a reality show about my life. Everyone — friends, family, and strangers alike — was "in on it" and only interacting with me to get their 15 minutes of fame. Leading up to the psychosis was a trail of stressful events: my parents divorcing, a messy breakup, and the death of my dog all contributed to emotional strain that I wasn't handling well. And did I mention I was smoking high-potency cannabis several times a day?
That episode lasted a month and I was hospitalized twice for the strange things my mind was thinking and directing me to do. But once I regained clarity of thought — on my own, without medication — I was adamant that I was not bipolar, and that the event was what one psychiatrist told me was a BRP, or brief reactive psychosis, due to the stress I was under. Although the episode had leveled my life to the ground, causing me to lose my apartment and job, I chose not to medicate, and I also did not stop smoking weed.
A year later, with the stress of a new job and yet another breakup with a boyfriend, I had a second psychotic break. It was the same theme, that hidden cameras were everywhere, that Oprah was directing the show, and that at some point, after "they" had gotten all the footage they needed, I would be rewarded with fame, riches, and the love of my life. This time, after losing my job, my apartment, and totaling my car, I spent eight days locked in a mental hospital and sadly accepted the diagnosis of bipolar 1 disorder. I began a long relationship with Risperdal. I continued to use marijuana, despite the articles my family would send me describing the link between marijuana and psychosis. It was a habit, and perhaps a bit of an identity that I had maintained since college and I couldn't let it go.
I took 2mgs of Risperdal every night for six years and remained stable. In 2019, tired of fighting to maintain a normal weight and frightened that the muscle twitching I experienced would lead to full-blown tardive dyskinesia, I decided to stop everything: no more marijuana, and no more Risperdal. I had to find out if I could live a normal life, and if I was truly bipolar or not. I remained stable for two and a half years.
In the fall of 2021, a number of unfortunate realities hit me all at once. In the middle of the Covid pandemic, with a one-year-old baby to take care of, I discovered that my husband had been cheating on me for the majority of our relationship, and my father was diagnosed with cancer. I began drinking more and more alcohol as a (bad) coping strategy and took up smoking marijuana again after a two-year hiatus. Almost immediately I began to see "signs" from the Universe and connect things that really didn't connect. I fell into a year-long psychosis of delusions involving hidden cameras, FBI agents, the mafia, and a long-lost love interest. And I lost everything.
During the psychosis, I repeatedly refused medication, but also continued to smoke copious amounts of marijuana. It was all I had left now that my husband had left me and my friends and most of my family had turned their backs on me. It wasn't until three months after I'd been forced onto Invega injections in order to see my two-year-old son that the delusions abated and I could grasp the magnitude of the destruction the psychosis had caused. As I returned to reality, I came to believe that it was the marijuana, not the bipolar diagnosis, that had set the psychosis in motion. I flushed my weed down the toilet and threw out every piece of paraphernalia I had.
Now that more and more states are legalizing recreational marijuana, we are seeing more and more instances of marijuana-induced psychosis. Daily users have a 2-3 times greater risk of developing psychosis, and the high potency strains being sold in dispensaries, combined with a family history of mental health issues, increases one's risk even more. I was doomed from the start.
Is marijuana to blame for my mental health issues? Am I really bipolar, like what my medical records now state is the case? Is it a combination of the two? I had two full years when I was off both marijuana and antipsychotics, and I was healthy and normal during that time. It wasn't until I started using cannabis again that the psychotic features returned — and in a big way. But it wasn't until I had been on the antipsychotic for three months that the psychosis ended. This leads me to believe that the manic episode was truly induced by both stress and marijuana, and that Invega may have been necessary to bring me back out of it.
Just two months out of my latest episode, I am having to rebuild my life all over again. I hate what Invega is doing to my body: a 20-pound weight gain in three months, lactating breasts, hair loss. Now entrenched in a custody battle for my son, I have to prove to the judge that I am complying with the prescribed medication while knowing how toxic it is for my body, and thus for my psyche as well. I am working with my psychiatrist to lower the dosage to eventually get off antipsychotics altogether and maintain my stability with natural coping strategies. I am hopeful that with the absence of marijuana from my life, this will be possible.
***
Mad in America hosts blogs by a diverse group of writers. These posts are designed to serve as a public forum for a discussion—broadly speaking—of psychiatry and its treatments. The opinions expressed are the writers' own.
***
Mad in America has made some changes to the commenting process. You no longer need to login or create an account on our site to comment. The only information needed is your name, email and comment text. Comments made with an account prior to this change will remain visible on the site.