Many advocates for human rights in the US mental health system already know this sad fact: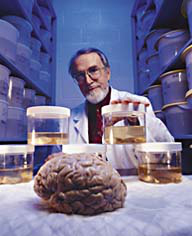 The main US government agency that addresses mental health is increasingly under the influence of a special interest group, founded by extremist psychiatrist E. Fuller Torrey. This group, Treatment Advocate Center, promotes court-ordered involuntary outpatient mental health treatment, even if the client lives outside of a psychiatric institution.
However, even after working for decades for human rights in mental health, I have been surprised about how involuntary outpatient ideology is taking over in this government agency, Substance Abuse and Mental Health Services Administration. SAMHSA plans to spend as much as $54 million of US taxpayer money for 17 programs across the country to spread this coercive approach. Four members of a new advisory committee for SAMHSA promote involuntary mental health.
What should be the response from people who care about human rights and mental health?
Sex and Murphy's Last Law?
The congressperson behind the push for involuntary mental health has been Rep. Tim Murphy (R-PA). Earlier this month, Sept. 2017, mainstream media spotlighted a sex scandal involving Rep. Murphy. It turns out that over the last few years, Rep. Murphy betrayed his wife by hooking up with a volunteer for his horrible mental health legislation. His mistress is also a psychologist, about half his age, and those interested may read a Washington Post article about it here. Of course, the sex life of anyone is their own business, but remember that Rep. Murphy pushes involuntary mental health. Has he had a mental health checkup?
Needless to say, Rep. Murphy's problems have hurt him on both sides of the aisle.
Of course, involuntary approaches have been a part of the mental health industry for centuries. I oppose all involuntary mental health treatment, because true recovery is based on empowerment. Usually this coercion is behind closed doors inside of locked psychiatric institutions. But since the 1980's, in the US, state after state has quietly passed mental health laws allowing courts to order people living out in their own neighborhoods to follow mental health treatment, typically psychiatric drugs.
Today, almost all US states practice Involuntary Outpatient Commitment (IOC). Proponents of IOC have found it useful to cover up this coercion. First, they dropped the word "involuntary." Then they adopted the misnamed euphemism "Assisted Outpatient Treatment" (AOT).
Assisted?
The movie "Brazil" has an arrest scene in which the subject is "invited to assist" the authorities, and this dark vision accurately describes this kind of "assistance."
In reality, IOC does not rely on direct physical force. However, knowing that refusal to take your meds will typically result in your immediate detention is extremely coercive.
IOC or AOT, whatever you call it, involves a judge ordering you to follow instructions from your local community mental health system, even if you are law-abiding and living in your own home, peacefully. The special interest group Treatment Advocacy Center (TAC), founded by the psychiatrist E. Fuller Torrey, lobbies for IOC.
TAC cites studies that claim there are 3.9 million Americans with "untreated serious mental illness." While some of these Americans have a lack of access to mental health care, many simply do not want the traditional mental health treatment, which is often psychiatric drugs. I am one of those who refuses that kind of approach. Are you one of the 3.9 million Americans in the crosshairs of TAC?
TAC Gaining Power in US Government

This involuntary community treatment seems to be gaining even more authority at SAMHSA, one of the largest mental health agencies on earth. SAMHSA, led by director Kimberly Johnson, PhD, asked for $4.3 billion in its 2017 budget.
SAMHSA includes the half-billion dollar agency Center for Mental Health Services (CMHS), headed by Paolo del Vecchio. Paolo is one of the few agency heads who publicly discloses that he has lived experience as, his agency calls it, a "mental health consumer." Until this year, 2017, CMHS has funded the popular Alternatives Conference in the USA, the main place for networking for thousands of mental health consumers since 1985. Apparently this amazingly successful gathering is no longer worth their money, as they find millions for outpatient coerced treatment.
CMHS funds many of the mental health consumer groups in the US. While many of these nonprofits provide important peer support activities, the reliance on CMHS has chilled out and silenced resistance to the rise of disempowerment.
Examples of how IOC is gaining influence in SAMHSA:
SAMHSA directs millions in taxpayer money to 17 grant award winners, in a four-year program, that promote IOC, or AOT as they call it. So far, 256 Americans have been included in these programs. According to SAMHSA's Press Officer Phillip Walls, "The total could go up to about $54 million."
SAMHSA now has a new Interdepartmental Serious Mental Illness Coordinating Committee's (ISMICC), to advise it about folks who are considered to have a significant psychiatric disability for a long duration. ISMICC held its first meeting last month, August 2017. I did a simple Google search, and found that four of the 14 members promote involuntary mental health treatment. In fact, one directs TAC.
As I have blogged previously, SAMHSA now has a new position that is popularly called the "mental health czar," given to psychiatrist Elinore McCance-Katz, who supports AOT.
There is some recent good news. Earlier this month, September 2017, proponents of IOC, or as they call it, AOT, tried to get an extra $5 million per year, which would figure out to more than $20 million dollars over four years. Thankfully, Congress voted this extra money down, 219 to 198 on September 13, 2017. I do not know if money or liberty was the main concern. But if you would like to see how US Representatives voted, go here.
The sex scandal involving Rep. Murphy may be a contributing cause to this failure. Let us hope that the tide is turning for involuntary mental health at SAMSHA.
What Should be Our Response?
Few people know about our little social change movement affectionately called the "Mad Movement." After centuries of mental health oppression this movement began in about 1969. Quietly, under the radar, some of those who have been through the mental health system, along with supportive allies, have worked for human rights and social change in the mental health industry. So what should we do now?
As a survivor of involuntary psychiatry myself, and as a community organizer, my approach tends to be activism.
I worked for MindFreedom International, one of the main independent coalitions in the Mad Movement, for more than 25 years as executive director. Nearly five years ago I experienced a major accident and I retired. Recently, I have acted as a volunteer consultant for MindFreedom with Aciu Institute, a new consulting group I am helping to start with my friend Jeff Bousquet.
Several folks who I respect in the field of mental health empowerment, who bravely survived abuse by their psychiatrists, are funded by SAMSHA directly or indirectly. They have privately told me that they cannot speak out publicly about the rise of involuntary approaches, because of their funding source.
If we are serious, truly serious, about challenging the mental health industry, then we need to develop funding that is independent of that industry. MindFreedom has been one of these groups, refusing to take mental health system money, not that it was offered.
Rise Again!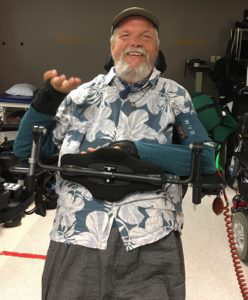 During the past five years, being a quad with a few other disabilities has meant that I have had a bit more time to reflect about our social change movement.  When we should be calling for revolution, it feels like humanity has learned to conform. But let us not give up. Whatever our disabilities, however much SAMSHA is captured by involuntary approaches, fight back! For me personally, one of these ways is that I am looking at a new power chair that can stand me up (see photo).
How can our movement rise now, faced with this push for involuntary mental health? You can leave a public comment on this blog. However, it would be helpful for MindFreedom to get your ideas. We are conducting a survey, and you can indicate if you want your answers to be private or public. I intend to blog about the results. We all want your feedback now! A number of you have already taken this free, brief, private, online survey.
Please take a moment now and fill it out: https://www.surveymonkey.com/r/mfi-survey-2017
MindFreedom leaders need to hear from folks about their concerns and strategy ideas. Early results show that resisting involuntary psychiatric drugging is the most important issue by far. People taking the survey appreciate MindFreedom's activism, support for psychiatric survivors, and independence the most.
For more information about the MindFreedom survey, contact me, co-founder of Aciu Institute, at [email protected].
My Research About SAMSHA
Mr. del Vecchio responded to my email this spring asking about CMHS support for what is called AOT, and is actually IOC. Whatever it is called, a judge court-orders individuals to follow community mental health instructions. Mr. del Vecchio confirmed by email that this grant program exists, and he sent the list of successful awardees. Below is a copy of his email, with both links to the grant program and the awardees.
To clarify this information, I exchanged email with Mr. Phil Walls, SAMHSA press officer, after a Freedom of Information Act request. Below, you will also find the email from Mr. Walls, confirming that more than $50 million is budgeted for this four-year program with 17 awardees. The only change is that the program for Seattle was cancelled and instead it was redirected to an agency in New Mexico, which just passed an IOC law in 2016.
Delvecchio, Paolo (SAMHSA/CMHS) <[email protected]>
Apr 17 [2017] to [David W. Oaks]
Here's a start:
Last year's grant announcement: https://www.samhsa.gov/grants/grant-announcements/sm-16-011
Awardees: https://www.samhsa.gov/grants/awards/2016/SM-16-011
Walls, Phillip (SAMHSA/OC) <[email protected]>
Aug 24 [2017] to [David W. Oaks]
. . . As of July 2017, 256 individuals have been served in the 17 grantee programs.
Walls, Phillip (SAMHSA/OC) <[email protected]>
Sep 6 [2017] to [David W. Oaks]
Hi David
What you are looking for is here: https://www.samhsa.gov/grants/awards/2016/SM-16-011. All numbers are per year, for up to four years. The total could go up to about $54 million.
One change:
COUNTY DEPT OF CMTY & HUMAN SRVS, Seattle WA is no longer a recipient.
But Dona Ana County, New Mexico is now on the list. They receive 700,000/ yr for 4 years.​
New Committee Has Several Involuntary Mental Health Proponents
The Interdepartmental Serious Mental Illness Coordinating Committee's (ISMICC) non-federal membership were selected in August 2017 to serve three-year terms. Their first meeting was held August 31, 2017. Four of those who promote involuntary mental health care include:
Pete Earley, author, who is a big fan of Treatment Advocacy Center, and felt they had the most impact of any US mental health group in 2015.
Mary Giliberti, J.D., Chief Executive Officer, NAMI, one of the main groups to promote involuntary mental treatment, including Involuntary Outpatient Commitment.
Elyn Saks, J.D., Ph.D., Professor of Law, Legal Scholar, University of Southern California Gould School of Law, has a seemingly complicated position about involuntary treatment. She famously said, "My bottom line? I like to say that I am very pro-psychiatry but very anti-force." However, she promotes a strange "one-free-shot" philosophy where the mental health system could impose treatment the first time, since she notes some are grateful after the fact. However, others are not grateful. In fact, some do not survive.
John Snook, Esq., Executive Director/Attorney, Treatment Advocacy Center, actually runs TAC and spends his professional career promoting involuntary mental health treatment.
What Is Your Strategy to Respond? 
On this blog comment section, those of you willing to be public may leave your ideas for effective revolution. It is OK if circumstances require that you must be private about your resistance to this rise of disempowerment at SAMHSA. However, I hope you do take some kind of action. This is no time for the sidelines.
***
Mad in America hosts blogs by a diverse group of writers. These posts are designed to serve as a public forum for a discussion—broadly speaking—of psychiatry and its treatments. The opinions expressed are the writers' own.
***
Mad in America has made some changes to the commenting process. You no longer need to login or create an account on our site to comment. The only information needed is your name, email and comment text. Comments made with an account prior to this change will remain visible on the site.