There's a lot to say about how language is used against us. How it can serve as a feature of oppression to 'other', alienate, and dehumanize. It would take me an eternity to list all the words and ways of speaking that fit into this category, primarily because those working in the mental health system (and the media, etc.) seem to keep coming up with more. For example, at a conference I was recently at, a presenter referred to "first breakers" meaning people who were believed to be experiencing their so-called 'first psychotic break' (a problematic phrase in and of itself). That was certainly a new one for me.
Sometimes people want a list of the 'bad' words so they can avoid them, and while it's possible to give them some ideas, a comprehensive inventory is entirely out of reach. It's better to think more about the qualities of oppressive language so one can develop their own filter. Hint: Ditching terms that tie up one's very being so closely with something widely viewed as problematic (e.g., offender, the homeless, etc.) that they seem to be nothing else is a good place to start. So is getting rid of terms that are used to describe what is seen as problematic only for a particular group. For example, everyone can have a hard time, but only a specific group is commonly thought of as 'decompensating'. Even when providers mean to 'help', their words can sometimes seep into us, reforming our identity around concepts of chronicity, illness, and brokenness.
And yet the worst magic trick up the system's sleeve is when it convinces us that we should use some of these words on ourselves. This is something that happens by design, not accident. And no, I don't necessarily mean that there's some mental health czar sitting on high cackling as he plots how to make this a thing. But I do mean that the system is designed to silence us, and to do that most successfully, it requires our participation.
Yes, we regularly and unwittingly box ourselves in to the 'mental health' framework, even when we might think we're pushing our way out. This phenomenon is attributable to what gets called 'internalized oppression'. It is a common experience among many marginalized groups in society who find that they have taken on elements of unhelpful belief systems fashioned by those in power.
The phenomenon of internalized oppression is complex and multilayered. When it occurs consciously, it may be because we've learned that — for our own survival — we must speak in ways that are valued by those in the dominant group. Or, that somehow setting ourselves apart from the marginalized group we're a part of by sounding more like those in charge means becoming one of 'the good ones', and that comes with certain benefits. Sometimes it's all simply a matter of trying to earn respect or acceptance from the power class. Still other times, it might be about obtaining or retaining a job and the ability to meet one's basic needs. Most poignantly, it can even be about reclaiming our literal freedom, as many of us have learned the hard way that speaking in ways that are seen as "lacking insight" or "weird" (read 'not in alignment with the conventional paradigm') can be used against us as justification to lock us up or keep us incarcerated.
Sometimes internalized oppression grips people so overtly that we find folks introducing themselves by their diagnosis, or referring to each other as non-compliant (one of the most violent terms in psychiatry). Sometimes it happens slickly as the system lays euphemistic traps intent on convincing us that the ugliest things are good, and only the most heartless grinches among us would reject them. I would put 'Assisted Outpatient Treatment' (AOT) in this category. Additionally, a reader recently pointed out to me that I slipped into using 'seclusion' language — a much more mild sounding term than the solitary confinement that it represents — in my last piece without even noticing it. But, what follows are several of the sneakiest examples of internalized oppression represented by language that I hope people will consider as we fight to strip away the layers that hold us back from simply being humans in this world struggling to survive and flourish just like everyone else.
Recovery: I've written about this before in the 'Recovery Trap'. In summary, there are many reasons this word is problematic. First, as some will point out, in order to 'recover' one must first accept that they were 'sick', and if that doesn't sit one squarely within the paradigm of 'mental illness', I don't know what does. Perhaps that works for some folks, but if you feel like the existing binary of 'sick' and 'well' aren't a fit for you, then you may want to reconsider.
In fact, many of us would much rather regard our experiences (even some of the most painful ones) in the realm of perfectly acceptable differences along a continuum of ways to be human. Some of us may feel more deeply than others, and thus be more impacted by traumatic events. And that may be less representative of a 'disorder' than it is of a strength because perhaps it's also what makes us most adept at caregiving, empathizing, and helping others feel seen. Some of us may hear voices as a part of cultural or spiritual experiences, not because we are 'sick'. And then the main challenge becomes how to integrate that experience into a society that has little tolerance for it, rather than seeing it as a symptom to be extinguished. Some of us may simply process information or communicate differently than others. And perhaps that means we struggle with some tasks that are seen as basic, but excel in areas most folks couldn't begin to comprehend. In all of these instances, there is simply nothing from which to 'recover', only barriers to overcome based on how society is designed. And to use 'recovery' (or push it on others) is to continue to buy into the idea that it is fair and just to pathologize difference in the face of history that tells us firmly it is not.
Also walking hand in hand with the idea of 'recovery' is the chronicity of 'mental illness', which far too many people fail to recognize. Folks are taught and buy into the idea that 'recovery' is a lifelong process, which tacitly supports that their diagnosis is lifelong as well. This is something I refuse to buy into, for, as many have now heard me say, "Why is what you get to call life with all its ups and downs, what I'm supposed to call 'recovery' simply because I was once diagnosed?"
I realize that for many who were told they'd suffer and be sick for an eternity, the concept of 'recovery' can be one giant step forward. I'm not going to try and take that away from them, but it is a box I refuse to sit in, and one I believe we need to continue to reconsider as a group that is supposedly fighting for freedom from a system and way of thinking about our experiences that has done us few favors, and continues to lead so many of us to our deaths.
Consumer: I am no consumer. I am no kind of vacuum consuming the 'services' of others, without anything to give back. Nor am I a 'peer', with my identity inextricably linked to my relationship (former or current) to the mental health system. This whole idea that we should be boiled down into these one-word labels (clients, participants, and every other last example) that position my existence in relationship to having been diagnosed serve to do little else than keep me bound.
We may believe we've found the 'right' word when we fashion something new, but we've only bought into prettier shackles. Every time we refer to ourselves or someone else in this manner… Every time we allow some group to be named based on our supposed identity (e.g., 'consumer advisory board')… Every time we even buy into this idea that finding the 'one right word' to which we should be tied… We participate in a system game of keeping ourselves contained.
I remember an area Medical Director for the Department of Mental Health once explained to me (as if I weren't already familiar with the standard practice) that there needed to be a consistent word used in order to create documents or articles relating to various topics or tasks. I wondered 'why' aloud. He didn't have an answer. Not a satisfying one, anyway.
As with 'recovery', this is something I've written about before and am only briefly reprising here. You can read more about it in 'False Arguments: A Three Part Story' or 'Cheers for Peers'.
Anti-Stigma: Anti-stigma is the language of 'advocacy' groups like the National Alliance for Mental Illness (NAMI), and so many others like this new one I just came across: #OkaytoSay. They would have us believe that they're fighting on our side, for liberation and acceptance. Yet, in truth, they're doing little more that supporting a marketing scheme that creates a pipeline right into treatment. Essentially, what these campaigns claim is that we need to get everyone to feel better about 'mental illness' so those of us who are so marked can stop feeling ashamed about seeking help. The same help that the CDC, several journalists, and many of the more honest psychiatrists in our midst have been upfront isn't quite holding water. But whether or not that 'help' works or causes harm seems of little concern.
Yet, how many folks who've been diagnosed flock to 'anti-stigma' events, walk in their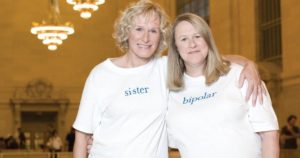 fundraising walks, or cough up their stories in the name of anti-stigma pride? (Or because that's the only way we're allowed to have a broadly heard voice at all?) Does it truly seem as if Glenn Close's sister, Jessie, has been liberated by wearing a t-shirt that says 'bipolar' while her sister keeps all her 'flaws' inside, and claims only the label sister as she stands beside her? Yet, there she is playing along. Read more in my article, Anti-Anti-Stigma.
Trigger: And here's the only one (of those I've included) about which I've never written before. Trigger. I recall some years back when administrators at the local Department of Mental Health became sympathetic to asking folks to enter into their offices (an old state hospital with many remaining signs of what it used to be) based primarily on the idea that it was 'triggering' and perhaps not 'trauma sensitive' to ask folks who've been hospitalized to be there. Although a genuine effort to improve, the problem was once again centered in the individual who was having the emotional reaction, as if it wouldn't make sense for a 'normal' person. But truly, I wonder how it is not upsetting for each and every one of those administrators to spend their days occupying a space where so many human beings were literally tortured and died? To walk on grounds where they were buried? To see the door still marked 'Shower Room' and not wonder what happened in there? That this is not the case is what is baffling, and perhaps at the root of several other issues about the system today.
But, back to the internalized oppression piece. Recently, I posted on my Facebook feed about a presenter at a conference (the same conference as mentioned above) who claimed he had a policy of trying every "treatment modality" offered at the clinical facility where he worked. The example he offered was that of subjecting himself to an intake questionnaire, after which he reported he felt very "tired." My complaint centered around my own skepticism that his claim was anything more than a patronizing nod at being 'woke' enough to realize that clinicians often live in ignorance of what 'treatment' can look or feel like from the receiving end. I found it extraordinarily hard to believe that he actually was at his center trying psychiatric drugs or experimenting with being involuntarily incarcerated. I found his claims to be arrogant and condescending, and I stated as much in the thread.
And then someone (who has been diagnosed himself) came along and essentially said that he could only understand my perspective if I'd been "emotionally triggered." In one verbal swoop, he basically told me that my response made no sense, unless I was a delicate flower over-sensitized by the past to such absurdities of the present. The only problem? My response did make sense. It made perfect sense. And not because I was still overcome with past trauma, but because sitting through an intake (while often terrible), is nothing like being put on long-term psychiatric drugs or sleeping on a plastic mattress next to a stranger, and it is unacceptable to suggest otherwise. His words were pandering and tone deaf, and what doesn't make sense is how quickly even someone who's been on the receiving end of mental health services was to hear about that person's false bravado and nonetheless center the problem in me.
But, the problems with 'trigger' run deeper than all that, and not even because of the weird military link or the implication that we are some sort of dangerous gun ready to fire off. (Well, yes, because of that, too.) The word is a problem — especially when we use it against ourselves — because it perpetuates the idea that we are fragile, and that our environments must be controlled in order to manage that. It also reinforces the idea that big feelings are bad, and must be avoided or numbed out (just like the psych drugs are used to do for so many of us). What would life look like if, instead of desperately ducking those big feels, we noticed when each other seemed impacted, and simply said, "Hey, this seems like it's brought something up for you. Do you want to talk about that?" (There's a group called the 'Big Feels Club' over in Australia, by the way. It's worth checking out.)
That's what we offer to people in Alternatives to Suicide trainings: an approach that not only provides a framework for groups where people can talk openly about suicide and other taboo topics, but for one-on-one conversations and other environments, too. And, by the way, Alternatives to Suicide is also an approach that shuns blanket rules like 'no graphic details', another concept with similar implications that we seem to have picked up from the clinical system along the way. While there should be some process for consent on the part of those who have agreed to bear witness, sometimes people absolutely need to have that level of pain heard.
Speaking of Alternatives to Suicide and 'triggers', not too long ago, my colleague and friend Caroline Mazel-Carlton and I were traveling and offering presentations on this topic, and though we received great responses across the board, one group's feedback included: "There should be a trigger warning." Now, in fairness, I do support the idea that someone should be given a sense of what they're walking into. For example, I believe it would be unfair to advertise a screening of My Little Pony and swap it out with Amityville Horror without any advanced warning. (Whichever one you'd be more likely to choose to avoid is up to you.) However, one might assume that someone signing up for a talk or training on the topic of suicide has been duly informed that the subject matter will be deep, and may be upsetting for some.
I can't support the idea that our conversations, including the personal experiences that we share as a part of the process, require 'trigger warnings'. Nope. Can't do it. Why? For all the reasons listed above, but also because that practice sends a pretty strong message to the person(s) being asked to stamp that warning on their forehead. And, that stamp basically says:
"Hey, you are too much. What you have lived through is so 'too much' that I can't even stand to hear about it."
Imagine hearing that as someone who had to live through what someone else is saying they can't even bear to hear. Imagine hearing that as someone who spent years in silence or being told not to tell, before gathering the courage to lay out all they've been through. Bear in mind just how strongly secrecy and silence are linked to trauma and abuse.
No, we need not run roughshod over each other's needs, or try and trick each other down a non-consensual hole of tough stuff. I, for one, have a really hard time around dogs, and if you are my friend, you won't bring one to my house, nor surprise me with a visit to the dog pound. (Though if you did, I believe in my ability to survive it.) But we've gone too far with this 'trigger' business, warnings and all. It's become a self-fulfilling prophecy where so many of us run around in circles expecting to be "triggered" and then playing that out with one another when we inevitably are.
The reality is that we are stronger than that, even when we are struggling. We just are. Which isn't to say that we won't ever be upset. Rather it is to say that, on the whole, being upset doesn't always have to be bad and we have more ability to bounce back than that for which we give ourselves credit.
We do not need others making rules and controlling our surroundings on our behalf. We can speak up or step out when we don't want to consent to something really hard in that moment. And when we do find those big feelings rising up, we can have faith in each other that we can work through them. And that it may even be an opportunity to learn and grow as we do.
Now, I guess I should take a moment to add in here that, yes, I realize that some of us have been so institutionalized or traumatized that we've lost any sense that we have the right to say 'no' or 'not right now' or get up and walk out. I get that. But, that is solved not by 'trigger warnings' so much as by creating environments where we are willing to sit in the muck with each other, and re-find our own power. In other words, the same path that leads us to sharing those parts of us we were told to keep hidden is the same path that empowers each of us to set our own limits, too. Conversely, it is often the environment where someone else steps in to 'help' us keep our rawest bits out of sight for fear of 'triggering' one another that also leaves us feeling glued to the floor until someone tells us we can go.
This is all a process. I realize many folks get irritated by the 'moving target' of language, but understand that this is a process of unlearning for us all. It's not so much that the words randomly keep changing as it is that the oppression embedded in our words and ways of being runs deeper than most of us could have ever imagined. Unraveling it all is a long way off.
***
Mad in America hosts blogs by a diverse group of writers. These posts are designed to serve as a public forum for a discussion—broadly speaking—of psychiatry and its treatments. The opinions expressed are the writers' own.
***
Mad in America has made some changes to the commenting process. You no longer need to login or create an account on our site to comment. The only information needed is your name, email and comment text. Comments made with an account prior to this change will remain visible on the site.