In its May 25, 2021 issue, JAMA published a report on the comparative efficacy of two medications for treating preschoolers diagnosed with ADHD. Both methylphenidate and guanfacine were deemed to be beneficial, and in an accompanying editorial, JAMA told of how this retrospective review of patient charts added to the evidence base for this practice.
The editorial's first paragraph, which was written by Tanya Froehlich, a professor at the University of Cincinnati College of Medicine, set forth a medical context for the study:
"Recognition of attention-deficit/hyperactivity disorder (ADHD) in the preschool age group is on the rise, with an increase in preschool ADHD rates in US nationally representative samples from 1.0% in 2007 to 2008 to 2.4% in 2016. Having a preschool-age child (i.e., 3-5 years) with ADHD is associated with numerous negative outcomes in the home (e.g., disordered parent-child relationships, elevated family stress), as well as out of-home settings (e.g., impaired preacademic skills, peer interaction difficulties, expulsion from preschool and childcare settings), underscoring the importance of identification and treatment. Guidelines from the American Academy of Pediatrics and the Society for Developmental-Behavioral Pediatrics (SDBP) recommend behavioral interventions as first-line treatment for preschool-age children with ADHD. However, behavioral interventions alone do not sufficiently improve ADHD-related symptoms and impairment in a large percentage (>80%) of children."
That opening paragraph makes a number of "evidence-based" assertions: that ADHD is a valid disorder; that it can be reliably diagnosed in preschoolers; that there is progress being made in recognizing this disorder in this age group; that untreated ADHD in preschoolers leads to bad outcomes in home and childcare settings; and that behavioral treatment fails to resolve ADHD symptoms in most preschoolers. There is scientific reason to conclude that there is a pressing need to study drugs being prescribed to preschoolers so diagnosed.
The editorial's second paragraph asserts that clinical trials have already shown methylphenidate to be an effective treatment. The American Academy of Pediatrics guideline, Froehlich writes, recommends "stimulant methylphenidate as initial pharmacotherapy for preschool-age children with ADHD because it is the medication with the most evidence of efficacy and safety in this age group."
The need for this effective drug to be compared to guanfacine is that "alternative medication options are sometimes needed given the diminished efficacy and higher rates of adverse effects associated with methylphenidate in preschool-age children compared with school-age children." Organizations such as SDBP and the American Academy of Child and Adolescent Psychiatry's Preschool Psychopharmacology Working Group recommend a2-adrenergic agonists such as guanfacine when a preschooler doesn't tolerate methylphenidate well, even though the "evidence base is remarkably limited regarding management of ADHD" with these drugs in this age group.
In short, the editorial is promoting the notion that prescribing methylphenidate to preschoolers diagnosed with ADHD is an evidence-based practice, and now, with this retrospective review of charts for toddlers treated either with methylphenidate or guanfacine, there is evidence being gathered to support guanfacine's use in this age group as well.
Yet, imagine this thought experiment. If the "evidence-based" assertions were removed from the discussion, what would most people think about giving a three-year-old who "talks excessively" or "who is easily distracted" a 5 mg dose of methylphenidate three times a day, which is a dosage deemed "optimal" in toddlers?
They would likely think it was a form of child abuse. Indeed, an adult who gives methylphenidate to a two-year old without a prescription is understood to have committed a federal crime.
That's the power of an assertion that a practice is "evidence-based." It flips that instinctual thinking. An act that seems to be a form of child abuse, doing evident harm to the child, is understood to be a helpful medical treatment. 
Psychiatry's Evidence Base for Preschool ADHD
Turn the clock back to 1979, and there would have been very few pediatricians or child psychiatrists who would have prescribed stimulants to preschool children. Psychiatry's construction of an evidence-base for this practice, which began to take off in the 1990s, consists of three claims:
ADHD is a neurological disorder characterized by genetic and brain volume abnormalities.
ADHD can be reliably diagnosed.
Methylphenidate is a safe and effective treatment for preschoolers "with ADHD."
If there is good science behind these claims, then it could be argued that medicating preschoolers diagnosed with ADHD is a helpful treatment. If the claims are based on biased and misleading interpretations of research findings, then this is a practice without a scientific justification, and the specter of child abuse comes into view.
Genetic and Brain Volume Abnormalities in ADHD
The diagnosis of "attention deficit disorder" was created in 1980, when the American Psychiatric Association (APA) published the third edition of its Diagnostic and Statistical Manual (DSM-III). There was no such diagnosis in the two prior editions of the DSM, and when the APA published DSM-III, it adopted a disease model for diagnosing and treating mental disorders. In her 1984 book The Broken Brain, Nancy Andreasen—the long-time editor in chief of the American Psychiatric Journal—set forth this new conception: "The major psychiatric illnesses are diseases. They should be considered medical illnesses just as diabetes, heart disease and cancer are." The thought was that "each different illness has a different specific cause."
This conception of psychiatric disorders meant that "attention deficit disorder," from the outset, would be conceptualized—and treated—as a medical/biological problem, with the thought a line could be drawn that separated the ADD child from the normal child. That diagnosis soon morphed into Attention Deficit Hyperactivity Disorder (ADHD).
However, with the APA having adopted this disease model, research into the biology of ADHD was tainted from the start. Psychiatric researchers did not design their studies to assess whether those diagnosed with ADHD suffered from a brain illness (or abnormality). They sought to find such abnormalities to validate the disorder the APA had created. Researchers have focused on three such possibilities: chemical imbalances, genetic associations, and abnormalities in brain structures (or size).
In the 1980s and 1990s, the chemical imbalance theory of mental disorders was all the rage, a theory born from discoveries of how psychiatric drugs acted on the brain. Antipsychotics block dopamine receptors in the brain, and so researchers hypothesized that schizophrenia was due to too much dopamine in the brain. Antidepressants up serotonergic activity, and so researchers hypothesized depression was due to too little serotonin. Ritalin (methylphenidate) increases dopamine activity and so ADHD was hypothesized to be due to too little dopamine.
Today, the chemical imbalance theory of mental disorders has been mostly discarded. As Kenneth Kendler, co-editor in chief of Psychological Medicine wrote in 2005, "We have hunted for big simple neurochemical explanations for psychiatric disorders and not found them." While advocacy organizations, such as CHADD, may still inform the public that "people with attention deficit hyperactivity disorder may have different levels of dopamine than neurotypical people," this pathology is no longer posited as a primary feature of ADHD in the medical literature.
Although no specific gene (or genes) for ADHD have been found, ADHD experts now regularly tell of how there is a genetic element that contributes to its "heritability." The World Federation of ADHD International Consensus Statement, which was published in September 2021, asserted that there is a "polygenic cause for most cases of ADHD, meaning that many genetic variants, each having a very small effect, combine to increase risk for the disorder. The polygenic risk for ADHD is associated with general psychopathology and several psychiatric disorders."
A 2010 study published in The Lancet is often cited as proof of this "polygenic" component. The study compared whole genome scans of 366 children diagnosed with ADHD with those of 1047 non-ADHD children. In a press release, the authors of the study stated "now we can say with confidence that ADHD is a genetic disease and the brains of children with this condition develop differently to those of other children."
ADHD children, if the press release were to be believed, had been found to have genetic abnormalities that weren't present in "normal" children. But as UK psychiatrist Sami Timimi wrote in his book Insane Medicine, which was serialized on Mad in America, the actual data didn't support that conclusion.
The researchers reported that 15.7% of the ADHD group had "copy number variants"— abnormal bits of genetic code known as CNVs—in their genomes, compared to 7.5% of the control group. This meant that 84% of the ADHD group did not have this polygenic abnormality, which means that this abnormality, in fact, was not characteristic of those so diagnosed.
A 2017 article in Genome Medicine is an example of research that has led to the second part of the genetics claim, which is that there is a polygenic abnormality common to neuropsychiatric disorders. In the study, an international group of investigators reported that they had found CNVs on two genes (DOCK8/KANK1) significantly more often in those diagnosed with ADHD and four other psychiatric disorders than in healthy controls. This was evidence, they wrote, of a "common genetic component involved in the pathogenesis of neuropsychiatric disorders."
Here is the data for the ADHD group. Of the 1,241 youth in the ADHD cohort, four—0.32%—had CNVs in these two genes. That meant that 99.7% of the ADHD group didn't have this genetic abnormality. However, since only 0.1% of the control group had this abnormality, the authors concluded that the ADHD patients were three times more likely to have it than healthy controls.
The data was similar for the other four psychiatric disorders. In total, only 32 of the 7,849 people with a psychiatric diagnosis had a CNV abnormality in their DOCK8/KANK1 genes (0.4%). There was an increased "odds ratio" that this abnormality occurred in those diagnosed with psychiatric disorders, but it occurred so rarely that this difference was meaningless. The "odds ratio" calculations were an example of science employed to mislead, rather than to inform.
The flaws with the brain volume research are much the same. The studies involve averaging volumes in an ADHD group compared to non-ADHD controls, and while the effect size differences in these composite comparisons are quite small, meaning that there is a great overlap in the distribution curves of volumes for both groups, the research is cited as evidence of brain differences in individuals with ADHD.
In 2017, Lancet published a "mega-analysis" of such studies. The 82 authors declared that theirs was the largest dataset of its kind. It was composed of MRI scans measuring brain volumes in 1,713 people diagnosed with ADHD and 1,529 controls, with this research having been conducted at 23 sites around the world. Theirs was a definitive study, and they declared it showed that individuals with ADHD had smaller brains than normal.
"The data from our highly powered analysis confirm that patients with ADHD do have altered brains and therefore that ADHD is a disorder of the brain," they wrote. "This message is clear for clinicians to convey to parents and patients, which can help to reduce the stigma that ADHD is just a label for difficult children and caused by incompetent parenting."
Headlines in CNN, Newsweek, WebMD and other media all echoed this claim. "Study finds brains of ADHD sufferers are smaller," Newsweek wrote.
However, this conclusion was belied by the effect sizes that the researchers reported for the various brain volume comparisons. The Cohen's D effect sizes ranged from 0.01 to 0.19, meaning that the distribution of brain volumes in the two groups, in comparison after comparison, were nearly identical. The effect size for "intracranial volume" was 0.1, which is depicted in the graphic below: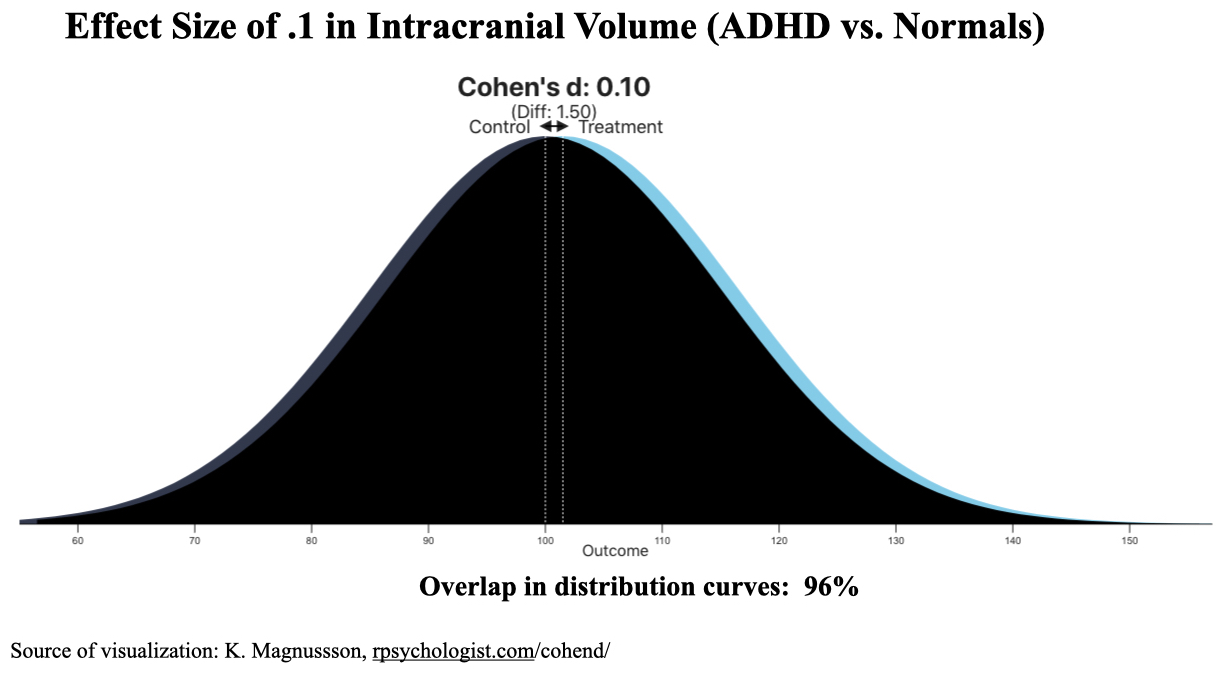 With an effect size of 0.1, there is a 96% overlap between the two groups. Pick a random individual diagnosed with ADHD in the study, and there would be a 47% chance that he or she would have a bigger brain than the median of the control group (and a 53% chance to have a smaller brain than the median.)
While such research is easily deconstructed, it is the conclusion drawn by the authors that gets entered into the ADHD evidence base. These findings are then incorporated into consensus statements, medical textbooks, clinical guidelines, and information provided to the lay public.
Here is a sampling of this process:
The World Federation of ADHD International Consensus Statement: "Findings from genetics or brain imaging . . . indicate a consistent set of causes for the disorder."
The American Academy of Child and Adolescent Psychiatry: "ADHD is a brain disorder.  Scientists have shown that there are differences in the brains of children with ADHD . . . Research has shown that some structures in the brain in children with ADHD can be smaller than those areas of the brain in children without ADHD."
The Centers for Disease Control and Prevention: "Although the exact causes of ADHD are not known, research shows that genes play a role."
WebMD: "Experts aren't sure what causes ADHD. Several things may lead to it, including . . . genes, chemicals, brain changes" (and more).
The root cause of this misinformation is that ever since DSM-III was published, psychiatric researchers have been searching to identify biological causes for ADHD, and with that impulse in play, they have regularly misrepresented their own data. Very small group differences compared to controls are represented as abnormalities found in individuals diagnosed with ADHD, even though the study data, when properly parsed, show that not to be true.
Indeed, once the data are reviewed, here is the finding that comes clear: Decades of research into the "biology" of ADHD failed to find any pathology that was characteristic of individual children so diagnosed. The search for chemical imbalances, ADHD genes, and brain volume abnormalities all turned up negative. Any reported group differences in the genetic and brain volume studies were quite small and showed that most ADHD children fell within "normal" limits.
ADHD Can Be Reliably Diagnosed
Psychiatry's declaration that ADHD has genetic and biological underpinnings leads to the conclusion that it is a discrete disorder that can exist in preschool children (or is a disorder present at birth that will become manifest as the child develops.) However, for the prescribing of methylphenidate to be considered "evidence-based," a second conclusion must be drawn, which is that this discrete illness can be reliably diagnosed in preschoolers. Otherwise, such prescribing practices would lack a medical justification and treating toddlers who might not have this condition with a stimulant could be seen as doing great harm.
The National Drug Intelligence Center even makes this point: methylphenidate is safe only when prescribed "for a legitimate medical condition." Otherwise, it should be considered a drug of abuse, one that can cause "psychotic episodes, cardiovascular complications, and severe psychological addiction."
As is well known, there is no biological marker for diagnosing ADHD. From its inception, the diagnosis has been made on an assessment of behaviors—inattention, impulsivity, and hyperactivity—said to be symptoms of the disorder. The specific criteria for the diagnosis have changed with each iteration of the DSM, with each updated volume making it easier to make the diagnosis. Prevalence studies reflect this expansion, with the percentage of youth said to have ADHD increasing from 3% in the early 1980s to 5% after DSM-IV was published in 1994, and to 10% in the DSM-5 era.
While the changing criteria and prevalence studies tell of a diagnosis that is a construct, as opposed to an illness found in nature, the ADHD professional community has steadfastly maintained that it is a "real" disorder that can be reliably diagnosed. The field has created an evidence base for this belief, in large part through its use of rating scales to measure the symptoms set forth in the DSM.
Psychiatry, of course, has created rating scales for all of its major disorders, which quantify symptom scores and thus lend an aura of scientific objectivity to the diagnoses. The rating scales may also be used to draw a theoretical line separating those who meet the criteria for the disorder and those who do not, which is how the ADHD rating scales are used.
One such tool is the SNAP-IV Teacher and Parent Rating Scale, which was created after DSM-IV was published. The ADHD questionnaire lists nine behaviors related to the "inattention" domain and nine behaviors related to the "hyperactivity impulsive" domain, with the parent or teacher rating the presence of the behavior on a scale of 0 to 3 (0 = not at all, 1 = just a little, 2 = quite a bit, 3 = very much).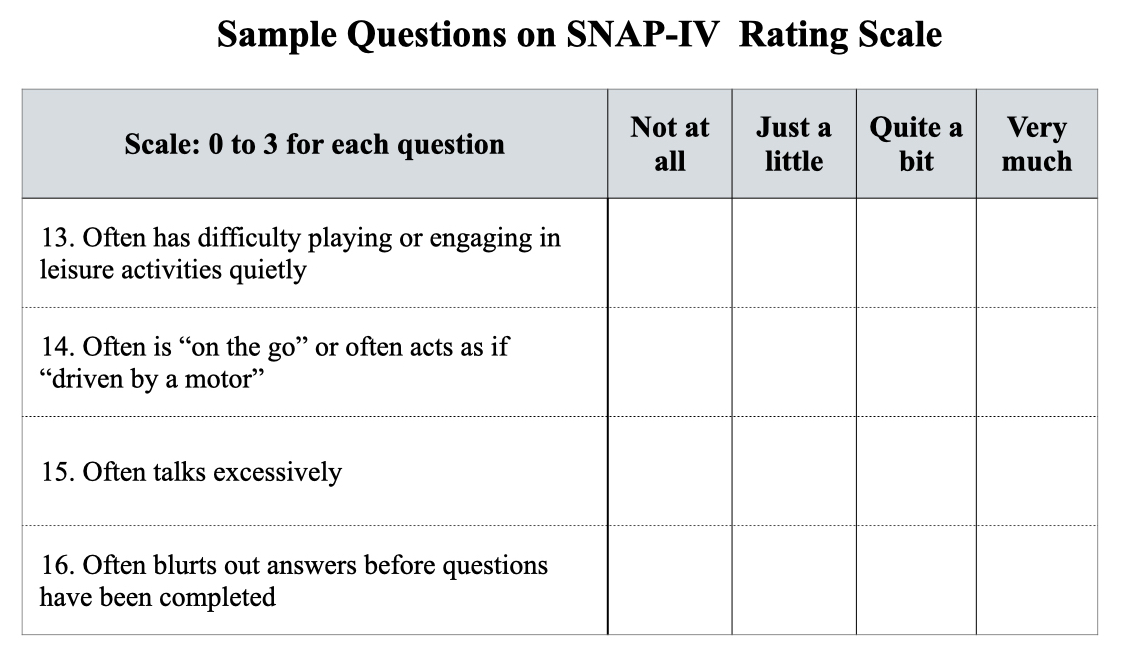 The possible range of scores is 0 to 27 for each of the two subtypes. SNAP guidelines define scores less than 13 as "not clinically significant," and scores above that line of demarcation are categorized as mild, moderate, or severe symptoms of ADHD. Here is the SNAP scoring table:
Not clinically significant: < 13
Mild symptoms: 13 – 17
Moderate symptoms: 18 – 22
Severe symptoms: 23 – 27
Another such tool is the Vanderbilt assessment scale. Today, a parent or teacher can go online, answer questions related to the frequency of a child's symptoms and performance in school, push the "calculate" button, and immediately learn whether the child "meets criteria" for the disorder and its various subtypes. It's a yes or no bottom line.
When SNAP, the Vanderbilt, and other ADHD rating scales were introduced, other researchers then assessed their "reliability" and "validity." These assessments are difficult to understand, but methodologies are discussed, numbers are crunched, tables of statistics are published, and a conclusion is drawn about the scales' merits. A 2003 review published in the Journal of the American Academy of Child and Adolescent Psychiatry gave them all excellent grades: ADHD "rating scales can reliably, validly, and efficiently measure DSM-IV-based ADHD symptoms in youths," the authors wrote. "They have great utility in research and clinical work."
The rating scales developed after DSM-IV was published in 1994 were deemed useful for measuring symptoms in school-age children. The thought at that time—the late 1990s, early 2000s—was that ADHD couldn't be reliably diagnosed in preschool children, as even "normal" three-year-olds were often inattentive, impulsive, and ran about like they had motors inside them. But then physicians began prescribing stimulant medications to toddlers with behavioral problems, and that led to the release of the ADHD Rating Scale IV, Preschool Version.
This scale is similar in kind to the SNAP-IV, with 18 questions scored on a scale of 0 to 3. Scores are tallied compiled for inattention subtype, hyperactivity/impulsivity subtype, and composite type. The cutoff for symptoms "suggestive" of ADHD is the 93% percentile mark, i.e. scores in the top 7% are seen as meeting criteria for a diagnosis.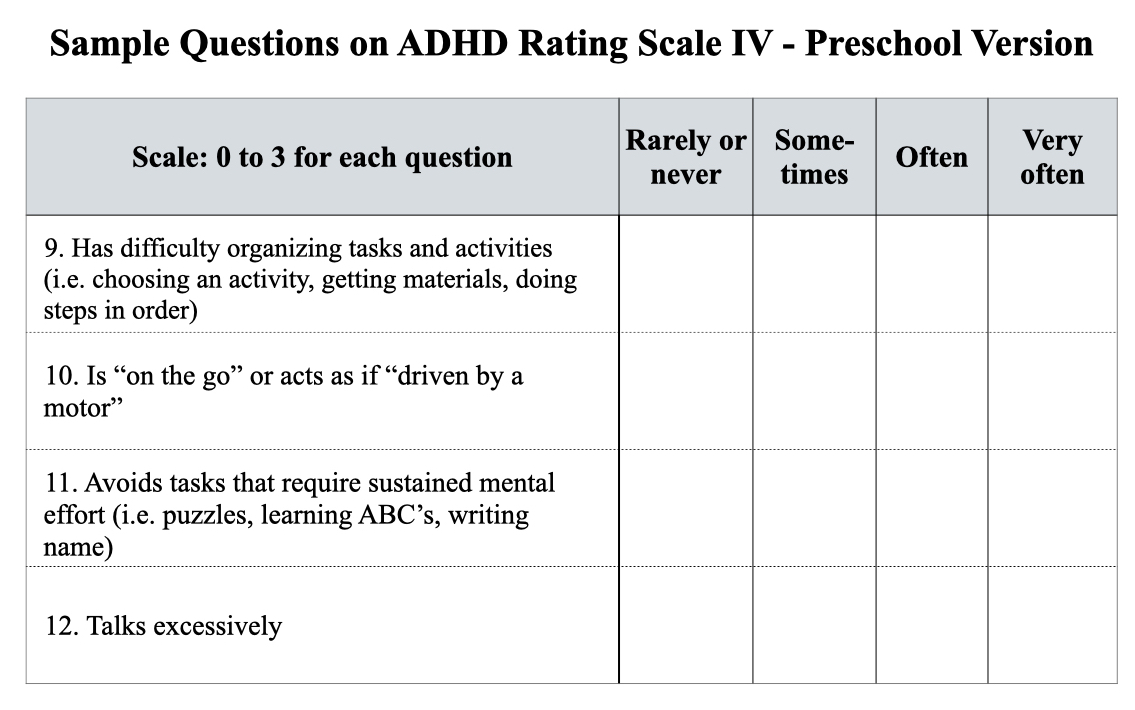 Although the rating scales are not supposed to be used to make a diagnosis, they are said to identify children who need to be referred to a psychiatrist for a diagnostic evaluation. The numerical scores promote an understanding, which permeates the medical literature, that there are children "with ADHD," and children "without ADHD," a description that signals there is no in-between space. A child either has the "neurological" disorder or doesn't.
In 2002, Russell Barkley and other prominent figures in the ADHD world published an "International Consensus Statement on ADHD" that made this point clear. Evidence that ADHD was a "real medical condition," they wrote, was so abundant that to question its validity was "tantamount to declaring the earth flat, the laws of gravity debatable, and the periodic table in chemistry a fraud."
The  recently published World Federation International Consensus Statement made a similar claim, albeit in more moderate language. ADHD was a "valid disorder" and the fact that it could be reliably diagnosed was an essential part of the evidence establishing its validity. "Well-trained professionals in a variety of settings and cultures agree on its presence or absence using well-defined criteria," they wrote.
However, just as the genetics and brain volume research can be easily deconstructed, so too can this assertion that ADHD is a distinct disease that can be reliably diagnosed. The pretense is self-evident.
While scales may spit out a bottom-line score, the assessing of symptoms is a subjective exercise. When does a toddler's "difficulty organizing tasks and activities" fall into the "often" category, as opposed to the "very often" category? When does "talks excessively" move from the "sometimes" category into the "often" category? The scores change depending on which box the parent or teacher checks.
Even more to the point, the scores fall on a spectrum, and then cutoff numbers are arbitrarily drawn to distinguish those who "have" symptoms suggestive of ADHD and those who do not. Should the cutoff be one standard deviation above the mean? If so, this will mean that 16% of all children will have scores at the far end of the spectrum, and thus have symptoms suggestive of ADHD. Or should the cutoff be 1.5 standard deviations above the mean? If so, this will result in 6.5% of all children "meeting the criteria" for ADHD. The cutoff lines used in ADHD rating scales vary, with most drawing a cutoff within this range of 1 to 1.5 standard deviations above the mean.
None of this tells of a disease found in nature. The assessing of symptoms is a subjective exercise, symptom scores fall on distribution curve, and then a line—somewhere along that distribution curve—is arbitrarily set to identify those who meet criteria for the disorder.
Yet, it is the pretense—that ADHD is a discrete neurological disorder that can be reliably diagnosed—that rules in the medical literature and in the public mind. Articles in medical journals regularly tell of "children with ADHD" and children "without ADHD."
This mindset is on display in the JAMA editorial. The title is "Comparison of Medication Treatments for Preschool Children With ADHD." The first word in the editorial then reifies that understanding. The writer does not tell of an increase in the in the diagnosis of ADHD in preschoolers, but rather of how recognition of ADHD in preschoolers has increased.
That is a difference in word choice that reveals all. And it sets the table for the field to declare that prescribing stimulants to preschool children is a helpful thing to do.
The Preschool ADHD Treatment Study (PATS)
The science reviewed above, if interpreted in an unbiased manner, tells of how ADHD is a diagnostic construct that groups together children with certain behaviors that impair their ability to function in certain environments (at least in the eyes of teachers and parents). The biology that may be associated with such behaviors is unknown, and no specific biology—genetic or brain abnormality—has been found that is common to all those so diagnosed. There is a distribution curve in the ratings of behaviors said to be characteristic of ADHD, and those so diagnosed fall at the far end of that curve.
With that conception, arising from forty years of research, one possible societal response would be to see if changing the child's environment could be helpful, which could include society creating more nurturing environments for all children. The problem doesn't necessarily lie within the child, but rather arises from the child's response to his or her environment. Society could see the "prevalence" of the disorder as a marker of distress in society. However, the understanding that ADHD is a distinct disorder, characterized by genetic and brain abnormalities, and that this disorder can be reliably diagnosed, leads to the conclusion that a medical intervention is warranted.
While behavioral treatment may be the initial intervention offered to preschoolers, when a disorder is said to lie within the individual, drug treatment quickly becomes a go-to intervention, particularly once a drug has been deemed to be "safe and effective." The NIMH's Preschool ADHD Treatment Study (PATS), which was conducted in the early 2000s, is cited as providing evidence for prescribing methylphenidate to this age group.
The inclusion criteria required the toddlers to score above the 93rd percentile on the Conners Parent and Teaching rating scales for ADHD (1.5 standard deviations above the mean). There were 303 preschoolers enrolled into the study, which had a complicated multi-phase design.
Here are the results from each phase of the study:
1. Parent-training: Before the 303 children were exposed to methylphenidate, the parents were given a 10-week parent training course, and if a child significantly improved during this period, the child did not continue to the next step of the study. Many parents also dropped out during this period. This left 183 preschoolers who entered the drug-testing phases of the study.
2. Tolerability test: The 183 children went through four weeks of open-label treatment to see if they could tolerate the drug, and those who could not, as evidenced by their experiencing adverse effects, were removed from the study. Fourteen children were discontinued during this phase.
3. Assessment of a "best dose" response: 165 children entered into a five-week "titration" study. Each week, a child would be prescribed a different dose of methylphenidate administered three times a day (1.25 mg, 2.5 mg, 5 mg, and 7.5 mg), with the fifth week a placebo dose. At the end of each week, parents and teachers assessed the children's symptoms on two rating scales to ascertain how they had fared during the seven days on that particular treatment.
The researchers reported that there were significant decreases in ADHD symptoms during the weeks the toddlers were on a 2.5 mg, 5 mg, or 7.5 mg dose of methylphenidate compared to their week on placebo. Only the 1.25 dose failed to provide this benefit. The effect sizes for the three "effective" doses were small, with an effect size of 0.43 for the 15 mg daily dose deemed the "optimal dose" of methylphenidate for this age group.
During the five weeks, the top five adverse events spontaneously reported by parents were decreased appetite, emotional outbursts, difficulty falling asleep, irritability, and repetitive behaviors or thoughts. These adverse events occurred more frequently during the weeks they were on methylphenidate than during their week on placebo.
4. Randomization phase: After the titration trial, the blind was broken to identify the specific dose of methylphenidate the child had done best on (or whether a child had markedly improved during the week of placebo treatment). Then, following a 24-hour washout, the 114 toddlers still in the trial were randomized to their "best dose" of methylphenidate or to placebo. The primary outcome was "excellent response" at the end of four weeks as measured on the SNAP scale. Twenty-one percent of the methylphenidate cohort achieved that response compared to 13% of the placebo group, a difference that was not statistically significant. Only 77 of the 114 finished the four weeks of treatment.
5. Open label maintenance: All of the children enrolled into the methylphenidate phases of the study were eligible for 10 months of open-label treatment, with this phase designed to assess the longer term "safety and tolerability" of methylphenidate. One hundred forty children entered this study, with the percentage suffering various adverse events charted at the start of the 10 months and again at the end, with the thought that the percentage would decline as the preschoolers became more accustomed to the drug. The table below details the findings:
In addition, of the 95 children who remained on methylphenidate for the 10 months, annual growth rates were 20% less than expected, and weight gain was 52% less than expected.
Deconstructing PATS
Once the PATS trial is detailed in this way, what conclusions can be drawn? The first is that parents of 120 of the 303 preschoolers enrolled into the trial decided—after the parent training phase—not to expose their child to methylphenidate. That's 40% of all parents.
The second is that the efficacy of methylphenidate, on a primary outcome measure, only appears during the five-week titration trial, which involved comparing reduction of ADHD symptoms during the weeks they were on methylphenidate to the week they were switched to placebo.
The third is that the titration trial was biased by design against placebo. The placebo period began with the toddlers being abruptly withdrawn from whatever dose of methylphenidate they had been on, and given that discontinuation studies of methylphenidate have found that behavioral symptoms often rapidly worsen following abrupt withdrawal, it could be expected that the behavior of many of the toddlers would deteriorate during their seven days on placebo.
Yet, even with this biased design, at the 15 mg daily dose that was deemed optimal, the "effect size" was only 0.43. With this effect size, the number needed to treat is 7. You would need to treat seven preschoolers with methylphenidate to produce one additional favorable outcome (in terms of reduction of symptoms.) The other six are exposed to the hazards of the drug without any benefit beyond placebo.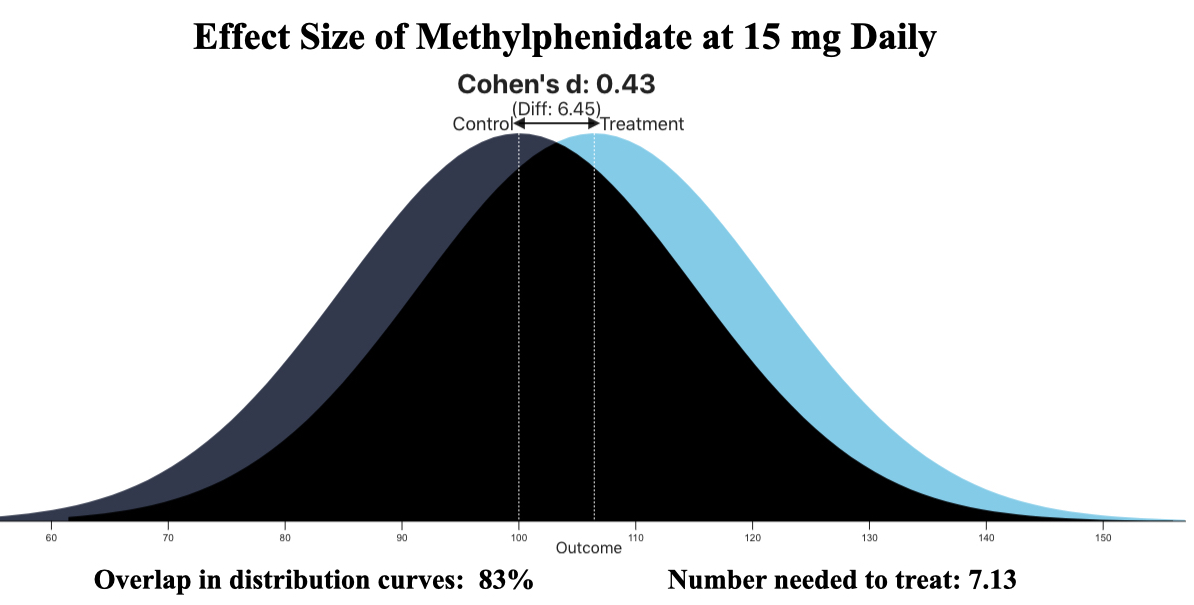 The fourth is that there is no evidence anywhere in this trial of the preschoolers treated with methylphenidate functioning better. In the parallel phase study, the primary outcome was achieving an "excellent response," which presumably would lead to better functioning, but there was no statistically significant difference between "best dose" of the drug and placebo. Indeed, of the 183 toddlers who were exposed to methylphenidate, there were only 13 ever described as having an "excellent response" while on the drug.
Meanwhile, the toddlers put on methylphenidate frequently suffered moderate to severe adverse events, and the 10-month maintenance phase told of toddlers that, while being treated with methylphenidate, were often crabby, prone to crying, picking at their skin, having trouble sleeping, worried, and without much of an appetite. At the end of 10 months, they were notably shorter and lighter in weight than they normally would have been.
The Flaw in Evidence-based Medicine
The bottom line-conclusion drawn from this study—that methylphenidate is a safe and effective treatment for preschoolers diagnosed with ADHD—reveals a flaw that is baked into "evidence-based" prescribing of medications. If a trial finds that a drug produces a greater reduction of symptoms than placebo, with the difference "statistically significant," then it is deemed to be an effective treatment for the related disease, and regularly prescribed to all those so diagnosed. But that endpoint—reduction of symptoms better than placebo—is just one data point among many produced in a trial of a drug, and an examination of this broader collection of data is needed to assess its likely overall impact on a diagnostic group.
What you find in the PATS trial is the following:
Many toddlers apparently got better with parent training as a first intervention.
Of the 183 children exposed to methylphenidate at some point during the study, 21 "discontinued treatment because of intolerable methylphenidate adverse events."
The effect size in reduction of symptoms during the titration phase was small, such that at an optimal daily dose of 15 mg, six of seven toddlers treated with methylphenidate will suffer the adverse effects of the drug without any additional benefit beyond placebo in reduction of ADHD symptoms.
In the randomized four-week trial, only 21% had an excellent response to the drug, compared to 13% in the placebo group. This means that if you medicated 100 preschoolers with methylphenidate, there would only be eight additional "excellent responders" than there would have been otherwise.
Adverse effects on methylphenidate were frequent and told of behavioral deterioration, particularly in the 10-month maintenance phase.
At the end of 10 months, the toddlers were shorter and weighed less than normal.
That is the picture that emerges from a recap of all the data. If you do the math, there is only a small percentage of preschoolers—10% to 15%—that could be said to enjoy a benefit from the treatment in terms of reduction of symptoms over the short term. That means that 85% or so of all toddlers treated with methylphenidate will experience the adverse effects of that drug without receiving any additional benefit, a net result that tells of harm done.
Yet, in evidence-based medicine, there is a hyper focus on symptom reduction, with even a small effect size deemed proof of efficacy, and that is how the PATS trial led to a conclusion that methylphenidate is a safe and effective treatment for toddlers diagnosed "with ADHD." As the JAMA editorial states, the American Academy of Pediatrics recommends methylphenidate as "initial pharmacotherapy for preschool-age children because it is the medication with the most evidence of efficacy and safety in this age group."
One final note on the PATS trial: in the published report of the safety and efficacy results, the authors collectively disclosed 72 "relationships" with pharmaceutical companies, with the manufacturers of ADHD drugs prominent on the list of disclosures.
The PATS Follow-up: A Childhood on Drugs
Even with the 10-month maintenance phase, the PATS trial didn't provide insight into how the lives of these toddlers unfolded over the longer term once they had been diagnosed as "having ADHD." However, PATS investigators did conduct two follow-up assessments of their ongoing medication use, at three and six years, and the results are heartbreaking.
Here are the results: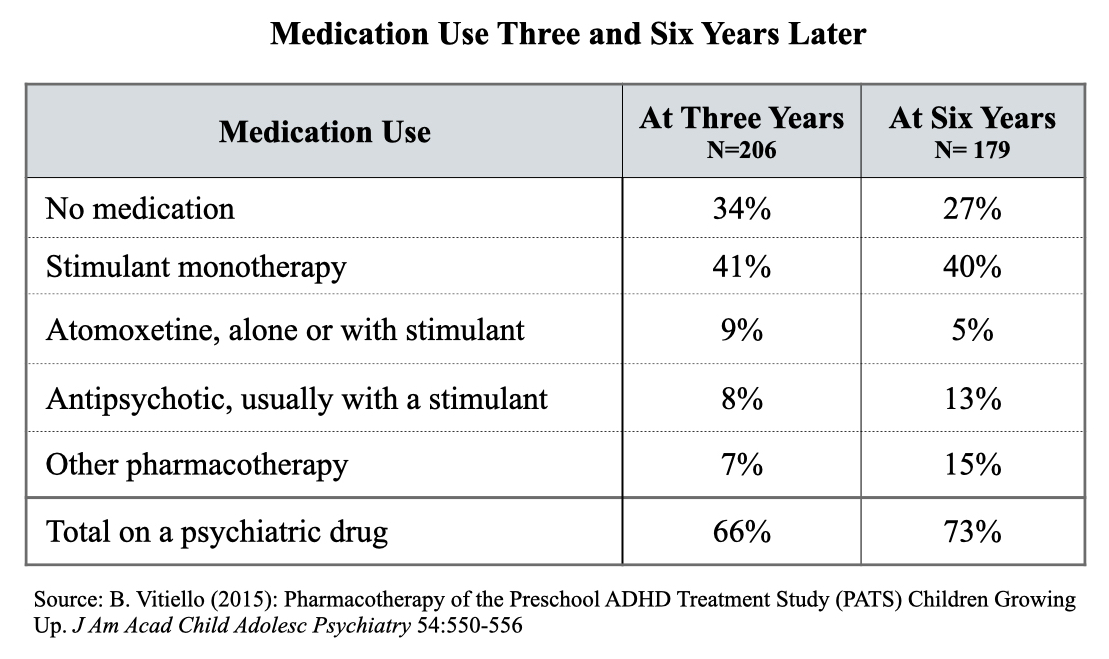 The findings tell of stolen childhoods. These children were diagnosed with ADHD as preschoolers and that turned two-thirds of them into persistent mental patients who grew up constantly on psychiatric drugs. At their tenth birthdays, this group would have no memory of being alive without the mind-altering effects of psychiatric drugs.
Which begs the next question: What fate awaits as they move into their teenage years and into adulthood? While there are long lists of adverse effects associated with longer-term use of stimulants and other psychiatric drugs, which collectively tell of impaired physical health and social development, there is an absence of good research on how such drugs may fundamentally alter brain development over time. However, there have been animal studies studying the effects  and those studies have sounded an alarm.
For example, repeated exposure to stimulants was found to cause rhesus monkeys to exhibit "aberrant behaviors" long after the drug exposure had stopped. Preadolescent rats treated with stimulants moved around less as adults, were less responsive to novel environments, and showed a "deficit in sexual behavior." Such findings have led at least a few investigators to conclude that stimulants may damage the brain's "reward system," and thus to a concern that medicating a child may produce an adult with a "reduced ability to experience pleasure."
Aberrant behaviors, a deficit in sexual behavior, a reduced ability to experience pleasure  . . . if these animal studies are any guide, preschoolers prescribed stimulants for ADHD, who then stay on this medication as they grow up, will have sharply diminished lives as adults because of this "medical intervention."
The Bottom Line
The JAMA editorial was occasioned by a report, based on a retrospective review of pediatric health records, that compared the risks and benefits of guanfacine to methylphenidate when prescribed to preschoolers diagnosed with ADHD. The authors reported that both drugs led to improvements in the majority of children "with differing adverse effect profiles."
The accompanying editorial told of how this was a "first step toward addressing a critical gap" in the evidence base for treating preschool ADHD. Both drugs are now being routinely prescribed to toddlers, and, the editorial argued, it was important to ascertain which class of drugs should be the preferred drug treatment for this age group. Randomized clinical trials comparing guanfacine to methylphenidate would be a vital next step in the evidence base supporting such prescribing.
The editorial stirred a different question investigated in this Mad in America report: How is it that the medical community came to think that prescribing stimulants to preschoolers on a daily basis was a helpful thing to do? What was the makeup of the "evidence base" that could lead to such a practice? While one can be skeptical of the motivations of those who construct the evidence base, the motivation of pediatricians who follow it, prescribing methylphenidate in ways recommended by clinical care guidelines, is not subject to such skepticism. Pediatricians pick that specialty because they want to be promoters of health in newborns and the young.
Thus, the focus of this MIA report is how "evidence-based" medicine, particularly when constructed in the squishy scientific realm of psychiatry, can do harm. In this case, you find a story of researchers seeking to find evidence of a disease, which could then be used to validate a diagnostic construction drawn up by a medical guild, drawing conclusions that weren't supported by the data. Pretense snuck into the "evidence base," and then came the fatal flaw regularly cooked into conclusions drawn from clinical trials, which is that a slight reduction of symptoms translates into evidence of a "safe and effective" drug, even though most patients may be receiving no benefit. In that way, you end up with an "evidence base" for prescribing stimulants daily to a three-year-old.
There is one other way that "evidence-based" medicine fails in this instance. There is never any consideration of a fundamental question: What rights does the child have? Preschoolers are in the first stage of their journey into the mysterious world of life, and if there is a core existential aspect to growing up, it is the experience of struggling to know one's own mind, of one's own essential makeup, and as part of that struggle, of gaining some control over one's behavior. As the saying goes, you want to see what you can make of yourself. The medicating of preschoolers, with that medicating becoming a constant and often evolving into polypharmacy by the time they are in elementary school, robs them of that future.
That is a story of a great tragedy, of existential loss, and yet in American medicine today, it is recommended as an evidence-based treatment for the 2.6% of preschoolers—that's one in every 38—said to "have ADHD." Readers can decide whether this is a story of "evidence-based" medicine enabling a practice that, without that sheen of science, could rightfully be described as child abuse.
***
MIA Reports are supported, in part, by a grant from the Open Society Foundations.