So many terrible things have happened in the last 48-hours or so. On Tuesday, July 5, Alton Sterling was brutally executed by police officers in Baton Rouge, Louisiana. On Wednesday, July 6, another black man, Philando Castile also lost his life at the hands of the police in Minnesota as he sat in his car and reached for his wallet. That same day, the Murphy Bill passed the House, and you released your second 'Spotlight on Mental Health Care' Globe article, this time called  'The Desperate and the Dead: Police Confrontations.' (Couldn't you at least have pretended to hear us just a little bit and have ditched that sensationalized title by now?)
These things are not equal. In no way is an article in some newspaper even close to the same as the brutal murder of yet another black man at the hands of the police. (Though, interesting, that you should be focusing on police killings at this moment in time.) In some ways, it's silly to mention them all even in the same paragraph.  (As a white woman I'm painfully aware that I both have no idea what it is like to live as black in America, and I have a responsibility to not look away and onto other issues that are more comfortable for me for that very same reason. I at least want to pause to name that here, even if I am not always sure what to do.) But, there is a connection.
These things are all the acts of cowards masquerading as the brave. I'm sure you'll find this to be a harsh statement where yourselves and your Globe friends are concerned, but read on to understand.
In regards to the Globe's piece in all this, I've learned a fair amount in the relatively few days since you kicked off this series. Here's the top two lessons gathered thus far:
You're bad at statistics: And, I don't just mean bad mathematically. I mean you seem to be intentionally twisting numbers for your own gratification, and to prop up the opinions of the powers that be. As some of you may recall, for a brief moment (and only for the sake of experimentation), I agreed to accept at face value your '10% of murders committed by the mentally Ill' figure, and to also accept the National Alliance on Mental Illness' (NAMI) '18.5% of people are mentally ill at any given time' assertion.
Then I did my own math:
Let's say we have 1000 people. Bearing in mind the assumptions above, that would mean 185 are 'mentally ill' and 815 are apparently just fine. Then we have 100 hypothetical murders, and we propose that people among the 185 group are responsible for 10% of them.
Based on those figures (and assuming one person per murder, which is a bit of a simplification, but never mind), that would mean that about 5.4% of the 'mentally ill' group are murderers, whilst 11% of the 'non mentally ill' have also committed the same crime.
I offered that to you, and here was your retort: We aren't using NAMI's 18.5% figure. We're using NAMI's 4% figure.
Well, okay, then! That does change things. Except. Except! Apparently, 18.5% refers to the 'generally mentally ill,' and 4% refers to those with 'severe and persistent mental illness,' (or 'SPMI' as some like to say), and you're mixing the two up all willy nilly and such.
Let me remind you that your very own disclaimer reads:
"The Globe included cases where reporters found that the accused had some indication of mental illness, such as being diagnosed with a mental disorder, spending time in a psychiatric hospital, taking psychiatric medication, acting suicidal, or being found unfit for trial or not guilty by reason of insanity"
Well-studied reporters such as yourselves certainly know that several of those points above would qualify one for the 18.5% group, but not automatically for the 4%'ers club. How can you, on the one hand, employ such broad criteria to rule in murders to your database, while using that smaller percentage of 'mentally ill' that rules the vast majority out? It's like you're purposefully using the biggest nominator in combination with the smallest denominator to distort the numbers in favor of your premise.

It's confusing, I know, this statistical mixing of apples with oranges. For anyone who wants to better understand what I mean, see my 'bunny' side bar.
But, for now, suffice to say… you can't do that! I mean, apparently you can because you're 'The Globe,' but it's bad. For sure, you're going to come along again at some point and tell me how I've still got this all wrong, but anyone who's paying any attention at all to your various disclaimers and loose definitions is going to be able to see that.
'Nothing About Us Without Us' might as well be the name of some pop song playing in the background of your newsroom for all you care: You are consulting some of the most conservatively biased people in the industry. You claim no ties to places like the Treatment Advocacy Center, but everything seems perfectly timed, including your latest release which has coincided oh so neatly with the very day that the Murphy Bill went to vote in the House.
Meanwhile, you've essentially cordoned off those who have firsthand experience receiving mental health services into a closed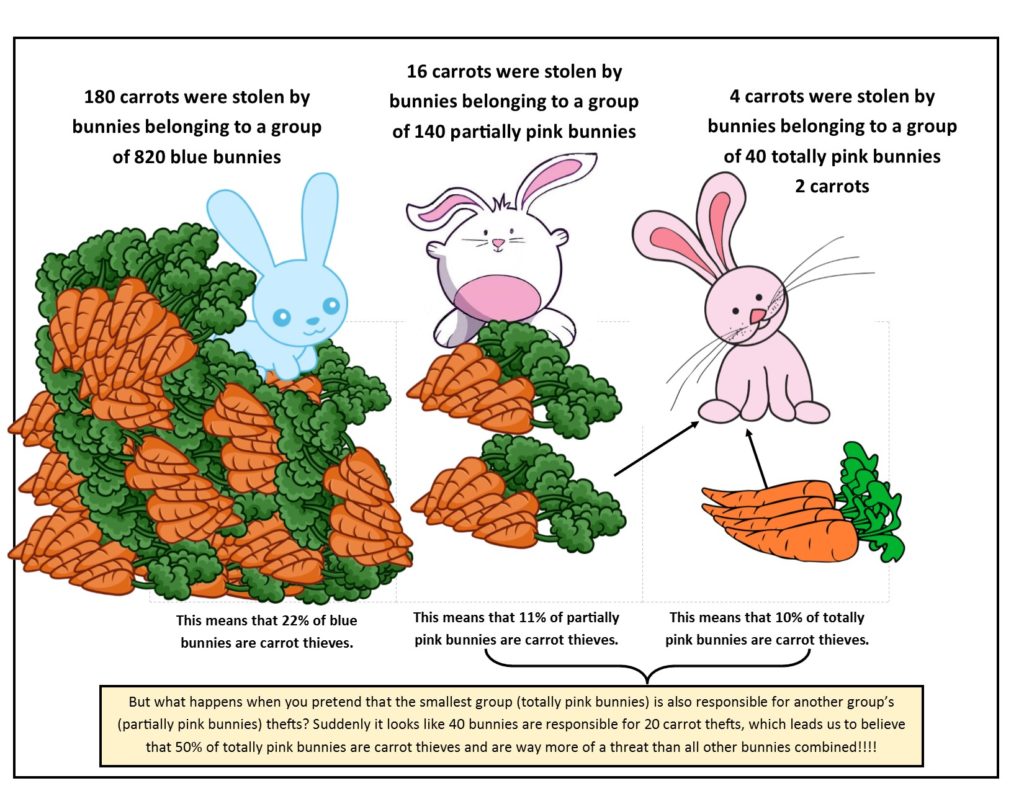 Facebook group that is incredibly difficult to navigate and where we will largely only be heard by each other (and the few others who seem to go there solely to lament that we have even that much voice). You've failed to represent us in your articles, your editorials, and even your 'Letters to the Editor' (the last run of which only gave space to two psychiatrists and two parents, one of them incidentally the head of the Massachusetts NAMI group that just championed the anticipated passing of the aforementioned Murphy legislation). We can't even comment directly on the editorials without going through the tedious task of registering (a process full of technical glitches and delays) and paying a fee.
And, when we challenge you directly in the Facebook group we are ignored, kicked out, or offered responses that mirror the scripted variety I'm used to receiving from Comcast when I'm unlucky enough to have to call their late night (second string) support team for help. (Thank you very much, Globe reporter, Todd Wallack. Step away from the canned responses, if you would.)
Surely, you must know that there is a history of marginalization of those who've been diagnosed and treated, right? Have you ever even heard the phrase, 'Nothing About Us Without Us?' Have you considered what it means?
The 'gold standard' crisis training you cite for the police in your most recent article also generally suffers from the same fault. How does the simulated voice hearing you report on do anything other than imbue fear? (And why are you necessarily equating voice hearing with 'illness'?) Voice simulation exercises must be combined with training from people who hear voices in order to understand what that experience can mean or what might be helpful to someone who's experiencing it. (And, I do not mean people who've been yanked out of their lives by NAMI to tell their stories without ever having been given a chance to build their own knowledge base or sense of empowerment.) We happen to be lucky enough to have some of the only national trainers on Hearing Voices living in our very own state. Why aren't you or the police talking to them?
There are so many of us eager to be heard beyond some Facebook forum with all its jumbled threads and bickering. Afford us the same space and opportunity to be seen as credible.
We are waiting, but we are tired of doing just that.
More about the current article: I am reminded that just a few days ago, a member of the 'Spotlight' Facebook crowd presented the story of a man (Kelly Thomas) diagnosed as 'schizophrenic' who was beaten to death by police. Bafflingly, she offered that story as evidence of the need for forced outpatient commitment (what you and others insistently and euphemistically refer to as 'Assisted Outpatient Treatment' or 'AOT').
Yes, in order to stop police officers from beating an unarmed man to death, that unarmed man should have been subjected to forced psychiatric drugging so that he'd… act more to their liking and they wouldn't have to… beat him?
This strikes me as not dissimilar from those who would blame a woman for being raped based on the length of her skirt
or how much she had to drink. Is it too much to expect that police simply wouldn't do that? And that they'd be given the
proper training and support to live up to their mission?
Police are, after all, servants of the public. All the public. And speaking of missions, I looked up the mission statement of several police departments. Here's one from the Boston Department, just as a point of reference:
"The Boston Police Department is dedicated to working in partnership with the community to fight crime, reduce fear and improve the quality of life in our neighborhoods. Our Mission is Community Policing."

The mission statements vary a bit from city to city, but all the ones I read refer to improving, "quality of life" within the communities
where police work. I wonder what that gets interpreted to mean in the day to day? I wonder how that could possibly boil down to 'we need to force drug people so that we don't have to beat them?'
I realize that the police have a difficult job, that they're not all bad apples (even if they are all working in a rotten system), and many in-the-moment judgment calls need to be made. But, I look at your article, and I find myself once again at a loss. It all reads more story (one-sided, told only from parents and police officer's point-of-view as if it were all absolute fact, then dressed up in your now signature dramatic fashion) than reporting. Even more importantly, it perpetuates so many of the same flawed themes as the last go around.
Here are but two:
You continue to confuse distress with illness: The bulk of the stories you rattle off in thispiece reference people who are suicidal, and you speak consistently as if thoughts of killing one's self are unquestionably synonymous with 'mental illness.' Your story references people who were struggling with alcohol and drugs, who'd been beaten by bullies, were grieving lost jobs and relationships, but you ultimately wrap that all up in neat 'mental illness' packaging.
I'm not sure I could challenge this faulty logic any better than I did in a piece I wrote back in January (Suicidal Tendencies, Part I: I'm Suicidal Because I'm Mentally Ill Because I'm Suicidal). Here's a brief excerpt:
"In a world where one can earn a psychiatric diagnosis largely because they acknowledge suicidal thoughts or tendencies, this may just be the greatest tautological trap of all time. In other words, what does it really mean to say one is suicidal because they're 'mentally ill', if the proof of such supposed malaise is largely that they're suicidal in the first place?"
We live in a world full of racism, sexism, homophobia, transphobia, classism, poverty, addiction, joblessness and so much else that might drive one to question the point of living. Have none of you, my dear Globe reporters, ever stood even on the sharp edges of such pain? As a society, it would seem that the greatest accomplishment we achieve when we boil down such existential crises into 'mental illness,' is a big fat pass to keep ignoring what's really wrong.
Are the police in this story truly killing off 'the mentally ill,' or are they more so caught up in the grind of re-enforcing the status quo… ignoring what's truly killing us, with use of force as needed? As a reputable news outlet, I believe it is your job to take a serious look at that, and sincerely question why you believe what you believe.
You continue to speak as if the biggest issue we face is lack of access to 'treatment,' and not the 'treatment' itself: I spoke to much of this in my last article, but if you are going to keep repeating the same misguided notions about access, then I might as well keep remaking my points, too.
I know this is a huge leap for you to take, but let's get real here for a moment. There isn't even any conclusive evidence that these psychiatric diagnoses point to a real, concrete thing. No brain lesions have been found that explain why people fall apart sometimes. Brain scan research is hugely problematic and proves absolutely nothing. The chemical imbalance theory has been debunked. Genetics have gotten us nowhere, in spite of the now decades-long promise that we're always "just on the brink of a huge discovery." No one in the medical community even really knows what it is they're trying to 'treat,' let alone how best to go about it.
Perhaps even more importantly, conventional treatments as they exist today are a large scale, inarguable failure. (I mean, unless you're in total denial. Denial isn't just for the so-called 'mentally ill,' you know!) Yes, your entire next story could be about all the people who claim psychiatric drugs (and even force) saved their lives. But, one can always find people who will say that even the some of the most torturous approaches were for the best. For some, perhaps it's true. (What do I know?) For others, I see them claim having been saved while I watch their hands shake uncontrollably and they simultaneously confess they've been unable to work for the last ten years. It's in those moments that I wonder most what definition of 'save' we're all using?
Yes, unearthing those whose stories coincide with the dominant paradigm's desired message isn't so hard, but I choose to look at the big picture. And, that big picture tells an important story that you seem to be ignoring in its entirety. While certain conditions have improved to some degree (as in physical spaces in hospitals, dramatically reducing certain archaic practices like lobotomies, etc.), outcomes have not. While prognoses for medical diseases like cancer, diabetes, HIV, and so on have shown indisputable advances, we aren't seeing that with these treatments you seem so eager to force on us.
What we have seen is people subjected to these treatments dying (on average) 25 years younger than the rest of the population, and struggling to live in any legitimate sort of way. (And, by 'legitimate,' I simply mean not being so drugged and institutionalized that they're able to live a life they themselves see as truly worth living.) We see that the rates for suicide are actually highest directly after a forced psychiatric hospitalization. (Surely, that can't just be because the hospital didn't 'keep them long enough,' eh?) And, if we're listening (even a little bit), we hear story after story of people who have expressed how very traumatized they've been by this system you wish to grow.
The World Health Organization has been telling us for decades that living in places where access to these 'treatments' is greatest is actually a predictor that we'll never fully recover.
So, what's your hurry? It would seem to me that this bears as much attention in your research as anything else. If you fail to go there in future articles, I can only assume it is with intent.
Now, I do have to acknowledge one deviation in this last report. Amidst all the storytelling and such, you did share the following:
"Six months after the shooting, in the spring of 2007, the FDA issued a new medication warning. Previously, the agency had warned that antidepressants — including Lexapro, the medication Dave Hill took for three weeks before his death — could increase suicidal thoughts and actions in some children and teenagers. Now it said that young adults like Dave were also at risk."
Great (and special thank you to Jenna Russell of the Globe's Spotlight team for 'going there')! If only this weren't such an outlier and seeming afterthought. How many of the other people you reported on were taking psychiatric drugs? What does this mean for your broader assertion that people are worse for not taking psychiatric drugs? Are you aware that the period of withdrawal from such a psychotropic is also a great risk (and not because of any underlying issues that a person may have, but because of the chemical changes that ensue)? You don't say, and so I'm sure most won't give this lone paragraph a second thought.
I sincerely hope you will pursue this further. And, not just this, but the traumatic impact of force, and an exploration of why suicide rates are so high following 'treatment.' When you did your expose on sexual abuse and the church, you had to go up against real power to get the truth out. Pursuing these questions will require you to do the same (and failure to do so represents the cowardice I referred to at the start). Isn't that what real reporting is all about?
Those of us who've 'been there' aren't hiding the truth. We don't have the power to squirrel facts under any rocks, like the pharmaceuticals (and so many others) do. In fact, many of us are screaming our stories from our respective rooftops. Hear us, and then look (and I mean really, honestly look) where there's silence or noise only in the form of diversion and scapegoating. That is where your real story will be found. Until then, you're just reporting the same regurgitated propaganda as everyone else.
My blogs about the Globe have been criticized as being 'too sarcastic' by some, but here's the thing: You have tremendous power from your Globe writing perch, and what you're putting out there at the moment is incredibly harmful. Worse, you are just one of many who are attempting to paint us into a corner of violence and force. Given all that, I can't quite find it in myself to be entirely 'polite,' but I hope you will understand.
The truth is, I'm not closed off to the possibility of things being different between you and I, or the potential that you might approach the rest of this series in a different sort of way. Are you?
***
Mad in America hosts blogs by a diverse group of writers. These posts are designed to serve as a public forum for a discussion—broadly speaking—of psychiatry and its treatments. The opinions expressed are the writers' own.
***
Mad in America has made some changes to the commenting process. You no longer need to login or create an account on our site to comment. The only information needed is your name, email and comment text. Comments made with an account prior to this change will remain visible on the site.