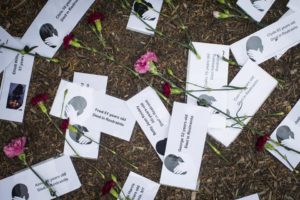 On Monday, August 1, over 140 people arrived on the Globe's door step asking for change. They came as a part of a Vigil entitled, 'The People's Spotlight.' The event was in direct response to your 'Spotlight on Mental Health' series (still, painfully) called 'The Desperate and the Dead' (in case you didn't catch the play on titles yourself). The demands were relatively simple. They included:
Afford us basic respect and end your sensationalized, scapegoating approach
Retract the Globe editorial published in favor of force
Publish images and words about some of the people with psychiatric diagnoses who have died in restraints, seclusion or at the hands of the police (similar to those images forever burned in so many of our brains of those who were killed and their allegedly diagnosed or diagnosable killers in from your first piece in the series)
Offer us a chance to be heard (really, truly, genuinely heard)
Weather was good, but police presence was high right from the start. (Are we really that scary? Would the intimidation factor have been as high for other groups, too?) This had the unfortunate effect of limiting the participation of some of our community who were understandably uncomfortable with the threat of police interaction in today's climate, and in spite of the peaceful nature of this event. (It's worth noting here that the only physically aggressive act of the day came when a member of the Boston Globe's security team needlessly ripped a sign out of a protester's hands. We wonder if you will hold him accountable for his behavior?)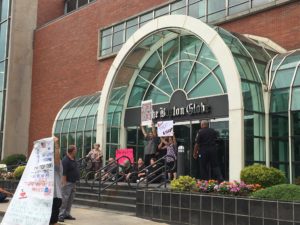 Nonetheless, energy was high, and plans came together. Those plans included recognition of the hundreds of lives lost to so-called 'treatment' in the system (as represented by the many placards and flowers pictured above in a photo taken by Boston Globe staff). It also included several brave souls in our large group getting arrested toward the end of the day when they planted themselves firmly on your steps and refused to leave (pictured to the left). It was an action to represent that we still had not been adequately heard, and were nonetheless full of strength and perseverance.
During the course of the day, at least six Globe staff (not including security) surfaced and availed themselves to our crowd. The following people made at least a brief appearance: Spotlight Editor, Scott Allen, Spotlight reporter, Jenna Russell, Editor, Ellen Clegg, and Globe Editor, Brian McGrory. Each offered varying levels of attentiveness to what was said, though I particularly want to thank both Jenna and Ellen for the effort they made to engage, ask questions, and hear people out.
Reporter, Brian MacQuarrie and Photojournalist, Keith Bedford, also joined in, and took on the fascinating task of reporting on an event that was protesting their very own employer's way of… well… reporting! It was a prime opportunity for the Globe to prove it was listening. And, while their turnaround time was impressive (much more so than my own), they predictably failed at that particular challenge. (Perhaps they'd have done better to take a night or two to chew on all they'd heard.)
The problems with the resultant article were several, but are relatively easily boiled down into this:
Don't Force Your 'Empathy' on Me
"The series demonstrates great empathy for those with mental illness while chronicling sweeping changes that have left many of the most vulnerable — and potentially violent — without adequate care and supervision." – Brian MacQuarrie, Boston Globe Reporter, referencing the comments of Scott Allen, Boston Globe Spotlight Team Editor
For the record, the definition of 'empathy' (at least according to www.dictionary.com) is "the psychological identification with or vicarious experiencing of the feelings, thoughts, or attitudes of another." The idea that the Globe has successfully connected with our 'feelings, thoughts, and/or attitudes' is preposterous, and to claim that they've done so while over a hundred people stand virtually on the Globe's lawn screaming about not being heard seems more than a tad ironic.
Allen's business is in words, and so I have to imagine he chooses them very carefully, but empathy is not something you can force or feign. You can't stare someone down and yell, "I am empathizing with you!" There is nothing real about this claim. To suggest the Globe staff has shown us 'empathy' in the face of all that we've said is just more evidence we are not being heard at all.
It also seems worth noting here that, in his meeting with some of our group, he felt it necessary (as some Spotlight reporters have also done) to point out that the Globe has received many positive letters and words of thanks for their series. Well, let me take this moment to say: All opinions are not created equal. Thanks from someone who has been figuratively bludgeoned by frightening media portrayals, who is blinded by desperation to help a distressed family member, or who is just generally ill-informed and misguided is not the same as the voice of people who've been there. (When you authored your series on the Catholic church, was equal stock invested in the words of those who sought primarily to defend it as was put in those who had experienced its abuses first hand?) It is not the same as knowing what 'treatment' is like from the inside out. And, to suggest one hundred of their voices is even close to the same as one hundred of our own is itself evidence you're not truly paying attention.
We Might Be On the Same Page… of Entirely Different Books
"The bottom line, though, is that we want what they want, which is vastly better care for those with mental illness. That's what this series is about." – Brian McGrory, Boston Globe Editor
There was little that felt more defeating to me than this line and the suggestion that we're somehow basically on the same page. McGrory came out during the first third of the Vigil and spoke with a number of people. He perhaps spoke with more of us than any other Globe staff on the premises. Some suggested that, as someone who does not focus specifically on 'mental health' reporting, his 'learning curve' would be much greater. However, I generally find that those who know that they don't know make far better listening partners than those who already think that they do. So, that idea actually gave me hope. To my great disappointment, though, it was a hope that wilted fast when I read this quote.
In the end, the truth is if we are on the 'same page,' it's the same page of totally different books. (None of you seem to even be hearing that most of us do not consider ourselves to be 'mentally ill,' however we may have been diagnosed! Only one of you to date has taken time to explore what we even mean when we say that.) Sure, it's fair to say that we all want human beings – including those experiencing various sorts of life disrupting distress – to be treated well. But, who wouldn't say that? I could go home to my 4-year-old right now, and ask her if she thinks we should treat people better, and she'd most likely (I sure hope) say yes.
Congratulations. None of us are inherently evil. But, before we start saying we 'all want the same thing,' we would do best to check and compare our respective 'wants' with far greater depth.
The 'Key Point' is that People Are Dying Due to Your 'Life Saving' Measures
"The key point is that, with a better mental health care system, some of these lives could have been saved." – Scott Allen, Boston Globe Spotlight Team Editor
Without a doubt, if different decisions were made in some of the stories that the Globe has so elaborately detailed for us, the outcomes would have been different. That's how life goes. However, there's an enormous flaw to this argument… two, actually.
First, who the hell has the crystal ball (and where can I get my hands on it)? It's great to suggest (in hindsight) that perhaps x, y, or z might have been helpful in preventing a particular tragedy, but the reality is that people are living in tenuous situations every day. Sometimes bad things happen because no one's paying attention or resources run short. Sometimes they still happen even when everyone's alert. But, most importantly, I've yet to come across anyone who's able to predict what bad thing is going to happen when and to who. Even some trained 'risk assessment' experts have (as I've mentioned in past blogs) claimed a predictive ability of only about 50%. In other words, their training has gained them an expertise equivalent to flipping a coin.
So, if our ability to predict bad things is going to be so limited, then we better at least make sure that our interventions aren't likely to do harm, right? (Because, based on all this, we're inevitably going to be catching up people in our net who should never have been 'caught,' and we don't want to hurt them in the process… right?) Of course, anyone who's paying attention knows that what are considered to be 'best practice' or 'standard of care' interventions do hurt, and with some regularity.
So, what if – in an effort to save two lives from the terribleness to which Allen refers above – we intervene in 100 lives and thus shave 25 years off each one?  (As aforementioned, research suggests that involvement in the system shortens life expectancy by 25 years.) What of the people dying because of the iatrogenic effects of force and psychiatric drugs?
Surely, if we piled up all the bodies of people who've died because of 'treatment' (restraint, drugging, etc.), they would tower over those the Globe has taken such great care to name. Perhaps a couple in that tower would have, at some point, lashed out and killed two others in their place had they not been subdued in such a manner. But, in what world does it make sense to pay $100 to save $2?
We Have Lived More Than You Will Ever Read
"Many protesters acknowledged that they had not read the entire series" – Brian MacQuarrie, Boston Globe Reporter
In what came across as the epitome of defensiveness and poor taste, MacQuarrie felt it necessary to name that some of our group stated that they had not read the entire 'Spotlight on Mental Health' series. I've more than a few things to say about that.
First, many, many, many of us who were present have read every bit of it. (The voiceless simply must know what those that hold the power are saying in order to best survive.) Some were studying the articles on the buses on the way to the event so as to have your words fresh in our minds. Both electronic and paper versions were being passed around on the bus I rode in on.
Among those of us who have not read it all sit:
Those who were so deeply upset by it that we simply could not read on
Those who are so drugged (some by force) that our ability to focus has been robbed from our minds
Those who are still suffering the negative impact of past 'treatment' and have yet to (and may never) regain our ability to read lengthy articles
Those who are homeless and can't pay for your paper or readily access it on-line
Perhaps it made you feel somehow better to put this statement in print instead of putting more time and effort into accurately portraying our many voices, but the reality is that we have lived more than you will ever read. We know more about this system than you could ever know.  We have survived more than you can ever imagine.
We could write this series better than you've ever written.
Enough with the Bad Statistics, Already.

"We documented 139 victims of homicide at the hands of people with mental illness in Massachusetts, which is not a small number." – Scott Allen, Boston Globe Spotlight Team Editor
This will be my third blog about the Boston Globe's 'Spotlight on Mental Health' series, and I've already spent a great deal of time detailing the problems with your use of statistics (most notably in my second blog, 'Dear Boston Globe, Part II: You Forgot the Facts').  To recap briefly, you are using an incredibly loose way of defining who counts as 'mentally ill,' and then treating it as fact. You're then using your 'fact' to promote the connection between psychiatric diagnosis and violence in a way that is deeply flawed because… you know… your 'fact' isn't really a fact.
I've repeatedly stated that you simply can't accurately apply percentages of responsibility for murders in the state to people with psychiatric diagnoses if you're using such loose ways of ruling people in and out. But, on July 29, to my surprise and utter glee, you yourselves published my best piece of evidence yet in your 'Letters to the Editor' section. Dear Boston Globe statistical analysts, forget the bunnies. Welcome to your demise:
Regarding the June 26 Spotlight series "The desperate and the dead": I noticed, on the front page of the Globe, a photo of Nathaniel Fujita, second row, third from right. Then inside, there was a picture of my murdered daughter, Lauren Dunne Astley, first row, second from left.
I respect the Globe's attempt to spotlight mental illness and its connection to crime. But I do not respect the fact that those two pictures were part of this series. A very talented and hard-working Middlesex assistant district attorney, Lisa McGovern, made the case that Fujita's behavior was the result of the rage he felt from being rejected by his girlfriend. The jury concluded that one visit to a psychiatrist is not the basis for a mental health problem, and that a "brief psychotic episode," as the defense described it, was not what motivated Fujita.
I favor examining and improving our mental health care system in Massachusetts, but I also favor truth in reporting, and I object to your team's inclusion of the Fujita case in its coverage. I do not want people thinking he was somehow wrongly accused. He was not. The prosecutor proved it, and the jury concluded that she was correct.
Mary Dunne, Weston
In Conclusion…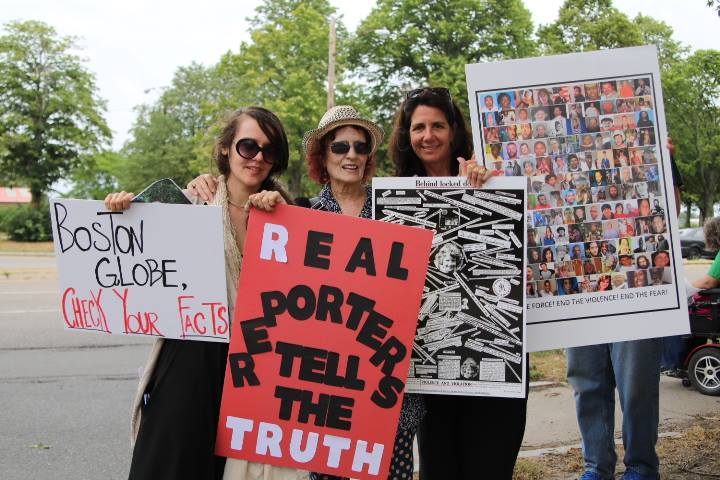 Okay, folks, I have a tendency to run long, so let's wrap this up. In your article about our event, you quoted some of our signs. You included slogans like, "Fear mongering does not heal," and "Stop scapegoating me!" I prefer the following:
"Real reporters tell the truth"
And
"Real reporters challenge power"
Based on my experience, I absolutely believe that some of you have great potential. But, will you live up to this advice?
I hear the next piece in the series comes out on Sunday. I can't wait!
***
Mad in America hosts blogs by a diverse group of writers. These posts are designed to serve as a public forum for a discussion—broadly speaking—of psychiatry and its treatments. The opinions expressed are the writers' own.
***
Mad in America has made some changes to the commenting process. You no longer need to login or create an account on our site to comment. The only information needed is your name, email and comment text. Comments made with an account prior to this change will remain visible on the site.