Sometimes I wish I had picked a different cause. Something mainstream such as dedicating my life to a food pantry or bullying prevention. Something most people don't think twice about supporting.
Of course, I didn't "pick" my cause. It picked me.
Every day, I wake up and wonder, how can I better help people make the connection between mental well-being and social justice? How do I convince folks that the narrative they've heard for the last thirty years—that "mental illness" is a brain disease, best treated with powerful psychotropic medications—is false? Especially when they've experienced relief from this medication or seen family members and friends plummet when they stop taking it?
It's a real challenge, because this false narrative, that mental disorders are brain diseases, is deeply personal for many people. Let me share a couple of recent examples.
(Not) Walking on Eggshells
The other week, I posted Katinka Newman's short documentary, The Pill That Steals Lives, A Family's Nightmare on Mental Health Street, on Facebook. "This story is eerily familiar," I wrote. Soon enough, I had a comment, "Please be careful. Any medication can have nasty side effects. But for every negative story you hear, I [can] tell you 10 in which someone owes their life to antidepressants. Don't make people afraid to reach out for help."
Notice how the commenter assumed that by showing a film that warns people of the documented adverse effects of antidepressants, I was discouraging people to seek help. This demonstrates well how ingrained the "medication as first resort" narrative is. The comment also attempted to silence me. "Please be careful." Oh, you have no idea how careful I am, I thought. How I walk on eggshells to not offend, shame, or belittle anyone who has a personal relationship with psychiatric medication. Nothing good comes from making people feel bad.
I discussed this comment with my husband, Todd Green, who is an Islamophobia scholar—also not a popular cause. He writes books and blog posts and speaks around the country about how to combat Islamophobia. Mostly, he preaches to the choir (college students and faculty, members of Islamic centers and progressive churches, etc.), but there is often at least one person who is there to challenge his message—with the Qur'an in hand.
As we've seen and heard in the political discourse this frightful election, the Muslim as the violent enemy—as the Other—is also a deeply personal narrative for many people in the West.
Todd pointed out that ours are the minority voices. We shouldn't worry about boldly offering an alternative narrative and "offending" people, because their narrative is being reinforced by mainstream media, pop culture, social media, and powerful institutions. All. The. Time.
This conversation (and recent re-readings of Psychiatry Under the Influence), empowered me to respond on Facebook:
The message here is clearly to be informed. Nobody informed our family of the host of side effects our daughter might experience (hallucinations, suicidal ideation, etc.). The institution of psychiatry has let our society down in the area of informed consent. Psychiatric treatment is the dominant discourse, and I think it's important to allow space for the minority voice. This is not intended to discourage people to seek help, but to realize that different approaches work for different people.
We shouldn't shame or belittle, but we should challenge, nudge, and stand our ground. Offending people is unfortunately a side effect of social change.
World Mental Health Day: A Disappointment
October 10 was World Mental Health Day. As someone who advocates for social change to optimize mental well-being, I was excited to get involved, but I knew that I would probably be disappointed by the content published by most organizations and individuals.
I was right.
As I started browsing the hashtag that morning, I saw lots of tweets about reducing stigma, encouraging people to seek help, and general words of support. All with innocent intent, but also accepting, normalizing, and embracing the mental illness narrative. Lundbeck US, maker of Abilify, chimed in to remind us that "1 in 5 people experience mental illness each year."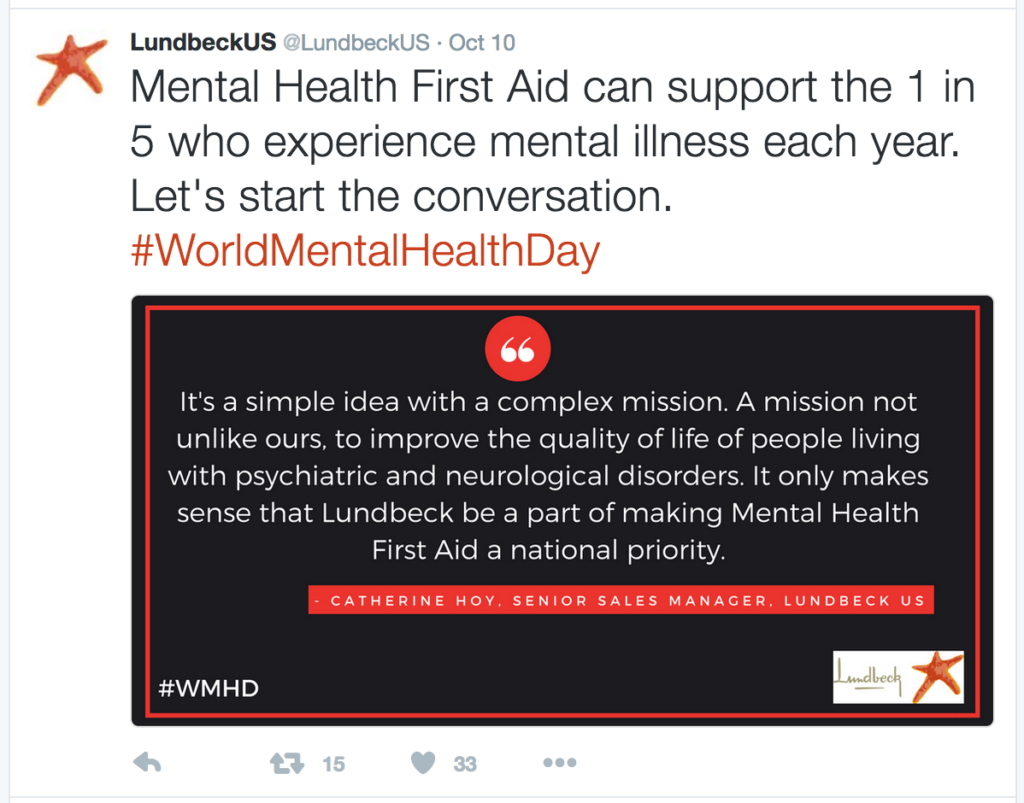 I saw no discussion about trauma or other environmental, social, and political factors that contribute to widespread mental distress. Nothing about alternative approaches to achieving mental and emotional well-being or recognizing that mental distress is part of the human condition. I published a blog post calling for political action to promote mental well-being, but it was largely ignored.
Toward the end of the day, I saw a Facebook post from Amy Poehler's Smart Girls with a cute drawing of the brain and the words, "mental health is just as important as physical health." Yes, I thought! That's right. Then I read some of the comments, including one from a physician saying, "It's important to note that mental health *is* part of physical health. There are biological bases for all mental illnesses which is why medication and behavioral changes can help. Just like improving your diet and taking your diabetes medications protects your body from high blood sugars."
I wanted to respond, but I didn't think a back-and-forth with a stranger on Facebook would be productive. I felt defeated. How do you challenge a narrative that is so deeply ingrained and so personal to so many, including many health care professionals?
Where Do We Go From Here?
I've been thinking a lot about how to approach this problem. It is an age-old problem, of course, but it's new to me. I don't have all the answers, but I have some thoughts I'll share with you. And I'd love to hear the ideas of this brilliant community in the comments.
Facts Don't Work
We've all tried presenting facts to persuade others to see our side—to change their minds. Rarely does this work, especially when the topic at hand is personal and sensitive.
Todd keeps a list of statistics on hand about how you're more likely to be crushed to death by your own furniture than to be killed by a terrorist in this country. But he uses them only to make the point that facts don't matter when people are embedded in the discourse that says Islam is an inherently violent religion and we should keep Muslims out of our country in the name of national security. Fear, not facts, often win the day.
This doesn't mean we shouldn't keep publishing new information as it becomes available. We just shouldn't count on it to change people's minds.
Validating People's Experiences
When I say that mental well-being is a social justice issue (versus a purely biomedical issue), I never intend to minimize the suffering caused by mental distress—both by individuals exhibiting symptoms of mental disorders as defined in the Diagnostic and Statistical Manual and their loved ones.
The suffering is real, and at times exacerbated by mainstream treatment approaches and cultural norms about what it means to be human in the 21st century. My interest lies in exploring the macro factors that contribute to this suffering: poverty, consumerism, capitalism, racism, sexism, status, environmental degradation, etc. Many people struggle to make this connection, especially since they've been told mental distress is caused by a broken brain.
I think we must always validate people's experiences. If somebody says an antidepressant saved their life, we don't start with, "You know that's probably the placebo effect, right?" But rather, "I'm glad it helped you." We don't want to shut the door to further dialogue. At a later time, we might be able to share our own story of dreadful side effects or difficult withdrawal.
As Todd often reminds audiences when speaking about combatting Islamophobia, "Personal relationships matter. They break down barriers. They introduce a human face into the equation." People who respect me and know me personally are more likely to hear my message. Nurturing those relationships is an important aspect of paving the way for an alternative narrative.
Offering an Alternate Narrative
Storytelling is a buzzword in marketing right now—because it works. When we tell our stories and people identify with them, they listen. The stories in Robert Whitaker's Anatomy of an Epidemic quite possibly saved our daughter's life, and I've heard from other parents that our family's story in turn helped them make informed decisions concerning their children's well-being.
If you have a compelling story to tell, don't sit on it. Submit it here at Mad In America. Publish a book. Make a documentary film. Write a song. Draw a cartoon. Speak it at a poetry slam. Share it over a cup of tea. Act it out in a community street performance. Paint it. Call an investigative journalist. Shout it from the rooftops!
There is strength in numbers. We should all tell our stories, not to prove other people wrong or to shame them, but to offer an alternative narrative. A narrative that recognizes that symptoms of mental disorders are cries for help, means of communication, and normal responses to an unjust society. A narrative that digs deeper and recognizes the macro factors that contribute to mental distress. A narrative that calls for social change to optimize mental well-being for all people.
This is my deeply personal narrative.
***
Mad in America hosts blogs by a diverse group of writers. These posts are designed to serve as a public forum for a discussion—broadly speaking—of psychiatry and its treatments. The opinions expressed are the writers' own.
***
Mad in America has made some changes to the commenting process. You no longer need to login or create an account on our site to comment. The only information needed is your name, email and comment text. Comments made with an account prior to this change will remain visible on the site.