Mental Health America (MHA) has finally unveiled its new National Peer Specialist Certification over much protest. Let us all take a moment of silence, whilst we weep.
First, a Little History…
Clifford Beers was born in 1876, one of five siblings. In 1900, he was first hospitalized for emotional distress. His experiences within the system were long-term and intense. At one point, he was confined to a straightjacket for 21 consecutive nights.
In 1908, he wrote A Mind That Found Itself, detailing the abuses to which he'd been subjected. His aim was to expose the state of the mental health system and make real change. In 1909, he founded the National Committee on Mental Hygiene, geared toward taking the steps necessary to reform that system. He continued the fight until his retirement, although he ultimately died in such an institution in 1943.
Ten years after his death, the organization that he founded turned the chains and shackles used to previously restrain individuals incarcerated in psychiatric institutions into the "Mental Health Bell," a supposed symbol of its mission of change. At some point, the organization took on the name by which we know it today: Mental Health America.
It's hard to imagine what Beers would think of what his creation has become. Current day, the organization is led by a man, Paul Gionfriddo, who claims no personal psychiatric experience but who has nonetheless capitalized on the struggles of his son through his book, Losing Tim. Note: Gionfriddo challenges the claim that he has capitalized on Tim's life. In fact, he commented on a previous article of mine that Tim has been a fully consenting participant in his plight. However, I'm not sure how a man who has spent so much time speaking to his son's lack of competence and decision making ability can suddenly then claim him 'competent' in this one self-serving instance.
Gionfriddo is also the same man who coined the Twitter-ready slogan "B4Stage4," essentially taking things a step or two farther than the National Alliance on Mental Illness's (NAMI) diabetes references, and straight up comparing psychiatric diagnosis to the stages of cancer. Meanwhile, among top tier MHA donors (Diamond, Platinum, and Gold) are no less than six pharmaceutical companies: Teva, Eli Lilly, Jaansen, Lundbeck, Otsuka, and Takeda. (Astrazeneca was also included as a Diamond donor in the last annual report, but has since disappeared from the ranks.) For whoever's really listening, these points speak for themselves.
About that MHA 'Mental Health Bell'…
Briefly, back to the bell. When I think of MHA today, I keep forgetting about that bell and all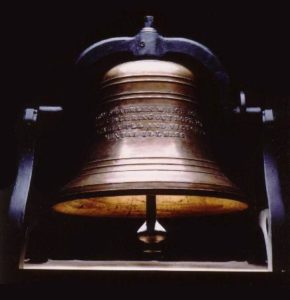 its parts. I think it's willful on my end. I'm blocking it out because it hurts to think about it. The bell is inscribed with the following:
"Cast from shackles which bound them, this bell shall ring out hope for the mentally ill and victory over mental illness."
How presumptuous, paternalistic, and condescending. Even for the 1950's. It's as if MHA missed (and continues to miss) the point entirely that at least some of the victory we seek is over the system and its abuses, and not some contrived, medicalized interpretation of our suffering.
This use of the shackles that once bound incarcerated humans is tone deaf and gross, not righteous. Clearly, MHA is among those who we must seek victory over. Not who we want fighting by our side.
And for MHA's Next Trick…
So, of course, the next move that makes sense for an organization such as MHA is to bring us national 'peer' certification.
Because, when one carefully considers the peer role — and how "being with" and "connecting with" are at its very core — a costly online exam is precisely what comes to mind. Right? MHA's Patrick Hendry (Vice President of Peer Advocacy, Supports & Services) attempts to defend this development by listing off the names of people who identify as 'peers' (an increasingly problematic term in and of itself) who were involved. (One article refers to it as a "something of a who's who of peer support"). Yet I've personally heard at least one of those very individuals listed confess to feeling beholden to their employer, and thus restricted in what they say.
Hendry also acknowledges that doctors, psychologists and social workers were involved at the forefront, because collecting up people in peer roles — some of whom already feel pressured to tow the line — and mixing them in with individuals in classic power positions is sure to foster integrity. Wait. What!? How does any of this make sense?
Okay, But What the Heck is This Thing?
It's a training. It's a test. It's a training? It's a test? It's a bird? It's a plane? No, it's just a test.
Okay. It's definitely not a training. Sure, I had to dig around a long time to find an absolutely definitive statement saying that this MHA certification does not involve any sort of actual training from MHA, but that is indeed the fact of the matter. (I'd link to that super clear statement here, but I can't seem to find it a second time.)
So, it's just a test. A 125-item multiple choice exam, to be exact. It costs about $450 (between application fees and associated testing fees) to take the first time round, and another $200 every couple of years to renew (in addition to any costs associated with requisite continuing education credits earned). Individuals who become certified are actually receiving their credential from the Florida Certification Board, and not MHA directly. (If lots of people respond to this 'opportunity' and pay all those fees, it's unclear to me who stands to gain what financially, but I'd certainly be curious to know at some point.)
Individuals must qualify for the test in a number of ways, including having logged 3,000 hours of work experience in some sort of paid or volunteer peer role and taking one of the approved trainings on MHA's list. But to what end?
"Moving peer support into the private sector requires national, higher, and uniform standards. This certification is designed to satisfy the needs of the private sector, opening up new opportunities, career pathways, and higher wages for peers."
Maybe, though saying so certainly doesn't make it true. I remain confused. In the same document, they also claim:
"MHA has conducted a series of pilot programs placing peer specialists with enhanced training as providers of peer support within a national HMO, Kaiser Permanente (KP)."
So, that brings us back to that training issue again. The implication here is that the certification is synonymous with "enhanced" training, but one doesn't typically become a "peer specialist" at all without some training. And, looking at the list of 'approved' trainings I find that they're mostly all the basic trainings (some of them surely more questionable in quality than others) that various states already require for that initial 'Certified Peer Specialist' (CPS) step. The DBSA CPS program. The Appalachian Consulting Group's CPS program. The core 5-day Intentional Peer Support training, accepted by some states as equivalent (or preferable) to a CPS program.
I'm kind of at a loss, but here's the best I can sum up: MHA's national certification is actually offered through the Florida Certification Board and not MHA. It's just a free-floating test, but somehow transforms the test-taker into someone with "enhanced training" (even though they've likely only taken the same sort of training that all other CPSs have taken). It's kind of costly (both in the short and long-term), but it will likely lead to a higher paying job (that may or may not resemble an actual peer role). Some day. Somehow. Maybe.
Okay. Cool. Got it.
But if Not You… Then Why Not MHA?
To his credit, Hendry has tried to face criticisms of MHA's new certification process head on. Except that one of his most prominent defenses seems to basically amount to, "Well, somebody had to do it." Here's an excerpt of more precisely what he had to say on the matter:
"One of the leading criticisms about MHA creating a national certified peer specialist credential is that many people feel this should be done by a peer-run organization. Unfortunately, no peer-run organization has taken on this challenge yet." – Patrick Hendry, 'An Open Letter to the Peer Community' July, 2016
Hey, so, here's a thought for you: Maybe no 'peer-run organization' has stepped up because it is a bad idea. And, even if it is worth considering, since when is a void equivalent to an invitation?
No one's written a sequel to Gionfriddo's book about his son. (Oh, wait. Please tell me he hasn't?) Maybe I should step in and get it done. And, I've been waiting oh so patiently for (insert questionable idea pertaining to a marginalized group I'm not a part of) to happen, but it hasn't. I guess that means they're just not capable, so I better take that one on too. I mean, somebody has to, right?
Nope.
Co-optation is Real (Thanks, MHA, for the Illustration)
Co-optation is a real thing, and it's dangerous. Systems change requires that organizations trust and integrate much of what people who've 'been there' have to say. But they should never be the leaders or the loudest voice. Mixing that point up has many very real consequences that might not seem obvious at first glance. For example, providers (like MHA) who appoint themselves as 'experts' on peer support (under the guise of allyship, or whatever the case may be) inevitably pull resources into their court.
And resources tend to follow resources. Sure, there is the occasional foundation seeking only to fund organizations with budgets under a certain threshold, but that's the rarity. More typically, securing the money necessary to implement a certain idea or project means that organization also gains the privilege of racking up the years of experience, the social capital (knowing the right person to even learn about the next opportunity), the reportable outcomes, the documented grant management experience and the reputation to keep attracting more funds.
Even if it means that the people from whom the providers originally got their ideas are left in the dust. Even when those providers' priorities — no matter how intriguing those 'peer' ones initially seemed — begin to shift toward some other 'next new thing' that's caught the organization's eye. Even when those original voices and passion begin to slip from the memory banks (because maybe providers never really got it in the first place… because of course they never lived it themselves), and mission drift begins to occur.
We have offered up what we know to be true to improve the conditions for our own community. Not to earn some organization a new contract, or help them make their grant proposals sound more genuine.
Our expertise is our own, and it's been hard won through our pain, suffering, and ongoing fight for our rights and voice. When an organization like MHA takes it for theirs, it may seem a benevolent gesture at first. They just want to help! But it inevitably pushes those with the firsthand experience back down — creating the illusion that that big organization actually has more expertise and reliability than those on the ground — and eventually twisting up the messages shared, too. (For more, see Searching for a Rose Garden: challenging psychiatry, fostering mad studies, edited by Jasna Russo and Angela Sweeney and including a chapter on this very topic by Darby Penney and Laura Prescott.)
Speaking of Twisted Messages…
Another criticism of MHA's national certification is that it will lead people in peer roles down a clinicalized road. Hendry steps up to the plate again, and assures us that this is not the intent as follows:
"We have never intended to move peers towards doing clinical work in any way. Our efforts are to give peers every tool they need to perform as true peer supporters in a wide variety of settings. Peers are never expected to cross the line into a clinical role or to promote any clinical practice." – Patrick Hendry, 'An Open Letter to the Peer Community' July, 2016
Hey, that's reassuring. Thanks so much. Surely, we should trust the guy who uses enough 'mental illness' language to stuff a DSM. But, uh, hang on just one second. What about this?:
"More detailed knowledge of clinical interventions will be needed so that peer specialists know when and how to support individuals in treatment. For example, Hendry explained, research has shown that when an individual is receiving DBT for a personality disorder, peers must have enough knowledge about the phases of DBT to avoid "getting in the way." This can occur when the individual's therapist "withdraws," leaving the individual "alone" to face challenging situations as a means of developing essential distress tolerance and emotional regulation skills. Peers who recognize the phases of DBT treatment can adapt their interactions with the individual in ways to support the therapeutic goal." – Same guy, same month/year, different document ('A single National Standard for Peer Specialist Certification', also July, 2016)
So, given that Hendry said these two things in the exact same month of the exact same year, either he's the kind of flip flopper that should consider running for political office… or he has an extraordinarily different idea of what constitutes 'clinical' work than the average bear. I mean, it's not even just the fact that the above statement wreaks of peer turned mini clinician. There's also the inherent assessment involved, and the fact that it allies the peer supporter with the clinical team over the person receiving services. Meanwhile, it renders the most important values of peer-to-peer support (self-determination, voice, and choice) entirely disposable in favor of clinical theory.
To boil it all down, in that last passage Hendry basically suggests that the peer supporter needs to learn their place, recognize when a clinician has withdrawn support for 'treatment' reasons, and straight up ignore someone asking for contact. This is a pretty clear flag that MHA sees the clinician as ultimately controlling the relationship, and leaves the person in the 'supported' role even more powerless than ever. It runs contrary to literally everything that peer-to-peer support is supposed to be about.
Oh, Did We Forget to Mention?
Much less talked about is the fact that anyone who becomes certified through this process must sign on to the Florida Certification Board's Code of Ethics. (See page 7 of the 'National Certified Peer Specialist Process and Forms' for details on this particular requirement.) The Code is long and covers many points. Here are a few of the highlights:
"An applicant or certified professional shall not use, possess, or sell any unprescribed or illegal substance"
Well, I know I personally love signing on to documents that attempt to regulate what I do on my personal time at home. How about you? (Oh, and by applying, you also agree to a "random criminal history check to ensure compliance." See also page 7 of the same document named above.)
"An applicant or certified professional shall not perform services outside of their area of training, expertise, competence, or scope of practice."
Pretty tricky territory, here. This is the sort of regulation that Tim Murphy and his brethren have attempted to push through on any number of occasions to regulate peer support. Imagine all the topics and tasks certain people will claim are "outside of our area of expertise"?
"An applicant or certified professional shall not recommend to a consumer any unnecessary, ineffective or unsafe device, treatment, procedure, product or services."
Well, okay. But who gets to decide what's "ineffective or unsafe"? I've seen people like Susan Inman claim that Hearing Voices groups are "dangerous." Just stop for a moment and imagine where this could head.
"An applicant or certified professional shall place their application or credential(s) on inactive status for any mental, physical, or behavioral health related adversity that interferes with their professional functioning."
Uh, what? I need to notify the board if I'm having a hard time? Can't I just take some time off? Who precisely decides what's interfering with my "professional functioning"? I employ people who see it as a benefit that they sometimes still struggle with suicidal thoughts and can talk about that openly with others as a way to demonstrate humanity and mutuality and build connection. Where do they fit in? You want to talk about dangerous… Well, this particular 'ethic' that everyone taking the MHA national certification will sign on to… This is it.
Closing with a Kiss
As I was writing this, a certain image came to me. (Forgive me, for it's a bit over the top.) It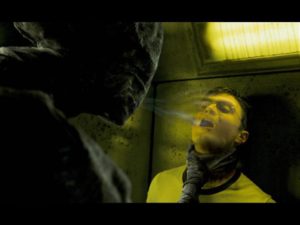 was that of a dementor from Harry Potter. You know, those creatures who would latch on to people, and sort of slowly suck out their psyche via a dementor-style kiss?
I can't shake that image now. I feel like MHA and other organizations like it — that are led by individuals who are decidedly not people who have any understanding of what it's like to be caught within the clutches of the psychiatric system themselves — are sucking out our psyche and our soul. Their intent may certainly be better than your average dementor, but I'm not even sure that is always true across the board.
These organizations sometimes shroud themselves in so-called 'peers', but often only those who don't flinch at having their identities boiled down in such a way. That is not to say that they aren't still good people with voices as potentially valid as the next, but all too often they're also the ones who have a job they can't afford to lose and so feel constrained within their organization's 'party lines'. Sometimes they're the people wrapped up in so much internalized oppression they can't see through their own medicated haze. Or, they're the tokenized one committed to "creating change from within" who started out with such a clear vision, but have fallen so far in that they can't quite see they've lost their center.
In the end, it is up to each of us to 'just say no' to MHA's national certification (and to spread the word for others to do the same). It is dangerous to what we call 'peer support' for Mental Health America to have done this. Even if they did it well. Which, as best as I can tell, they did not.
***
Mad in America hosts blogs by a diverse group of writers. These posts are designed to serve as a public forum for a discussion—broadly speaking—of psychiatry and its treatments. The opinions expressed are the writers' own.
***
Mad in America has made some changes to the commenting process. You no longer need to login or create an account on our site to comment. The only information needed is your name, email and comment text. Comments made with an account prior to this change will remain visible on the site.