In June 2018, we ran our first ever reader survey. The purpose of the survey was to gain feedback on what you, our readers, want to read and thus provide helpful suggestions for future content. The survey also gave us valuable information on technical aspects of the site, alongside areas to improve and concerns to address. Thank you to all who responded for taking the time to tell us how you feel about Mad in America.
This update provides a brief review of the results of the survey so far and outlines what actions we have taken or will take in response. The survey remains open and if you have not yet given us your feedback, please do so using this link.
Survey Findings
The survey responses provide interesting information on the composition of our reader community which helps us in planning what content to provide and how often.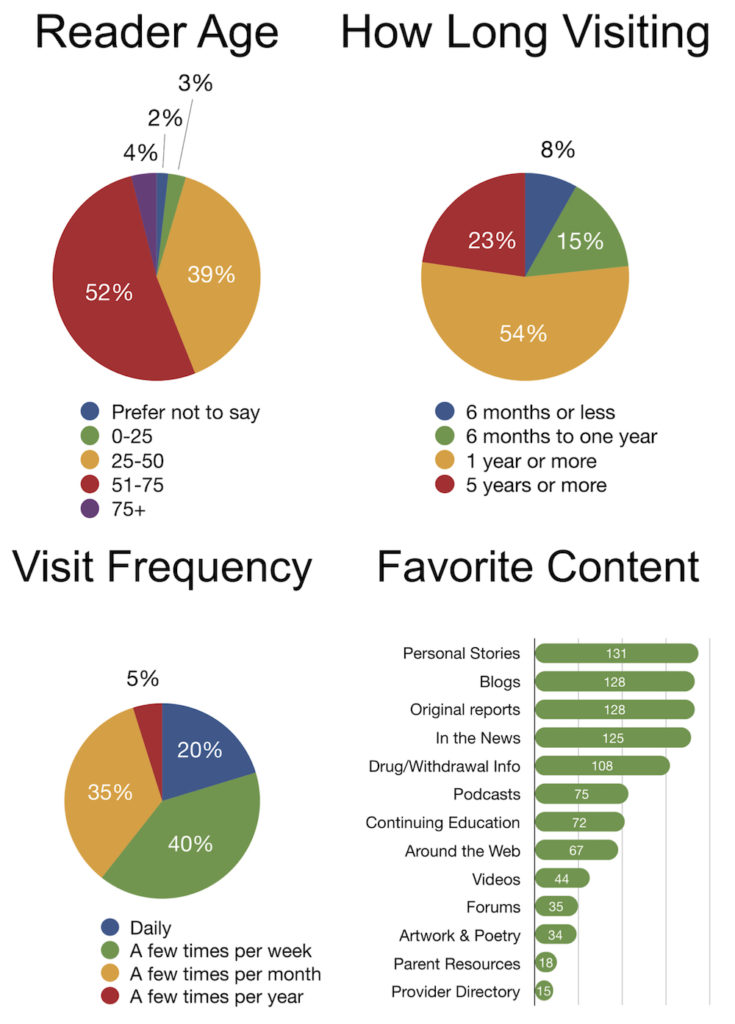 Specific Issues to Address
Commenting
There was a great deal of feedback related to reader comments. Only 10% of respondents said that they "enjoyed participating in the lively discussions." The remaining 90% either just observed the discussion, or actively avoided it. This is an issue of concern to us since we want to encourage as many readers as possible to comment and to share the broadest range of views and experiences.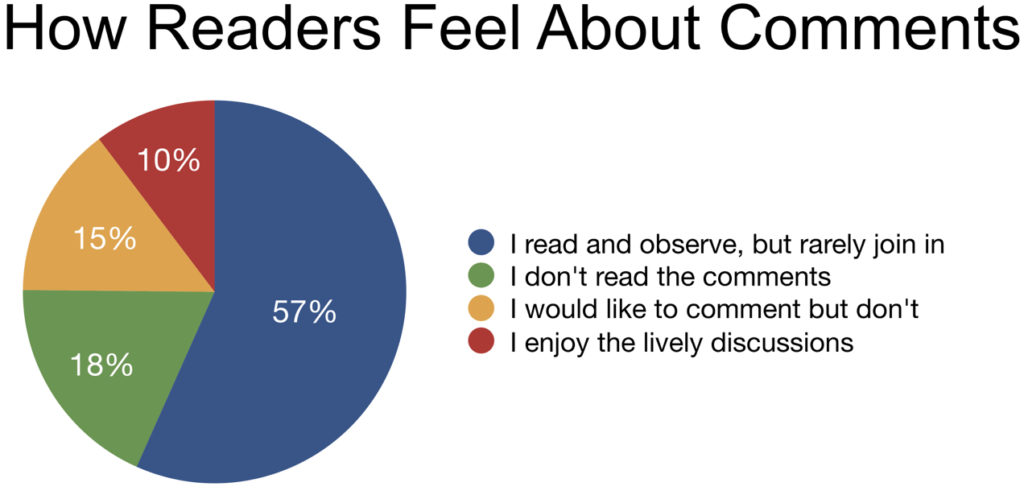 To address this feedback, we are making some changes to the commenting section. We believe that reader comments are vital to MIA's mission, and thus we need to create an environment that is friendlier to all readers and encourages more readers, with a diverse range of opinions and experiences, to add their voices and thoughts to the discussion.
First, you will be able to choose whether to view the comments. This way you will make an active choice to engage in the discussion. Second, we will implement a method where comments can be "liked." This will give you, as community members, the chance to self-select the responses that you feel add value to the discussion. In addition, you will be able to view comments sorted by the oldest, newest, or highest rated.
We will also be updating our posting guidelines in order to further emphasize that we want to create a commenting environment that all of our readers will experience as welcoming and respectful. Here is the message we are striving to communicate:
Reader comments and discussions are important to MIA. We welcome your reflections, criticisms and insights that are on-topic and relevant to the article. Comments are moderated for civility and for adherence to our posting guidelines.
We hope that these commenting changes make for a better experience for all. An essential aspect of MIA's mission is to nurture a community that can collectively rethink our current paradigm of psychiatric care, and the survey feedback is telling us that we need to get better at this task.
MIA's Mission
Some survey responses indicate a lack of understanding as to what Mad in America stands for and what particular positions we hold on a range of issues. The founder of Mad in America and its publisher, Robert Whitaker, responds:
As an organization, Mad in America aims to serve as a forum for rethinking the current paradigm of psychiatric care. We do so in multiple ways:
By providing summaries of research articles that regularly go unnoticed in the general media because they challenge conventional wisdom.
By hosting a community of writers with diverse experiences and backgrounds who share our belief that the current paradigm of psychiatric care has failed and needs to be rethought.
By providing a forum for readers to add their thoughts and opinions to this discussion.
By reporting in-depth pieces that deconstruct the conventional "evidence base" for psychiatric drugs and tell of alternatives to conventional treatments.
By hosting radio podcasts that feature in-depth interviews on these issues.
By hosting continuing education webinars on these subjects.
As you can see by our mission statement, beyond that starting point of belief that the current paradigm of care has failed (and in multiple ways), MIA does not have an "ideology" that constrains the information or the viewpoints it publishes. We are meant to serve as a source of information and discussion, and not as a promoter of particular solutions, or particular manner of rethinking psychiatry.
The MIA board and staff may have their own preferences and opinions on these topics and will sometimes publicly express their thoughts on these topics, in blogs or by commenting on articles. They do so as members of the larger MIA community, and not as representatives of MIA. Unless we publish an MIA editorial on a subject, the opinions and thoughts they express, when writing under their own names, are their own.
–Robert Whitaker
Writer Selection
Regarding our writers, some of you said that you wanted to hear less from professionals, but more personal accounts and others preferred less of these but more from professionals. We take this as a sign that we are holding to our vision as a space for a range of views, experiences and perspectives to come together to enable discussion and debate. We intend to continue to cover a wide range of issues written by a diverse collection of writers.
Content
Your feedback has given us a great deal of hugely valuable input to consider for creating future content. While we must live within our budget, which is quite constrained given the extent of our operations, we plan to redo our drug information section and expand our reporting. We are encouraged to hear that you would like more audio and video content, and we are considering what we can achieve in this regard.
Technical Issues
You told us that our search function was unreliable and that you found it difficult to locate the content you wanted. We have taken steps to remedy this and have implemented a customized Google search which we believe is a substantial improvement.
Other feedback that we will address over the coming months will include the provision of a sitemap for easier location of content and the bringing together of content to serve as a "spotlight" on key issues.
We will be acting on other feedback from the survey over the coming months and we will update you as we introduce significant changes.
Thank You
Mad in America is six years old and it has grown and developed hand-in-hand with you, our reader community. We are all overwhelmed with the many messages of support and thanks in your responses. It is clear that Mad in America means a great deal to you, as it does to us all behind the scenes.
We look forward now to the coming years and continuing to do what you would like us to be doing: providing a space for the community to come together to share, debate and discuss issues that we feel are amongst the most important in the world today.
If you would like to add your thoughts and feedback, then please do using this link.
***
Mad in America hosts blogs by a diverse group of writers. These posts are designed to serve as a public forum for a discussion—broadly speaking—of psychiatry and its treatments. The opinions expressed are the writers' own.
***
Mad in America has made some changes to the commenting process. You no longer need to login or create an account on our site to comment. The only information needed is your name, email and comment text. Comments made with an account prior to this change will remain visible on the site.